Would You Download DU Recorder? Read on the Full Review First
When you search for a screen recorder for iPhone or Android in App Store or Google Play, DU Recorder is a recommended tool with a good rank from the result.
Many of you hesitate to download this application because you are not sure if this app is worthy.

You might be wondering:
Is DU Recorder safe?
What is DU Recorder used for?
Is DU Recorder including a watermark?
…
Here's the deal: Read on the full review of DU Recorder to see if it is right for you.
Part 1. DU Recorder Review – Functions
DU Recorder is a recording application on iPhone and Android, which can record screen, video, and audio on the mobile phone. To review this app, you can check the functions of this software.
DU Recorder Review – Record Screen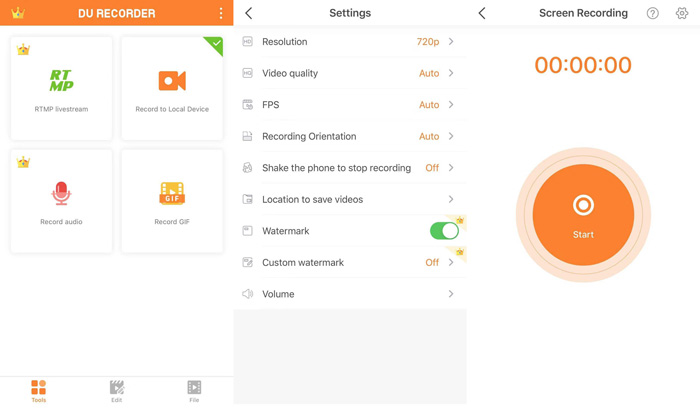 Designed as a screen recorder software, DU Recorder offers powerful editing features.
• Record phone screen with audio from microphone.
• Record sound from microphone and system audio on phone (Pro).
• Preferences before recording to adjust video quality (up to 12Mbps), FPS quality (up to 60 FPS), resolution (up to 1080p), etc.
• Support pausing and resuming screen recording.
Through the above functions, this screen recorder for the mobile phone is powerful enough to meet almost all your needs.
To be clear: The screen recording will be attached with a watermark in its free version. To remove the watermark from it, you should subscribe to it.
DU Recorder Review – Livestream (Pro)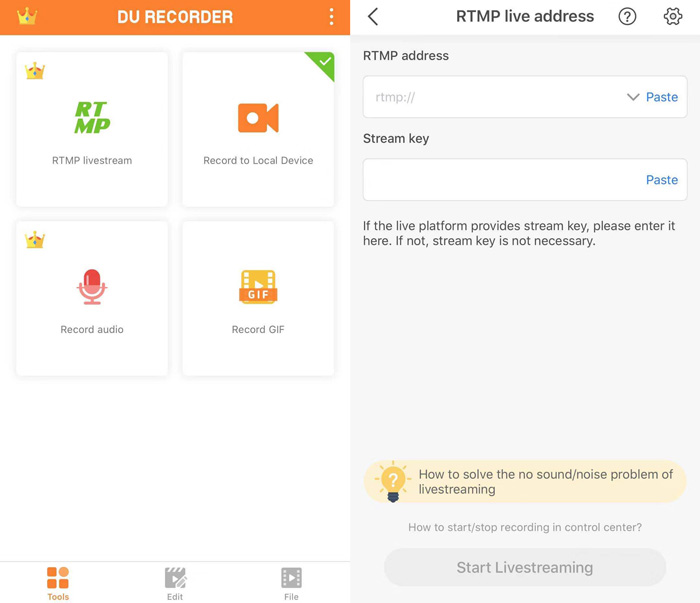 RTMP livestream is another feature of this screen recorder. After logging in to your YouTube, Facebook, and Twitch account, you can easily livestream the recording file to those live platforms directly.
If you need to stream your recording to the live platforms, this feature is great.
It's also noteworthy to point out that the livestream feature is for subscribers, not for free users.
DU Recorder Review – Edit Recording File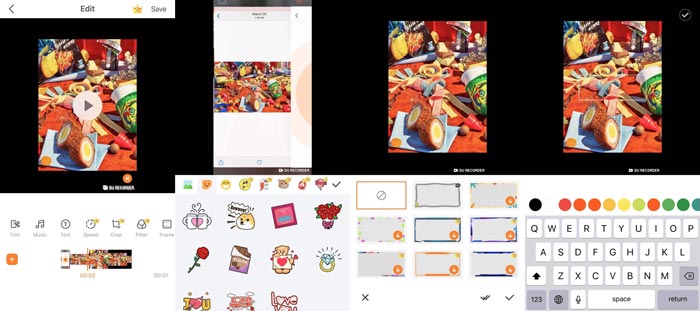 If you create a screen recording for sharing with others, editing it can refine the recording.
DU Recorder also offers further editing functions for you.
• Trim to keep the part you want to keep.
• Cut to remove unwanted part from a recording file.
• Add background music from iTunes music, or online music.
• Add text into your video recording file.
• Select any part of the recording file to speed up at 1 to 2 times, or speed down at 1 to 0.5 times (Pro).
• Crop video recording at a free region or fixed ratio (Pro).
• Add filter effects into the video recording file (Pro).
• Add frames into the recording file.
• Add interesting stickers into the video file.
• Record your voice from microphone and set it as the background audio (Pro).
• Rotate the video recording in 90 clockwise.
• Enable facecam to record screen from front camera and add it into a screen recording.
• Customize watermark while recording (Pro).
• Convert video recording to GIF.
Both the above free and paid editing features can satisfy the users with all the basic needs. However, some of the paid features are in-app purchases, which you should pay for them.
In the forms of the functions, DU Recorder works powerfully to offer all the necessary features to the users.
Part 2. DU Recorder Review – Safety
Is DU Recorder safe?
Yes.
Before you starting a screen recording, audio recording, or facecam recording, it will pop up to access your permission of Photos, Camera, Microphone, and more. Those are for a normal screen recording. In its privacy claim, it collects only necessary data information to confirm if your device supports the screen recording. No data will be disclosed to the third-parties.
Moreover, it contains no ads, except for the pop-up ad from its subscription.
In summary, DU Recorder is safe to use.
Part 3. DU Recorder Review – Price

You may have noticed that from the above review, this application is not a 100% free application. It supports in-app purchases. To enjoy the full features, you should purchase DU Recorder premium.
The fees are charged on a monthly or yearly.
The cost of in-app purchases is from $2.99 to $59.99.
Compared with the free AZ Screen Recorder, this software is more expensive with more features.
Part 4. DU Recorder Review – Ease of Use
When it comes to the ease of using DU Recorder, it provides you some features to control screen recording, like control screen recording through notification bar; shake the device to stop recording screen; display click operations in the screen recording, etc.
When running this application on phone, the 4 recording modes are listed on the main screen. Choose the one you want to record, and it will pop up the simple instructions to direct the process.
For editing further, you can easily access the function at the bottom tab.
The recording setting display at the right-side corner in a gear icon.
All those can be easily made.
The screen or audio recording files will be stored in the internal or SD card on the phone, and you can find them conveniently.
Let's sum up, it is an easy screen recorder for a smart phone.
Part 5. DU Recorder Review – Technical Support
Last but not least, what you may need to consider is the technical details.
DU Recorder is working on Android 4.0 and up, and iOS 11.0 or later. You can download this application on your Android and iOS devices freely.
Besides, this studio also offers a PC and Mac version for this software. However, both the PC and Mac versions of DU Recorder only offers the simple screen recording feature without editing. At this point, DU Recorder is not the only option you need. Free Online Screen Recorder can be a good DU Recorder alternative on PC and Mac with no watermark.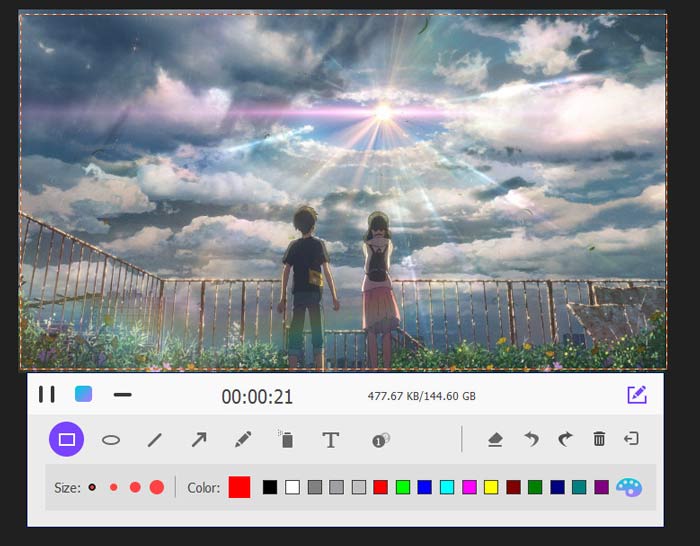 Let's have a look at the differences between these 2 screen recorders.
| | | |
| --- | --- | --- |
| Features | DU Recorder for PC and Mac | Free Online Screen Recorder |
| Price | Free | Free |
| Platform | Windows, Mac | Online for desktop |
| Screen Recording | Full screen | Full screen, customized region, fixed region |
| Audio Recording | Microphone, system sound | Microphone, system sound |
| Export Formats | MP4 | MP4, WMV |
| Stream Live | Yes | No |
| Webcam recording | No | Yes |
Finally, the support service is something we should mention.
You can leave your feedback in the free version and may receive the answer in a long time. As for the VIP feedback, they will offer you the support service within 24 hours via Email.
It seems that most software support works similarly.
What follows is a brief summary of DU Recorder.
Pros
Support video, audio, and facecam recording.
Support livestream services.
Offer editing features.
Cons
Many features are paid and not offered in the free version.
The desktop version of DU Recorder is simple without those features on mobile phone.
Part 6. FAQs of DU Recorder
How to remove DU Recorder watermark?
In the free trial version of DU Recorder on iPhone or Android, the watermark is hard included in the video recording. To remove it, you have to subscribe to this application.
DU Recorder video distorted?
If you choose a lower FPS while recording, the fast action movement in the recording may be distorted. You can tap the settings icon at the right corner, and choose a higher frame rate. Surely, the video in a higher frame rate will output a large size video. You can compress the MP4 file to send it successfully in an email.
Why there is no sound in the DU Recorder recording?
If you found there is no sound at your broadcast or recording, you should turn on microphone at the beginning. Moreover, make sure you can use speaker to play sound.
Conclusion
DU Recorder is a nice screen recorder for mobile phone users. It can capture screen, video, audio, and facecam to create a video presentation and grasp music. Before you decide to download it, reading the review is necessary to know that if it can meet your demands.
Now, it comes to your turn.
Do you think DU Recorder does what it claims?
Would you download this application to your computer?
What software can be an alternative to this application?
Let us know by leaving your comments below.