What Is Cinch Audio Recorder and Whether It Is Worth You to Capture Music
When you want to record music, podcasts, audiobook, or other audio contents offline, Cinch Audio Recorder should be an excellent app to help you out. It records the sound that comes from the sound card of your computer in MP3 format. Moreover, there are some advanced features you should know about Cinch Audio Recorder.
But is there an alternative method to record the music video? Can you record music files without limitation? If you are not satisfied with the limitation of the free account of the Cinch Audio Recorder, you can also learn more about the best alternative from the article.

Part 1: The Unbiased Cinch Audio Recorder Review
To be honest, the Cinch Audio Recorder is a smart audio recorder that captures the original sound in MP3 format. All you have to do is click the large Record button and it will do the rest of the process automatically. Of course, Cinch Audio Recorder is not freeware, but costs $29.5. Here are the excellent features you should know.
1. Record radio, music, podcasts, and more.
2. Capture audio in up to 320kbp/s bitrate.
3. Automatic add ID3 tags and accuracy rate near 100%.
4. Edit the title, artist, and album for each recorded song.
5. Export audio recordings in MP3 files or lossless WAV.
6. Edit recorded music files on the timeline.
7. Integrate a ringtone maker.
8. Support muted sound while recording audio.
9. Listen to the music recordings with the built-in audio player.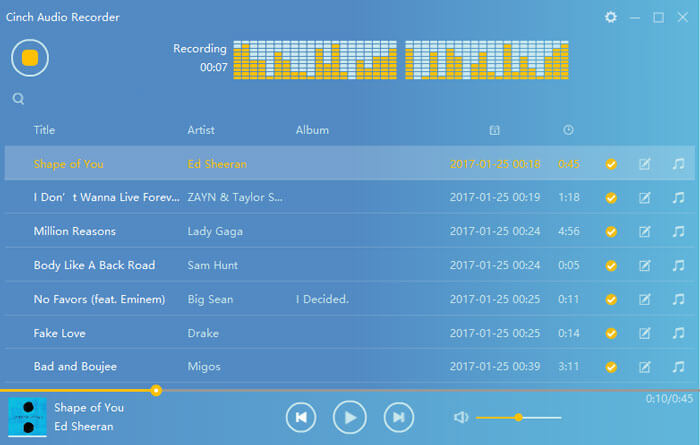 Review of Cinch Audio Recorder
Pros
1. Let you record any music and save it as an MP3 file.
2. Work smoothly without the need for a virtual Sound Card.
3. The interface is ad-free, clean, and user friendly.
4. Compatible with Windows 10/8/Vista/7/XP.
5. Detect title, artist, album name, and album cover automatically.
Cons
1. There is no support for Mac, Android, or iPhone.
2. The free-trial version only allows you to record for 5 songs.
3. Save recordings at 320kbps only spend space on the hard drive.
4. Lack of some essential features, like schedule recording.
5. The output formats are limited and no support for FLAC, M4A, etc. (Convert M4A to MP3 here)
Cinch Audio Recorder aims to record audio and stream services on PCs, so you can listen to your favorite music offline. Unlike other audio recorders, it is compact and easy to learn by beginners for its concise interface and limited features.
Part 2: Best Alternative of Cinch Audio Recorder
Of course, the Cinch Audio Recorder is not the only way to record music and other audio content. If you are not satisfied with the desktop software or payment, FVC Free Screen Recorder is a free alternative to Cinch Audio Recorder. It is a web-based screen recorder to capture onscreen activities on any web browser.
1. Record any video/audio from your browser or system.
2. No need to install any software on your hard disk.
3. Support multiple sound recording sources at the same time.
4. Free to use with no ads, registration, or other limits.
How to Record Music for Free
Step 1: When you find some music on Spotify or other platforms that you want to download offline, go to the free screen recorder online and press the big Start Recording button and you will get a prompt. Follow it to download the launcher.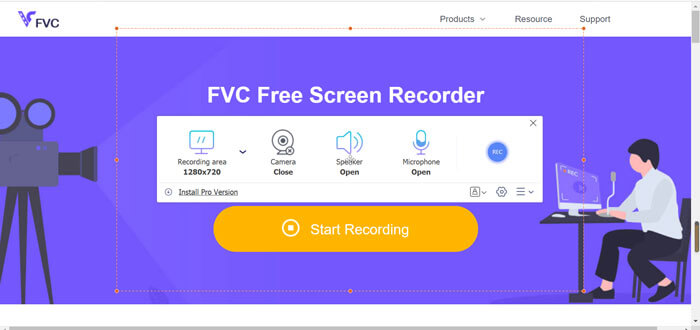 Step 2: Once you have launched the online screen recorder, make sure the Speaker option is turned on and adjust the volume. It will record all sound in your system, including music. If you wish to add your voice to the audio recording, turn on the Microphone button as well.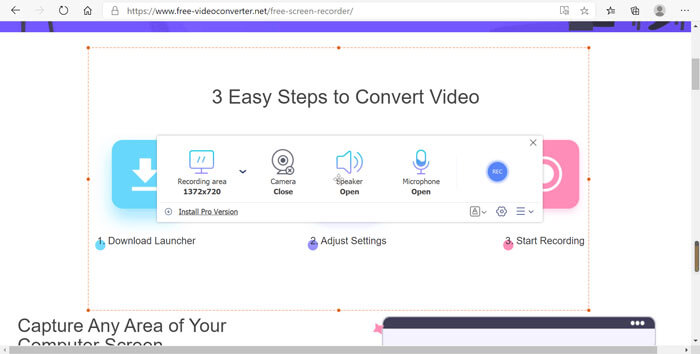 Step 3: Click the REC button on the launcher and start playing the audio content. The web app will record music files automatically. If you want to skip a part of the audio content, you can simply click the Pause button.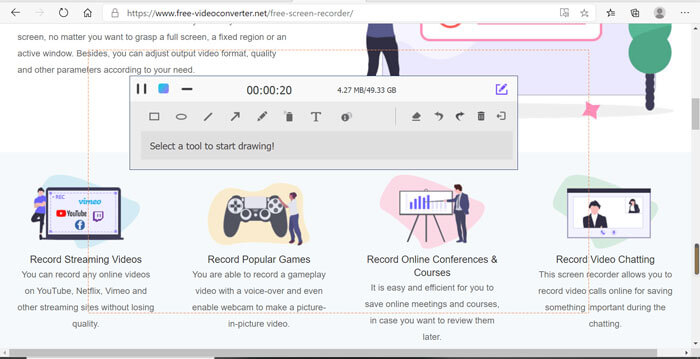 Step 4: Wait for audio recording to be done, and then press the Stop button. It will take a few seconds to render the recording into a high-quality audio file. Then it will appear in the recording history panel. Now, you can download it to your computer or share it with YouTube and social media directly.
Part 3: Extended Topics of Cinch Audio Recorder
1. Is Cinch Audio Recorder Free?
No, Cinch Audio Recorder is a paid program and costs $29.5. But you can try the free trial before paying for the full version. Bear in mind that the free trial has a time limit.
2. Can Cinch Audio Recorder Work in the Background and Be Muted?
Cinch Audio Recorder can be muted while recording audio, but it cannot work in the background. Moreover, there are many users complained that they get nothing when using the muted recording mode.
3. Why Cinch Audio Recorder Crashed?
Sometimes, Cinch Audio Recorder maybe crashed while recording or saving recordings. You should make sure that your machine has enough space since audio recording uses a lot of sources. Moreover, incorrect output settings may respond to the issue.
Conclusion
Cinch Audio Recorder is one of the best audio recorders on market. One of the best features are the fact that users do not need to use a virtual sound card. Another great feature is that you can set it to record and then mute on your speakers. It will add ID3 tags automatically and you can change it manually too. But if you want to record the music without limitation, FVC Free Audio Recorder should be a nice alternative.