JPG vs. JPEG vs. PNG: Learn Differences of these File Formats
For storing pictures, more than a hundred different formats are available. Due to their limited usage, the majority of these formats are irrelevant. But, JPG and PNG have long been the most used graphics formats, particularly online. They both have benefits and drawbacks. Luckily, this article will give you the necessary information, especially the differences between these image file formats. Furthermore, there will be a time that you need to convert your images to these files. So, this post will guide you to convert images to JPG, JPEG, and PNG. Read this article to learn about JPG vs. JPEG vs. PNG.

Part 1: Definitions of JPG, JPEG, and PNG
What is JPG/JPEG
If you used a computer or smartphone, you've likely encountered files with JPEG or JPG extensions. But are they the same thing? What's the difference? We have an answer for you. JPG and JPEG are equal file extensions that refer to the exact same image format. JPEG for "Joint Photographic Experts Group," a tech industry group that made the JPEG image format in digital cameras, on the web, and on social media.Joint Photographic Experts Group creates the JPEG format. It has a compression ratio of 10:1 to 20.1. The extension is used for lossy extension. Yet, you can adjust the compression ratio. This way, it will balance the storage size and image quality. JPEG extension is common to digital cameras and photo-sharing devices. However, the compression process will affect the image quality. JPEG is beneficial in many ways. You can use it for artwork and photos since it is flexible in raster editing. You can print artwork and images with low compression with high resolution. It will become ideal for printing and editing. JPEG is also reliable for sending images by email.
What is PNG
Portable Network Graphics, PNG, is a lossless raster format. It is a new form of the GIF format. It offers higher color depths, which display millions of colors. PNG is one of the standard image formats nowadays. One of the great features of PNG is that you can save both RGBA and RGB image types based on the palette or full color. It also aims to transfer photos using the internet. Also, PNG is standard in printing. It is a file that most people use. Also, most professionals use this image format as web graphics. They also use the PNG format for transparent backgrounds. Another feature of this format is that it has a smaller file size. And still, the loss of image quality is minimal. It only means that it can give the same quality as the original. PNG has various benefits. It ensures high image quality due to compression.
Part 2: Differences among JPG, JPEG, and PNG
| | | |
| --- | --- | --- |
| Format | JPEG/JPG | PNG |
| File Sizes | JPEG can crunch images into more ideal file sizes. It is useful if you don't have an amount of storage. It is helpful for fast page loading. | PNG can create bigger files with lossless compression since it retains more data. It is more significant than JPEG and GIF. It uses additional storage space. You can also encounter slow web page responses. |
| Transparency | JPEG file format doesn't support transparent backgrounds. Also, non-rectangular logos are not going to work in this format. JPEG images will find it hard to blend. It is because web pages have various background colors. | PNG supports transparency. Users can apply transparent backgrounds in the images. It only means that PNG is better in transparency. |
| Lossless vs. Lossy Compression | JPEG is for high-quality images with details and colors. It compresses bigger images into smaller sizes. This way, it is easy to upload photos online. JPEG uses a lossy compression process. It means it will delete the image when it becomes smaller. | PNG benefits from lossless compression. When compressing the image, it won't affect the data. The quality will stay the same no matter how you edit it many times. It won't become distorted or blurry. |
Part 3: How to Convert Images to JPG, JPEG, and PNG
The best way to convert images to jpg, jpeg, and png is to use FVC Free Image Converter. This online tool supports converting images to other image formats like JPG, PNG, and GIF. It has an easy process to convert images. It only offers three steps you can try. This way, non-professional users are suitable for this tool. You can convert unlimited files for free. There will be no disturbing ads in this tool, unlike other converters. You can access this tool on Google, Firefox, Explorer, Safari, etc. The best thing about this image converter is that you can do a batch conversion process. It means that you can convert multiple images simultaneously. Also, you don't need to create an account to operate this tool. Follow the easy steps below to convert images.
Step 1: Go to the website of FVC Free Image Converter. Navigate to Convert to options and select the output format you want, such as JPG or PNG format.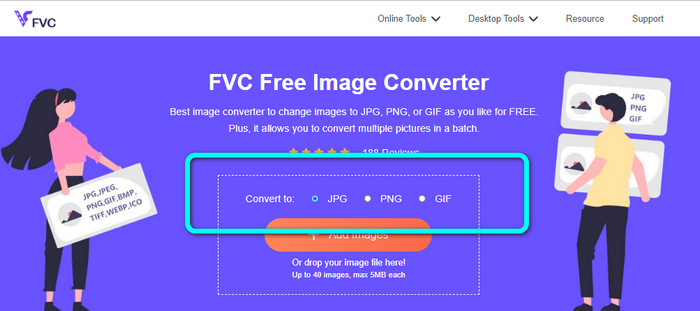 Step 2: Afterward, click the Add Images button to upload the photo, and choose the image from the folder file.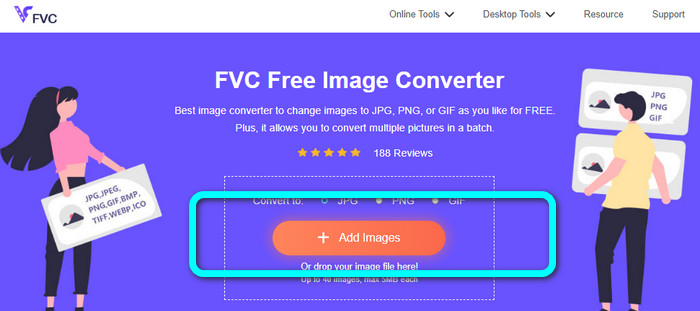 Step 3: Click the Download All button to save multiple images on your computer.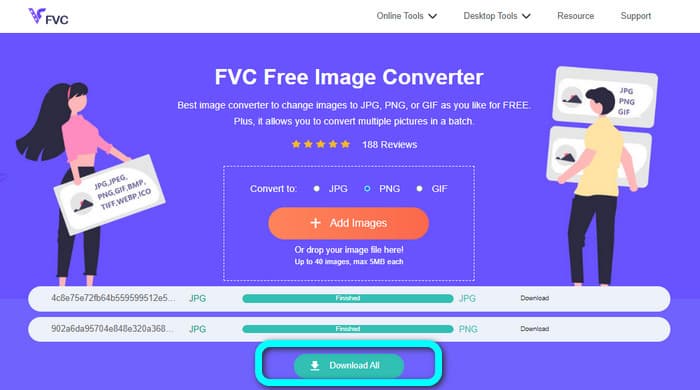 Related to:
Methods on How to Convert Images to JPG Online and Offline
Useful Methods to Easily Convert Images to PNG Format
Part 4: How to Open JPG, JPEG, and PNG
Opening images on a computer is easy. So, if you want to learn the most straightforward way, you can use the steps below.
Step 1: On your computer, navigate to the File folder. Then go to the folder where the images are located.
Step 2: There are two ways to open the image. First, you can just double-left-click the image. The second one is to right-click the image and select the Open option.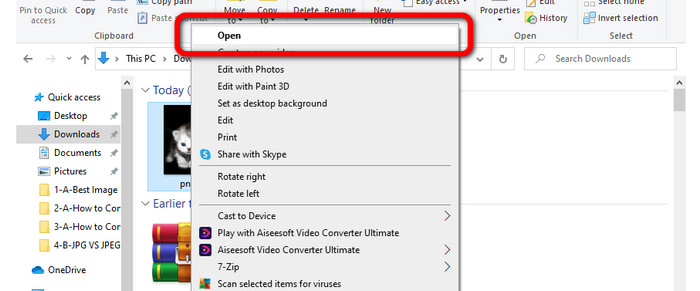 Part 5: FAQs about JPG, JPEG, and PNG
1. Does PNG or JPEG support animation?
Unfortunately, no. These two formats don't support animated images. The file that supports animated images is the GIF format.
2. Do JPEG and PNG have a file size limit?
On JPEG, the maximum height and width are 65,535 pixels. In PNG, the dimensions are limitless. However, you need to consider the memory space or the software to view the image.
3. Are PNG and JPEG vector files?
No, they are not. Both of these formats are raster image files. It means that they are made of color pixels. They are not from points or grids.
Conclusion
Now you have learned the differences among JPEG vs. JPG vs. PNG. This post also gave the steps on how to open these files. Not only that, this article offers you the most straightforward methods to convert images to JPG and PNG formats. So, If you want to convert your image files to JPEG/JPG or PNG format, use FVC Free Image Converter.