Honest Reviews for the 8 Useful Image Converters You Can Use Offline and Online
A file converter called an image converter transforms one type of image file, such as JPG, BMP, or TIF, into another. The top eight image file converters are here in this article. Some even function as online services. It allows you to convert images from your browser. You don't need to download the software. And some of the tools are available on the computer. If you plan to convert your image file to other image formats, the best thing you need to do is to read this post. You will discover the best image converter for you and learn its functions.

Part 1: Top 8 Image File Converters Online and Offline
1. FVC Free Image Converter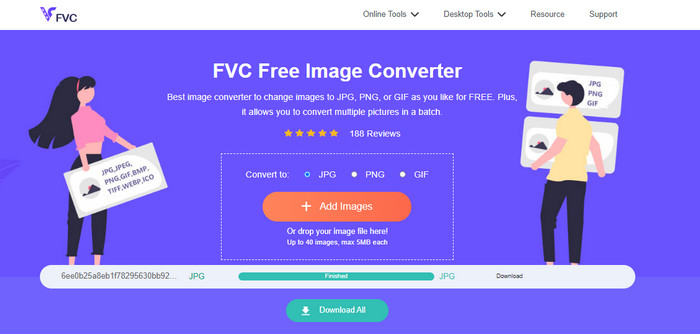 There is the best option for converting images to various formats. This great tool is FVC Free Image Converter. It is a free image converter. It supports standard files, including JPG, JPEG, PNG, GIF, BMP, TIFF, WEBP, ICO, and SVG. So, you no longer have to worry if some tools or devices won't be able to open your image files. It can also preserve the excellent quality of the original photos. After conversion, there won't be any distinction between the original and generated file. Additionally, FVC Free Image Converter supports batch conversion. It allows you to convert multiple images at once. This is much more effective than other image format converters on the market. FVC Free Image Converter can process up to 40 photos. After converting multiple files simultaneously, you can save them with a single click. It can zip up every file and save it at once.
2. Image Candy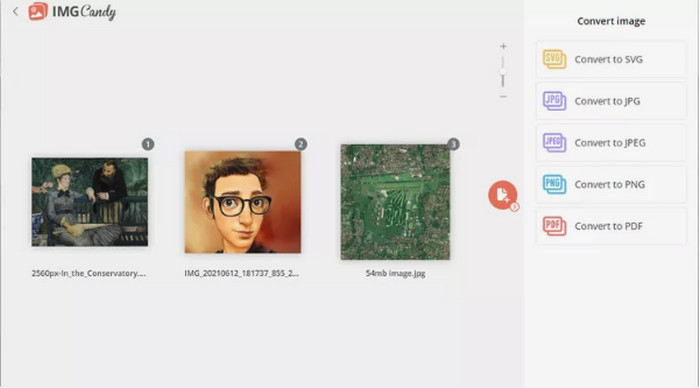 Another useful image converter online you can try is Image Candy. It supports many image formats and can convert photos up to 2 GB in size. Using this converter couldn't be simpler. Choose from the supported output formats after uploading images to the website. Rotating any of them if necessary. This is an online converter. Thus, it functions on any operating system. You can save each converted file or all of them in an archive. This image converter also protects your privacy. It will destroy your photos two hours after converting them. However, it only accepts uploads from devices. There are only a few output formats.
3. Coolutils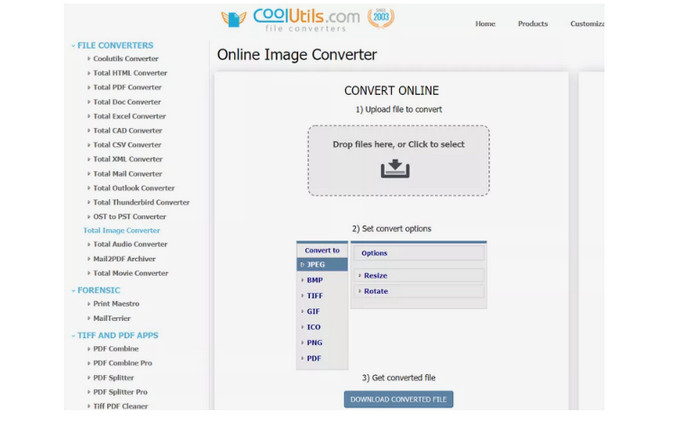 Coolutils is an image file converter you can use online without downloading anything. This online converter makes the conversion process easy for you. It converts images automatically after uploading an image. This image converter can rotate and resize an image before conversion. Yet, it doesn't support previewing the rotated image after conversion. You can use this tool with almost any operating system, including Windows, Linux, and Mac. This image converter supports many image formats, including JPEG, PNG, GIF, BMP, TIF. BMP, PDF, PNG, JPEG, and more. But, the original file you upload has a file size restriction. The 40MB to 35 MB limit on file size is the upper limit.
4. Zamzar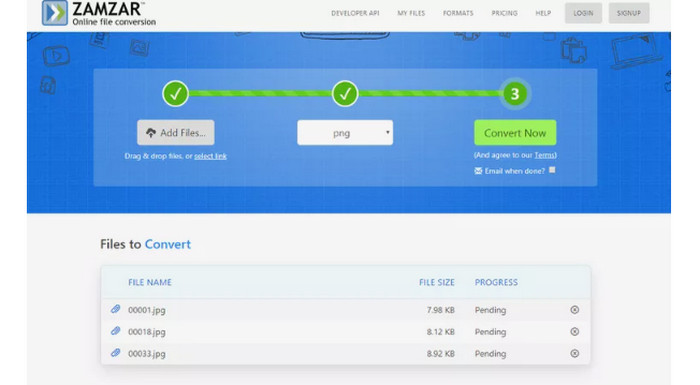 Another effective image converter online is Zamzar. It's nice that you can upload images up to 50MB in size. You also can upload an image file from your computer, Dropbox, Drive, or another website by entering its URL. This tool offers a straightforward interface, making it more accessible to all users. Using this software, you can upload images in CR2, ARW, PNG, 3FR, JPG, GIF, ERF, TIFF, and other formats. You may also convert your image file to various formats to make it easier for all users, including BMP, EPS, PDF, PNG, JPG, and WBMP. But the converting process takes too long. Additionally, you cannot save the converted photos. Additionally, you can convert at most two photos every session.
5. Adapter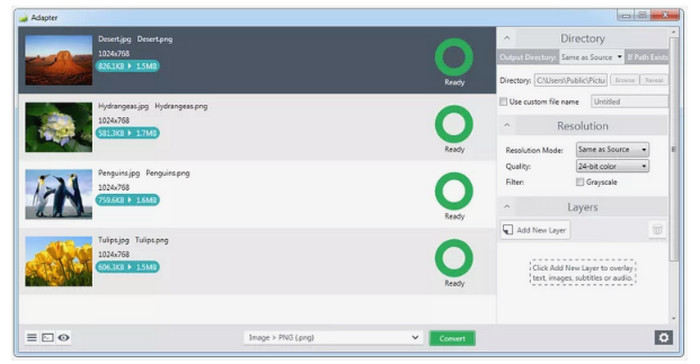 Adapter is a straightforward image format converter with many valuable features. It enables you to select the output format and drag and drop photographs into the queue in its basic form. The size of the image files before and after conversion. More sophisticated options are available if you use them. There are image overlays, output locations, resolution and quality adjustments, and more. Various input and output formats, including JPG, BMP, TIFF, GIF, and PNG, are also supported. By doing this, you can upload images regardless of the image format. Additionally, its intuitive interface makes it simple to convert photos instantly. In this manner, both professional and non-professional users can use this offline converter. But, if you wish to batch-convert the photographs, you must ensure they all have the same formats. Additionally, installing it will take longer than usual. It is an offline program, and you should consider your computer's storage capacity.
6. DVDVideoSoft's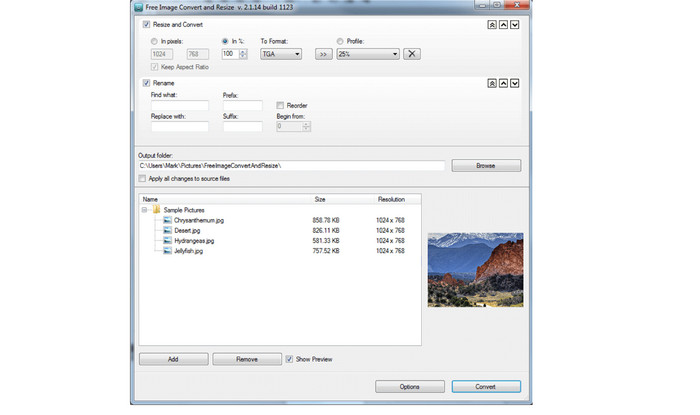 Desktop photo conversion program, DVDVideoSoft, can do image conversion. It also resizes and orders individual images and file folders while converting. This image converter runs on Windows and supports well-known image formats. The software's performance will be good when you import a lot of pictures. You can also change the image in settings and separate it from files in a folder by the converter. Its best feature is to convert many files at once. You can convert image files at once in this manner. It is difficult to use this offline program. It requires a knowledgeable user to use it. As a result, if you're a beginner, you should seek help. Or use a more straightforward picture converter. One format for all files is also permitted during batch conversion. Thus, you must convert each file if you want to convert several files. This process is tedious and time-consuming.
7. SendTo-Convert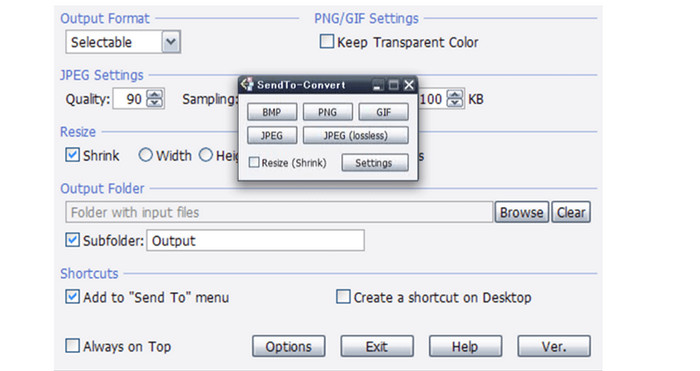 Another offline image converter is SendTo-Convert. To convert images, you must visit the settings. Set the export format, quality constraints, size, and export folder. Furthermore, you can convert files even before you launch the app. Drag the file over to the program's icon. Additionally, SendTo-Convert enables batch operations that let you handle several photos simultaneously. For all users, this downloadable program is beneficial. This app's interface and simple instructions make it usable by professionals and beginners. You may convert photos because of its quick conversion process, which saves you time. Despite its advantages, this software only supports the five most common photo formats. You can extend its functionality by installing plug-ins. You must wait a short while before using the software because installing it takes a long time. This program was last updated in 2015, making it outdated. Expect that compared to other file converters, its performance won't be that great.
8. PixConverter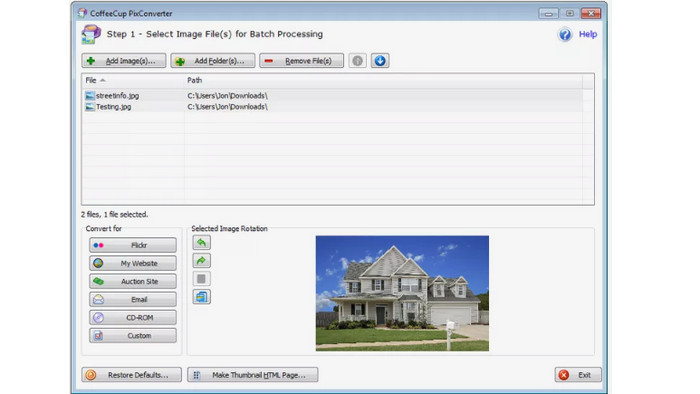 Another image converter is PixConverter. Despite having many helpful features, it is still simple to use. It is compatible with various file formats. It includes PCX, JPG, JPEG, PNG, TIFF, and BMP; you can convert your image to another file format. Although it only supports Windows 8, Windows 7, Windows Vista, and Windows 10. It also supports batch conversions, and the ability to import photos from a folder simultaneously. It also offers image rotation, resizing, and color alterations.
Related to:
Joyoshare HEIC Converter | App Review & Functions You Must Know
Latest Review on iMyFone Free HEIC Converter You Must Know [2023]
Part 2: FAQs about Image File Converter
1. What is an image format converter tool?
An image format converter tool is an effective tool for changing image format to another type of format. It includes JPG, JFIF, PNG, BMP, GIF, TIFF, EMF, WMF, PSD, WebP, SVG, DICOM, DNG, and more. So, if you want to transform your image file to a different format, you need to look for an image format converter.
2. How to convert an image to a smaller size?
Since the JPG file format has smaller files than other formats, such as PNG, you can convert images to JPG format. To convert the image, use FVC Free Image Converter. Just choose your desired format, which is the JPG format. Upload the photo you want to convert and click the Download button. This way, you can convert images to JPG with a smaller file size.
3. Is JPEG the same as JPG?
Yes, the image formats JPG and JPEG are the same. They are identical. Thus, there is no need to change one to the other. If you desire to change JPEG to JPG or vice versa, the best way is to rename the image.
Conclusion
The tools above are the best high-quality image converters to convert image files. If you are looking for a tool with a simple interface and effortless way, use FVC Free Image Converter.