Ultimate Review about the HEIC Converter You Can Use Effortlessly
There are over 4.5 billion images taken every day globally. Regularly a person took almost 20 snaps per day as an average. With its vast influence worldwide, most of us took another step to store the image in better quality, like Apple did when they changed the standard image format into HEIC. This image format can contain a high-quality photo but in a lesser size than the JPG or PNG. Thus, with its improved compression, many of us can save more space on our iOS drive if the image file is in this format. As a result, the format became popular on every iOS 11 and macOS High Sierra.
Regardless of how good the format is, you probably won't open the file if you transfer it to other devices. More likely, a converter can become handy in this type of situation. To solve this problem, proceed on reading this article as we showcase the five HEIC converters you can use for free and purchase them on both ends. Keep the ball rolling to have the information you will need to solve it in less than 7 minutes.

Part 1. Top 3 Free HEIC Converters Available on the Web
FVC Free HEIC to JPG Converter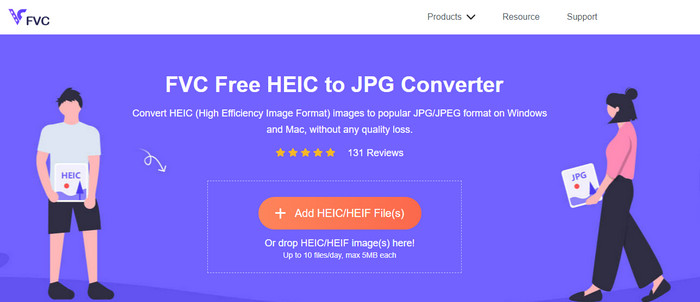 FVC Free HEIC to JPG Converter offers you a simple and effective free HEIC converter you can use on the web. With this web tool, you can easily drag and drop the file on the website to upload the file; no need to start the conversion process of your file because it will automatically start. Even though this web-based tool doesn't support batch conversion, it is still considered one of the top-notch online converters you must know. Unlike another converter that degrades the quality of the image you convert on them, this tool will not degrade the quality of your HEIC file, and it will keep the same rate after you convert it into JPG.
Maybe you are wondering if you use this tool, do you need to download additional files, such as the installer? Fortunately, while using this, you won't need to download the installer on your drive and use it on the spot. No setup is necessary because the tool is accessible on your favorite browser, unlike the other converters available on the market. Even though the tool seamlessly works excellent on your HEIC file, there is limited functionality; this provides on size and conversion daily. Suppose you decided to use the online converter. Click the link above to see its neatness and the overall outlook.
JPGHEIC.com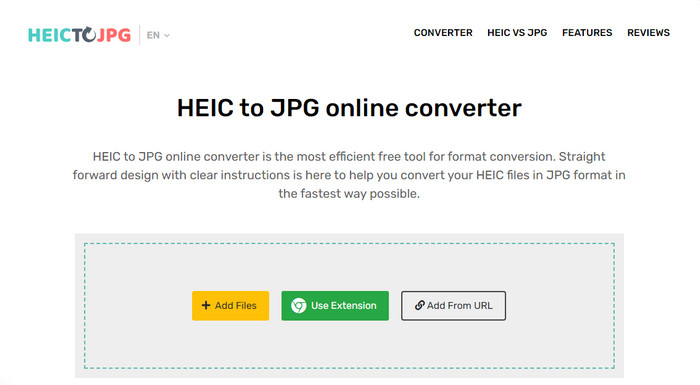 JPGHEIC.com is working the same as the HEIC image converter we introduced above. But what makes the tool impressive is that the web tool doesn't have a limitation on how many times you want to use it and the file size. You can easily add the media file by dragging and dropping it on the main website with this tool. Also, you can use a URL to upload the link of the HEIC image you want to convert into a JPG format. Although the tool has an official website, you can also either use the Chrome extension for an easier way to access it than visiting the main website. The functions and features of the web converter and the extension aren't far from each other.
Despite being a free converter, there are some annoying ads that you might accidentally click and open. So, make sure that you avoid clicking them to prevent opening the ads that might contain viruses. After using this tool, the file you've uploaded here will be deleted after an hour. You can access them before the file deletes completely on this web tool.
Freeconvert.com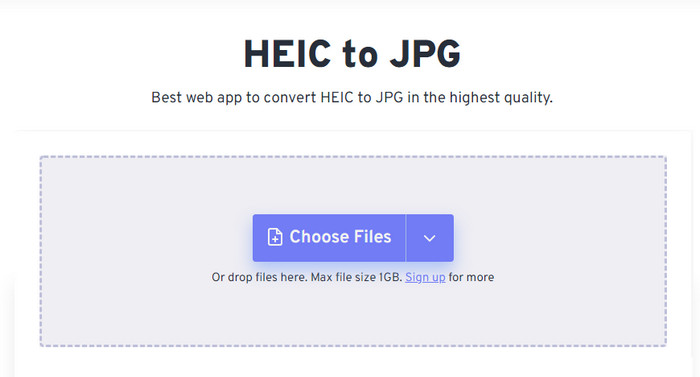 Freeconvert.com is a trouble-free HEIC file converter you can use on your favorite web browser that supports drag and drop functions for an easier way to add HEIC files. Unlike the online converter we add above, this tool supports more than JPG as an image output; you can also export it as BMP, PNG, TIFF, WebP, etc. Although the web tool seems great, certain limitations could be annoying regarding this, especially the file size. But the file size it supports is 1 GB which is far more enormous than the other web tool you can find on the web or in this article.
In addition to its file size supported and conversion, you can change the dimension, compression, and remove the metadata on your HEIC file. It is one of the advantages of using the tool; more importantly, if you want to manipulate them manually. Even though it has additional features that make it better, this tool's conversion speed isn't as fast as we expected.
Part 2. Top 2 Paid HEIC Converters Downloadable on Windows and Mac
Aiseesoft HEIC Converter – Best HEIC Converter on Windows and Mac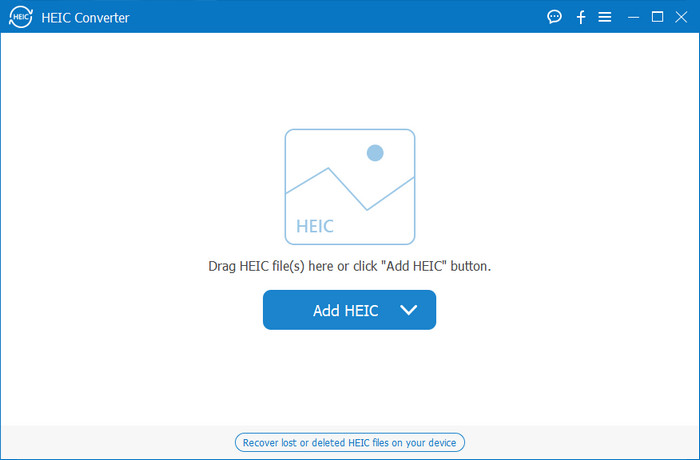 Everything can be smooth as possible with a professional HEIC converter on Windows 10/11 and Mac, like the Aiseesoft HEIC Converter. It is the top converter you should choose for both operating systems. By subscribing to the software, you can have the most unique and super-fast converting process you will ever experience. Once you've uploaded your HEIC file, you will see no difference once you convert the format into JPG. Whether you are a pro or not, this is the perfect tool you can rely on to convert your HEIC file and ensure that success is at reach.
In addition to the lightning-bolt-like conversion speed, we can also have the ability to lessen the quality if you want and save the EXIF data that is stored on your HEIC to JPG. Performance-wise, speed on conversion, straightforward user interface, and other solidified functions, nothing left that this tool didn't Tick regarding image conversion. Once you avail of the tool, you can upload all of the HEIC files here until you are satisfied. To know more about the features this tool supports, read the content below.
Features:
◆ It supports converting multiple HEIC files into a JPG format simultaneously.
◆ The file size of each image file is not a problem in this tool.
◆ A quality loss won't be a problem because the tool retains the same quality.
◆ With its proudly converting speed, convert your files in no time.
◆ Avail of the software on your Windows or Mac.
TunesBro HEIC Converter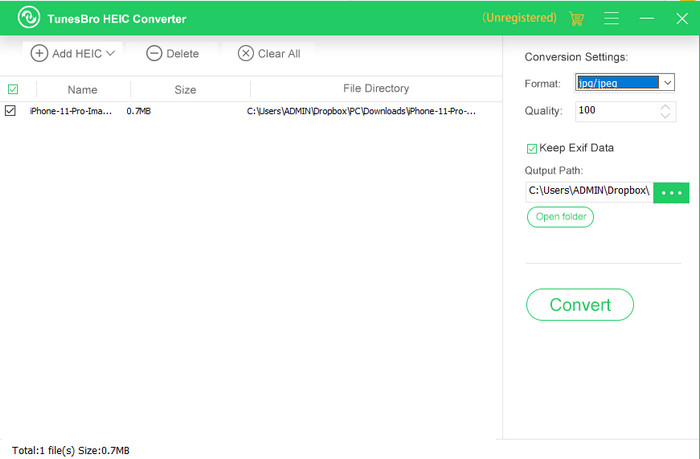 TunesBro HEIC Converter is a well-known HEIC converter that you might download on your Windows and Mac. Like the paid converter we introduced, you can convert your HEIC image here without losing the original quality even if you don't have an internet connection with this tool. Although you aren't a professional, you can easily manage using the tool because of its intuitive interface. Even some popular converters couldn't compete with the tool's whole functionality and performance in converting. However, the tool price is higher than the Aiseesoft HEIC Converter if we were to compare both their prices. But it is still cheaper than the other converter.
Many users find it a bit expensive to use as a personal converter; the reason behind why it is costly is because it supports features that could help you in converting. If you intend to convert the HEIC into a standard format, you might like to choose this as the last choice for users with a tight budget. But if you want to have a user-friendly batch converter, download the tool on your desktop.
Part 3. Which One Is best? Comparison Chart for the 5 HEIC Converters
| | | | | | |
| --- | --- | --- | --- | --- | --- |
| Feature/s | FVC Free HEIC to JPG Converter | JPGHEIC.com | Freeconvert.com | Aiseesoft HEIC Converter | TunesBro HEIC Converter |
| Conversion speed | Fast | Bit Slow | Bit Slow | Fastest | Fast |
| Convert Multiple HEIC File | | | | | |
| Keep Metadata after Converting | | | | | |
| User-Friendly | | | | | |
| Internet Dependent | | | | | |
Part 4. FAQs about HEIC Converters
Why is converting HEIC slow?
If you are using a tool that needs the internet, you must check your internet connection, but if your internet is stable, the problem is with the tool you are using. You can contact the customer service that the tool you are using supports. Suppose it doesn't have, then we suggest you change the converter. But if it's an offline tool, then that tool you are using doesn't have hardware acceleration or fast conversion. So, before choosing an offline converter, you must check some articles about its speed and reliability.
Why is HEIC not supported?
One of the reasons it is not natively supported is that the compression type is currently used. The compression HEIC supports is a modern lossy compression that not all devices support. So, choosing a converter is especially important in this type of situation.
Is HEIC only available on iOS?
As for now, this image format is current and will be the standard format for the image you capture on every iOS 11 and up. But soon, the format will also be available on Android and Windows, for it is one of the best formats that can store a high-quality picture with fewer sizes than JPG.
Conclusion
We can all agree that choosing a HEIC converter is a must, especially if you are the image receiver with a HEIC format. Earlier, we said that the format is great, and so far, it has already been confirmed that it is a better option than the JPG, file size, and quality. As you complete reading this article, it is time to choose the tool that will suit you, choose whether you want an online or offline. Both of them are great, but the Aiseesoft HEIC Converter is better in many ways. Check the tool out by purchasing and downloading it on your desktop and enjoy its full function.