Convert HEIC to PDF: Get to Know the Best Converter to Use
Taking photos became part of the new trend you can do in this modern era; with everyone having access to their phone, taking images became easier. Whether you are a pro or a person who wants to take a quick snap, everything is doable on the phone. If you are an iOS user, you will notice that the image extension you took is in the format of HEIC. This format is excellent in compression and quality, but if you want to attach an image to a document, send it; the photo can turn into a pixelated one.
Don't be devastated because this problem is solved by converting the file into a PDF. Keep reading this blog as we explore the converters you can use to convert HEIC to PDF format in less than a minute.

Part 1. Which Is Better? HEIC VS PDF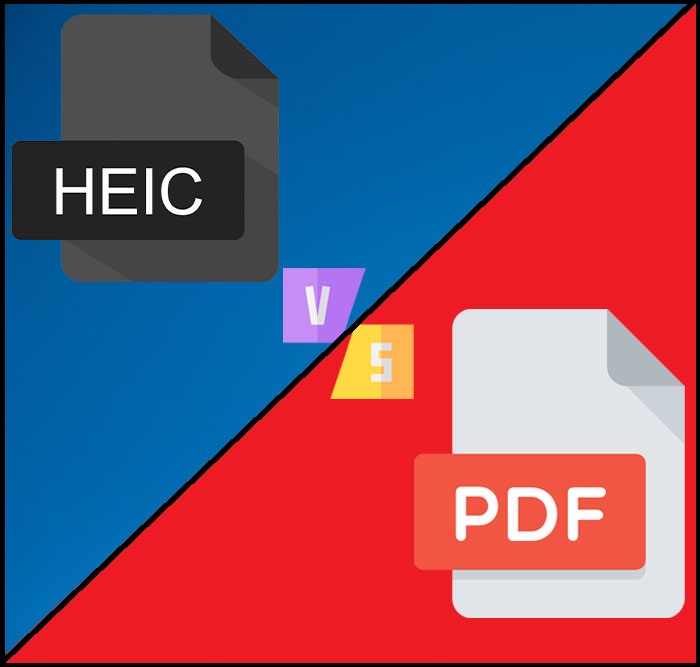 But before we start to know the tools we can use and learn how to convert HEIC to PDF, let's determine first what are these two formats. Although it is given that they can store images, let's dig more and learn the other purpose and differences of HEIC and PDF files.
Which is better on compression?
HEIC has better compression than the PDF, but the PDF uses two types of compression: the lossy and lossless, wherein the HEIC uses only a modern lossy compression.
Which format is more compatible with devices?
Almost all devices are more likely to support PDF files than the HEIC. Because of the vast influence of Adobe in this era, there is no doubt that PDF has gained better support in all computers and mobile phones. It is one of the reasons you need to change HEIC to PDF.
Which format has better quality?
Both formats contain one of the highest-quality images you want, but their purpose is different. This battle between quality, we can give it to them both as they are the top-notch image container that contains a high-quality file.
Part 2. Why Do You Need to Convert HEIC to PDF
You need to convert your HEIC file to make it compatible with document files, especially if you want to transfer it to other devices like Windows and Android. The two devices can't open the HEIC file natively. If you want to add an image to your document without quality loss, using a PDF file extension is better than the HEIC. Also, PDF conserves the original layout of the file while leaving the other parts for editing. The next part is the list of tools you can use to convert HEIC to PDF that is available online and offline.
Part 3. 4 of the Best HEIC to PDF Converters You Can Use on the Web and Desktop
Zamzar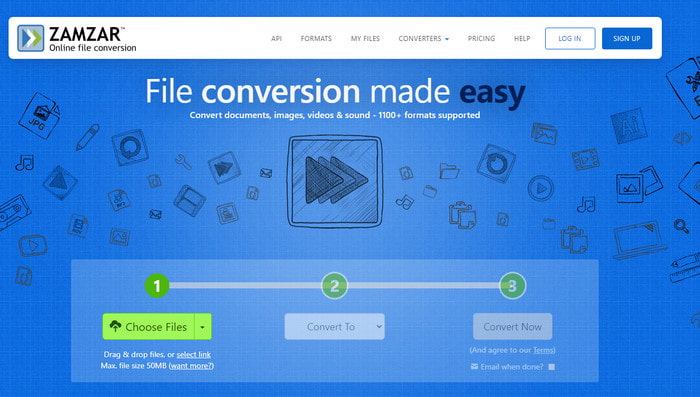 Program-Supported: Online
If you need a web-based tool, then Zamzar can help you on any task regarding converting your HEIC file. This web tool is a convenient converter because you won't need to download the software on your drive to use it, for it is accessible on any web browser. With its over 1200+ media file supported, there is no need to worry if your file is supported here because it is. Most users have already used this online converter many times, and all of them enjoy using the web tool.
Even though you can access the free HEIC to PDF converter on the web, it still has a specific file size limitation. You can't upload a file with 50 MB or higher. In addition to that limitation, you can't perform batch conversion for your HEIC file with this web tool. But you can still upload unlimited HEIC files here one per time. Besides its conversion ability, there isn't much this tool offers, like enhanced quality. Although limitations might draw this tool back, it is still one of the best online converters.
Convertio.co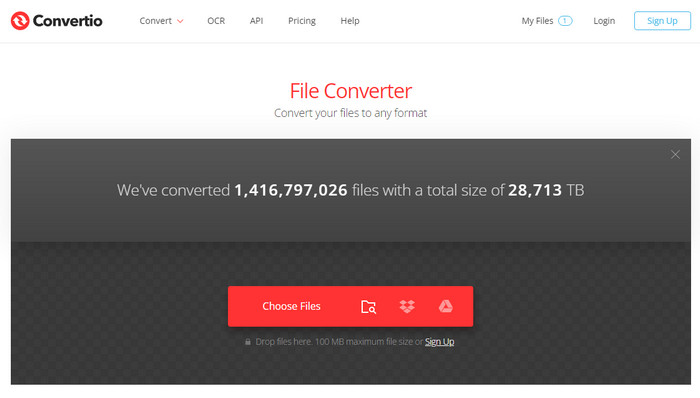 Program-Supported: Online
Convertio.co covered an average format of images, videos, audio, documents, and other file formats that you might have. Like the Zamzar, you can use this online tool to do a non-stop converting process on your HEIC file, but with this tool, you can upload two HEIC files here and convert them into PDFs at once. One of the best features this tool has is that you can upload a file with 100MB here, which is enormous, especially images are small in size.
In addition to its ability to convert the files you convert in here, such as HEIC to PNG, there will be 24 hours before the file is removed. It is suitable for some of us, especially if we unintentionally delete the file on our drive. Despite that, this web tool supports only 300+ formats, which is not as great as the Zamzar, but converting the HEIC into a PNG is still quite manageable with a tool like this.
Adobe Photoshop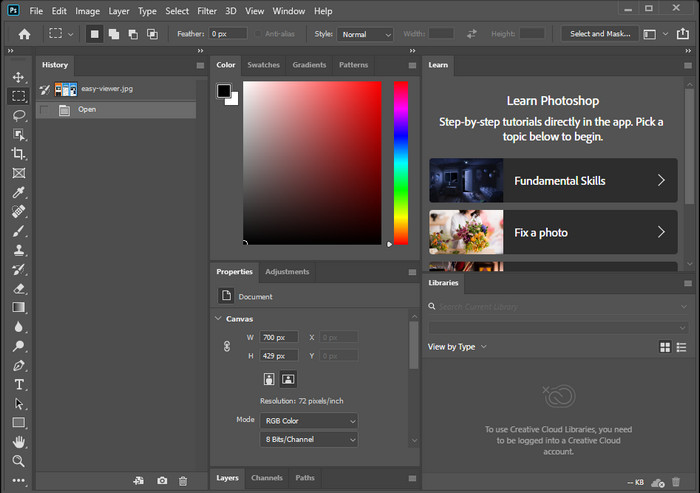 Program-Supported: Windows and Mac
AdobePhotop is one of the professional image editors you can use, and you can also use this tool to convert the HEIC file you have before attaching them to the documents. Adobe develops this tool, so changing the extension of the HEIC file into a PDF with this tool can handle it. But before you change the format to PDF, you can edit the image on the HEIC file here to make it look better. However, you will need to watch some tutorials to use the total capacity of the tool on editing the image you have.
It is easier to say that the tool is a professional editor, but a dedicated converter is not one of the strengths this tool can give you. Even though it is not a reliable converter like the other online tool above, changing the extension of .heic into a .pdf is still manageable if you use it. Also, you'll need to keep in mind that the tool is too expensive to use and change HEIC to PDF, but if you already have the tool, you might like to use it to do the task.
Preview on Mac
Program-Supported: macOS
If you want to convert your HEIC file on Mac without downloading software, we suggest using the Preview on Mac. With this built-in app, you can view the image file you have on your Mac then convert it into a PDF if you want to use the HEIC file on the document. Same as Photoshop, this isn't a devoted converter for your image file, and yet it is still doable with the assistance of this native image viewer.
With this app, you can also do editing on the image, but it is not as a pro as Photoshop; basic editing is available here. Despite the basic editing features, we can still consider this a strength of the tool because not all converters support editing. Earlier, we said that the app is not a dedicated converter because it doesn't go into the process as the online converter does. Instead of converting the format, you can change its extension and make it a PDF. If you want to learn how to convert HEIC to PDF on Mac, this is one you might like to choose.
Bonus: What Should You Do If the PDF File Is Too Large?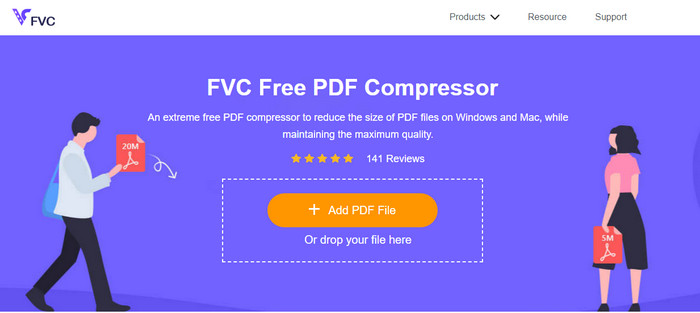 When we need a reliable compressor for the converted PDF file, you can access the FVC Free PDF Compressor to finish the job. With this web tool, you won't need to worry about the quality of your image stored on the PDF file because it won't degrade the quality. Unlike the other compressor PDF you can find on the market; this tool already helps millions of users who need to reduce the file size of their PDF file.
Also, you can use the tool anytime and anywhere as long as you have internet access. If you convert multiple HEIC to PDFs too large to send, then compress it with the reliable compressor you can access on the web. Upload the file, then automatically compress it. Lastly, download the file on your desktop as quickly as that.
Part 4. FAQs about Converting HEIC to PDF
Can PDF store images with text?
Yes, PDF can store both image and text in a single file. You can use this document and store a perfect alignment of text, fonts, 2-dimensional images, vector images, etc., and some elements. In addition to its ability to store two data, image and text, you can encrypt the file and restrict the receiver from copying, changing, editing, and printing it out.
Do HEIC and PDF have metadata?
Yes, HEIC can store EXIF metadata that explains what the file is all about. In contrast, PDF can store metadata in the XML file format. Although EXIF and XML are the same metadata, their content is different from one another. Most basic or essential metadata is what we call EXIF tags. If the metadata is XML, then the set of encoding documents can be remarkably similar to HTML. To know more about metadata, you can click this link and read this article.
Can I edit the HEIC image on Adobe Photoshop?
Yes, you can upload your HEIC file here then do some creative editing with the help of Adobe Photoshop. You can try using the tool by downloading it on their official website. But remember, the tool isn't that easy to maneuver, and it will take time to get the hang of it.
Conclusion
At the end of this article, we have now completed the idea we can use on each converter to convert HEIC to PDF file without losing the original quality of the HEIC image. In addition to the converters you can use, we also added the compressor you can rely on, especially if the PDF file size becomes extensive. With the tool mentioned above, you can now attach the image to a document by converting it into PDF—nevertheless, every hard work pays off. Thanks for reading this article hope we help you figure out what tool you should use.