Know What Is a HEIC File, Differences, Advantages, Purposes, and More
With over a billion Apple users across the globe, the company noticed that trillions of snaps take almost every day using their products. Because of that, they announced that the standard image format, JPEG, has been replaced with a newer image format, the HEIC. This new version of image format is now being used by iOS 11 and up, released last 2017. So, what makes the HEIC unique compared to JPEG? And what is HEIF? To know what is a HEIC file, this is the article for you. Keep reading it all up as we tackle them in the next part.

Part 1. What Is a HEIC File?
Suppose you capture an image on your iPhone and iPod; you will notice that the image format is in the HEIC file type, known as High-Efficiency Image Container. This container has better compression and performs better than the other image format you can have, such as JPEG and PNG. With its superiority in compression and quality, Apple Inc. decided to use this as the default image format for saving images on every updated macOS High Sierra and iOS 11.
Even though the updated version of Apple devices uses the format, it is still not widely supported by devices and can't view it natively. Because of this reason, users tend to seek help to convert HEIC to JPEG and transfer it to non-Apple devices such as Windows and Android. Now that we have an idea of the HEIC, we will tackle the difference between HEIC, HEIF, and JPEG by reading the next part.
'Trivia: Apple didn't create the HEIC; this format is already there, and it was introduced 2015 by the MPEG known as Motion Picture Expert Group. Later on, Apple made use of the said format last 2017.'
Part 2. Comparison Chart Between HEIC vs. HEIF vs. JPEG
Now that we know what HEIC photo is, let's determine the difference between HEIC, HEIF, and JPEG. To make it easy to understand for all of us, we add a comparison chart for an easy walkthrough of these three image formats.
| | | | |
| --- | --- | --- | --- |
| Feature/s of the Best Image Formats | HEIC (High-Efficiency Image Container) | HEIF (High-Efficiency Image Format) | JPG or JPEG (Joint Photographic Expert Group) |
| Compression | It has better lossy compression than JPG or JPEG. | Same as the HEIC, the compression this tool supports is better and much smaller than the JPEG. | It supports a lossy compression, but it is not as good as the HEIC or HEIF. |
| Color Depth Supported | It supports 16 bits or even higher color depth. | It can have a 16 bits color depth. | The standard it supports is 8 bit. |
| Transparency | It perfectly supports transparency which is excellent for creating logos or graphics and using it as a background on the photo. | Image transparency is supported. | It doesn't support transparency, and because of this, the format isn't as flexible as the HEIF and HEIF. |
| Quality Loss During Editing | Even though the format uses lossy compression while editing, the quality of the image isn't reduced because its design uses a modern lossy compression, and you can reverse the edit to the original visual without quality lost. | Quality loss during editing will not happen in this image format. | During editing, the quality of the JPEG may affect because of its lossy compression. |
| Compatibility with the other devices | One of the drawbacks of this format is that it only works on an updated version of devices. | It is not compatible with other devices significantly if they aren't updated. | Transferring the image on the other devices is not a problem with this format because old and new versions of devices widely support this. |
As you can see on the chart, there aren't significant differences between HEIC vs. HEIF. Even you search over the other information about these two, you will see many details of the difference. But once you've explored the HEIC, information about HEIF will show or vice versa. Yet there is a definite distinction between the two formats.
For containing a series of images or a single photo, HEIF is the commonly used format. On the contrary, HEIC can hold pictures and video with audio content in a single file. Other than that, there isn't much difference between the two, quality-wise and compression itself.
Part 3. The Advantages & Disadvantages of Using HEIC File
Before using the HEIC image format, let's first see the advantages of using this extension and its disadvantages. Read the succeeding details below as we give you a broad scope of the said topic.
Advantages of the HEIC File Format:
◆ Every time you take photographs in this format, you will gain the same or better quality than the JPEG but in much smaller file size.
◆ It can contain photography, a series of images, video while having a description or information, known as metadata.
◆ It is perfect for editing, and most professional photographers use this type of format because of its advantages.
◆ It is a better image format than JPEG by the Moving Picture Experts Group, also known as MPEG.
Disadvantages of the HEIC File Format:
◆ Other devices can't view the image format because of the modern compression it supports.
◆ Uploading the HEIC file format on social media platforms such as Facebook, Instagram, Twitter, and others will automatically convert the format to JPEG.
Part 4. 3 of the Primary Usage of HEIC File Type
Isn't it amazing what HEIC format's abilities offer us? The information above is the essential details you will need to know about the said format. But the succeeding details, we will learn the primary usage of the HEIC file. Whether you are pro or not, this information is a must to read to know the purpose of using the HEIC or HEIF format before you start using it.
Best Format for Editing Images
With its compression, quality, transparency, and dynamic range, most experts who took photographs to love to use this format. Other than that, while editing the image using your favorite image editor, the quality of the original image won't be affected no matter how many times you've edited it.
Burst Image and Live Photo with High Quality
If you want to have a super high-definition quality of single or multiple images all on one device, then this format is your go-to. With a single tap on your device, you can have the most astonishing live photo or burst image that you won't get on JPEG or other image formats. It is perfectly great if you are want to take a shot with complete depth color details on it.
Store Multiple Image with Lower File Size
If your image is in the HEIC file extension with its modern lossy compression, you wouldn't need to worry about the file size of every snap you take. So, enjoy taking a lot of snaps on your device with high quality but in smaller file size.
These are the three usages of the HEIC file; although we didn't include all, these are the most commonly used of this format. So, if you want to view the HEIC file on your phone and convert it to your desktop, then continue reading the details below as we explain them step by step.
Part 5. Best Way to Easily View HEIC Files on Windows and Android
If you are an iOS or Mac user, you can view the HEIC file on iPhone, iPod, and Mac for free without downloading an additional third-party application or the codec itself. So, if you want to know how to view the HEIC image file on your Windows and Android, you can read the following details below. The tool and app we include work fine, and you can view the HEIC file on your device anytime for free.
EasyViewer - HEIC/Tiff/PDF/SVG/EPUB/Comic/Text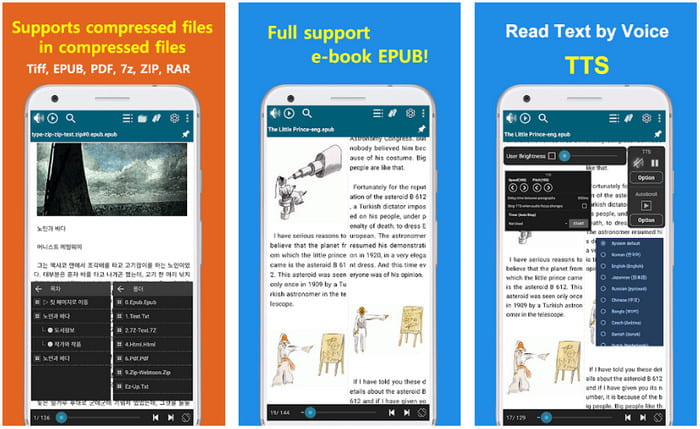 EasyViewer is one of the best apps you can download on your Android view the HEIC file. This app can help you view different media formats on your phone. Unlike another app you can download on your phone, this app has no ads that will bother you. If you want to try it and use this app, the following step is for you.
Step 1. Download the EasyView on the Play Store, open it and allow the app to access your files before proceeding to the next step.
Step 2. Find the folder where the HEIC file is saved on your screen, tap the folder to open it.
Step 3. You've now opened the HEIC file on your Android using this app.
Apowersoft Photo Viewer on Windows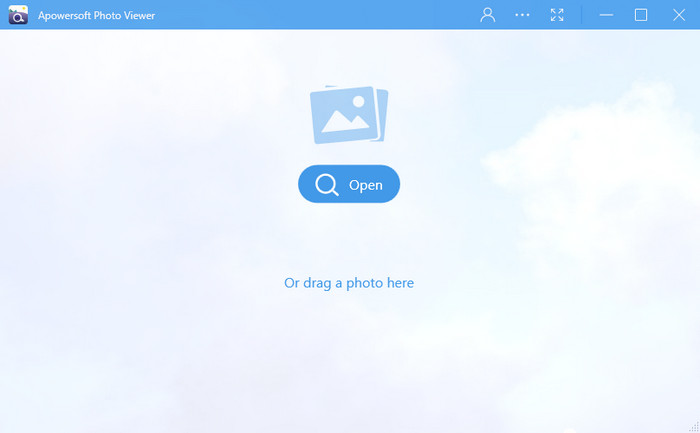 With Apowersoft Photo Viewer, you can view the file without downloading an additional HEIC codec. With this tool, you can view almost all image formats like HEIC, HEIF, JPG, PNG, etc. If you want to know how to use the software on your Windows, you can follow the steps provided below.
Step 1. Download the software on your Windows by going to the official website of Apowersoft.
Step 2. Launch the software and click Open, find the file on your File Explore, then upload the HEIC file.
Step 3. After it loads the HEIC file, you can now view it on your desktop.
Top HEIC Converter You Can Use to Convert HEIC to JPG on the Web
FVC Free HEIC to JPG Converter is our first pick if you want a simple yet effective converter without downloading the software. With this tool, you can convert your HEIC into a compatible image format like JPG. Although the tool is free to use, there are some limitations you will need to keep in your mind, such as the file size and how many times you can use it. Even though the web tool has a drawback, the quality won't decrease if you upload your HEIC file here and convert it into a JPG file. The tutorial below will give an idea of using the software and changing the format of your HEIC.
Step 1. Click this link to open the website to convert HEIC to JPG.
Step 2. After you've clicked the link, a website will open. Press the Add HEIC/HEIF File(s) button, locate the file on your folder, and click Open to proceed.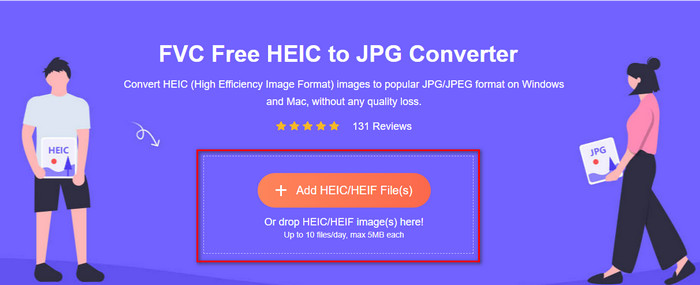 Step 3. The online converter will start converting the HEIC into JPG immediately, wait for the process, and if it finishes, click Download to save the JPG file on your drive.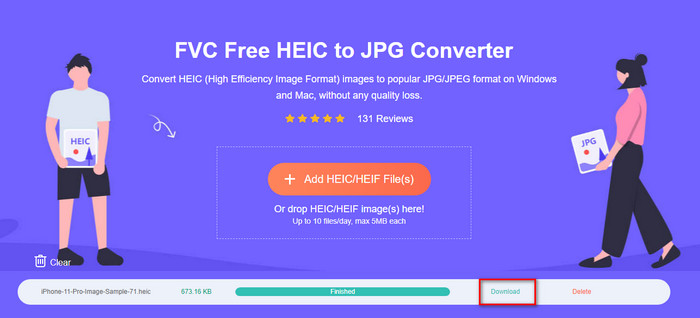 Part 6. FAQs about HEIC File
Why does my image on HEIC on my iOS?
To all of the updated versions of iOS, the image standard format is in HEIC, but you can change it and turn it back into JPG. By opening the setting of your phone, locate the Camera under it, then tap Format. Lastly, tap the Most Compatible to turn back the standard format to JPG. Now you can take a picture with JPG as a standard format.
How can I transfer my HEIC photo to a computer as a JPG?
Open the Settings of your iPhone device, tap the Photo option, scroll it down and look for the Transfer to Mac or PC, then tap Automatic to make the HEIC image into JPG if you transfer it.
Why can't I open my HEIC on Windows and Android?
The HEIC format is not natively compatible with Windows and Android. So, if you want to open the HEIC file on your desktop or Android, we suggest downloading a third-party app. But if you don't want to use a third-party app, we suggest using a converter to convert the HEIC. Read the above mentioned details to know more.
Conclusion
It became more apparent to us what HEIC means and its purpose as an image format. The details above enlighten us on the said format. If you have a HEIC file and want to view it on your Windows and Android, the tools we mention can help you with the task. But if you need to convert it instead of downloading a specific software, you can use the FVC Free HEIC to JPG Converter to change the format into JPG. Follow the steps given above to complete the task effectively.