5 Prominent HEIC to JPG Converters You Should Use for Free [Online & Offline]
HEIC is one of the best image formats you can use on your iOS device; it can compress twelfth of the size of the image, unlike other images. Even if it gets support from Apple, some devices, even software, don't natively support the format because of its whole structure. Perhaps, you are looking for a converter for your HEIC on the web to change the format into JPEG. It is doubtful to hit the right one, especially since over hundredths of converters are available. But don't start to lose hope, for we gathered the top five solutions you can rely on this type of problem.
With this article, you can determine which HEIC to JPG converter you should use to make the file compatible with other devices and software. Thoroughly read this article in less than five minutes to grasp the information you'll know on each online and offline converters.

Part 1. Top 5 HEIC to JPG Converter Available on the Web and Offline
FVC Free HEIC to JPG Converter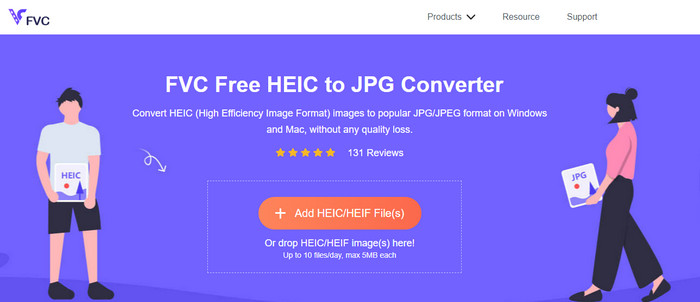 Available on: Web
With a free HEIC to JPG converter online like this, you can effortlessly finish the job in less than a minute without downloading any additional resources on your desktop. FVC Free HEIC to JPG Converter is a dedicated HEIC converter you must use; personally, this is our first pick regarding converting the HEIC. You can finesse out the converting process with the help of this tool without worrying about lowering the quality of the image stored on your HEIC.
Along with the ability to convert, the tool's official website is free from ads. So, if you access this tool, worry no more about the pesky ads that will pop up on your screen. Also, the tool doesn't recommend you sign-up before you can use it; no extra steps on logging in, and use it right away to convert your HEIC file.
There are still some limitations on this web tool, first is the conversion per day, you are allowed to alter the HEIC file ten times, and the file size should be less than 5 MB in each image. Nonetheless, the tool is a must to use, and sometimes it is far better than the other online and offline converters. Also, this tool's conversion speed is far better and faster than the other software we mentioned below.
Pros
It is a dedicated HEIC converter you can access on any web browser anytime and anywhere.
The tool supports an ultra-fast converting process to help you convert the HEIC to JPG in seconds.
Visit its official website without worrying about the pesky ads.
Best HEIC converter choice that you must use to convert the file into a JPEG.
Cons
File size and how many times you convert.
It needs an internet connection to do the conversion.
Zamzar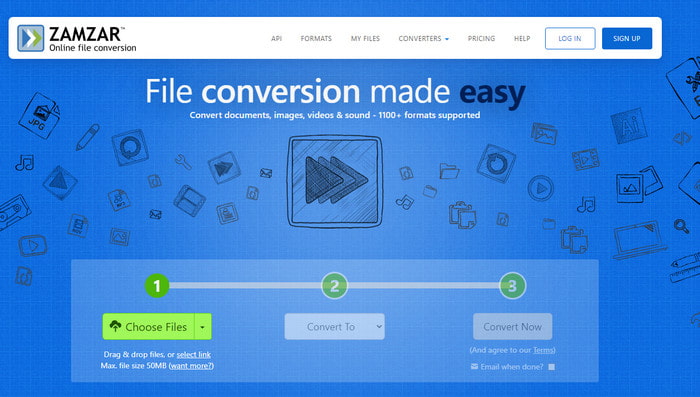 Available on: Web
Zamzar is one of the best HEIC to JPG converters you can access on the web. This software supports various file formats, whether an image, video, audio, or document to upload here. Like the FVC Free HEIC to JPG Converter, you won't need to spend time learning it because this tool is straightforward. Upload the file on the tool's official website, choose the format you want, and click Convert Now for the conversion process to begin.
Even though the webtool is free to use and considered one of the converters, you can use it on the web. Still, the conversion speed it provides isn't as fast as you expected. And if there are a lot of users currently using the tool, you will experience a delay in the conversion and downloading process.
Even though problems may occur, the tool's website is still as clean as the first-mentioned online converter. There aren't any ads on the website to help users have a better experience. If your file is large and you feel that it would take time converting it, you can tick the box of notification when the conversion is done. You must log in to your account here to receive the message. However, if you don't want to log in to your account, that is still okay because the tool doesn't need an account to access it.
Pros
Free to use online converter.
It doesn't have a file size limitation.
Convert HEIC to JPG many times with the help of this.
Cons
The uploading, converting, and downloading process is slow.
A stable internet connection is needed to use the tool.
File size limitation.
Convertio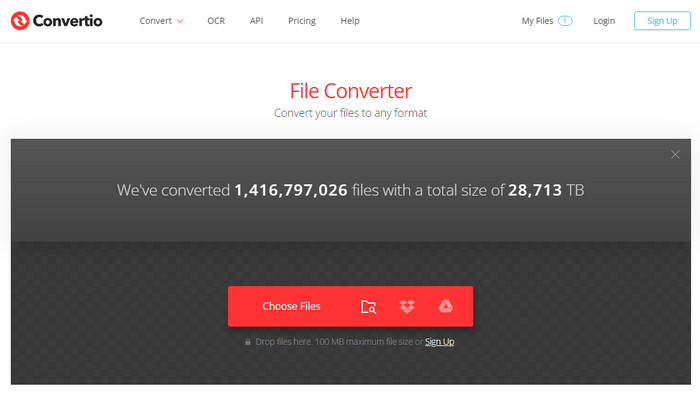 Available on: Web
Another HEIC to JPG converter you can use online is the Convertio. With this tool, you can perform batch conversion of your HEIC file here and convert all of them into a JPG format. While using the web tool, you won't experience any trouble using it. You can drag and drop the file on the tool's website to start the process, select the JPG or the available format, and click Convert. Even though you don't have experience converting the image format you have, you can accomplish it easily with this tool. Maybe you think if this tool supports have an upgrade version, luckily it has. You can subscribe on three different tiers that support different file sizes to upload, convert simultaneously, and prioritize the process. But overall, the tool is free to use on the web.
Despite being one of the converters you can use on the web, there are many problems users experience while using it. Some users share that they have difficulty uploading their media files here. One of the reasons you can't immediately upload the file is that your internet might be slow. All of the mentioned web tools here might experience the same difficulty uploading the file, especially with a poor internet connection. Moreover, you can access your Dropbox and Google Drive if the HEIC file is here.
Pros
It is one of the best free online media converters you can use.
It supports an average range of formats to upload into.
Access and upload the HEIC file that you have on Dropbox and Google Drive.
Cons
Troublesome uploading and downloading process.
A strong internet connection is a must to use the converter.
File size has a limitation when you are about to upload.
Bitwar HEIC Converter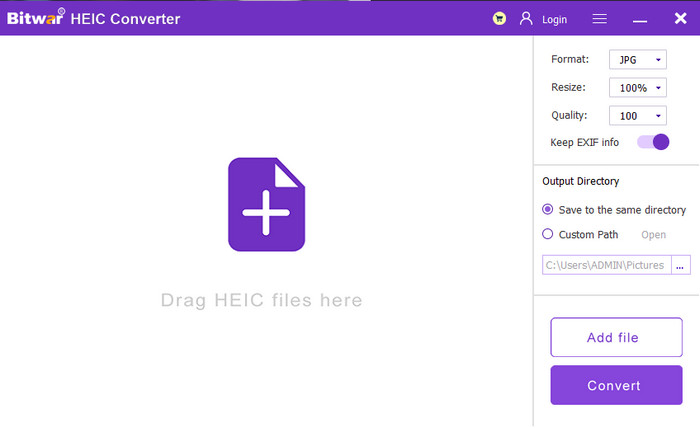 Available on: Windows and Mac
If you don't want to use an online tool to avoid the interruption in converting the HEIC file, we suggest using this HEIC to a JPG converter on Windows and Mac. Bitwar HEIC Converter has a simple GUI for you to understand how to use the tool efficiently. Whether you are a professional or not, this tool can accommodate you on the task of converting your HEIC files into a standardized digital image like JPEG or JPG. This tool is perfect for users who have a slow internet connection because the tool doesn't depend on the strength of your internet connection. When you open the software, you will see an upload box; you can drag the file in here, choose the format, then click Convert to start the converting process.
There is no need to worry about the file size and how many times you use it because there isn't a limitation on using the tool.
However, the tool doesn't support batch converting, so it is impossible if you want to upload multiple files here. But you can add and convert them individually here. That would take a lot of time to compare to the other that supports batch conversion. Even though this might be a challenge for both of us, we still consider it a reliable converter on your desktop.
Pros
It doesn't need an internet connection to use the tool.
Convert your HEIC into the other four formats available like JPG, PNG, WebP, and BMP.
Available on both Windows and Mac operating systems.
Cons
The software doesn't support batch conversion.
It doesn't have an ultra-fast conversion process.
Dropbox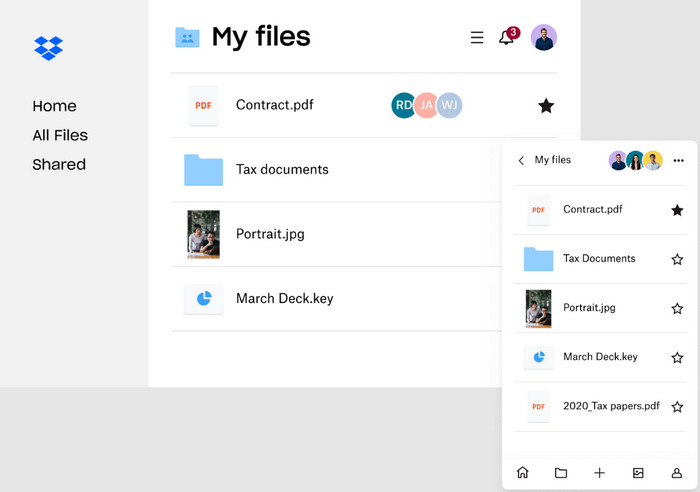 Available on: Mac, Windows, and Online
Dropbox allow you to sync all your files on your cloud or desktop and organize them. With this tool, you can use its feature to change the file extension of the HEIC into a JPG. However, the tool isn't your typical converter like the four mentioned. The process of converting this tool supports is far different from the others. Before you can use this, you will need to sign up on the tool, click Preview, find the HEIC file, right-click the image, select Save Image, and then choose the JPG as a format. Now you have changed the format into JPG with the assistance of this converter.
There isn't much to say on its converting properties because the tool doesn't offer much as a free HEIC to JPG converter. Although it is not a dedicated converter, the tool has its strength in organizing your media file, saving and protecting your password, sharing the digitalized file, etc. So, if you want to use this as a personal converter, we can say that it can do the job but not as great as the other converter above.
Pros
Change the file extension of HEIC into JPG or other image formats.
Arrange and compile your media files with this tool.
It has multiple integrations.
Cons
The paid version of it is too expensive.
The free version is limited for everyone.
Part 2. Comparison Chart of the 5 Best HEIC to JPG Converters You Can Use
| | | | | | |
| --- | --- | --- | --- | --- | --- |
| Feature/s of the Best Image Formats | FVC Free HEIC to JPG Converter/td> | Zamzar | Convertio | Bitwar HEIC Converter | DropBox |
| Fast Converting Process | | | | | |
| Ads while using it | | | | | |
| Convert HEIC to JPG without losing metadata | | | | | |
| Drag and Drop Supported | | | | | |
| Signing in Required | | | | | |
Part 3. FAQs about HEIC to JPG Converters
What is the disadvantage of converting HEIC to JPG?
The file size of the original HEIC will expand a bit because JPG uses a different compressor. Even though they are both MPEG-related, their functions and techniques of compressing the file are different from others. Next is transparency, same as the PNG; HEIC is transparent while JPG is not.
What is the best tool I should use to convert HEIC to JPG?
Converting the HEIC to JPG is not a difficult task anyone can handle; many of us might use our dependable online tool mentioned above or the others. But in this task, it is better to use the Aiseesoft HEIC Converter. If you want to know how to use the tool, you can click this link to learn more in-depth information about the software.
Do HEIC and JPG have the same quality?
So far, HEIC and JPG have the same image quality, they are both high, and it is not surprising to know this information. But regarding color combination, HEIC supports a better depth in color which is great for photography. Although JPG can do the same, still HEIC is more reliable, especially on taking shots of detailed imagery.
Conclusion
To wrap it all up, the HEIC to JPG converters we present in this review gives us a chance to change the file extension to JPG. Instead of trying them, we have tested them for you and ensured that all of the tools work fine during conversion. From the shreds of evidence presented above, we can see that the five mentioned image converters have different aspects, functions, and features that make them different from others.
Although the FVC Free HEIC to JPG Converter has limitations in size and conversion per day, it is undeniable that the web tool has the upper hand in conversion speed. So, if you want to test it out, click the link and see if the tool does work flawlessly.