What is JPG/JPEG and How to Convert Images to JPG
The JPG, PNG, and GIF file formats are the most popular formats nowadays. When it comes to using images on your website or social network posts, these are the files you can encounter. It's crucial to keep in mind that each of these has distinct capabilities. It means that each of them has unique features. But, in this post, we will focus on the JPG/JPEG file format. You will learn its definition, capabilities, and how to open JPG/JPEG files. Also, you will learn the best way on how to convert images to JPG/JPEG format using an online tool.

Part 1. Information about JPG or JPEG
What is the JPG/JPEG format
JPG image file format is the best file when compressing an image. JPG is a popular file for users. They use it for photographs and internet graphics. Also, it is known as JPEG or JPG files. The full name of JPEG is Joint Experts Group. This group creates this popular image file. Moreover, most of the bitmap images have a .jpg file extension. The main reason is to reduce the size of the files. JPG is a lossy format, which affects the image quality when you compress it too much. This format is accessible in all programs. This way, you don't need to think about how to open this file on different programs or devices. Its compression algorithm reduces the size of the file. It is one of the reasons why it has become popular these days. This way, creating a story, sharing, and posting photos on the websites are more leisurely. For additional information, you can encounter instances when the websites don't recognize the JPEG file. For example, some photo viewers and editors will only open an image with the .JPG file. The best solution you can do is to rename the file extension. You can change the JPEG file into a JPG file. This way, the website can recognize the image.
Furthermore, the JPG file has advantages you need to know. JPG is a high-resolution image. Its high definition is one of the great advantages of this image file. It supports 24-bit colors with up to 16 million colors. The resolution will still be excellent, even after applying high-level editing using some tools. Also, JPG is smaller in size. Compared to other image file formats, it has an ideal file size. Even if it has a smaller size, it doesn't affect the quality and resolution of an image. After knowing the advantages, you need to know its disadvantages for more awareness. When shooting on JPG, you must limit the camera's processor and color variations. This file also doesn't support layered images. If you plan to edit an image and need an extra layer, JPG is not the perfect format for this.
Part 2. How to Open the JPG/JPEG File
If you are having trouble opening your JPG file on your devices, this part will help you. Do you want to know how to open a JPG file on Windows 11, Android, and iPhone? You can follow the given instructions below.
For Windows Users
Step 1: Press the ctrl + E on your keyboard to open File Explorer. It is like a folder icon with a blue clip.
Step 2: Navigate to the Quick access folder panel. Then, go to the Download options to see the JPG photo you saved.
Step 3: When you already see the JPG/JPEG files, open them using other programs besides Photos. To open them, right-click the photo, click the Open with option and select the program.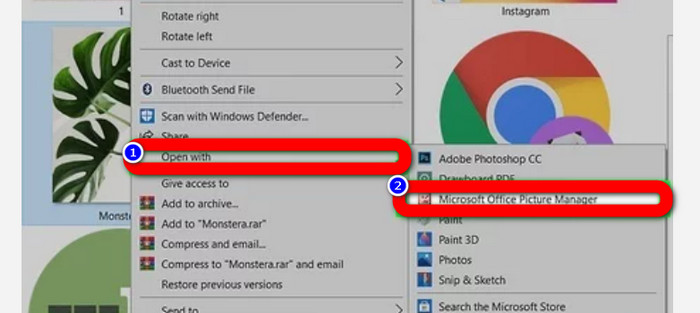 For Android Users
Step 1: Open the Gallery application from your Android device.
Step 2: Open the camera album to view the photos you take with your phone's camera. There are also various albums on your phone.
Step 3: If you see numerous photos, click a single photo to pen it in full-screen mode. This way, you can view your JPG/JPEG image.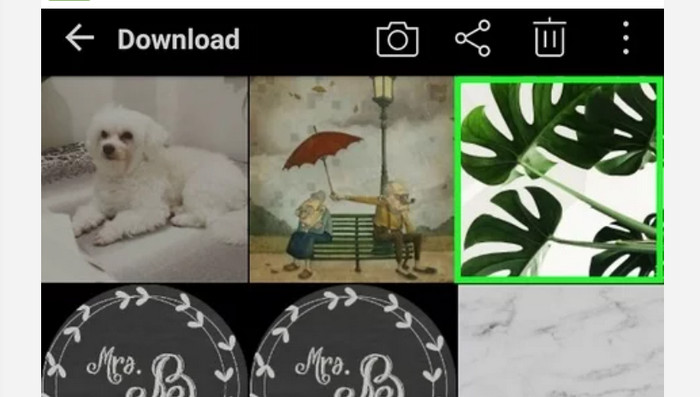 For iPhone Users
Step 1: Tap Photos on your iPhone. This app contains all the images you have from your photo and the internet. The appearance of this app is like a colorful flower.
Step 2: After you launch the Photos application, you can see all the photos there. Also, like on an Android phone, you will encounter various albums inside the application.
Step 3: Click the image to open it in full screen. This way, you can view the image more clearly. Besides opening the image, you can also edit the photo in the Photos application. There are icons you can use to make your images better.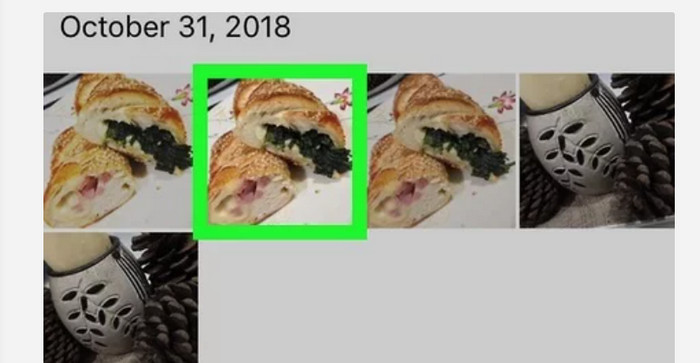 Part 3. Excellent Method to Convert Images to JPG
FVC Free Image Converter is a tool you can use online to convert images to JPG. It can help you to convert your image in a few clicks. Also, it supports various input formats like JPG, PNG, GIF, TIFF, and more. So, you no longer need to worry if specific tools or devices can no longer open your image. Use this online picture converter to convert them. It can also preserve the excellent quality of the original photos. After the process, you will see no difference between the original and the file you converted. Moreover, This image converter is easy to operate. It offers a comprehensible process of conversion, making it suitable for beginners. It is also capable of converting images by batch. This way, you can convert many files at once. You can also access this application on numerous browsers like Google, Safari, Mozilla, Explorer, and more. Lastly, this app guarantees the privacy of every user. After downloading and converting the image, this image converter will delete your photo automatically.
Step 1: First, visit the FVC Free Image Converter website. Go to the format options and select the JPG file format.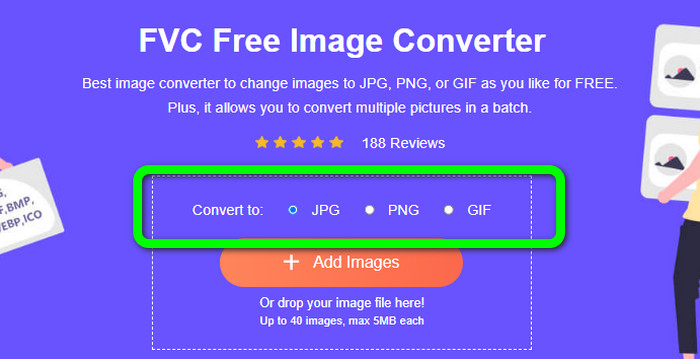 Step 2: To upload a photo you want to convert, click the Add Images button. If you want a batch conversion process, click Add Images again.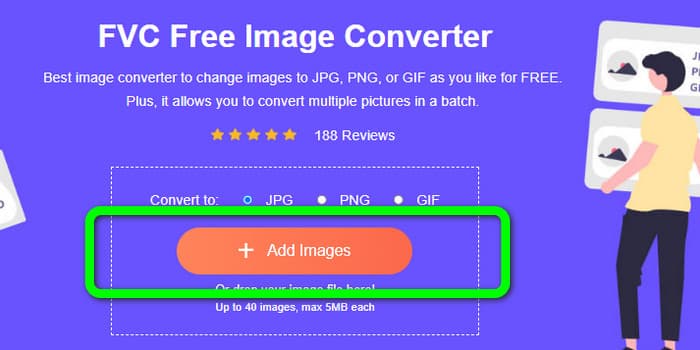 Step 3: When the conversion process is done, click the Download button to save them one by one. If you want to save them at once, click the Download All button.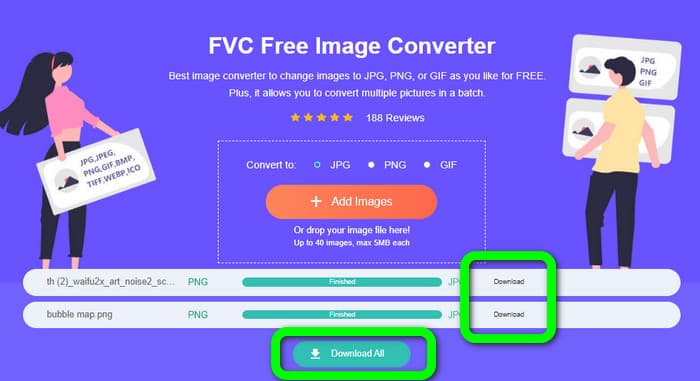 Related to:
Full Details about Differences of JPEG vs. JPG vs. PNG
8 Astonishing Image Converters [Complete Information]
Part 4. FAQs about JPG/JPEG File
1. How do I know if my photo is a JPG file?
You can right-click the photo on your file folder. Then, go to the Properties option. Navigate to the General menu and see your image's file type.
2. How well does JPEG compress images?
Very well. The uncompressed data for full-color photos is 24 bits/pixel. The most popular lossless compression methods can compress such data about an average of 2:1. JPEG can achieve 10:1 to 20:1 compression without discernible loss. It reduces the necessary amount of storage to 1–2 bits per pixel. With tiny data, 30:1 to 50:1 compression is workable to cut flaws. While low-quality uses like Archive indexes can compress 100:1 with relative ease. A compressed image JPEG's 100:1 ratio uses the same amount of space as a full-color, one-tenth-scale image. Despite having far more detail than a thumbnail, it does.
3. How to open a JPG file on Photoshop?
Launch Photoshop on your computer. Go to File > Open option. The folder file will pop up on your screen. Choose the JPG file and click OK. After that, you will see the JPG image file in Photoshop.
Conclusion
This article explains to you what JPG/JPEG stands for, including its definition and features. As a bonus, we also introduced to you the easiest method to convert images to JPG format using FVC Free Image Converter. So, what are you waiting for? Use this tool to convert your images to JPG format effortlessly.