Best of the Best Converters You Can Use to Convert 3GP to AVI Online & Offline
3GP format is the flexible format that transfers the audio and video streams to the 3rd generation mobile phone using GSM. It matches the 3G connectivity for faster transmission of the file. This format is most commonly used on the old phone version because it is multi-purpose and quickly transferred. However, 3GP files can't be played on your local media player nowadays because this format doesn't allow the new media player to understand the structure of the format. So the best way to watch all the 3GP files on your phone or desktop is to convert. So now, instead of looking on the internet for what best converter you can use, we gather four converters you can choose from. The tools mentioned below are perfect and can convert 3GP to AVI format without any quality loss.

Part 1. Convert 3GP to AVI Offline with the Ultimate Converter
FVC Video Converter Ultimate
Suppose you don't want to break any sweat on converting your 3GP files. In that case, we strongly suggest that you must use the FVC Video Converter Ultimate. This software is one of the best choices in converting the file, and converting the file within a few seconds is speedy. Moreover, a lot of customers who use this experience share the same thought. To sum it up, they clearly stated that this tool helped solve their converting problem within a blink of an eye.
Further explanation, this tool is not only the best in converting the file; it also has the most advanced features you would like to try on. Examples are editor, GIF maker, volume booster, syncing audio and video, reversing, and more. If you buy this tool, you will get all of the mentioned tools earlier, and there is a lot more to come up. So now, let's try and follow the step-by-step to convert 3GP to AVI on Mac and PC without losing its quality.
Step 1. Click the download button and choose whether you are a PC or Mac user, then install it next.
Step 2. Launch the tool, click the + sign in the middle of the interface, select the .3gp file on your folder and click Open. Also, you can do a batch conversion here if you may; click the Add Files to add more.
Step 3. To change the 3GP, click the Convert All to option and choose the AVI format under the Video category.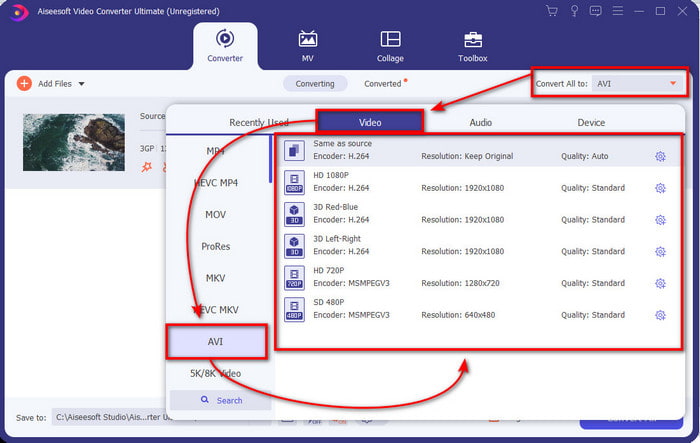 Step 4. To start the conversion process, click Convert All, and the process of converting your 3GP files will begin now.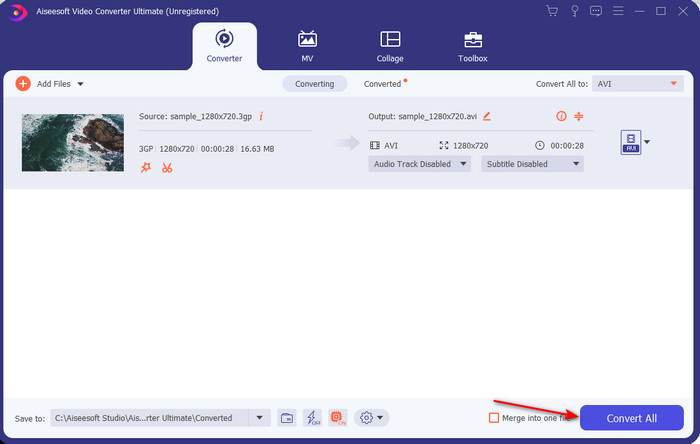 Step 5. After converting, a file folder will show on your screen with the converted 3GP file. Click the newly converted AVI you've made to watch and edit it later if you want.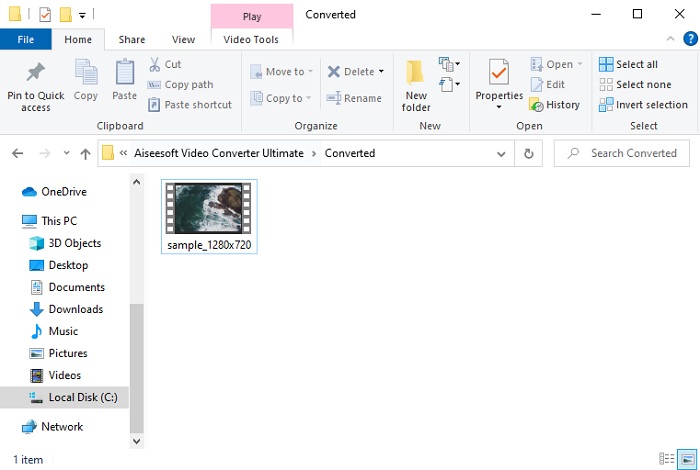 Part 2. 3 Available Online Converters to Convert 3GP to AVI
1. FVC Free Video Converter Online

We ensure that the tool in this list is the best 3GP to AVI converter online, and that is the FVC Free Video Converter Online. All of the features you would like to see on an online converter are here. It is the best online converter, we mention in all of the different aspects. For example, if you want an efficient online converter, safe conversion process, and no ads at all, then this is the web tool for you. Although the web tool looks great and works perfectly fine, it still supports a medium-range format. Advanced features that you might encounter while using the FVC Video Converter Ultimate are not available here. But the advantage of this to the software version is that you are free of charge. Without any more delays, let's proceed to the steps to convert your file into a new version.
Step 1. Hit this link to go to the website.
Step 2. Press the Add Files to Convert to launch the online tool, and a folder will show, then search for the .3gp file. If this is your first time using this tool, you will need to download the launcher by clicking the Add Files to Convert and then re-click it to launch.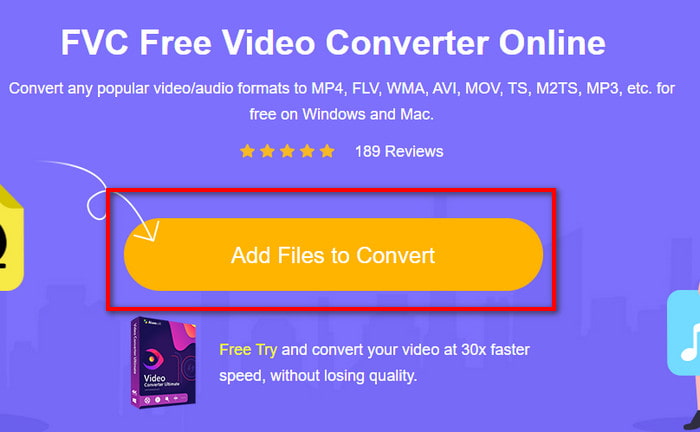 Step 3. After selecting the file is done, choose the AVI format in the section below.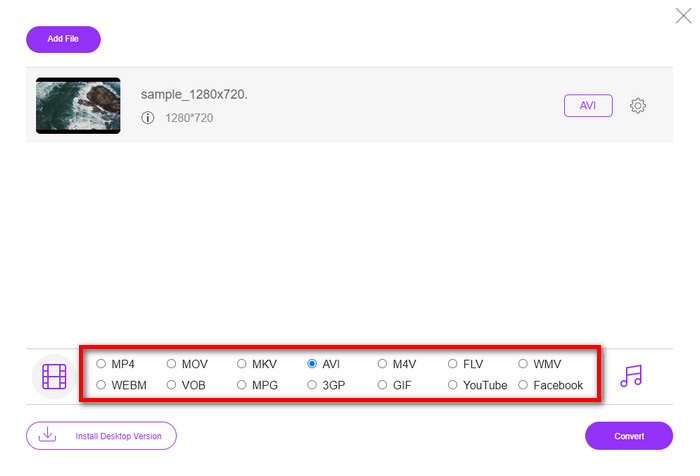 Step 4. If you are now ready to convert the file, click Convert.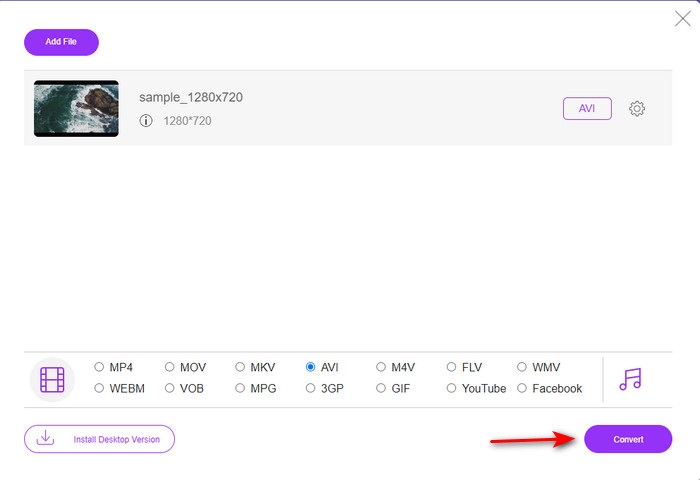 Step 5. After conversion, a folder will show again, but now with the file, you convert earlier.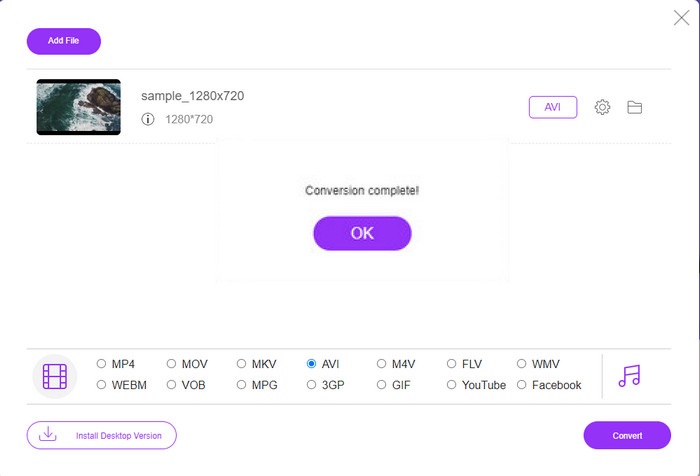 2. Fconvert.com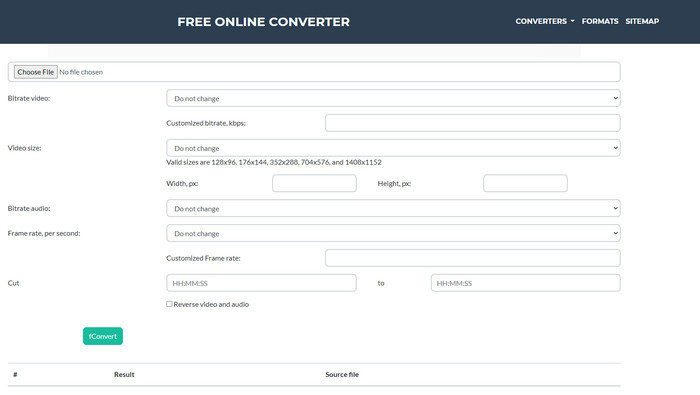 In the line of converting files, Fconvert.com must be on the list because this web tool is one of the fantastic converters you can use for free. This converter can convert almost all of the formats you know and maybe one of your files. However, there is a problem with this tool, and that is the ads. Because every time you click something on the website, an ad will be first before going on what you click. Although ads are killing, this app still looks neat and does perform great in converting format. So if you want to experience how great this tool is, follow these steps below and learn how to convert 3GP to AVI for free.
Step 1. Search the main website of this tool on your browser.
Step 2. Click the AVI under the video, click Choose File, locate the .3gp, then scroll it down and click fConvert.
Step 3. Scroll it under, and then you will see the Result; click the file to download it.
3. Anyconv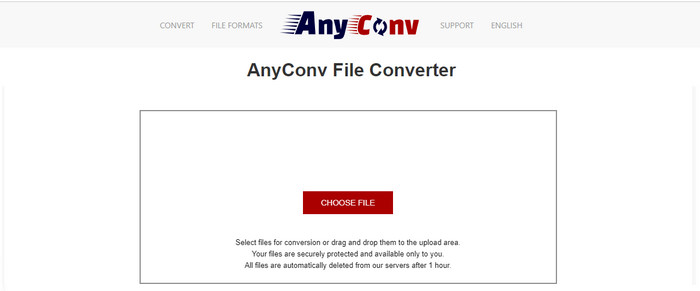 Another tool that specializes in converting formats is Anyconv. This web tool is far different on Fconvert.com because this tool is much better and faster. Also, this tool has fewer ads than the tool before this. Although it has fewer ads, they are more extensive compared to Fconvert.com, but performance-wise, this tool does well performance-wise. Let's test this tool to see if it works on converting 3GP to AVI for free without further delay.
Step 1. Open your search engine and find the Anyconv website.
Step 2. Press Choose File, and a folder will show, insert the .3gp file on the web tool and proceed. To change the format, you must click the drop-down button and find the AVI. To start the conversion process, click Convert.
Step 3. Wait for the process to end, then click Download AVI to download the converted file.
Part 3. Which Format Is the Best; 3GP or AVI
If you are using a 3rd Generation phone and want to store high-quality video, transfer it faster in the 3rd phone generation, then 3GP is the format for the job. However, if you try to send AVI format to 3rd gen phones, the file won't open because this format is not supported. But in today's case, AVI is much better. It has already gained a lot of support from all media players and editors compared to 3GP. Although AVI format is the best choice today, the file size is enormous compared to 3GP, and if you were about to save it on your phone, it would eat up a lot of space. Furthermore, both formats are great, but they have different purposes and uses.
Part 4. FAQs about 3GP and AVI
Can I use FFmpeg to convert 3GP to AVI?
You can use FFmpeg to convert your 3GP file; however, it is difficult to do, but it is manageable if you take your time. The first step is to download the zip file of FFmpeg on your computer then unzip it. The second step is to open your CDM to communicate with the tool. Then locate your file using the command prompt, ffmpeg -i input.3gp -vn -ar 44100 -ac 2 -b:a 192k output.avi copy this code and paste it on the CDM, and click Enter to start the conversion process.
Can 3GP be played on 4th gen phones?
This format is used on 3rd gen phones, and you can still play videos under the 3GP format in some 4th gen phones but not in all. Because, as said earlier, 3GP are for 3rd gen and not in some 4th gen phones. Or you can turn to professional 3GP players to enjoy your videos.
Which format is better: 3GP or MP4?
On quality and most supported format, MP4 is much better in this type of area. However, 3GP is much smaller and works better in 3G networks for faster transferring of this file format. Want to convert MP4 to 3GP or vice versa, click here to learn more details.
Conclusion
Every journey must come to an end, and now you can easily convert 3GP to AVI with the help of the tools mentioned above. Moreover, all the tools presented above, let's include FFmpeg, do work great. Still, the best choice always falls to the FVC Video Converter Ultimate. This tool surpasses all of the online converters can do in conversion and many more aspects. So now, if you want to get the software click the download button and do the conversion quickly.