2 Easy Ways to Convert M4V to WMV Effortlessly and Loslessly
Some companies have video compression formats. Apple and Microsoft have developed video files exclusive to their media players. So, when one downloaded or purchased M4V files from Apple iTunes Store and wanted to share these with friends or family with PCs, converting M4V to WMV might be the best to do before doing so. Hence, we provide you with the one-of-a-kind converter that gets this job done quickly, efficiently, and exceptionally hassle-free.

Part 1. How to Convert M4V to WMV at Ease on Mac and Window
Free Video Converter Ultimate is a simple yet effective video converter from FVC Studio. Your Windows or Mac computer allows you to convert video and audio files. Furthermore, the video formats supported by this video conversion are diverse and include the most widely used ones – it supports popular MP4, FLV, M4V, WMV, TS, M2TS, iPhone/Android files. This software uses HEVC technology, so you would not need to worry about the quality for high-quality converting. Speaking of quality, it is also 4K UHD supported. To use this, here are the simple steps you need to follow:
Step 1: Download the .exe file by clicking the Free Download button below according to your operating system, for Windows or Mac. Once you finish downloading, open it and start installing the software. After that, run the software ahead.
Step 2: A window will open, and there will be an interface with a + button in the middle. You have to click on it to import the video file you wish to convert. Or you can drag and drop the file with ease.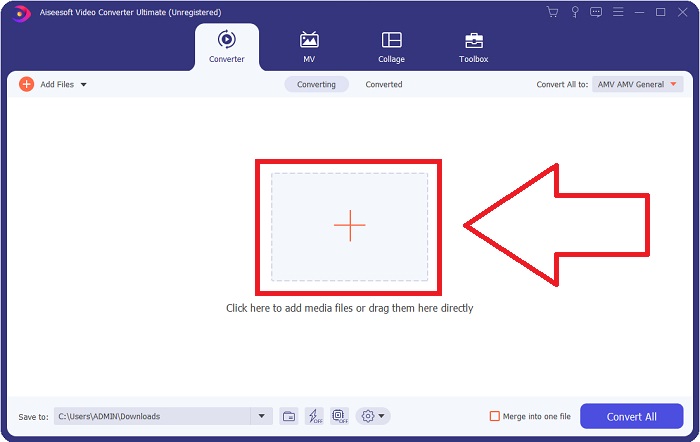 Step 3: You will see the file you imported on the interface. On its right, it shows the current format of the video is. Click on it, and it will show all the available formats you have to choose. In this case, scroll down and find the WMV or just type it in the search bar for a faster approach. Moreover, all the video qualities are available to choose from on the right side of the tab. You can select whichever you prefer.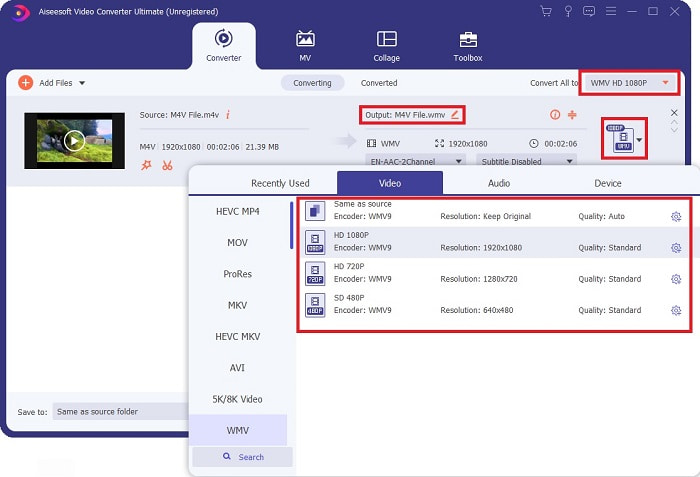 Step 4: In addition to the said quality selection, you can further edit the outcome of your video by clicking on the gear icon on the right side of the video quality you chose. It will show you all the possible adjustments, including the frame rate, resolution, bitrate, sample rate, encoder, and many more. Just click the Create New button to save the changes made.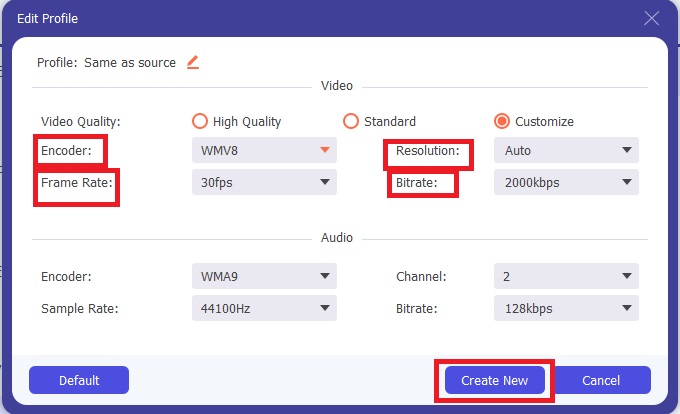 Step 5: To finish the conversion process, click the Convert All button found on the bottom right corner of the tab, wait for it to finish, and then you will get your converted file.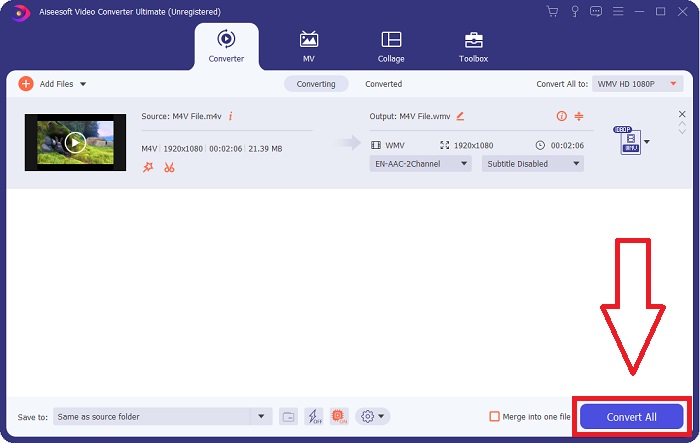 Part 2. How to Convert M4V to WMV Using Handbrake
Handbrake is a popular free converting program that runs on Windows, Macs, and Linux platforms. Users may upload videos in any format from DVD and Blu-ray sources to this open-source transcoder for conversion to WMV. The converting procedure is fast and easy, thanks to a user-friendly interface. Follow these easy instructions to convert M4V to WMV using a Handbrake.
Step 1: Start the Handbrake application on your computer. Click the Open Source button on the main screen to browse and add WMV files converted. You may also just drag and drop the videos into the interface.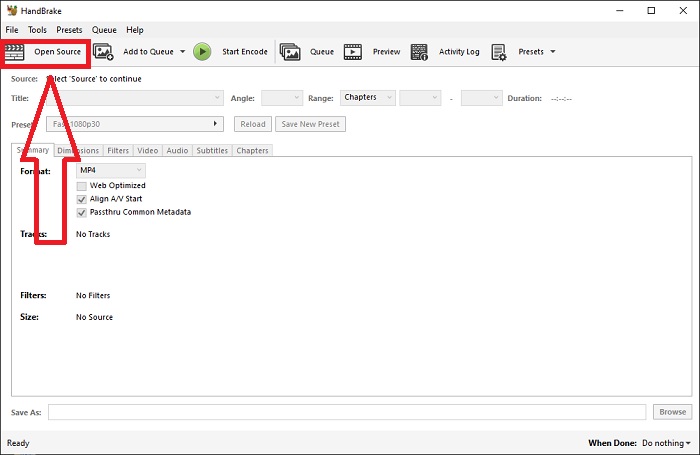 Step 2: The newly inserted file will show in the Source area. Then, choose WMV as the desired output format from the Format drop-down option on the Summary tab. Filters, video codecs, and other file properties may be tweaked if necessary.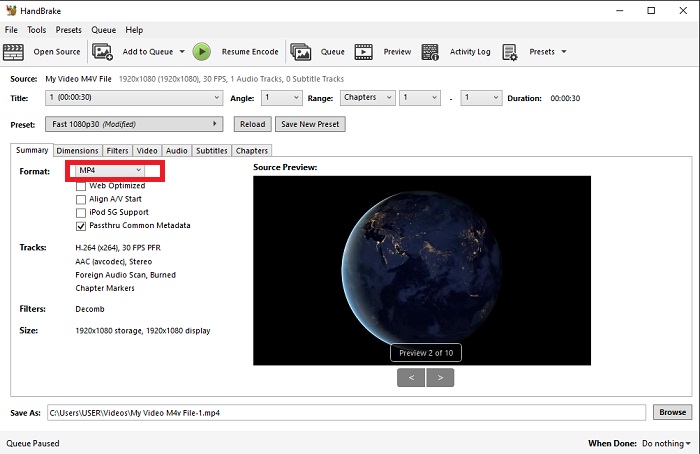 Step 3: Choose the output file name and location on your PC under the Destination section. Finally, click on the Start Encode button to convert the M4V file to WMV.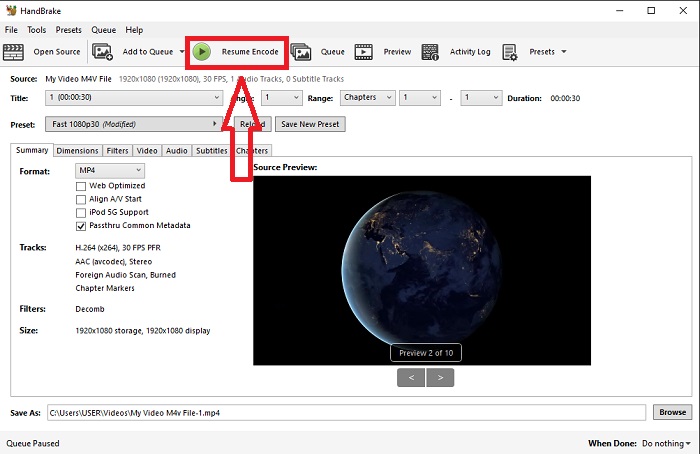 Part 3. Another Helpful Tool to Convert M4V to WMV Online
As a free internet tool, FVC Free Video Converter is handy. MP4, MOV, MKV, AVI, M4V, FLV, WMV, WEBM, VOB, MPG, 3GP, GIF, and video formats approved by YouTube and Facebook are among the types it supports. Furthermore, this free online video converter can also convert audio files, allowing you to convert your video or music to MP3, AAC, AC3, WMA, WAF, FLAC, and other formats. FVC Free Video Converter also allows you to specify files before you start converting. You may change the video's resolution, frame rate, and video bitrate, as well as the audio's channel, sample rate, and bitrate.
Step 1: Click this link to go to the online tool itself. First, you have to download a launcher quickly. You can do this by clicking the Add Files to Convert button found in the middle of the page. This step will allow you to import your files.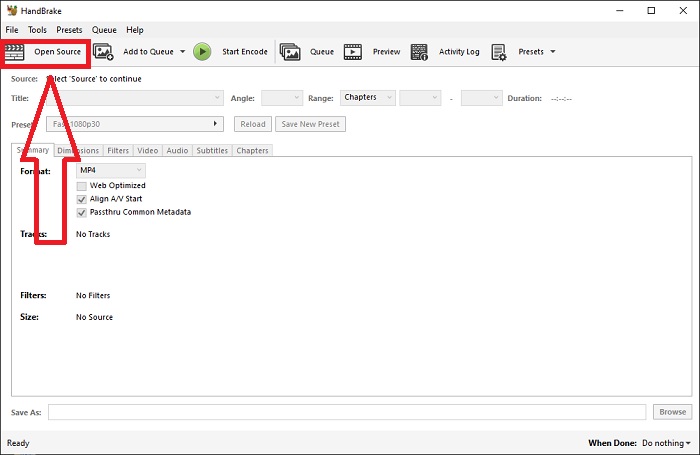 Step 2: Click on the said button again to finally upload the video. You will know the upload is successful once all the presented formats are in the interface. From there, select WMV among the others.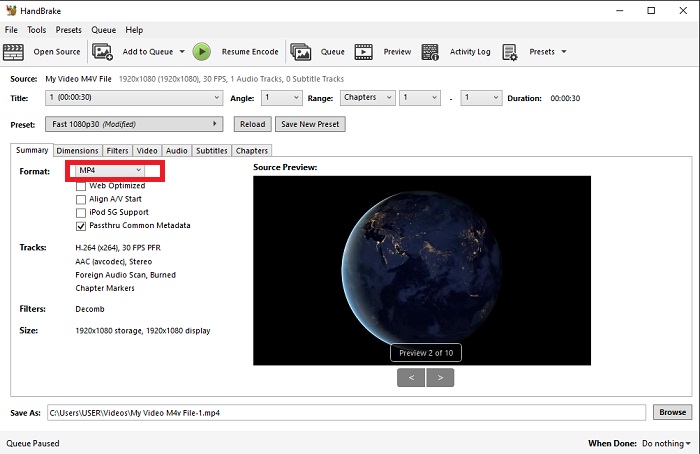 Step 3: You can find a gear icon on the right for the additional options in the software. Click on it, and it will allow you to make changes to the video and audio settings in terms of resolution, frame rate, and others alike. Once done, click OK and then the Convert button to finish the conversion process.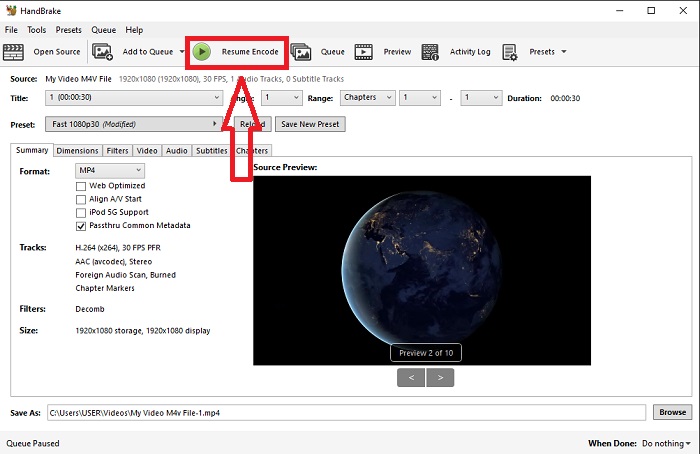 Related:
Part 4. Extended Knowledge about M4V and WMV
For the additional information you might want about the two formats, you can read what we provided below:
M4V is an Apple-created file format. It is extremely similar to the MP4 file format, except that M4V files may have Apple's Fairplay DRM protection. The M4V format can find in video material acquired from the iTunes store. If the M4V file has DRM enabled, the iTunes account used to purchase the file must be authorized on the machine playing it.
On the other hand, WMV files are video file created by Microsoft that generally includes audio. On both Mac and PC platforms, users may play these files with several video players. Digital rights management (DRM) protection may be included in certain WMV files, preventing users from making illegal copies of files bought from online retailers.
| | | |
| --- | --- | --- |
| | M4V | WMV |
| File Extension | .m4v | .wmv |
| Developer | Apple Inc. | Microsoft |
| Supporting Programs | ◆ Media Player Classic ◆ VLC Media Player ◆ KMPlayer ◆ Zoom Player | ◆ VLC Media Player ◆ MPlayer ◆ Media Player Classic ◆ Windows Media Player |
Part 5. FAQ about Converting M4V and WMV
Is M4V higher quality than MP4?
We now know that there is no fundamental difference between MP4 and M4V after making a side-by-side M4V MP4 comparison. After removing the DRM protection from the M4V video file, the MP4 and M4V video files are identical.
Does Handbrake remove DRM?
It is a library for viewing DVDs encrypted with the Content Scramble System (CSS), a method extensively utilized by free player software to decrypt protected discs. It is compatible with Windows, macOS, Linux, and various operating systems. HandBrake is capable of effectively removing DRM from DVDs and ripping them.
What is the best use of WMV?
Microsoft created the WMV video format extensively used in Windows media players. WMV files are smaller and more compressed than MP4 files. That is why it is popular for streaming internet video.
Conclusion
There are undeniably many ways to convert M4V to WMV, but only a few can do so while making adjustments on a few specifications further. That is why we recommend Video Converter Ultimate since it will be by your side whenever you need a converter. If time does not permit installing the software, its online counterpart is always available to use. So, help us help you deliver the best video editing experience by using FVC Video Converter Ultimate.