2 of the Best M4V to FLV Converters for Windows/Mac/Online
A video and audio container made primarily to use on every Apple iTunes, M4V. This format is protected to avoid copyright issues by DRM copyright protection. In this case, the file is hard to play if you don't have your account on iTunes with the credentials. So if you want to watch the videos on your PC or Android phone, it is a must to convert them into playable FLV. To know how to convert M4V to FLV, read this article and have a brief idea about M4V and FLV.

Part 1. 1st Choice on Converting M4V to FLV on Mac & PC
It is the most efficient converter you would love to use, especially if you convert M4V to FLV on Mac or PC. FVC Video Converter Ultimate is the most pick converter a lot of users already depend on. Furthermore, if you want to have a multi-purpose tool that provides phenomenal output, this is a must. Also, you can convert any media file in here and set the quality to SD, HD, 1080 even 4k videos. Expect nothing less if you download this tool on your drive because it is said in its name that it is ultimate. Moreover, follow the tutorial written below if you want to experience this tool's maximum conversion capacity.
How to Convert M4V to FLV with the Help of the FVC Video Converter Ultimate:
Step 1. Click the download button below, choose what OS you are currently using. After downloading, click Install, and a welcome interface will show, then press Start Now.
Step 2. Start the tool, click + sign in the middle of the interface and select the .m4 file on the folder that will show, click it and press Open.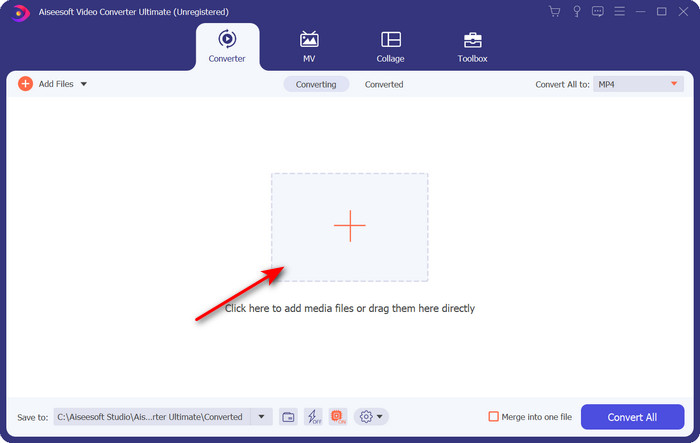 Step 3. Once the .m4v file is on the interface, click Convert All to and find the FLV format.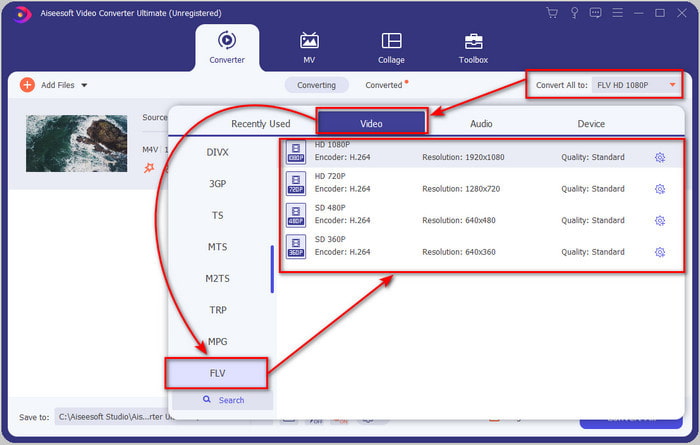 Step 4. Go ahead and click Convert All to start the changing of M4V to FLV.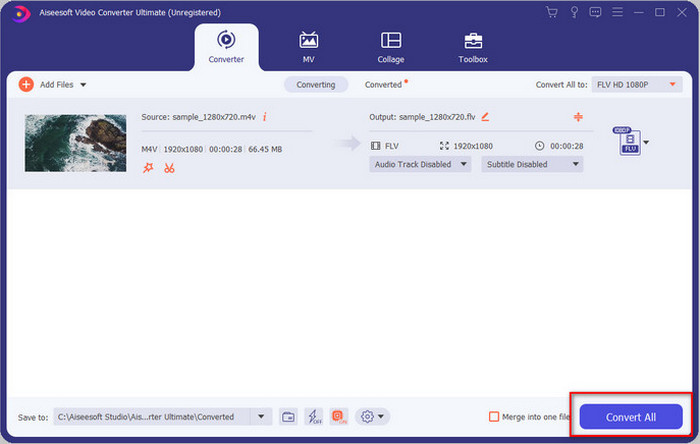 Step 5. Converting the file will take less than a minute because of the fast conversion this tool provides. A folder will show your converted file; click the file to watch or share it online.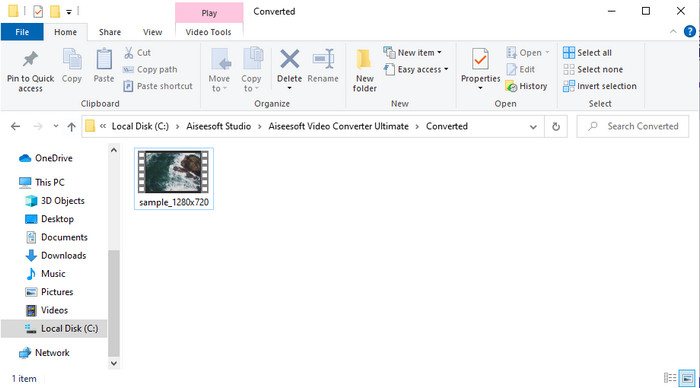 Pros
Fast conversion and Hardware Acceleration are available for the best experience.
Available on all platforms like PC or Mac.
Performing editing videos to make them outstanding can be outdone here.
Cons
Payment before to use but the price of it is affordable.
Download the software before use.
Part 2. 2nd Choice on Converting M4V to FLV for Free via Online
Converting your files online can be efficiently executed if you use a proper convert M4V to FLV online with the help of FVC Free Video Converter Online. This online tool is the best converter you can access on all web browsers if you have an internet connection. Also, you can convert here without a limit in size, but you can't perform the batch conversion here. Even though the online software is excellent still internet connectivity is needed, so if you don't have then this is not a choice like the other web converters available. But, if you have an internet connection and want to experience a well-done free converting online, you must follow the steps below.
How to Convert M4V to FLV with the Help of the FVC Free Video Converter Online:
Step 1. Hit this link to go to the free online converter the FVC provides for you.
Step 2. On the web interface, click Add Files to Convert to download the installer. Once downloading the installer is done, hit the Add Files to Convert again and a folder, then select the M4V file.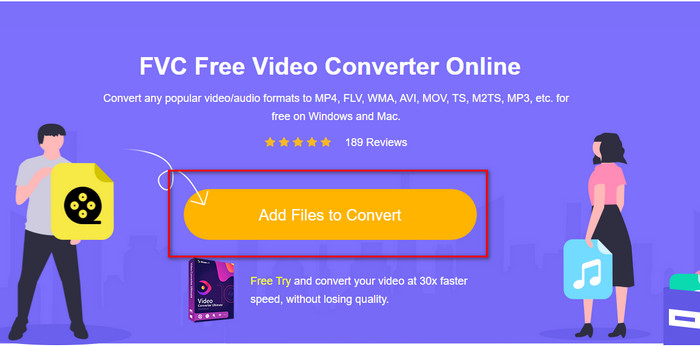 Step 3. A new web interface will show the below choose the FLV format by clicking it.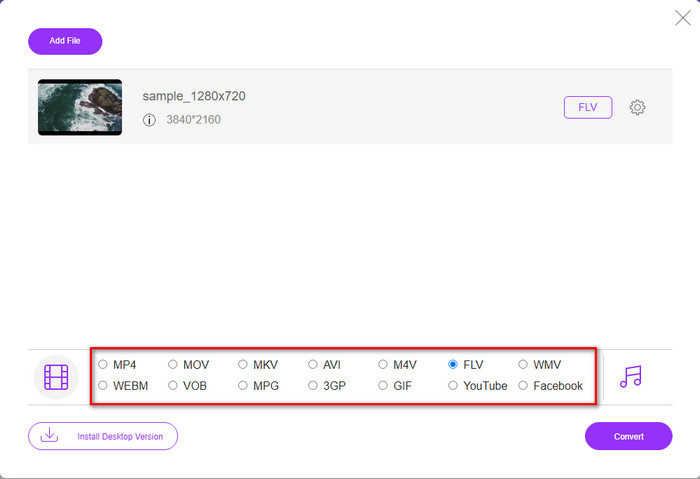 Step 4. So, to begin to convert M4V to FLV for free, click Convert.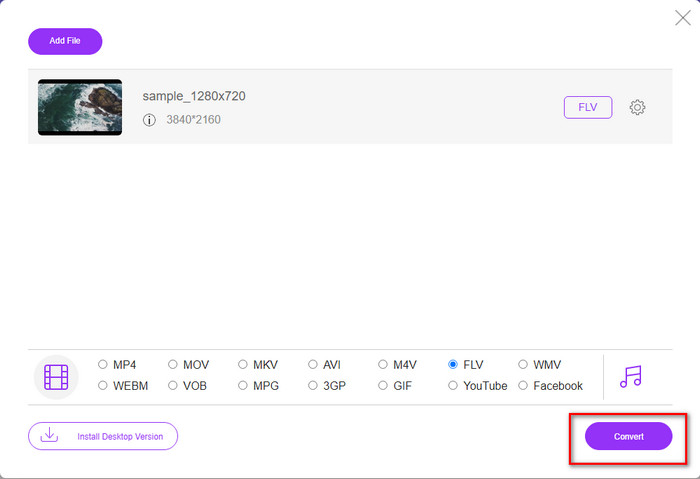 Step 5. After the conversion, a folder will show on the interface; click the file to play it on your local media player.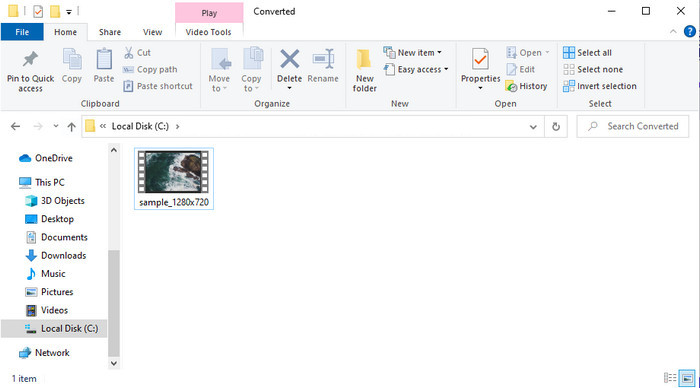 Pros
Free and compatible in all web browsers.
Unlimited file size and conversion.
Safe and no ads in the primary web tool.
Cons
It needs internet connectivity to use the tool.
Less supported format to upload and convert into.
Part 3. Differences Between M4V and FLV Formats
M4V stores the highest video quality downloaded on your Apple iTunes store. This format is similar to the MP4 because they use the MPEG-4 codec as a compressor. But the M4V videos are protected under the Apple FairPlay DRM copyright protection. So, playing videos under this format is tricky because it will not play right away if you insert them on a media player other than iTunes or Quicktime Player. Unprotected M4V files can be accessed on your media player by changing the file extension to .mp4.
In contrast, FLV is used to transfer video and audio data over the web as quickly as possible. Flash Video is the most favorable format that is on every HTML 5 website. However, this format was discontinued because Adobe Flash had already retired. Yet, you can still play it on your media player plug-ins needed once you download it or convert.
Part 4. FAQs about M4V to FLV Conversion
Which is better; MP4 or M4V?
If you want to protect your file, then M4V is the format you must use because this is available only on Apples, and it is protected. But suppose you want a format compatible with all media players, the editor, and more. In that case, MP4 is the universal media format you would love to use.
Can I play M4V on VLC?
VLC is free to use and compatible with all platforms; also, it can play almost all of the media formats. But the protected M4V can't be played here because it is protected. So now, if you want to watch .m4v on VLC, it is a must to convert the M4V file into MP4 or AVI.
Do I lose the quality after converting M4V?
After converting M4V, the quality of it should retain the standard rate of the original M4V quality. However, some converters don't support converting the video into HD, 1080, or 4k. So, you better choose the perfect tool and not the okay tool that will suffice your needs in converting without losing its quality.
Conclusion
All in all, the two online and offline tools presented here are destined for greatness, especially if you want to convert M4V to FLV. Also, we gain insights into the two formats, the M4V and FLV. Although altering the M4V is necessary to watch the protected file, choosing the right tool for the right job is tricky. So, we present two tools you can use to convert the format for free by using FVC Free Video Converter Online. Or rather experience new heights of converting by using the FVC Video Converter Ultimate. And now, what are you waiting for if you want to watch your M4V for free? Choose the tool above, follow the quick and easy steps presented above, and voila, enjoy the video.