How to Convert MP4 to WMV for Mac/Windows
Before introducing a suggested list of MP4 to WMV converters, let me ask you something about video formats.
To save digital video data on a computer system, we need to use a file format designed for video. So what kind of video formats do you know? MP4? WMV? FLV? AVI? Well, these truly are commonly used video formats while storing digital video data. But have you ever wondered why are there so many video file formats? What's the difference between MP4 and WMV?
Generally, MP4 is compatible with almost every type of devices on the market, which means you can play MP4 everywhere, even on your computer's or phone's default video player. However, if you use Windows devices, I believe WMV can serve you better. Not only because it is developed by Microsoft, but because it can save the HQ video in a small disc space.
So today you're gonna learn how to change a MP4 file to WMV with the best video converters that we recommend.

Part 1. How to Convert MP4 to WMV Online for Free
Apart from installing classic desktop software, using a web-based converters is also an option nowadays. Though simple, many online converters are slightly slow during the conversion. Some even limit the size and quantity of the files you upload and cannot guarantee the quality of the output videos.
Thus, we here introduce you FVC Free Online Video Converter, a free, fast and efficient video converter which can assist you in converting a bunch of videos or audio losslessly.
As a multifunctional free online MP4 to WMV converter, FVC Video Converter supports almost every type of video formats. You can convert large MP4 files to/from MKV, MOV, WMV, AVI, TS, etc. You can also edit your video according to your need. It is a breeze to adjust video bitrate, sample rate, frame rate, resolution and volume on FVC. And there's no watermark on your video after converting.
Now you may worry that with all these features, it might be hard to understand how to operate this converter. In fact the truth is quite contrary. It only takes a few steps for you to master this MP4 to WMV converter.
Step 1. Click here to navigate to FVC Free Online Video Converter. Then Click Add Files to Convert to download FVC Launcher first.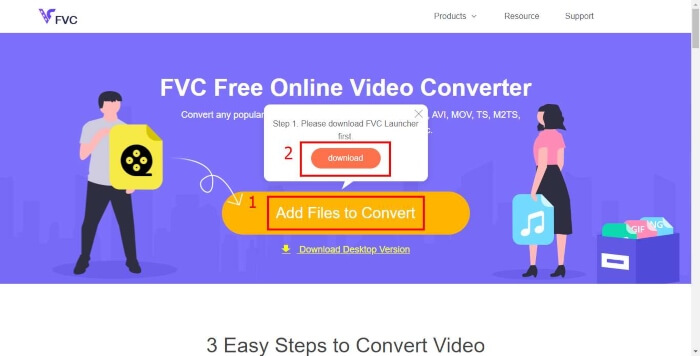 Step 2. After installing the launcher, the Open File window will pop up. Just find the MP4 file you want to change.
Step 3. Then in the converting page, choose output format WMV. By the way, if you want to change the video parameters, just open the Settings window by clicking the Setting icon. Click the Convert button and pick a destination to store the converted video.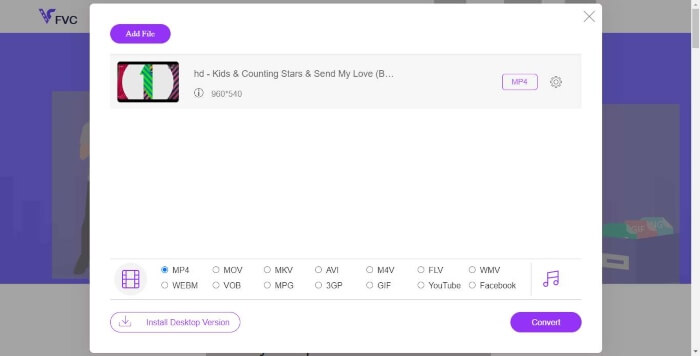 Part 2. Convert MP4 to WMV with Desktop Software
1. RealPlayer
RealPlayer has become one of the most popular media player since 1995. It can not only help you easily manage your videos, music and pictures, but convert videos into multiple formats and transfer them to other mobile devices.
Step 1. If RealPlayer has been installed to your computer, save the MP4 file into the RealPlayer library. Select Library after launching RealPlayer. Find your file in the Video list.
Step 2. Click the file and select the More option from the popup menu. Then select the Convert option.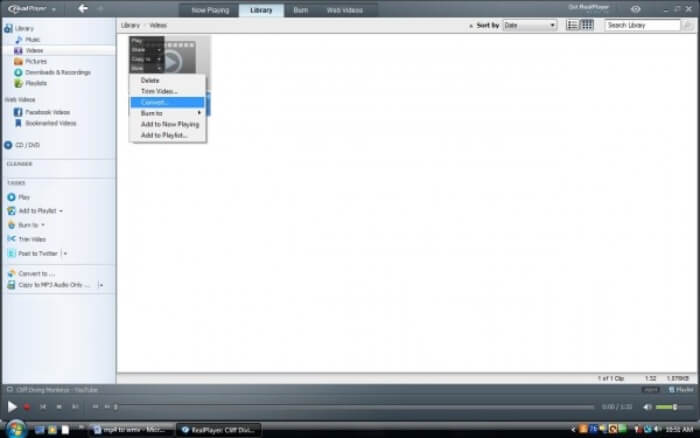 Step 3. Choose WMV from the Select a Device menu and click OK. Now click the Start button. In a few seconds, your video will be in the RealPlayer library.
2. VLC Media Player
VLC is an open source, cross-platform player that can play videos in different formats. It also supports file conversion to many popular formats. Follow these steps below to export WMV file from MP4.
Step 1. Open VLC Media Player and click Convert / Save in the menu of Media.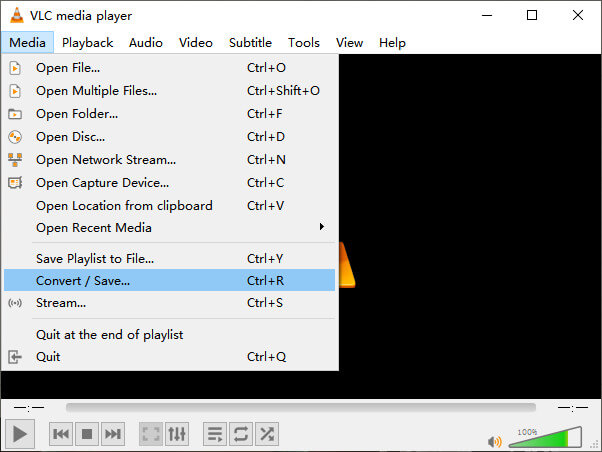 Step 2. Add the file to VLC. Then click the Convert / Save button.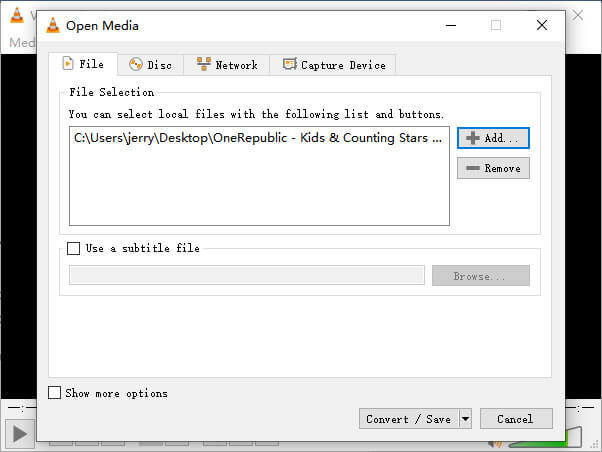 Step 3. Find WMV from Profile and select a folder as the saving destination of the output file. Then click Start.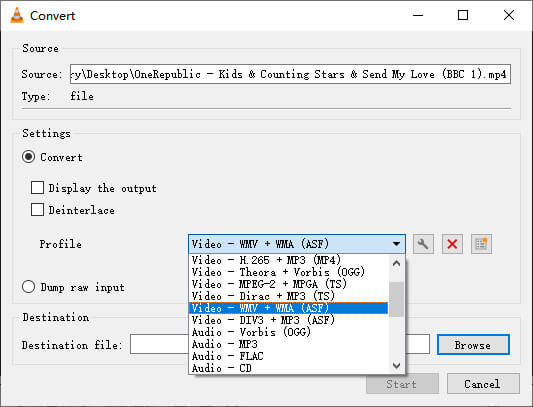 Part 3. FAQs of MP4 to WMV Converting
1. Can Handbrake convert MP4 to WMV?
After doing a research, unfortunately the latest Handbrake cannot convert MP4 to WMV.It is true that Handbrake supports most common multimedia files. But that's for input sources. The options for output formats are MP4(.M4V) and MKV.
2. Can I convert a MP4 file which is over 100MB to WMV online for free?
It depends. Different free online video converters have different limitations. Some converters like FVC Free Online Video Converter allow you to change over 100MB. But some other converters may charge you for that.
3. Can Windows Media Player convert MP4 to WMV?
You can't convert MP4 file to WMV with Windows Media Player. That's because it is just a player, not a converter. If you want to convert MP4 to WMV, you should use an efficient video converter.
4. Can I play WMV file on Mac?
The built-in video tools on Mac cannot play WMV files. But you have other ways to play WMV videos on MacOS. You can convert WMV to other format that is supported by Mac. Or install Windows Media Player for Mac to play WMV files.
Conclusion
Even though MP4 and WMV both have their similarities, they also have their own characteristics. So you should make decisions in accordance with specific conditions.Hope that after reading this post, the issues of converting MP4 to WMV will no longer be your problem. Next time when you need a WMV file, just follow the guide above and convert the file with ease.