[Quick & Easy Way] Convert RMVB Files to WMV with the Top 2 RMVB Converters
Nowadays, Asians produce more television episodes, animated films, and movies then distribute them worldwide, similar to North Americans. Most of these films are embedded with .rmvb to encode the file because RMVB is smaller and has a lower bitrate, but its quality is best. However, when you download the file on your Windows, your native media player won't play this format because it is unsupported. Isn't troublesome, right? But today, we can convert your RMVB file into a playable WMV. For that reason, let's start a journey to determine how to convert RMVB to WMV with the two tools you can use.

Part 1. Other Reasons Why Do You Need to Convert Your RMVB File to WMV
Before starting our conversion expedition, let's first understand the possible reason for converting the RMVB file. The list below is the possible reasons you need an RMVB to WMV converter online or offline.
It said above that the RMVB file is not compatible with almost all media players, especially Windows Media Player. This problem is not new to us because there are many formats Windows Media Player doesn't support; unfortunately, RMVB is one of them. Although you can convert the RMVB to a new compatible format, there is still another solution by downloading a third-party media player like the Blu-ray Player. This media player supports a much broader scope of format to play your video compared to Windows Media Player. So, if you want to download this media player, you can click the download button below. But if you want to read more detailed information about the RMVB Players, click this link.
RMVB files are an open-source file container, which this format doesn't use a specific codec. Even though it is a great advantage to manipulate the codec, not all applications openly support all kinds of codecs. Therefore, if you want to use the RMVB file for editing or playing purposes, you shouldn't be surprised if it won't work with the unsupported codec.
So now, to figure out how to convert RMVB to WMV, let's proceed with the details below and read it carefully. You will only spend five minutes reading this article and gaining enough knowledge on how to convert your RMVB files with the converters available.
Part 2. Most Exceptional Converter to Convert RMVB to WMV with Video Converter Ultimate
FVC Video Converter Ultimate specializes in converting your RMVB to WMV, AVI, MKV, MOV, MP4, and more in less than a minute. It has a built-in super-fast conversion and hardware acceleration to finish your conversion faster than a bolt of lightning. If truth be told, this converter supports multiple and super-advanced editing features you would be going to love. So now, want to finish the task of converting your RMVB file because you are in a hurry? Then what are we waiting for? Let's proceed directly to the process by copying the steps below.
Steps on How to Convert RMVB files into WMV Format with the FVC Video Converter Ultimate:
Step 1. Download the FVC Video Converter Ultimate on your Windows by clicking the download button below. But if you are a Mac user, you must click the other button to download the Mac version of the tool. Follow the installation process and open the converter.
Step 2. Insert the RMVB files on the converter by pressing the Add Files, locate the file on the folder that will show on your screen, and press Open.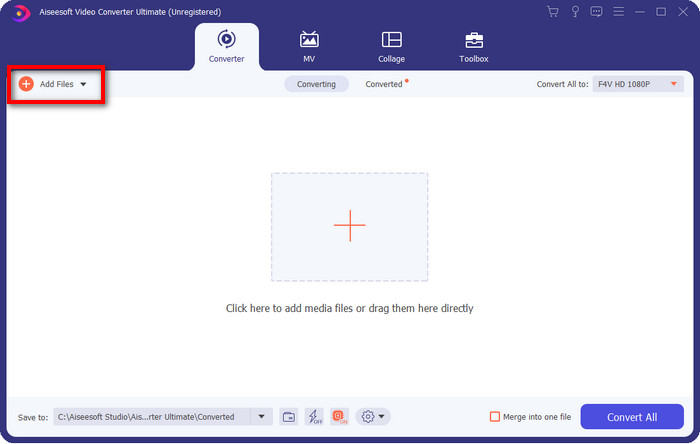 Step 3. Press the Convert All to button, and a list of the formats will show; pick one format you want or the WMV by clicking it.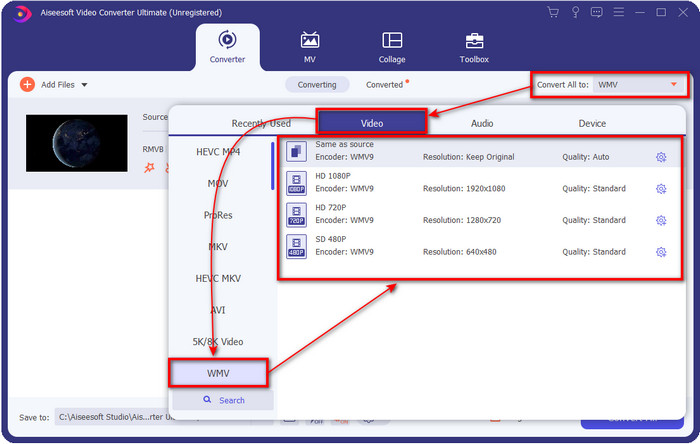 Optional: Want to add audio to your video before converting the file? If so, click the drop-down button, click Add Audio Track, browse the audio track saved on your desktop, and hit Open.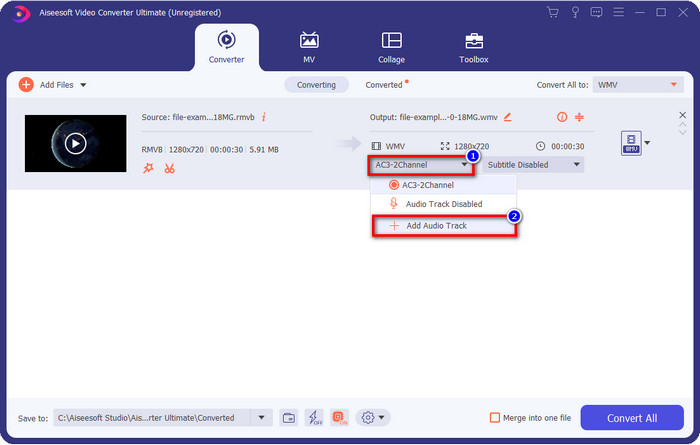 Step 4. By clicking the Convert All button, converting your file will start eventually. A folder with the converted file will show on your screen after the process.
Part 3. Best Web Converter to Convert RMVB to WMV Online
Suppose you are looking for a powerful RMVB to WMV converter online. In that case, you must use the FVC Free Video Converter Online. This web converter is the best solution for your converting problem without a single doubt. However, it supports a limited format you can upload and choose on; this is a problem, right? But the RMVB file is supported here if you are looking for an online solution. Furthermore, here in the list below is how to use this web tool.
Steps on How to Convert RMVB files into WMV Format with the FVC Free Video Converter Online:
Step 1. Click this link, and a new tab will show on your web browser.
Step 2. Click Add Files to Convert on the website, and a desktop folder will show on your screen. Select the RMVB file you want to convert and press Open.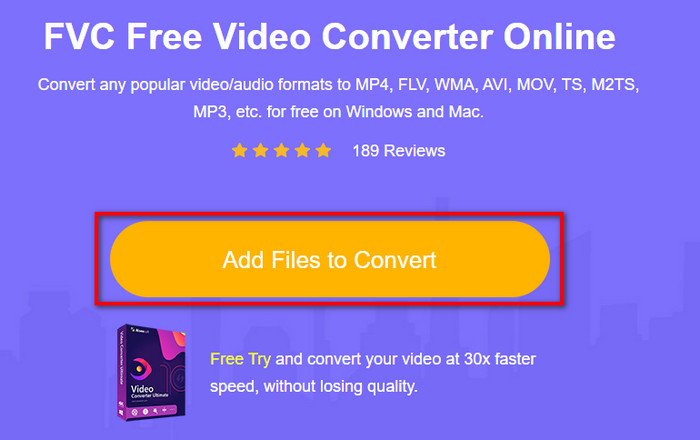 Step 3. Once uploaded, pick the WMV format below or whatever format you want under the list.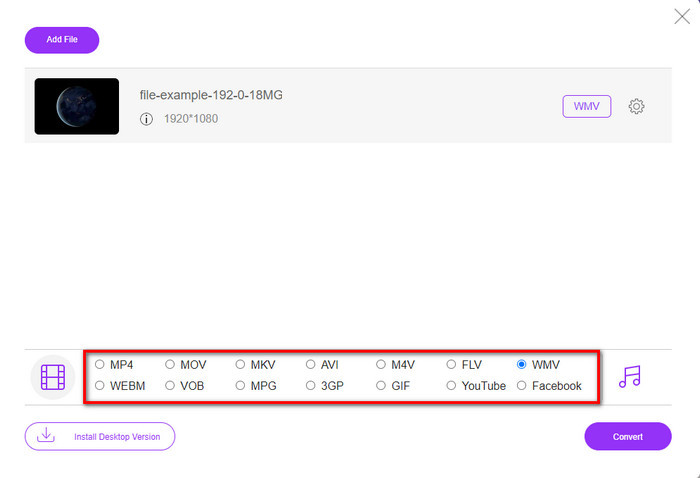 Step 4. Click Convert to start the converting process.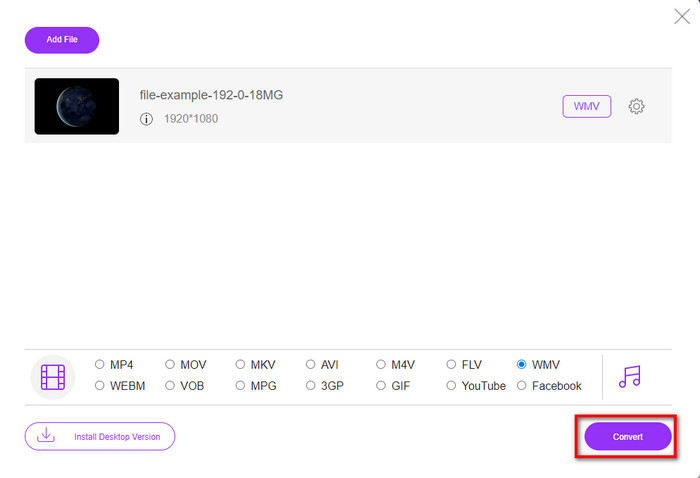 Part 4. FAQs about RMVB to WMV Conversion
Conclusion
If you want to download a converter on your desktop and keep it or use an online tool, FVC got your back. These two mentioned converters are excellent in many aspects if we compare them with the other converters online or offline. Instead of comparing these two tools with the others, let's compare the tools with each other. FVC Free Video Converter Online will help you with your converting problem. Moreover, the great advantage of this tool is that it is ready to use whenever you have an internet connection. On the contrary, FVC Video Converter Ultimate provides a phenomenal output that will amaze you and others. So, if you want to make your converting process even more exciting, use this ultimate converter and do more.