2 Efficient Ways to Combine Videos for Instagram
"How can I combine videos for Instagram? I had an unforgettable birthday party and took many videos during it. Now I want to combine the video clips into a complete one and post it to Instagram. Please teach me how to do it…"There are many occasions where many video clips are waiting to be merged into one. To meet such a need, this article is going to talk about 2 efficient methods to join videos for Instagram.

Part 1: Combine Videos for Instagram without Damage of Quality
To begin with, you need an App to merge the videos for Instagram. You don't want a complicated video editing program like Adobe Premiere Pro or Final Cut Pro for the simple task. Video Converter Ultimate is just enough for you.
It can help you merge multiple videos for Instagram easily. The processing speed and image quality are both perfect. Regardless of format, you can use this app to join the videos for Instagram without any limitation.
Key Features:
• Combine videos for Instagram regardless of format and resolution
• Hardware accelerating technology assures 70x faster process speed
• Edit and join videos for Instagram without leaving any watermark
• Crop and merge videos with different resolutions to make them seamless
• Join videos with the trimming feature to delete the unwanted segments
• Smooth and intuitive user interface for both beginners and pros
Steps to combine videos for Instagram without quality damage
Step 1. Free download, install, and launch Video Converter Ultimate. Click the Add Files button to add the videos you want to merge for Instagram.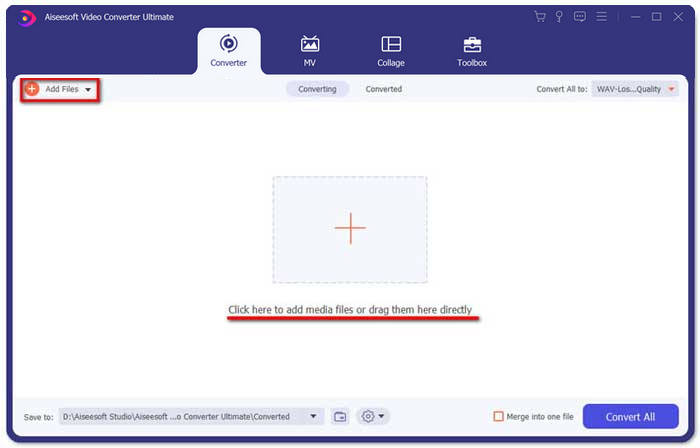 Step 2. On the main interface, you can drag the imported videos to change their order freely. Check the box for Merge into one file so that the videos won't be separately converted.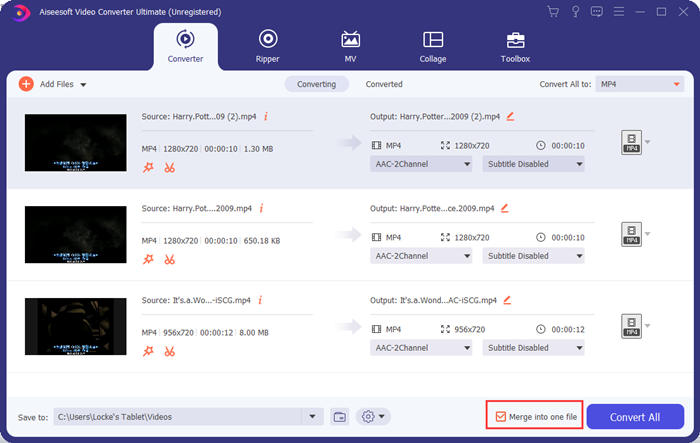 Step 3. Click the Convert All to frame for the profile menu. Then you can select your desired format, resolution, and encoder. To merge videos for Instagram, the MP4 format is good. You can also click one of the Custom Profile buttons to customize the settings.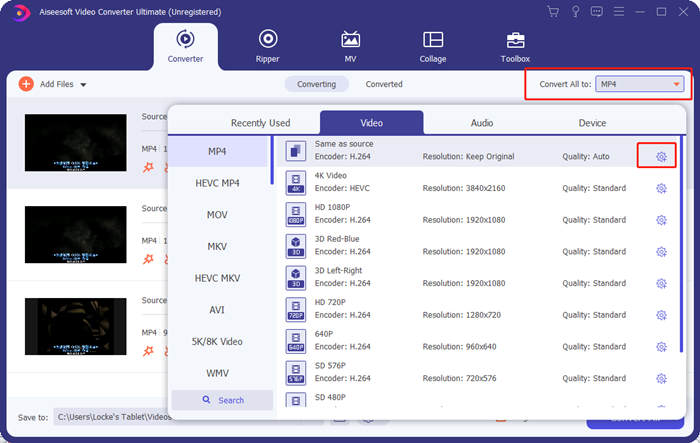 In the Edit Profile window, you can customize the encoder, resolution, frame rate, bitrate, and some audio parameters.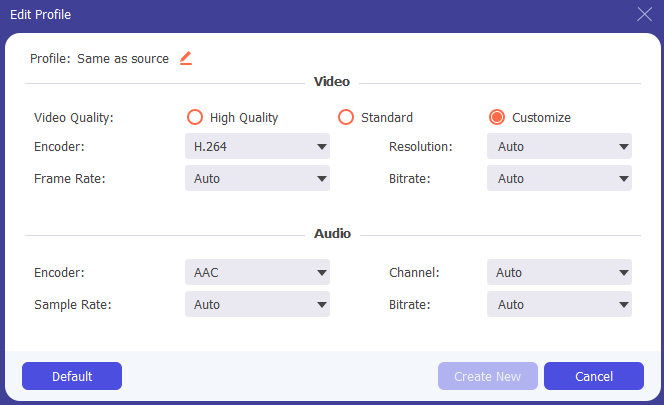 Step 4. Back on the main interface, you can click the Convert All button to start merging the videos for Instagram. Before that, you can also use the Cut and the Edit buttons for the trim, crop, rotate, and some other features that can make your video look better.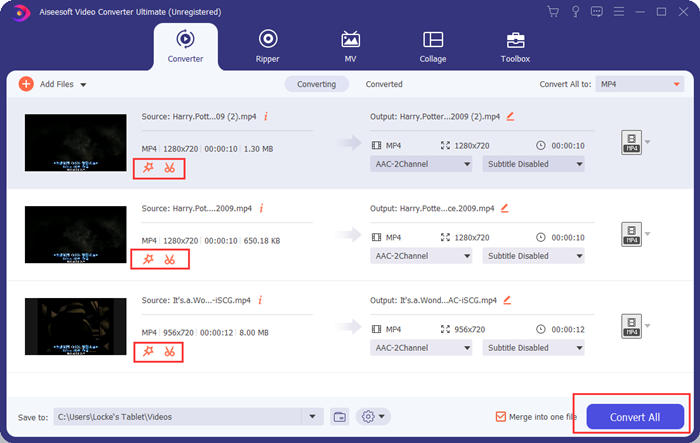 Video Converter Ultimate is convenient and powerful, but nobody likes waiting for downloading a huge program. We don't, either. So is it possible to merge videos for Instagram without downloading a program? Yes, please read on!
Part 2: Merge Videos for Instagram Online and for Free
Here is another handy tool, FVC Free Online Video Merger, an amazing web-based tool to join videos for Instagram. You can load this tool in one second, and then upload your videos in another second. Simply adjust the settings and let the program finish the rest. The most important thing is that this tool is totally free to use.
Steps to merge videos for Instagram online and for free
Step 1. Click FVC Free Online Video Merger to open it. In the middle of the tool's webpage, click the Upload Videos to Merge button. Then the file explorer window should pop up, in which you need to select the videos and upload them.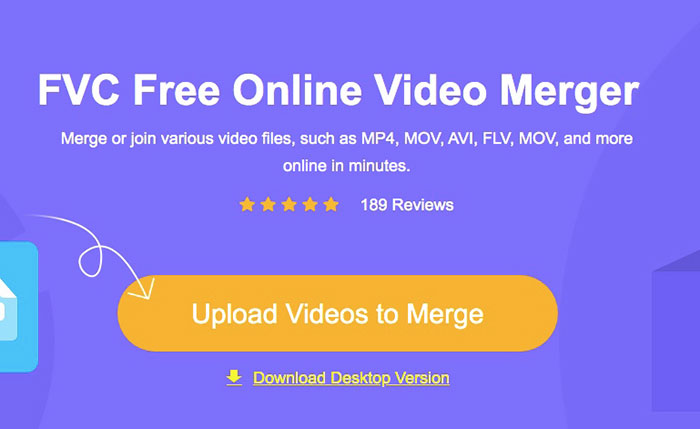 Step 2. When the videos are imported, you can adjust the sequence of them. To do so, you could remove an imported video in the wrong place and re-insert it into the correct gap.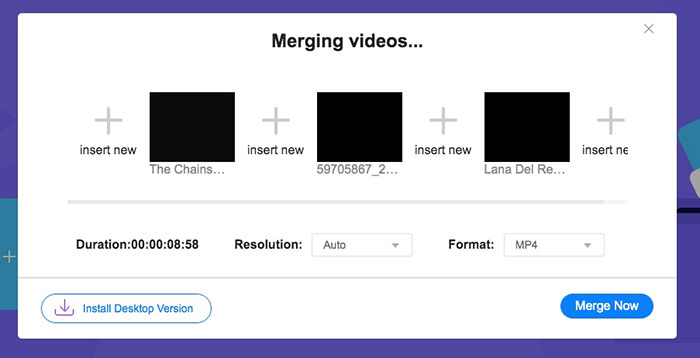 Step 3. This online video merger allows you to decide the Resolution and Format of the video merged for Instagram. You can select Auto to keep the original resolution or select any of the other five resolution options.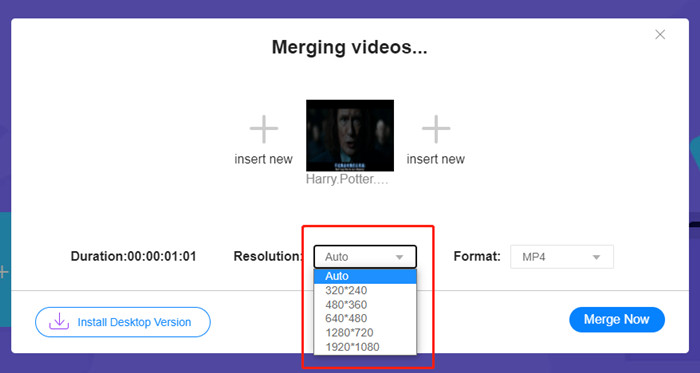 The online video merger currently provides nine output formats for you to choose from. MP4 might be best for your Instagram posting.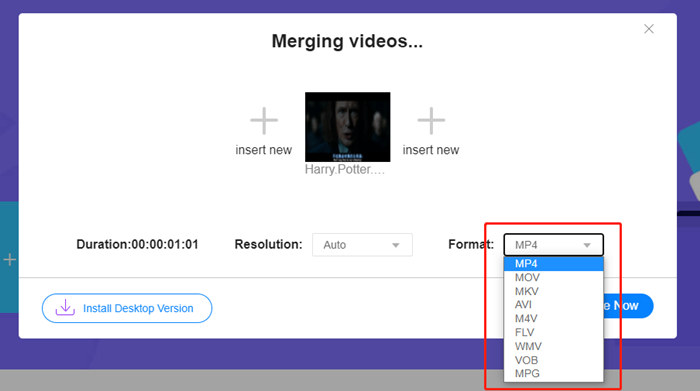 Step 4. Click the Merge Now button and wait for the Join Successfully notice.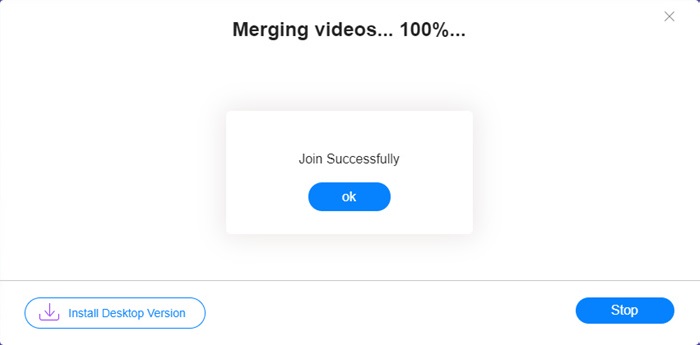 Though convenient, this online tool is not as perfect as Video Converter Ultimate. In the online tool, you cannot adjust the videos' order conveniently, change the encoder or frame rate, or edit the videos. Plus, Video Converter Ultimate gives you more choices in resolution and formats, and processes the videos much faster.
Part 3: FAQs about Combining Videos for Instagram
What specifications are good for Instagram videos?
The aspect ratio of 9:16 would be perfect. More exactly, just use 1080*1920 if it is possible. The best video format is MP4, although other popular formats are also accepted.
What to do if my combined video is too large for Instagram?
On the top of the main interface of Video Converter Ultimate, there is a Toolbox in which you can find a Video Compressor. You can use it to compress your video to the desired size. As for Instagram, make sure it is not larger than 4GB.
How long can my merged video for Instagram be?
It depends on where you post the video. The limit for Feed Videos is 3s to 1min and for Stories is shorter than 15s. IGTV Videos can hold 60 minutes, which is most likely to meet your needs.
Conclusion
This article introduced two efficient ways to combine videos for Instagram. You can use Video Converter Ultimate to combine videos for Instagram without losing any image quality and make some adjustment and editing to the videos. The other tool, FVC Free Online Video Merger, is the quickest solution but it provides you fewer options when it comes to resolutions and formats. Also, it cannot change the encoder or frame rate at all. At last, if you have any difficulty in merging videos for Instagram, just leave us a comment to let us know.