How to Merge 2 and More Video Clips into a New File on Your Computer
It is super easy to merge several videos into a new file. The video merging feature is not professional. You can get this feature in almost all video editors. If you don't need to apply other video effects and editing tools, using a free video merger is enough. All you need to do is merging video files. That's all. There is no need to pay for the video combination. Thus, this article mainly talks about how to combine videos into one for free. You can read and choose your best way to merge videos for free on your computer.

Part 1: How to Merge Videos Online for Free
An online video merger is always your first choice. No large download package or registration. You can join multiple videos in different formats into a final video in minutes. It is FVC Free Online Video Merger that allows users to merge or join several video files online for free. There is no file size or number limit. No watermark too. So you can completely merge videos online free without watermark here.
1.Merge videos in 1080p, 720p and other presets together.
2.Put videos together in MP4, MKV, AVI, M4A, FLV, VOB, M2TS, etc.
3.Upload your merged video to YouTube/Facebook/Vimeo or export into iPhone, iPad, Samsung and other devices.
4.100% free to use. No maximum file size limit. No watermark.
5.Combine video clips online via your browser instead of downloading anything.
Step 1. Visit FVC Free Online Video Merger on your web browser. Click Upload Videos to Merge in the main interface.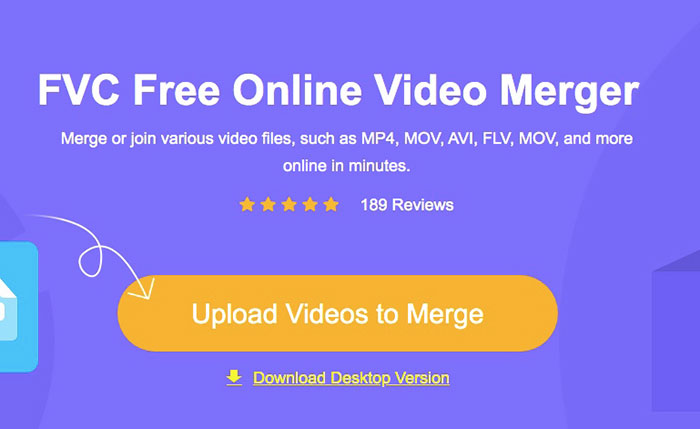 Step 2. Add videos into the free video merger online. You can click + to import more video clips. If you want to add the video order, you can hover your mouse above that video. Click x to delete it. Later, you can re-add a correct video.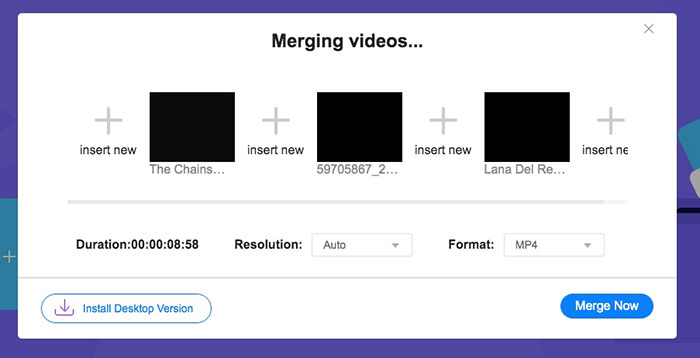 Step 3. Click Resolution to set a video resolution preset. Moreover, you can unfold the Format list to merge and convert videos to MP4 and other formats.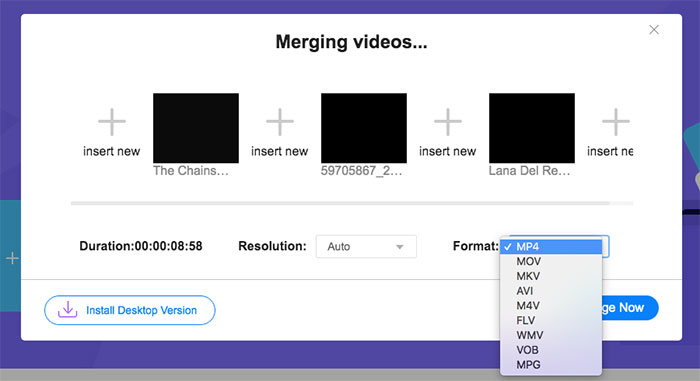 Step 4. Click Merge Now on the lower right corner. Wait a while to merge videos together online for free.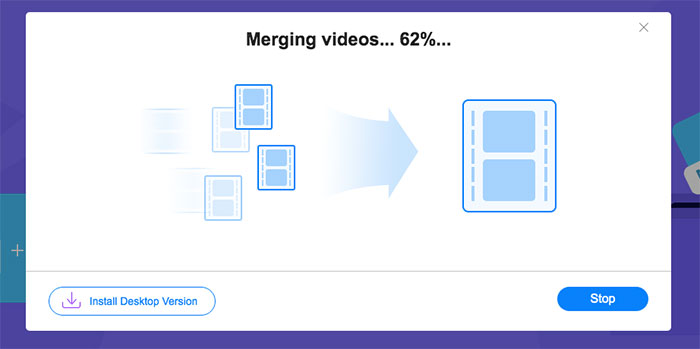 Part 2: How to Combine Videos with VLC Media Player
Can VLC merge two videos? Of course, the answer is Yes. VLC can be your free and open source video compressor app for Windows, Mac, iOS and Android users. You can check this tutorial to merge videos in VLC.
Step 1. Open VLC. Choose Open Multiple Files from the Media drop-down list on the top.
Step 2. In the Open Media window, click Add to import several videos together into VLC.
Step 3. Click Browse to set an output folder.
Step 3. Unfold the Play list on the lower right corner. Select Convert to join videos together with VLC Media Player.
Part 3: How to Join Videos in Windows Movie Maker
Here is one more way to merge videos in Windows 10. You can use Windows Movie Maker to combine video clips for free on Windows PC. No matter your video is captured by iPhone, Android or camcorder, you can combine videos using Windows Movie Maker successfully.
Step 1. Open Windows Movie Maker. Click Add Videos and Photos on the top toolbar.
Step 2. Browse and add video clips in WMV, MP4 and other compatible formats.
Step 3. Re-order your video clips by dragging in the timeline.
Step 4. Choose Save movie from the drop-down list to export your merged video.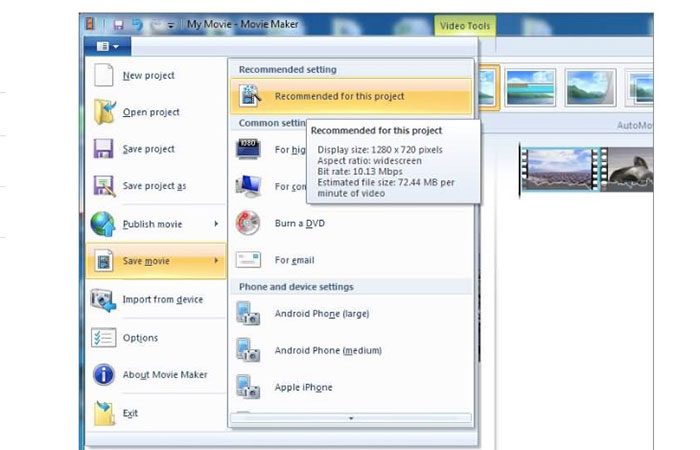 Part 4: How to Stitch Videos Using iMovie
As for Apple iOS and Mac users, you can merge two videos together on Mac with iMovie. It is a powerful video editor with a learning curve. If you have installed iMovie before, you can run iMovie as your free video joiner on Mac.
Step 1. Open iMovie. Unfold the File list. Choose Import followed by Movies.
Step 2. Select which video clips you want to merge. Then click Import.
Step 3. Drag and drop video clips into the iMovie timeline in the correct order.
Step 4. Click File on the top. Select Share and then choose File to combine multiple videos on Mac with iMovie.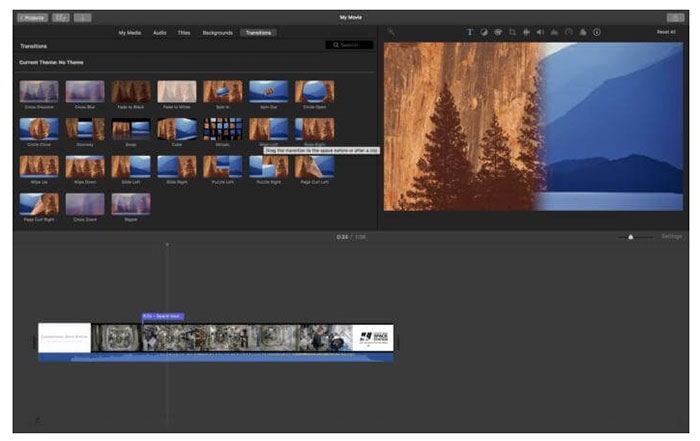 Part 5: FAQs of Merging Videos Together
Can you merge YouTube videos?
It is impossible to merge the uploaded YouTube videos. The default YouTube editor is gone. So you need to use third-party video merger and joiner to merge videos on YouTube.
What apps to merge videos?
To merge videos on iPhone and Android, you can use Video Merger Free, Movie Director Pro, Instant Video Editor, VivaVideo, VidTrim, etc. The built-in video merge is easy to use.
What to do when VLC merge video not working?
Force quit VLC and then re-open VLC. Check if you have updated VLC to the latest version. Moreover, you can re-install VLC for video merging.
All video mergers mentioned above are free to use. You can join videos together online for free with FVC Free Online Video Merger. No file size limit nor watermark. Or you can use VLC Media Player, iMovie and Windows Movie Maker to merge videos and apply other video effects on your computer.