In Detailed Reviews About the Top 5 Accessible Sound Amplifier Apps
All of the people in the entire universe love music whether it is pop, metal, rock, jazz, and so on. However, not all of the speakers provide a great sound output to make shivers into our skin. Also, buying amplifiers will cost more than a hundred dollars or worse it will cost you more than a thousand. Isn't it expensive right? But we can avoid spending a lot of money if we try to use these best amplifiers available in all platforms. And now, if you want to use a sound amplifier app then try to read the list below that will cost you less than the mentioned amount above and still achieves a great amplifier.

Part 1. Phenomenal Sound Amplifier Available on PC & Mac
If you want to achieve an 8D or 16D without spending a lot on sound amplifier equipment then try to use the Video Converter Ultimate. Unlike any amplifier equipment with this tool, you will spend less and do not have to do the set-up or even read a big manual to know how to use it. Also, this desktop software is great at improving your video, audio, GIFs, and more. Although the tool is paid, still it is great to use without complications that provides an advanced feature you could easily execute on your video and audio. So now, if you want to know how to use the software then it is a must to follow the provided steps below.
Steps on How to Use the Volume Booster of the Video Converter Ultimate:
Step 1. First and foremost, download the software on your PC or Mac drive. Then install it to your computer and do the easy set-up manually.
Step 2. Under the Toolbox section click the Volume Booster.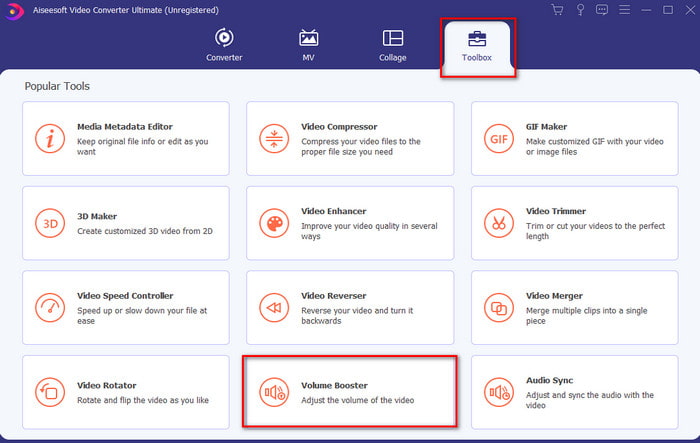 Step 3. Click the + button to choose the file you want to amplify the sound. Then press Open to proceed.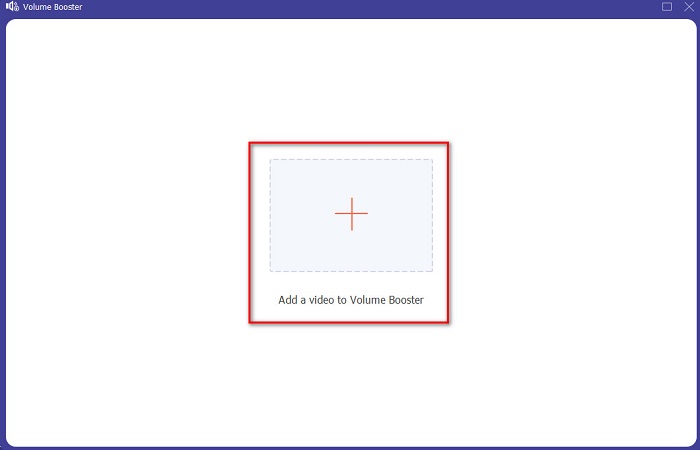 Step 4. On the interface you can now drag the volume slider to make the sound loud and clear. If the adjustment of the audio is done, click Export.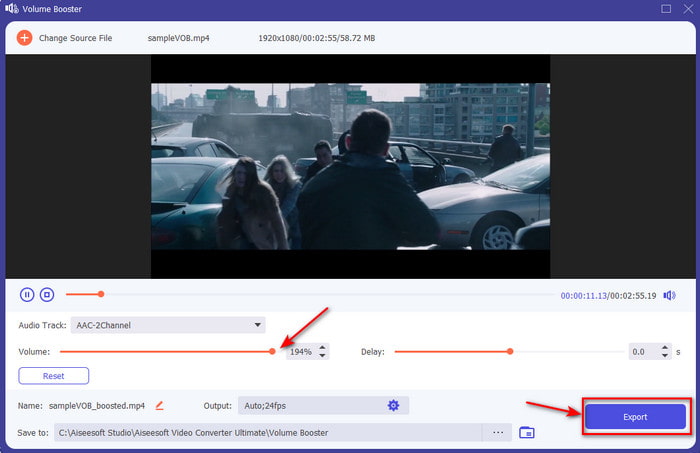 Step 5. Wait for an ample of seconds for the process to be finished and if it is done. A file manager will show into your screen with the file you amplified, click the file to listen into it.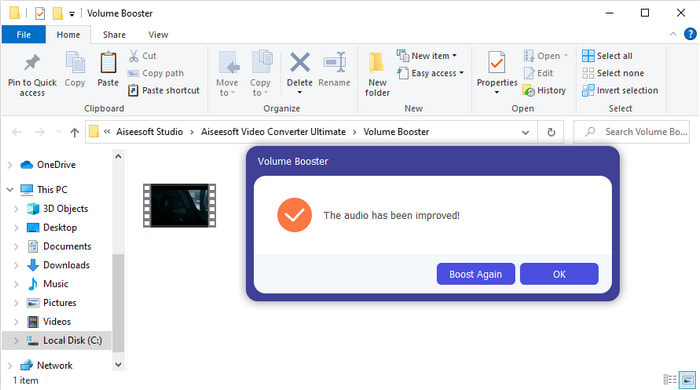 Pros
This software is easy to use and can make your audio sound phenomenal.
Performance of the software is greatly appreciated by its customers.
It is available and readily to be downloaded on PC and Mac.
Cons
This software doesn't support mobile devices.
This tool is paid but it is not that expensive compared to the other desktop tools.
Related:
How to Increase MP4 Video Volume
Part 2. 4 of the Best Sound Amplifier App Available on iOS and Android Mobile Phones
1. Volume Boost – Sound Amplifier 4+ (iOS)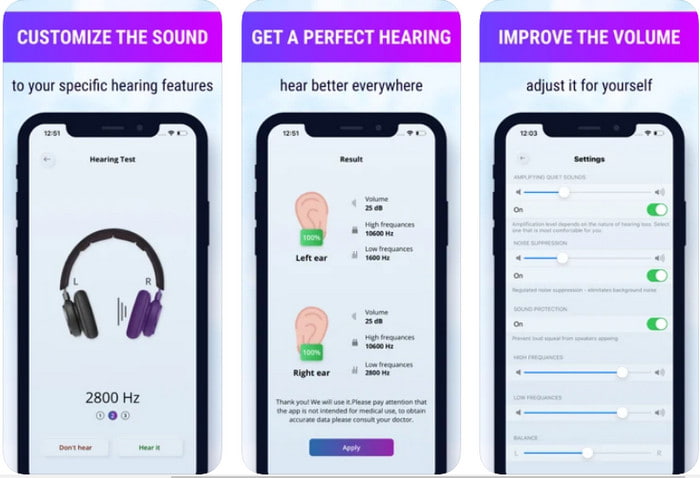 iOS users can easily download the Volume Boost- Sound Amplifier 4+ for free. This app can amplify sound easily without any hassle with its automatic adjustment but you can also do manual override as well. Moreover, the app is great to be used as an amplifier however this app doesn't work on Bluetooth speakers and air buds or pods. Also, you will encounter a lot of crashes with this app and unavoidable ads if you open it. Although the app can be downloaded for free still there is an app purchase to remove the ads and use the other functions.
Pros
Free to download on any iOS devices.
Amplify your speaker's audio easily up to 30db.
Intuitive interface and set-up.
Cons
Experience a lot of crashes, freezes, and bugs are still on this app.
Ads are a lot to avoid.
2. Extra Volume Booster - loud sound speaker (Android)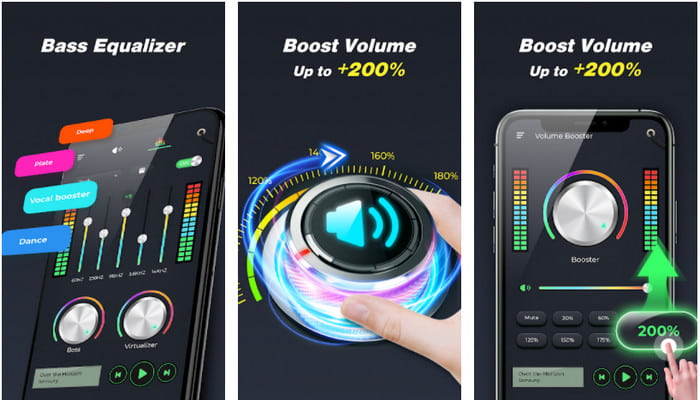 If iOS users have a phone sound amplifier, the Android users should also have something like the Extra Volume Booster. Furthermore, a lot of users have already been pleased with the performance of this app because it is great in amplifying and boosting. However, if you open this app all of the sounds generated on your phone like call ringtone, alarms, notifications and more, will be all amplified. It means it has no separate settings for that feature. Although the tool is free still it is somewhat best compared to the other paid apps on Android or even on iOS. But if you max the volume to 200% then expect a crack on your built-in speakers or Bluetooth speakers that can't carry 200% volume audio.
Pros
Simplified version of amplifier you can download on Android devices.
Although the app interface is not much, it is great.
Different amplifying and boosting are available in this app.
Cons
Expect to encounter countless ads while using the app.
While using the tool there is a chance that the CPU or the phone will heat up.
3. Speaker Boost: Volume Booster & Sound Amplifier 3D (Android)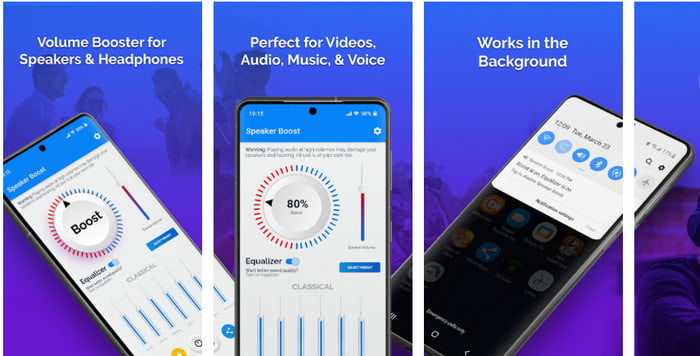 Another Android app you can use that produces a great surround sound amplifier is Speaker Boost. Just like the Extra Volume Booster, this app is very on-point and much easier to use even if you don't have experience. Also, you can download this tool for free but it has in-app purchases that you would like to have. Like, removing the pesky ads and others. Although the tool seems fair to be used, buying the in-app purchase in this tool will cost you a lot of money compared to the other software in this list. Another concern that a lot of users bother with is that the app works behind the ad-blocker and there is a chance that this app is a spyware.
Pros
On-point to boost the sound easily and yet it is powerful to use.
Download the tool for free without any hassle on amplifying the sounds.
Do the manual override on the equalizer.
Cons
This tool is incomplete which basically means it is under experimental.
When you increase the sound there are some distortions you will hear.
4. Boom: Bass Booster & Equalizer 4+ (iOS)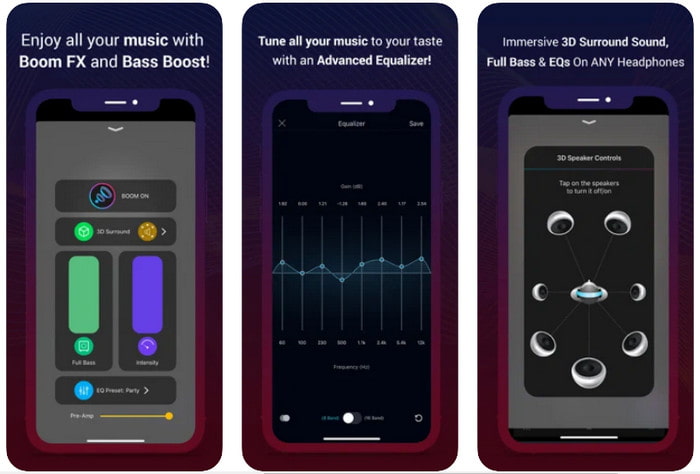 If you are looking for an advanced sound amplifier app then Boom: Bass Booster is a great choice. However, this app is only available only on iOS devices and you can't find this on your Android devices. So far, this tool already receives a lot of praise from the users but some formats are not supported to be amplified. Also, when you use this app expect some bugs and crashes happening while using this app. Moreover, the app is misleading to the new users. Although the performance of this app seems to be fair, it still needs to be improved to make the app better.
Pros
Some of the advanced features are available here.
Portable amplifiers you can use easily.
The app receives a 4.1 star out of 5 stars.
Cons
Not the best choice for beginners because of the confusing interface structure.
Most of the audio formats are not supported to be amplified with this app.
Issues of bugs and delays are still happening with the app.
Part 3. FAQs about Sound Amplifiers
What is db?
Db means decibels and this is the unit of measurement to express the loudness or power of the sound wave. Also, by the help of decibels we can easily determine what sound that we are safe to hear in a long time. And all of the 85 decibels below are very safe to hear.
What are the disadvantages of loud sound?
It is very common to us that when we are exposed to loud sounds, hearing can be damaged. But did you know that this can result in nausea, headache, stress, fatigue and more. So, if you are about to use an amplifier then use it properly and don't over use it to avoid the inevitable harmful effects.
Why do I hear some cracks on my speakers?
This problem is very usual to the speakers with a very limited hertz can handle. So, if you increase the audio make sure that the speaker can handle it. And if you hear some cracking then you must lower the sound immediately. However, if you hear some cracks even if you lower the sound then it is too late.
Conclusion
All of the apps and software presented in here are great to be used as an amplifier. Although the mentioned programs above have some differences, the functions of them are similar. However, if you are looking for the best sound amplifier for PC and Mac then the Video Converter Ultimate must be it. Because it provides the phenomenal advanced features you can use easily. So, if you are wondering if this must be the best choice then download it first on your computer drive and follow the steps provided above.