Prominent and Helpful Ways to Convert 3GP to FLV [Proven]
Audio and video files can be stored in the 3GP format, commonly used in 3G phones. Even in 2G and 4G phones, it works. Over the internet, this MP4-based container sends and receives multimedia files. Although, many online videos and audio streaming services use FLV, a Flash-compliant video container. Aside from Adobe Flash Player, many other video players can play FLV files. To make 3GP files more accessible and smaller in size, several simple ways to convert them to FLV. Below are the converters you should consider using to convert 3GP to FLV.

Part 1. Excellent Methods to Convert 3GP to FLV [Offline]
Video Converter Ultimate is a perfect tool for converting 3GP files to FLV without sacrificing quality. Using the program's SuperSpeed technology, users can convert even large files within minutes. Additionally, the app allows you to edit your files as you see fit: crop, rotate, and trim your videos; adjust color parameters; change video resolution and bitrate; or add subtitles. All the most popular devices, including iPhone, iPad, Android-based devices, Xbox, and PlayStation, can be supported by this software. Now you know a brief introduction to this software, it's time for you to understand how to convert 3GP to FLV using this software.
Step 1: Download the software first by clicking the Free Download located below. You have a chance to download it on Windows or Mac. After you download it, install the software on your computer and run it by clicking Start Now to a window that will pop up on your screen after you install the software.
Step 2: To start the conversion, you have to upload a file first and by achieving that, click the + button in the middle of the software's interface, or you can easily drag your video files from your computer.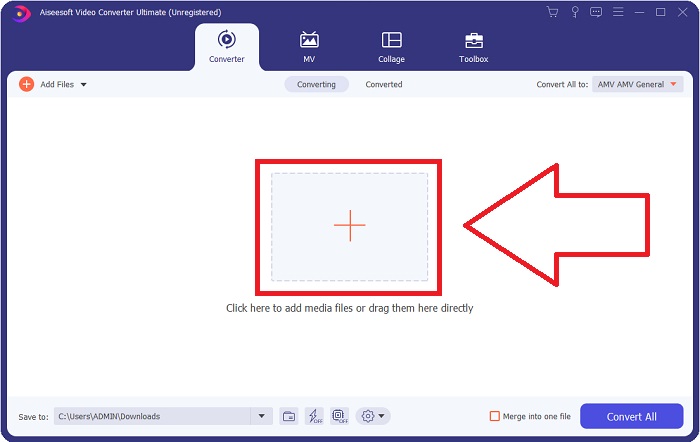 Step 3: After you proceed with uploading a file, you can now choose the FLV format on the format selection located at the right corner of your screen. You can choose what kind of quality you want since it will display all the possible attributes you might use.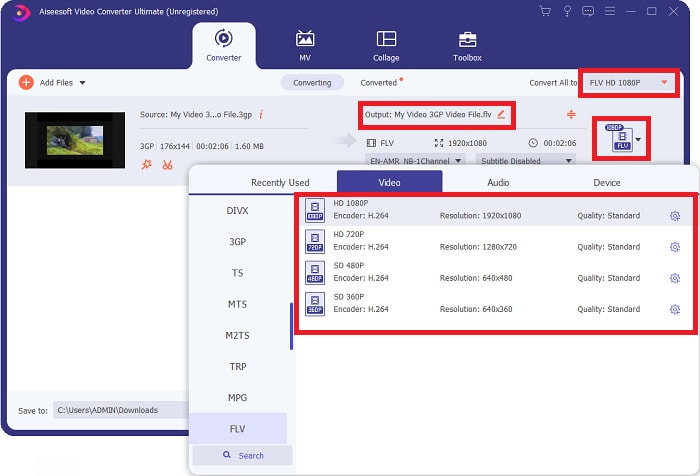 Step 4: Despite the quality choices presented, you can create the quality you want to become if your preferred quality doesn't exist on the options. Click the gear icon and adjust all the content you can see after a window pops up. Resolution talks about the screen display quality and frame rate on video playing frequency; the bit rate is for the amount of data encoded at a time. Lastly, the encoder is for the delivery of video format.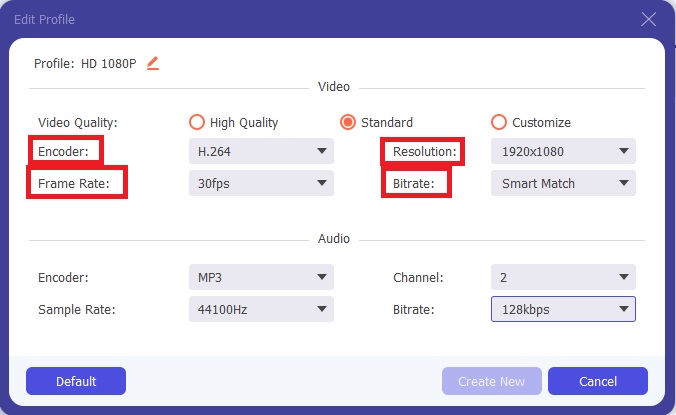 Step 5: Finally, after you adjust all the adjustments you need on your video output, you can now convert it by clicking the Convert All.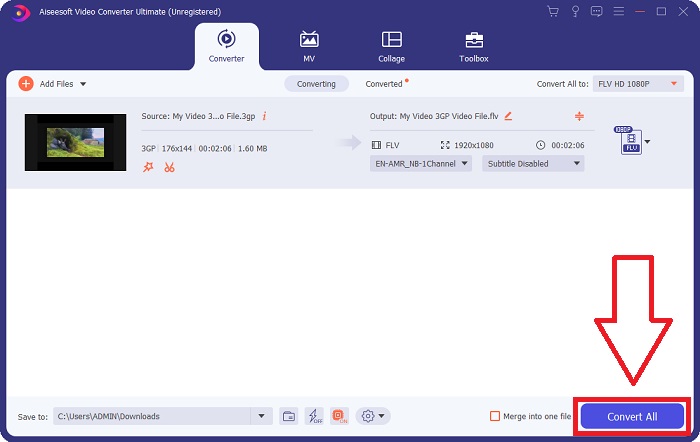 Part 2. Another Interesting Method to Convert 3GP to FLV [Online]
Enough with the software itself; let's talk about this online tool that can surely help you convert 3GP to FLV. Presenting Free Video Converter Online with many formats are supported by this online converter, including 3GP and FLV. You can convert a file directly from your computer by uploading it. To upload a more significant than 500 MB file, you can use this online tool to convert 3GP to FLV. Users can change many settings before the conversion begins. You can, for example, change the audio codec and the volume of the audio. You can also change the video resolution too. After all the imparted knowledge, let's learn all the procedures you need to know.
Step 1: Here is the link for the online tool. Click it so that the primary webpage will open on your browser. Click Add Files to Convert to download the launcher that you will use to operate the online tool. Install the launcher and begin uploading a file.
Step 2: To upload a file, click the Add Files to Convert once again. After uploading a file, you can now choose the FLV video format on the selection of video formats located at the bottom corner of the window.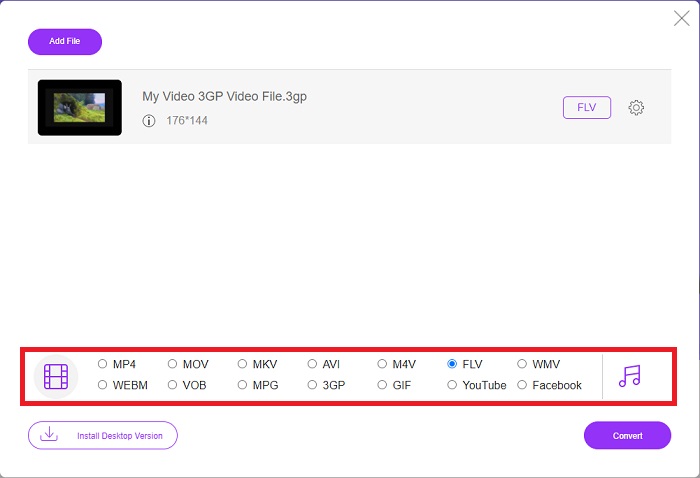 Step 3: You can also edit your video's quality or other specifications like the resolution, frame rate, or bit rate by clicking the gear icon right next to the video format you selected located at the right corner of the window. After you have adjusted all your preferred settings of your output, you can now convert the file by clicking the Convert.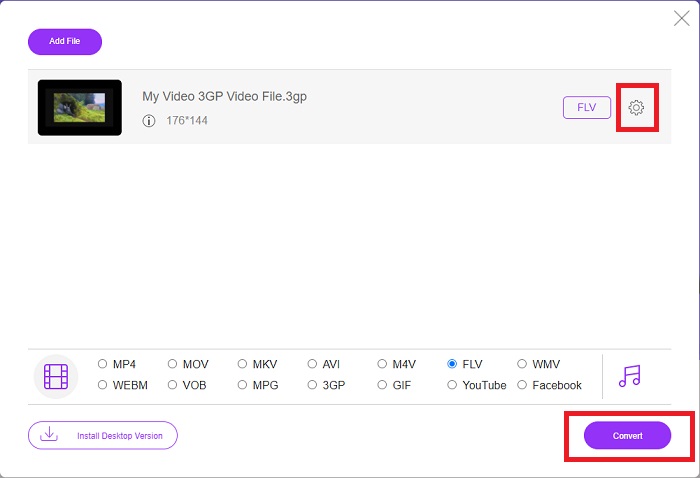 Part 3. An Overview: 3GP vs. FLV
If you've ever wanted to save an audio and video clip in a 3GP format, you've come to the right place! (3GPP). The ISO media file format serves as the foundation for 3GPP, a multimedia container format. H.263 or H.264 video streams and AMR-WB, AMR-WB+, AMR-NB, HE-AAC v1, AAC-LC, or Enhanced aacPlus audio streams are all supported. Typically, 3GP files use 3G mobile phones to capture video, but users can also play them on some 2G and 4G phones. Although 3GP files are still in use, their popularity has declined as more efficient video formats have supplanted the 3GPP format.
However, video files saved in the Adobe Flash Video (FLV) container format are FLV documents. Audio and video streams can encode in the same way as the standard Flash. SWF format and metadata packets include a short header. The Flash Video Exporter plug-in (available with Adobe Animate) or an application that supports FLV files can produce Flash Video content and export it as FLV files. Adobe Media Encoder may also encode video in QuickTime or Windows Media formats. Now that you have an idea regarding 3GP and FLV, we provide a comparison chart to know the details in specific matters.
| | | |
| --- | --- | --- |
| File Extension | 3GP | FLV |
| File Type | ISO Media File | Flash Video File |
| Developed By | Third Generation Partnership Project | Adobe System |
| Pros | It is easier for mobile users to share and store video files because the 3GP file format reduces the video size and audio components. Although the 3GP designed file format uses 3G-capable devices, many 2G and 4G devices can play this format. | For websites that want to include animation and interactive elements, Adobe Flash is an excellent choice. In the long term, it can have a substantial impact. During its peak, Flash employed simple games. |
| Cons | Even though the video and audio streams can compress into a single file, the quality and reduced resolution, users may vastly improve user experience compared to other formats, such as audio quality, screen resolution, playback speed, etc. | It's a disadvantage, of course, that FLV's popularity has dwindled over the last few years. It takes a lot of time and money to create FLV content. Another drawback of Flash is that it cannot be viewed on iOS devices, severely limiting its ability to attract new fans. |
| Programs open the Video Format | ◆QuickTime Player ◆Windows Media Player | ◆VLC Media Player ◆Adobe Flash Player |
Part 4. FAQs about 3GP to FLV Conversion
Is 3GP good quality?
Variable bit rate and frame rate support 3GP, just like in MP4. 3GP was a popular format for feature phones when they were still the most common form of communication. We need a video that's small because space was a luxury in the past. The quality is on par with the potato-quality cameras we had in phones at the time, so it's not shocking.
Why is 3GP not playing?
Try playing the 3GP file on VLC Media Player instead of your default media player if it doesn't support 3GP codecs. VLC is a great open-source video player because it can play just about any video file. In addition to Windows and iOS, VLC is available for Linux and Android as well.
Is FLV a suitable recording format?
Adobe Flash Player uses an FLV file format. As a universally supported video format, it is one of the most widely used formats. Online video streaming platforms such as YouTube benefit from using the FLV format. It is very convenient because they have a small file size. Here are the best FLV recorders you can try.
Conclusion
Generally speaking, all the converters provided for you are the best and most recommended software and online converters you should consider using. Since they have these professional-wise and friendly-user features, you can't compare these two to other software and online tools. Enjoy using it, and don't forget to put a review after using it.