Top 4 FLV Recorders Suitable for Chrome, Windows, and Mac Computers
Have you ever wondered what makes the videos you see run over the web? Most HTML 5 websites use WebM format to play videos. Aside from WebM, FLV is also being used. Most especially those free Movie and TV shows free sites. How would you know if it is an FLV file? Usually, if the video won't play, you will see an error message that says install Adobe Flash Player. These days, many videos are embedded in FLV files. But when you record the video either using your built-in recorder or another recorder, the possibility of the video quality being altered is high.
So, it will be better to use a recorder that can produce FLV files too or that can produce better quality regardless of the file format. If you are worried about the video quality being altered, discover FLV Recorders that do not require a registration for you to use them.

Part 1. User's Best Choice - FVC Screen Recorder
Among the FLV Recorders seen online, FVC Screen Recorder is one of the crème de la crème or should we say in a simple word, it is the very best. User's demands are sometimes higher than what the product can give and not all can be the best choice. Other customers are searching for the best product that they should use. FVC Screen Recorder surpasses more than a thousand premium recorders, especially with your current recorder. With its seamless recording performance, you can get the most out of the video that you want to record. What's more, you can change the bit rate and the frame rate of the video that will result in better video quality. So it is a must that you must keep an eye on this best FLV recorder review. Meanwhile, to use the tool here is an easy-to-follow guide.
Step 1. Use the download buttons below to get the app. Install it and follow the guide until the app Is launched.
Step 2. Choose between the tabs. Since we are trying to record a video, click on Video Recorder. After that a dotted frame will appear along with the floating bar.

Step 3. Adjust the dotted frame to set the aspect ratio of the screen then click the REC button to begin recording.

Step 4. To stop the recording, click the red Square button from the floating bar. From there, another window will pop. This is where you can choose to save or re-record if you are not satisfied with the output.

Step 5. Let us say you saved the file, the next window will allow you to choose the file location that will be saved. Choose the folder and click on Next.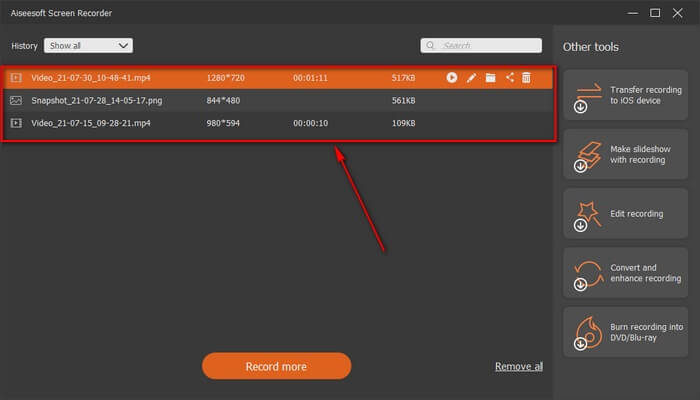 Part 2. Other Free FLV Video Recorder
FLV Recorder for All Browsers - FVC Free Screen Recorder
It is known for the fact that FVC Free Screen Recorder is lightweight and it also has a powerful feature. So, if you are a beginner who would like to record for fun you can use this, or if you are a professional who wants to record a business meeting. Either way, it works. The best feature this recorder provides is that you can record any part of your screen without being bothered by the tool floating bar. It automatically records the screen alone. Take as many screenshots without disturbance as you want with the help of the Lock-in screen feature. Without any discussion let's now proceed on how to use this FLV recorder. You must follow the step provided below.
Step 1. Visit the official website of FVC Free Screen Recorder and launch the app.

Step 2. Launch the tool by clicking the Start Recording and proceed to the next step.

Step 3. In its toolbar, click the gear button to change the settings according to your needs. If you are now in the preferences menu, find the Output and change the video format according to your wants. Click OK if everything is settled out.
Step 4. On the floating toolbar, you can now adjust the frame ratio of the screen. Also, add the reaction of your face by turning the Webcam. System Sound is used to add the natural sound of the program. And at last, add your voice by turning the Microphone on. To start the FLV recording click the REC button to start.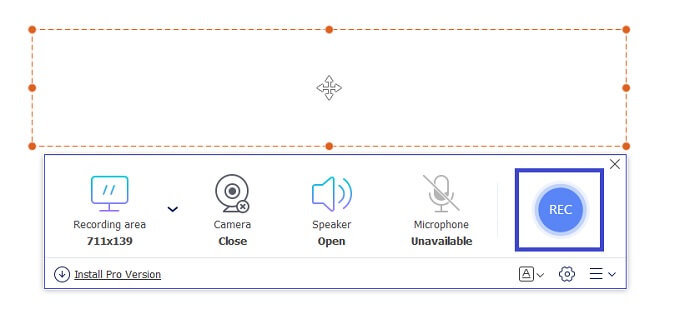 Step 5. To end the FLV recording, click the cube button to stop. After that, click Save and Next. All the recordings you perform are in the History list.

FLV Recorder for Chrome - SCREEN.IO
If you don't want to download additional files in your drive you can use this built-in Chrome recorder. This FLV recorder for Chrome helps a ton of people in the entire web. So, if you are a fan of saving space on your storage then you must try this SCREEN.IO. Although the tool doesn't provide special features that are similar to another recorder. But the recording ability of it is very standard. If we compare a Chrome recorder and a desktop recorder, the desktop is the efficient way to do the recording because you won't mind if the internet connection has been interrupted.
FLV Recorder for Windows - VLC Media Player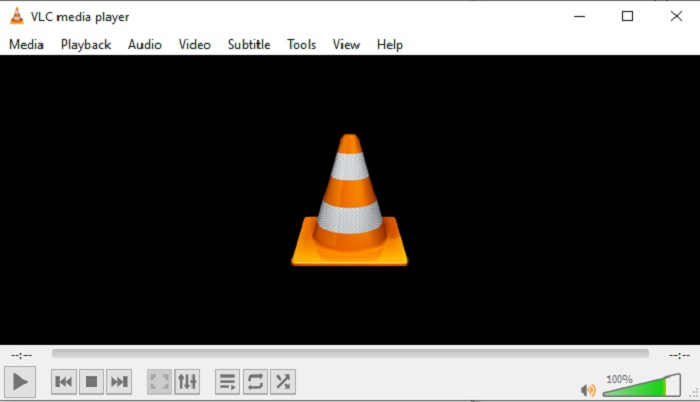 VLC Media player is not only renowned as the best media player in town. It also has several features like recording, converting, and more. Although it is the best media player, all of these mentioned features are not the best. And in some cases, video or audio formats are unplayable here because their codecs are proprietary. So, instead, you can use the VLC Media Player Alternative that supports even if the file is proprietary.
FLV Recorder for Mac - OBS Studio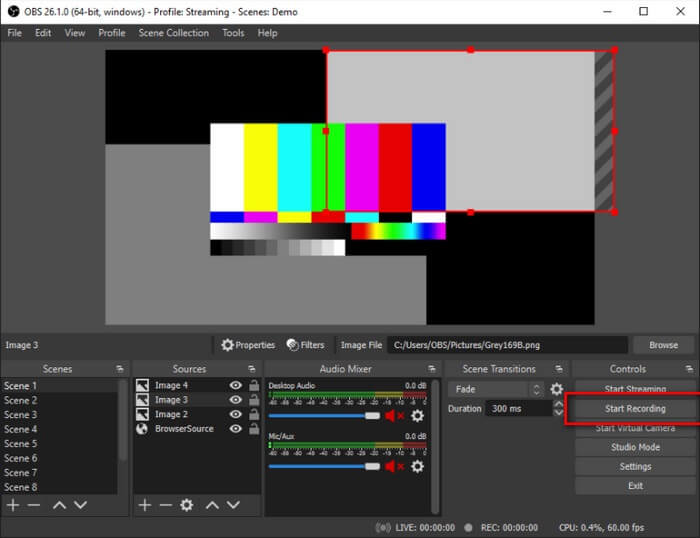 Maybe you're thinking that we forgot the Mac users. This FLV recorder for Mac is one of the powerful recorders in the list because you can do streaming also in here. Despite its amazing feature the tool itself is a bit intimidating especially if you are new to recording. Because there is a lot going on the interface when you open the tool.
Part 3. FAQs about FLV Video Recorder
FLV file, Is it safe to download it on my PC?
In reality, it's not the file we are talking about when it comes to security. FLV files are embedded to video sharing sites, so your question should be, how can I identify if the video I am downloading from a site does not have malware? Use a Safeguard for your PC. There are tons of Software defenders and scanners you can find online. But the file itself is safe. Unless they put malware in it, it's safe.
What program can open FLV files?
There are a lot of media players out there, but what I recommend is VLC player. This player is versatile and can play almost all file formats. Regardless if it's uncompressed or compressed. Click here to get more popular FLV players.
What are the advantages of FLV files?
The first major advantage of FLV is its ability to produce high-quality video in small size. By nature, the file is flexible. Why? You can easily convert this file to a different format even by using online converters.
Part 4. Comparison Chart
| | | | | |
| --- | --- | --- | --- | --- |
| Features | FVC Screen Recorder | FVC Free Screen Recorder | VLC Media Player | OBS Studio |
| Screen Recorder | | | | |
| Audio Recorder | | | | |
| Supports FLV | | | | |
| Multimedia Player | | | | |
| Adjustable Bit Rate and Frame Rate | | | | |
Conclusion
All tools listed are helpful in recording FLV videos and producing the best video quality possible. Also, if you are not certain which tool to use, you can refer to the comparison chart written. But among the FLV recorders listed. FVC Screen Recorder has a greater edge because of its Window lock-in feature.