Top of the Line M4B Recorder with Tools, Steps and Complete Details
M4B format is used to store audiobooks that are downloaded from the Apple iTunes Store. Also, it allows you to bookmark along with the recorded audio as well pause, play and stop if it is needed. Because some of the audiobooks are almost an hour or two long so it is perfect to have that feature. Another feature that is incredible about this is that you can split the audiobook to have a different chapter like normal books have. In this situation this is the best opportunity for the users to know more about this file format. If you're looking for an M4B recorder then in case this is for you. In the list below are the best audio recorders that will fit your demand as their user and maybe in the future as the customer as well. So, without any more explanation let's continue below and know what are the tools you may use.

Part 1. Top M4B Recorder for Windows and Mac
FVC Free Audio Recorder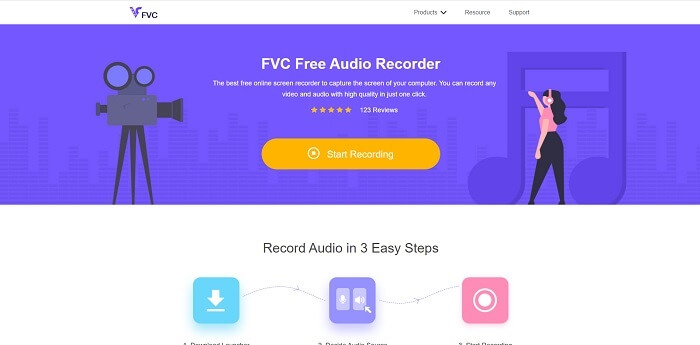 One of the best online recordings which allows the user to do the audio recording as beautifully as ever. FVC Free Audio Recorder is the best online recorder you may use. Also, it is available on all different platforms. And the success rate of this tool is super high so expect nothing less with this tool. If you're looking for the best online audio recorder then this is for you. So, without any further explanation let's proceed to the steps below. It is a must to read it carefully and follow the instructions.
Step 1. Click the link to proceed to the webpage. Click Start Recording to launch the tool.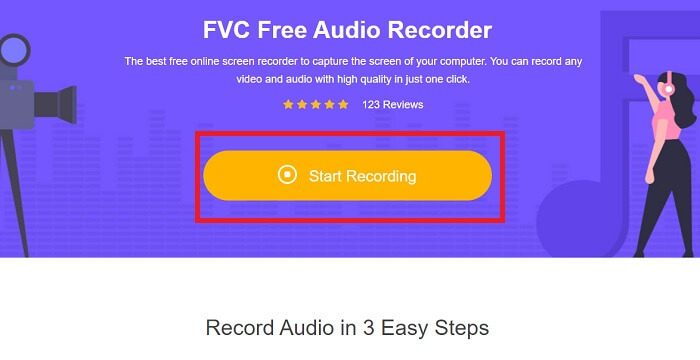 Step 2. A toolbar like this will show in the display like this.

Step 3. Click the Speaker and Microphone to add your voice and audio sound.
Step 4. Click the round button to start recording.

Step 5. After recording click the square button to stop. After that it will automatically be saved in your pc. To check the recording, you may check it in the parallel lines the top is the latest.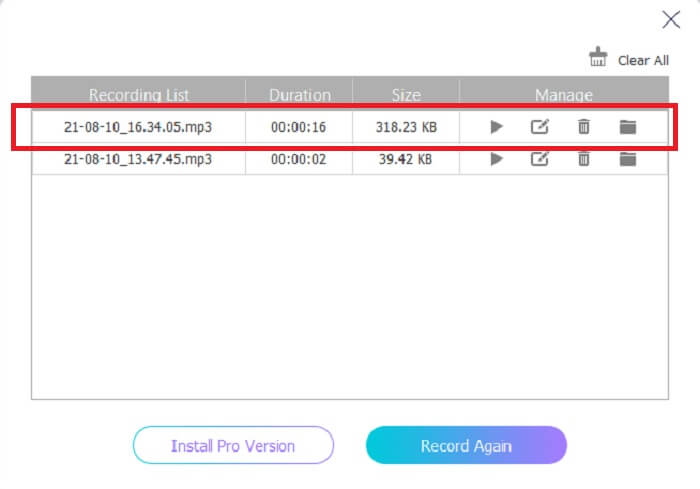 Part 2. Other 4 Recommended M4B Recorders for Windows and Mac
1. FVC Screen Recorder
If the free tool makes you happy then this FVC Screen Recorder will make you the best output that you ever dream of. This tool allows the user to be more creative with the touch of magic for the best output you may produce. So, if you want your Sony digital recorder to play in M4B format then this is the best choice for you. Completely follow these steps all tell yourself it is easy-peasy lemon squeezy to do the recording.
Step 1. Click the download button that supports your currently using program. After downloading it, install the tool. Change the Preference according to your wants and click Finish to proceed.
Step 2. A floating toolbar like this will show in your display. Click the Audio Recorder then proceed.

Step 3. In the upper-mid of the toolbar you will notice a cog icon then click it. Then adjust the Output settings based on your needs. Click OK to save it.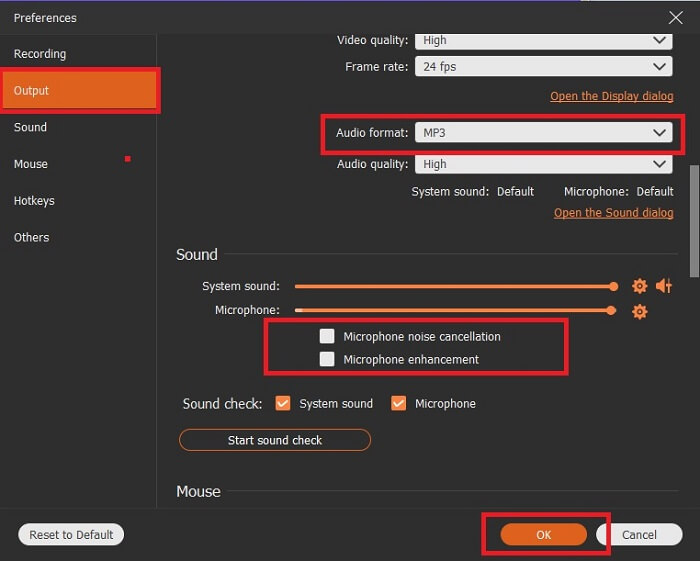 Step 4. Click the Speaker icon to add the system sound and Mic to add your voice. If everything is fine, click the disk-shape to start recording.

Step 5. If recording is finished click the Square button to stop. Click Save and Next to proceed. After that history list will show into your screen and click the first output to listen to your recording.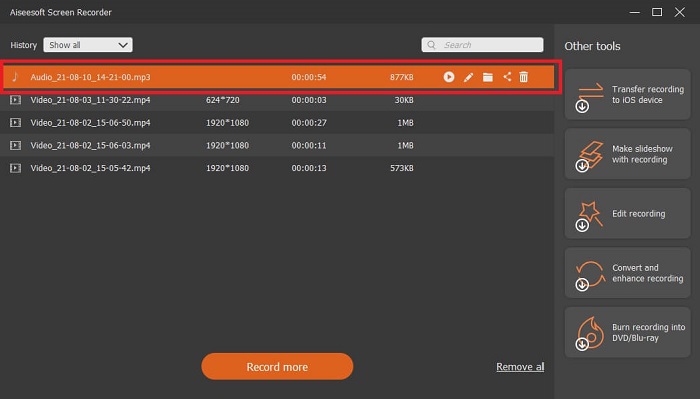 2. Audio Boo
Another incredible tool that allows you to record is this. Audio Boo allows the user to record any audio recording that is needed based on your specification. But the recording will automatically stop because it is limited. So, if you're recording a short song for your loved one then you might like to use this tool.
3. Wavepad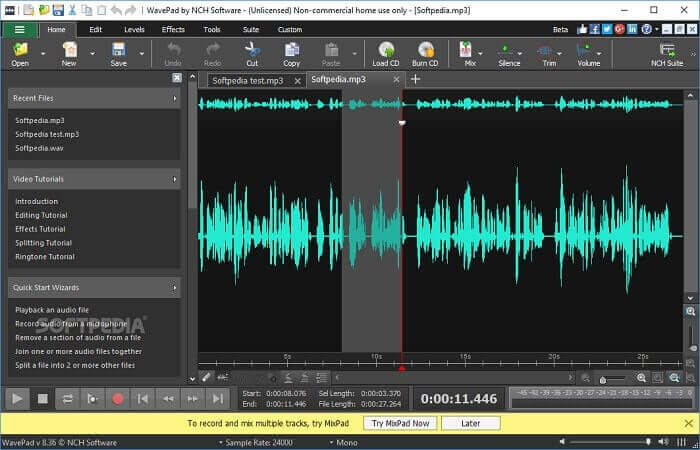 One of the best audio tools you may use to record a fancy music recording. Wavepad is most commonly used as a complicated audio recording. As well, you may pan up and down, change the tempo and edit. It provides tutorials in the toolbar.
4. RoseGarden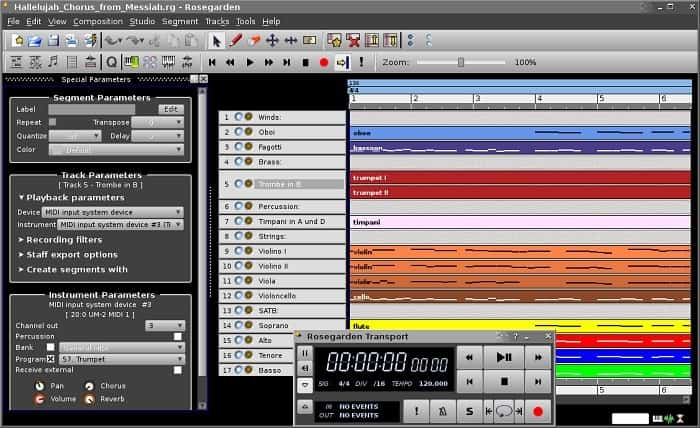 Is a digital audio recorder with MIDI and editing. This tool is another choice if you are a musician that likes to do audio recording. It is a simple tool you may use to do the recording and musical composition as well.
Further Reading
Part 3. Comparison chart
Tool feature/s
FVC Free Audio Recorder
FVC Screen Recorder
Audio Boo
WavePad
Rose Garden
Audio recording
Noise cancellation
Editing tools
Microphone enhancement
Available Software
All platforms
All platforms
iPhone, iPod touch, and iPad.
Mac, Windows, Android and iOS devices
Linux
Available Format/s
MP3 and M4B
MP3, WMA, AAC, M4B, M4A FLAC, OGG, Opus and many more.
MP3
AAC, M4A, MP4, DCT
WAV, OGG, FLAC, and MP3
Price Range
Free online tool
For 1 month: $25.00
For a year: $31.20
For Lifetime License: $55.20
Free downloadable software
$3.88 per month Per user
$69.95 per year Per user
It is free for non-commercial work.
Free digital software
Part 4. FAQs about M4B Recorder
Why can't I play the M4B file on my Android?
M4B files can't be played in the android devices and also in some PC media players. But you can use this M4B Player Online, it supports different formats like this M4B and many other file formats. Basically, drag-and-drop or you may as well find it to your file explorer.
Which is better? MP3 or M4B?
Both are good but M4B produces more quality sound. Other than sounds it stores information, chapter marks, images and hyperlinks but it is not the best for recording.
What is an Audiobook? What is the purpose of it?
Audio books are voice recordings of the textbook. It reads every word out loud instead of reading it in silence. This allows the other user to do other things while listening. Also, the proper pronunciation, fluent, phonemic awareness and more are also included.
Conclusion
In the final analysis, we understand what is the M4B recorder and what's in this format. If you're tired of reading and you are much more of an auditory learner then this type of file format is the best for you. As they say, listening is one of the best ways to learn things because of the audio output.
As it's explained that all of the tools available in the list can do the work but one of them stands out the most. Guess what that tool is, to give you a hint this tool is the most commercialized rather than the other tool it is a pay-to use tool but it is not inexpensive. This tool is the easiest way to do the recording whether anytime or anywhere. If this clue doesn't give you the idea of it then let's say what it is. It is the FVC Screen Recorder that allows you to do the recording in the best way possible yet it provides on point instructions so no need to worry if you are a beginner or even pro may as well use this because of some features.