Feasible Ways on How to Record SWF Files Using SWF Video Recorders for Free
Shockwave Flash Movies or also known as SWF file is an Adobe program that can hold graphics and interactive text. Mostly, animation files and also for games are played online within a browser. However, this file format is not suggested because it's no longer supported by Adobe. That said, it is better to use different kinds of formats like MP4, MOV and others.
Ideally it is more suggested to use a different kind of format for your video output whether you are converting or recording. Since we are talking about recording SWF files as an alternative to converting, we listed some of the best SWF recorders free of use.

Part 1. Top SWF Recorder for Windows and Mac
FVC Free Screen Recorder
Free and accessible. That is FVC Free Screen Recorder. It is a free-to-access screen recording tool that supports adjustable settings for your recording needs. For a free tool, it is rare to see a set of features like adjustable video quality, frame rate, and flexible annotation. You can get all of these for free! You do not need to register nor create an account. All you need is working internet and a browser. After all, it's good to know that there are still tools like this online that we can maximize for free. Equally important is how you can use this as an SWF video recorder for free.
Step 1. Launch the app by visiting https://www.free-videoconverter.net/free-screen-recorder/ then click Start Recording. Allow necessary permission to launch it.

Step 2. Next, adjust the dotted frame to adjust the frame of the recording. Then, click the REC button to start recording.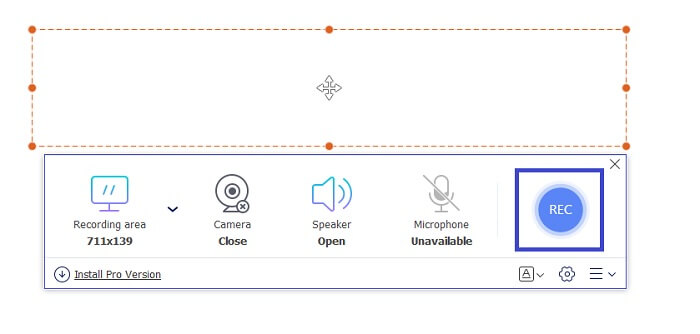 Step 3. To stop the recording click the blue Square button to stop the recording.

Step 4. To see the recording, click the file name with the latest date. Double click it or right-click to play.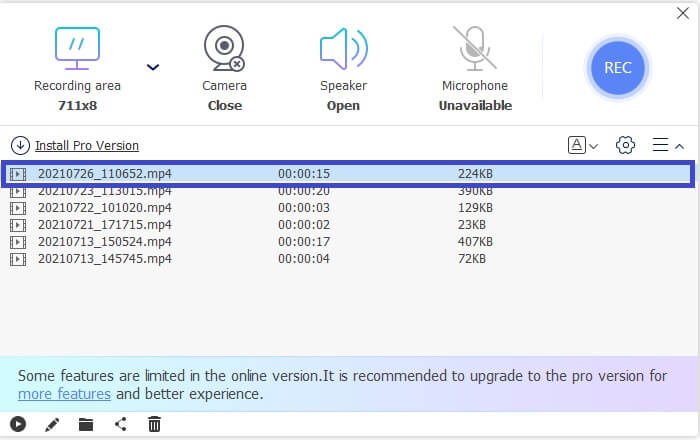 On the other hand, here are some of the notable features you can still get with FVC Free Screen Recorder.
Pros
Video editing feature supported.
100 % secured and privacy protected.
Video and audio recording.
Guaranteed customer service
Cons
No set duration settings.
FVC Screen Recorder
Real-time screen recording/annotating and vastly supported formats are just some of the best features that you can get from FCV Screen Recorder. Another key point of the tool is the Lock Window capture. This excellent feature allows you to record a specific window without being bothered by your other activities on the screen. Henceforth you will be more productive with your work and produce a better output at the same time. To demonstrate more of the tool process and features, here is a detailed guide is written for you.
Step 1. First things first, download the app by clicking the download button below.
Step 2. Follow the installation guide and make sure to enable all settings you think you might need during the process. It is also advised to change the default location of the file to your desired storage.
Step 3. Now launch the app and click the Video Recorder.

Step 4. To begin recording, set the recording area, and turn on your webcam to capture your face if you need. You can also enable System Sound, Microphone, or both to record the audio simultaneously. When you're ready, click the REC button located at the right side of the floating bar.
Note: If you want to annotate or add lines, shapes and arrows, click the Pencil icon.

Step 5. Finally, click the Red Square button to stop the recording. Then, you can preview the recording and trim the unwanted part of it. If you're satisfied with the result, click the Save button to export the recorded SWF video to your computer. Then you can enjoy it freely.

Significantly, there is also a list of advantages you will get with an FVC Screen recorder before deciding to use it.
Pros
Supports HEVC for high-quality output
Acceleration for NVIDIA, Intel and AMD hardware acceleration
4K Ultra HD resolution supported.
Secured 100%
Guaranteed customer service
Cons
It has limited features for a free trial.
Meanwhile, here are some of the best alternatives that are worth considering to use. These apps have been existing for quite some time now. See the list below.
Bandicam
Simple and straightforward, Bandicam is one of the first choices when it comes to alternatives. This tool gives you all the benefits you need for your recording needs. Recording screens has never been this easy. With the advanced features of the tool, you will definitely love it. The tool can capture HD quality videos with a maximum of 3840x2160. As a matter of fact, you can record a video 24 hours straight.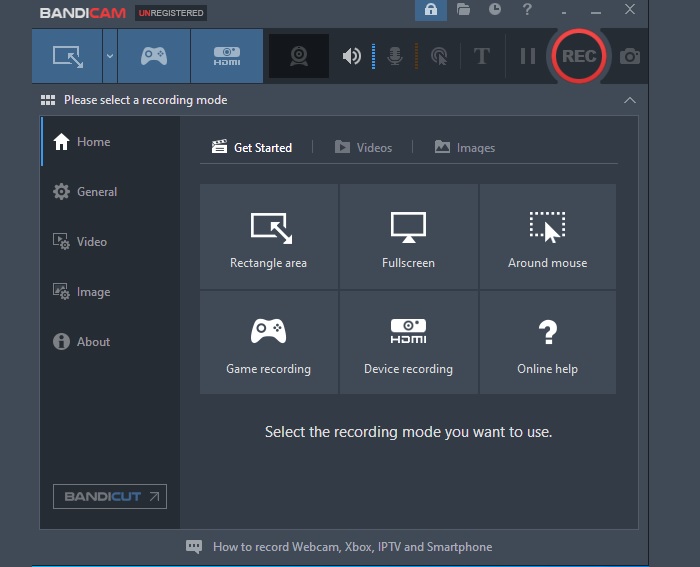 Pros
Can record audio and video.
Microphone and webcam recording supported.
Non-stop recording.
Upload to social media platform direct link.
Fraps
Fraps is another screen recording tool that you can consider using. This app can screen capture, screen record, and supports benchmarking features that you can adjust. This can adjust frames between two points. You can also save statistics and captured images that are time-stamped. This tool is also good for recording live streaming without using a DV Cam and VCR. That is why this app is most popular with Gamers and live streamers.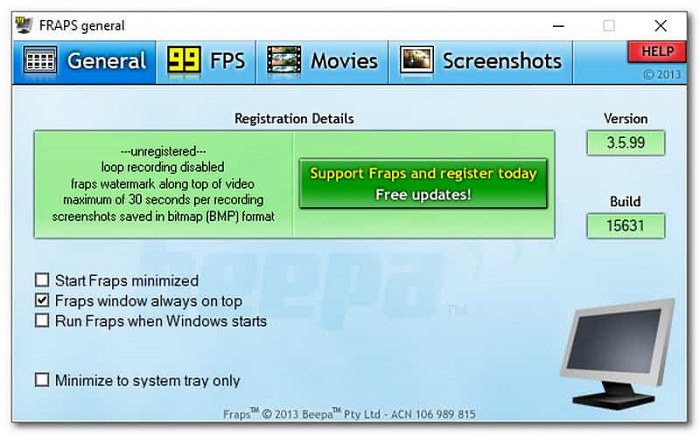 Pros
Benchmarking feature supported.
7680x4800 video quality.
1 to 120 frames per second.
Straightforward.
Further Reading
2. Best Secret Screen Recorder
Part 2. Comparison Chart
| | | | | |
| --- | --- | --- | --- | --- |
| Feature | FVC Screen Recorder | FVC Screen Free Screen Recorder | Bandicam | Fraps |
| Live Streaming Recording | | | | |
| Video Format Supported | WMV, MP4, MOV, F4V, TS, AVI, WMA, MP3, M4A, AAC, PNG, JPG/JPEG, BMP, GIF, TIFF, MXFW4V | BMP, GIF, TIFF, MXF, MP4 W4V | MP4 M4A, AAC, PNG, JPG/JPEG, WMV, MP4, MOV W4V, | PNG, JPG/JPEG, BMP, GIF, TIFF, W4V |
| Audio and Video recording | | | | |
| Video Editing Feature | | | | |
| Lock-in Window Featuretd | | | | |
| Annotating Feature | | | | |
| Video Editing Feature | | | | |
| Safe | | | | |
| Adjustable Bitrate and aspect ratio | | | | |
Part 3. FAQs about SWF Recorder
Is the SWF file similar to Shockwave?
Definitely not. They are the same in a sense that they are both file formats. But indeed not one. Shockwave is from Macromedia but now owned by Adobe.
How to solve problems in exporting files to .swf files?
First, what media are you talking about? Are you trying to render a video or a photo? The solution will be different. In any case, you are trying to render a photo which is a common problem, it does not really work. That is because the SWF format is created for the web.
Can SWF files be played on most media players?
Yes. The following SWF players like VLC player, QuickTime, and WMP players, support the SWF playback.
Conclusion
Did you find the tool helpful? All of the tools reviewed are surely reliable. You can try them personally if you want to see which tool will suit your needs. You can also refer to the comparison table above to see the summary. Based on hands-on experience with each tool, it is highly recommended to use FVC Screen Recorder for your SWF video recording needs.