Top AMV Screen Recorder for Windows and Mac Computers
Actions Media Video also known as AMV. It is a video file format specifically produced to replace MP4 as a universal format playable to most media players. If you are familiar with the AVI format, this is a modified and improved version of it. This file format contains a compressed video. AMV format is made to allow economically-made players and devices to play videos. However, the initial file rendered is low because the frame rate is low. In spite of this, you can still consider it as a good alternative format when rendering your output video.
Relatively, you can also consider using a screen recorder that can help you render videos on an AMV file with ease. There are actually tons of tools that can do the trick for you. Otherwise, it should not always be an AMV file. It is just good to know that such a file is now existing. Thereupon, we listed some .amv video recorders for Android and computer platforms. You can check out the list below to know more.

Part 1. Top Online AMV Recorder
1. FVC Free Screen Recorder
When we talk about free tools accessible online, you might think of limited, watermark and insecure. Although this may be the case, not all screen recorders for free are identical. There are some who broke the norm and provided solutions to these problems. FVC Free Screen Recorder is one of them. Surely, this tool will give you more freedom when it comes to your screen recording needs. With the adjustable frame size, you can select your desired aspect ratio and personalize your recordings. Also, the Bitrate is adjustable. Bitrate is also important because it can help you adjust the quality of the video you are rendering. There is a lot more to learn about this outstanding tool.
Step 1. To launch the app by visiting the official webpage https://www.free-videoconverter.net/free-screen-recorder/. Click the Start Recording button to launch the app.

Step 2. Once the tool is launched, adjust the aspect ratio of the recording by moving the dotted frame until you get your desired video size. Then click REC to begin recording.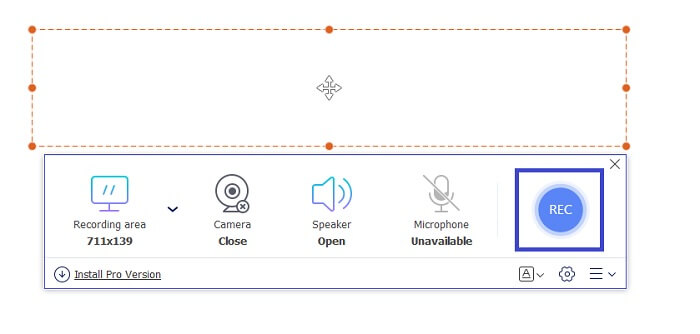 Step 3. While Recording clicks the Pencil icon to enable real-time annotation where you can add shapes, lines, and text. When you are done with the recording, click the Blue square button to stop the recording.

Step 4. To view the file you recorded, click the file name at the bottom part of the main interface. Double click to play it.
Pros
Unlimited Recording.
No duration Limit .
Adjustable Bitrate for high-quality video output.
Video trimming supported .
Cons
It lacks auto generated subtitles.
2. Screencast-O-Matic
Personalize your recording with Screencast-O-Matic and experience mixing and matching screen recording imported videos and recorded videos. Not to mention, it is an online tool that can screenshot, allows you to draw on the screen, with automated captions, and can record audio at the same time. You can choose to add narration or subtitles while recording your video. This is helpful mainly to video tutorial makers and those who are saving money. The only downside of this free app is the registration process. It is lengthy. Meanwhile, here is how you can use it.
Step 1. Visit the main page and register for an account.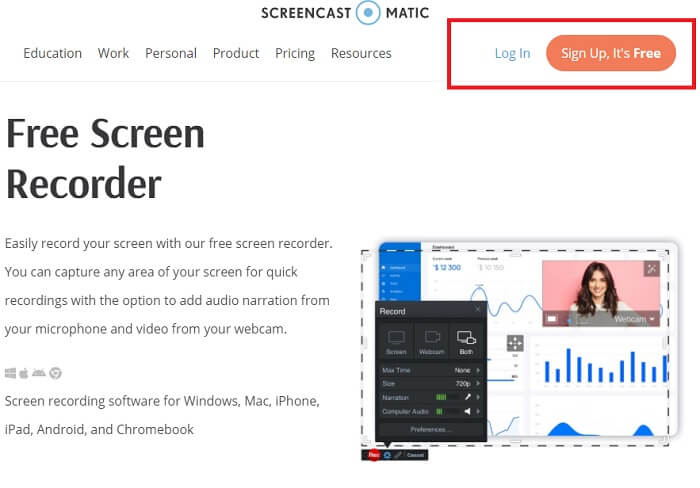 Step 2. After signing up, you will reach this page where you are asked which action you will take. Choose Make a Recording.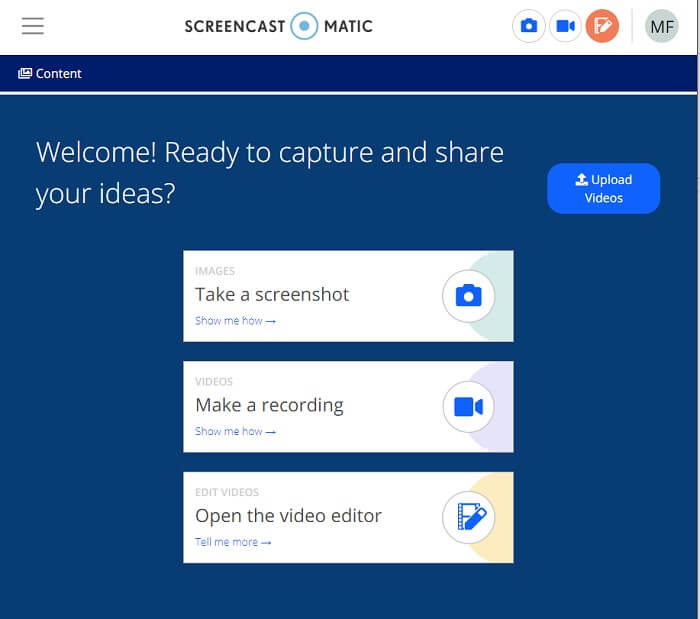 Step 3. The tool will then appear. To start recording click the red REC button. You will click the same button to stop the recording.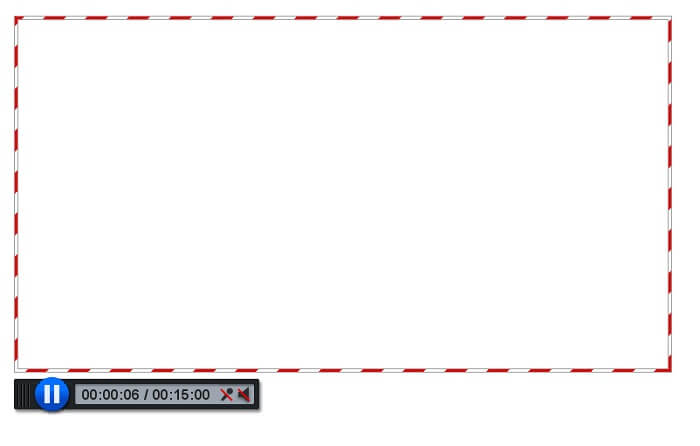 If you are not satisfied with the features that these two amazing free apps can give, you can continue reading the next tool offered for you. This time we will talk about premium tools that you can download on your PC.
Part 2. Top Desktop AMV Recorder
1. FVC Screen Recorder
The first desktop tool is FVC Screen Recorder. It has the ability to record your computer screen, system audio, and capture online streaming without background noise. The tool records the system sound of the computer, this means the audio quality is very satisfactory. Besides the vastly supported formats, this tool supports acceleration tech for online gaming streaming. NO watermark, only quality recording. You only get the best if you use this tool. HD quality, lossless audio, smooth recording during live streaming, and acceleration. Everything you need for your recording needs is here. More than that, there is a Window Lock feature that allows you to record a specific window only. Plus the tool is easy to use, get started by clicking the button below.
Step 1. Click the Video Recorder button to begin recording

Step 2. Start recording and add annotation on the screen while recording.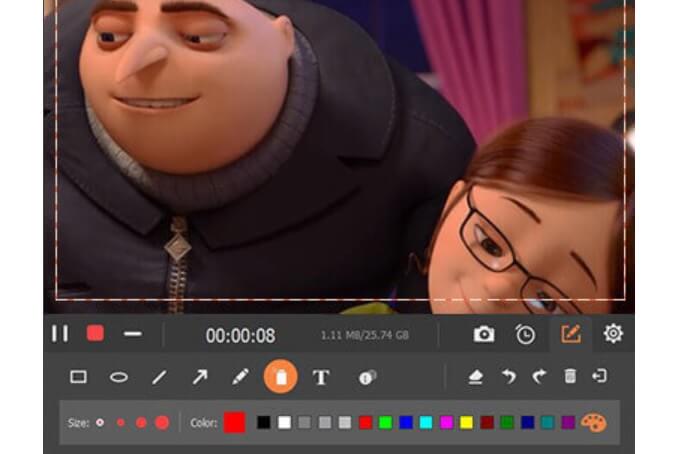 Step 3. After all, stop the recording by clicking the Red Square button.

Step 4. Now, another screen will pop up. Choose between Re-Record and Save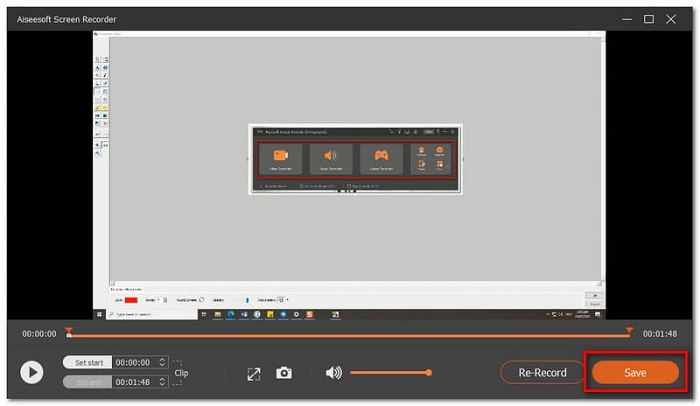 Step 5. Find the file recorded to the next window that will appear.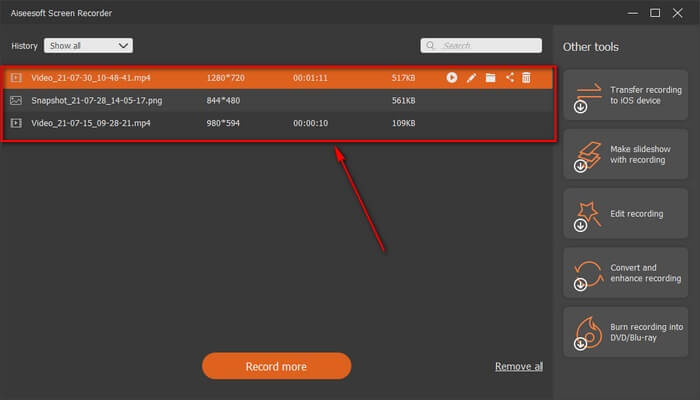 2. Bandicam
Finally we have Bandicam. It is one of the most reliable tools when it comes to screen recording. One is because the tool has a very straightforward interface. All settings you need to check and features are given on one screen. As you launch the tool, you can immediately see all settings and features. Indeed the real definition of a user-friendly interface. Even a beginner to this kind of technology can easily cope up. To show you what is said, here is how you can use it.
Step 1. Go to the official website of the tool to download and install the app.
Step 2. Click the REC button at the top right side of the interface. Then the tool will ask you to adjust the frame size.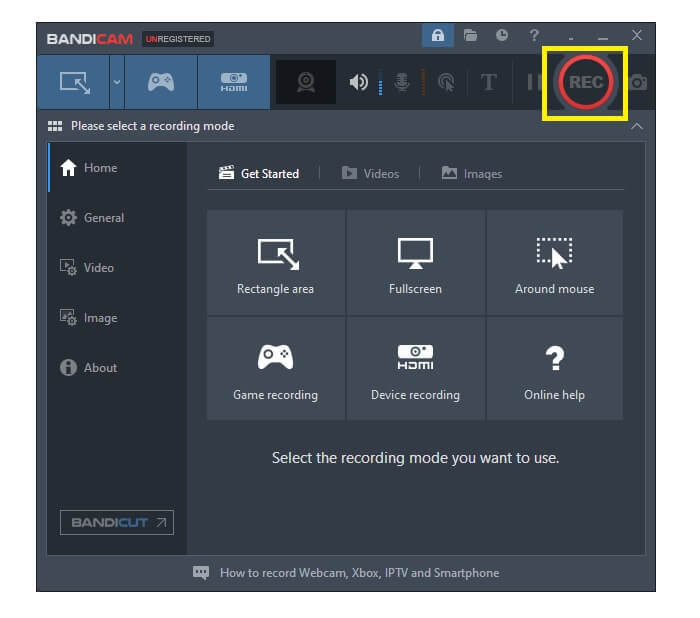 Step 3. From there start annotating while recording. Click the X button at the right corner to end the recording.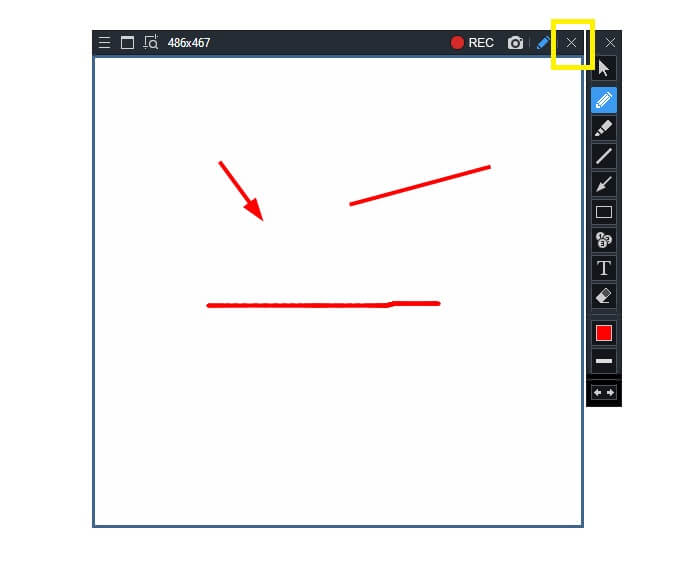 All tools written are indeed helpful. Bandicam represents simplicity and usability. Meanwhile, Screencast-O-Matic is versatile. On the other hand, FVC Screen Recorder can provide both Free and Premium tools that surpass the tools listed altogether. The Lock Window Feature is notably an advantage because it allows multitasking and efficiency. No other screen recorder can do this ability, it is only with FVC Screen Recorder.
Read More:
2. How to Compress Large AMV Files
Part 3. FAQs about AMV Recorder
Why can't I open an AMV file on my PC?
There are several reasons why. The most common though is, the file lacks suitable software on your computer. Download one online.
MP4 Player not playing Format Error, and how to fix that?
This is simple. Change the .amv file to the latest version. Convert it. if you want to convert it follow the guide below:
1. Visit this link https://www.free-videoconverter.net/free-online-video-converter/.
2. Open the launcher then upload your file.
3. Choose the format you prefer. Once done, the file will render soon.
4. Click the download button to get the file recorded.
How do I associate a file with software?
There are two ways to do it. One is by choosing the AMV file then select Choose default program then Browse. The other way is registering a file to Window Registry.
Conclusion
To conclude, AMV is good to know the format that you can consider using, but not recommended to those who are seeking good quality videos. Also, the list of AMV screen recorders is not just limited to AMV but can produce more formats like MP4, MOV, and a lot more.