List of the Best MOV Recorders Compatible to Windows and Mac Computers
MOV files are produced by QuickTime Movie. Generally speaking, all Apple devices produce this kind of file extension. Comparing this file to MP4, both are lossy, this means the format is compressed, trimmed resulting in smaller file size. Which is beneficial to most devices. Besides, several video players support this file extension. Some of them are iTunes, QuickTime, VLC, Elmedia Player, and Windows Media player. Because of the availability and high video quality output of this format, you might want to consider having one instead of other formats. Meanwhile, if you want to get these files too, here are some of the best .mov recorders.

Part 1. FVC Screen Recorder - Best MOV Recorder for Your Computer
Distinctive Feature: This tool is specifically made for perfection. Video and audio quality is lossless.
Lock your Window while recording and do the things that you need to. This amazing app can lead you to record a certain window without being bothered by your other tasks. Aside from that, it is featured by the advanced, real-time encoding technology that produces HD-quality images and sound. On top of that, the videos captured are WMV, MOV, and TS, GIF, and MP4. Try FVC Screen Recorder to create vivid videos now! Meanwhile, to use this tool here is how.
Step 1. Go to the official website of FVC Screen Recorder. Click the download button then launch the app.
Step 2. On the main interface, select the Video Recorder mode and the interface for video recording will then appear. Change the frame size and adjust to the area you are going to record.

Step 3. Hit on the REC button to begin recording.

Step 4. After recording, tick the Square button to stop it.

Step 5. After clicking the stop button, you will see another window where you can choose between saving the file or re-record it.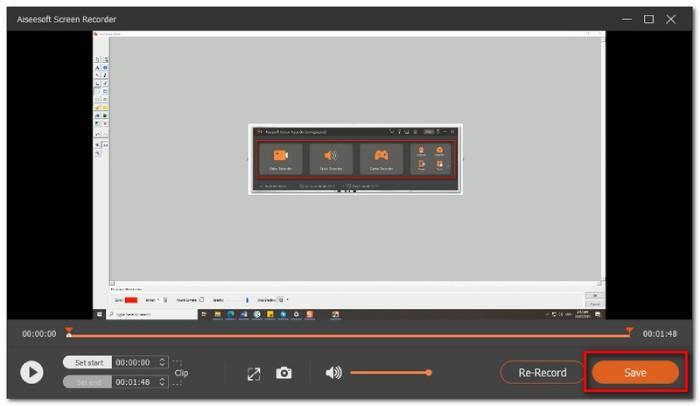 To check the preview, click the Recording History, and from there, you can play the recording.
Part 2. Other 4 Best Free MOV Recorders
1. FVC Free Screen Recorder
Distinctive Feature:
If you are looking for a more practical tool, you can consider this as one of your options. FVC Free Screen Recorder is one of the best alternatives you can consider using. In fact you do not need to register to use it. It is also a tool that produces MOV files upon saving. You can customize the screen size, settings, and even edit the recording after. The tool is very smooth and intuitive. Even a beginner won't have a hard time using it. Plus the steps on how to record a video in .mov on pc are very easy. Find out how below.
Step 1. Visit FVC Free Screen Recorder Official page.

Step 2. Launch the app and allow necessary permissions.

Step 3. Adjust the area to be recorded. Start recording by clicking the REC button. The recording will then begin.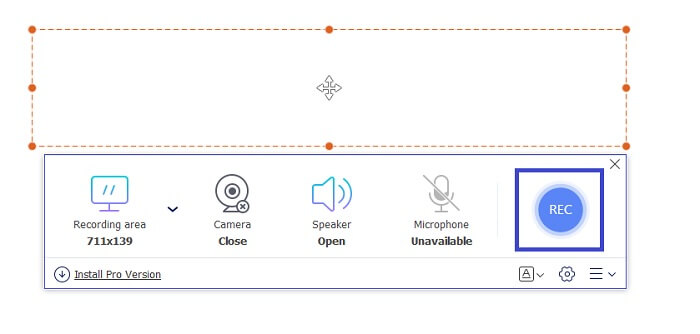 Step 4. When you are done, click the blue square button to end the recording.

Step 5.To view the recording, check out the list at the center of the floating bar interface.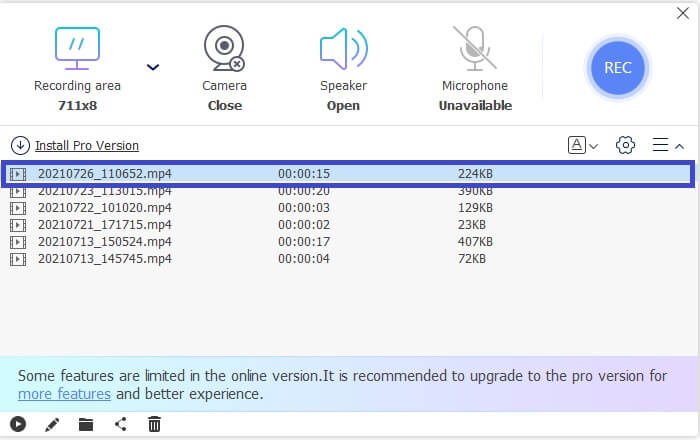 Pros
Lossless Audio quality output.
Adjustable bitrate.
Adjustable Frame rate.
Cons
No lock window feature.
No video editing feature.
2. ScreenFlow
ScreenFlow is a screencasting editing software specially designed for macOS operating systems. This enables you to capture your computer screen along with the audio. The latest version of the tool includes support for iPhone, iPad touch, or iPad. In fact, Mac Word A website dedicated to ranking the best software, tagged Screen flow as Editor's choice and received an award for it. So if you are wondering if this is a tool to consider, yes it is one of the best!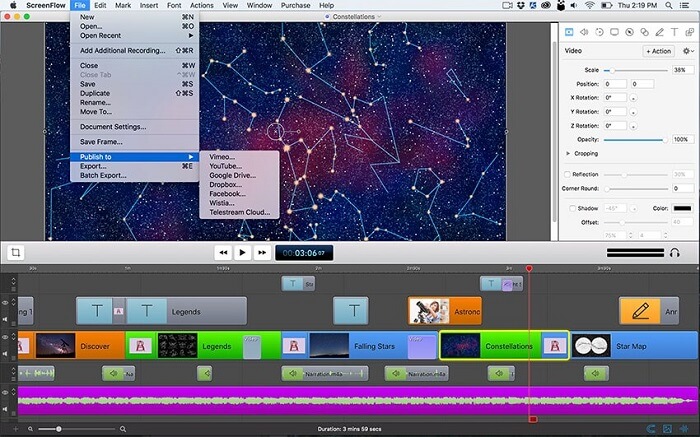 Pros
Multitasking tool.
Customizable Title Library and audio filter.
Directly publish on Social Media platforms.
3. OBS Studio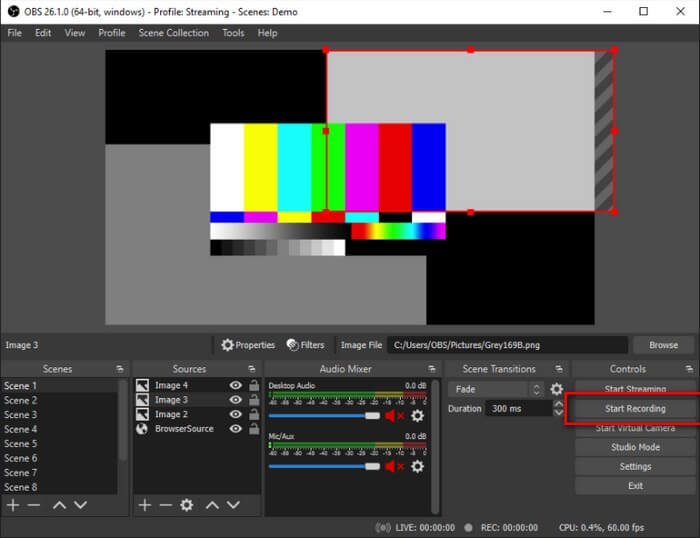 Our next alternative is OBS studio. It is safe to say that this is one of the most popular. Most especially for gamers. The reason for it is because of the tool's capability to multitask. It is very useful to live streamers and video tutorial makers because it can record the screen and the audio at the same time. This is without worrying about the video output. Regardless if you are multitasking the result will be satisfying. It is worth the try.
Pros
Streaming and recording tool.
Can do recording while mirroring between devices.
Lossless Video quality Output.
Cons
Paid App .
Complicated to use.
Not for beginners.
4. Ezvid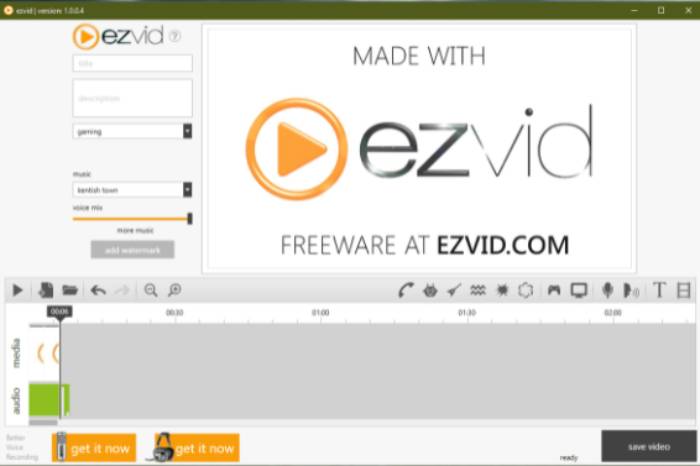 Finally we have Ezvid. A Los Angeles-based company that provides some of the best software over the web. Ezvid is an awesome video editing tool, Screen recorder, and Instant slideshow maker. It is easy to navigate and it is downloadable on Windows XP3, 7, 8, and 10. One thing you can note with this tool is the elegant and revolutionary features of the tool. So it deserves a position on our list.
Pros
Supported by Windows Xp3, 7, 8, and 10.
Slideshow Maker.
Free Music Included.
Cons
Intermittent Capture codec is missing.
Part 3. Comparison Chart
It might be a little overwhelming to see all the information written in the article. That is why we created a table where you can compare and see which tools can give the most benefit before choosing or paying. Hope this will help.
| | | | | | |
| --- | --- | --- | --- | --- | --- |
| FEATURES | FVC SCREEN RECORDER PREMIUM | FVC SCREEN RECORDER FREE | SCREEN FLOW | OBS STUDIO | EZVID |
| Save screencast to your hard drive | | | | | |
| Video Hosting | | | | | |
| Instant sharing | | | | | |
| Record computer audio and video at the same time | | | | | |
| Record your voice | | | | | |
| Adjustable Screen Ratio | | | | | |
| Video Editing Tools | | | | | |
Part 4. FAQs about MOV Recorder
Is the MOV file larger than the MP4?
Generally speaking, Yes. MOV is bigger than MP4. As mentioned, .mov is compressed like .mp4 but they differ in the file size. Want to convert MP4 to MOV, click here to read on.
Does Windows Media Player Supports MOV files?
The answer to your question is yes. That is if you are running the 12.0 WMP version. If not, you can't. Unless you download a third-party MOV media player like VLC.
What is the best tool to convert MOV file format?
Tons of converters can be found on the internet. You can try FVC Free Online Video Converter, Convertio, Zamzar, Online converter, Clipconverter, and CloudConvert.
Conclusion
To sum it all up, a screen recorder is one of the most important tools to have in this generation as it serves a variety of purposes such as for education, work, and other respective areas. It enables us to capture important events and record materials to learn in the most comprehensive way in an efficient manner. Luckily, we have several software like FVC Screen Recorder Premium, FVC Screen Recorder Free, ScreenFlow, OBS Studio, and EZVID, each is the best recorder for MOV file format. They can surely satisfy and better your experience in capturing live moments online.