Review about FLV Metadata Editors to Edit FLV Metadata [Effortlessly]
FLV is a popular format used to deliver digital content using Adobe Flash Player embedded with SWF. Although it is best to transfer files in the extension of .flv, some contents are lost, especially if interrupted. Then if this happens, what should you do? Fortunately, we have metadata available on the market. Want to know what Windows, Mac, and Online tools you can use? Keep on reading to learn the best ways to change the FLV metadata format easily.

Part 1. 3 of the Best Video Metadata Editor Available on Windows/Mac/Online
Video Converter Ultimate
Video Converter Ultimate is one of the powerful FLV metadata editors to easily update and change the FLV tags. This tool is available on any Windows or Mac OS to use. While using the ultimate tool, you can quickly add, remove, or update the metadata on 1000+ formats with the help of this tool, not only on FLV. Unlike another metadata editor, this tool offer s variety of options that are perfect for any video type problem. Such as converting, speeding it up or down, reversing, and other sets of amazing filters to make your video very unique that the other tag editor doesn't offer it to you.
Furthermore, plan to do some editing on your FLV video, like adding effects, filters, cutting, merging, adding text, or watermark. This tool can help fulfill the task easily in any user. All of these things are possible with the help of the ultimate tool. You will need to look for nothing with the best GUI and features. If you are wondering and want to try using this tool, you can follow the steps below to know how to use the tool.
Step 1. Press the download button to have the FLV metadata injector on your desktop; choose Windows or Mac. Install the tool by clicking the file, following it accordingly, and running it.
Step 2. After you've opened the software, go to the Toolbox and select Media Metadata Editor to edit the tags on your FLV.
Step 3. Add the FLV files by hitting the + icon, locate the file on the file folder that will show on your screen, and click Open.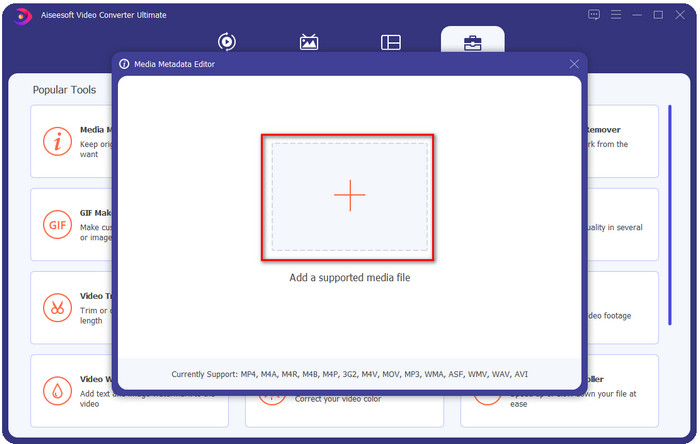 Step 4. Add, change, or remove the information on the textbox and press Save. With that, you've now added tags to your FLV file as simple as it is.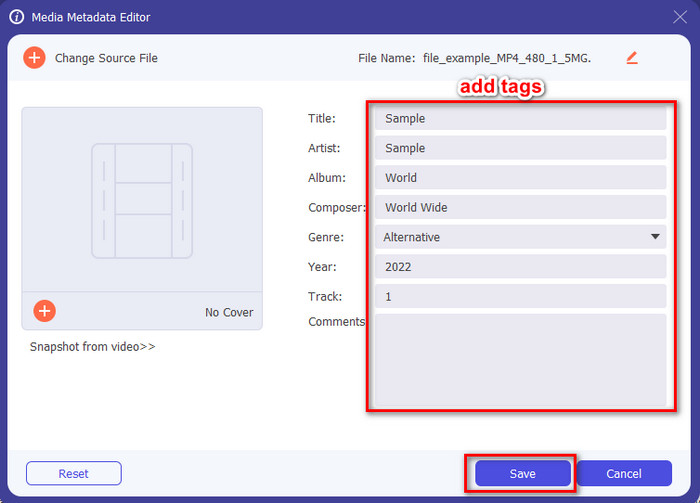 FLVMeta - FLV Metadata Editor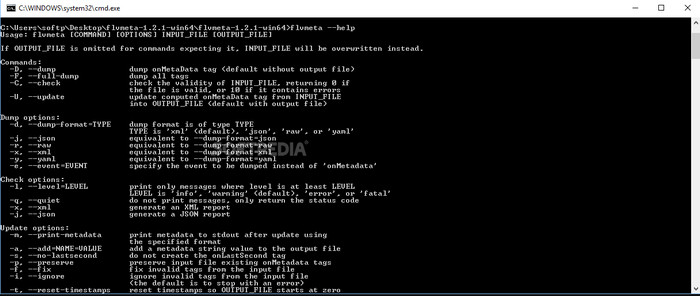 If you are a pro and want to try a dedicated FLV metadata editor you can download, we would like to introduce the FLVMeta – FLV Metadata Editor. This tool isn't the typical editor you've already encountered because it is a command-line tool. It means to command the tool; you will need to insert a specific code. Similarly to FFmpeg, you will need to input the location, file name, data, and many complicated things. Although this isn't the best choice for beginners who need to edit their FLV metadata, it is worth mentioning because it does the job perfectly.
Moreover, the software doesn't work with the other formats; you can only use it on FLV if you want to use the tool. If you have many FLV files and want to change their tags and have a basic knowledge about manipulating a command-line tool, we suggest you use this. If not, you will need time to study the tool to do a simple task such as adding metadata.
Online FLV Metadata Editor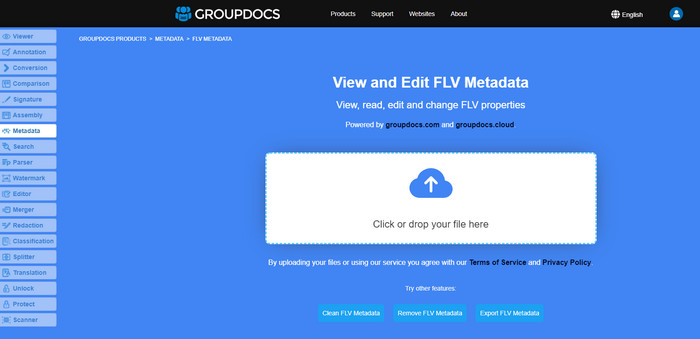 Don't want to download a tool to edit the FLV metadata format? In that case, you can use the Online FLV Metadata Editor. With this tool, you can edit the metadata on your FLV without installing the software for free, for it is a web-based tool. Even though the tool is free on the web, this tool won't function if you don't have internet, and the process might be interrupted if you have slow internet.
Unlike the FLVMeta, this tool supports more formats and not only FLV; it doesn't support as widely as the ultimate tool. So, if you want to finish editing the task without downloading the software, we suggest you use this, as it is also safe to access. But remember to avoid unexpected issues, make sure that you have a stable internet connection.
Part 2. Comparison Chart about the Top 3 FLV Metadata Editor
| | | | |
| --- | --- | --- | --- |
| Feature/s | Video Converter Ultimate | FLVMeta – FLV Metadata Editor | Online FLV Metadata Editor |
| Safe to Use | | | |
| User-Friendly | | | |
| Internet-Dependent | | | |
| Editing Features, such as cutting, trimming, cropping, merging, etc. | | | |
| Best Graphics Users Interface | | | |
Part 3. FAQs about FLV Metadata Editor
Are FLV and F4V the same?
Although they are both Adobe Flash-related, their purpose is different. For example, FLV has the same encoder used on SWF files, ideally used to transfer data over the internet. In contrast, F4V is an ISO-based format that resembles the MP4. Although they are both good at transferring files over the internet, their aspect and structures are different. If you want to convert your F4V to FLV, click this, and learn to convert the format into an FLV.
Where can I play FLV?
Not all media players can play FLV format because of its limited support. Yet you are in luck, as we gathered the finest FLV player you can use on your device to play your FLV files without worrying if it is supported. These tools are tested to ensure that they can play FLV files on Windows, Mac, Android, and iPhone; to know more, click this link.
Is FLV the standard video-sharing format?
Before we considered it the best video sharing format you can use on the web to play high-quality video; however, there are even better formats in this new era, such as the MP4. Because it is more compatible with different devices users have, this is known as the standard video format. Although you can still share the FLV files on the web, you will still need to reconsider the device of the receiver of that file. And if you are the receiver, you will need to download a third-party tool to play it or convert it into a playable format.
Conclusion
Although there are limited tools that support FLV, we are still in luck; because we can still edit the FLV metadata because of the tools above. But it saddens our heart that we need to pick one to use, even though they can help us. If you haven't decided what to use, you must go with the ultimate tool instead. It is the safest choice because it is simple yet can easily help you handle the task. Still not believing what the abilities of this tool are? In that case, you must download it on your desktop to use it and test it for yourself to see if it does perform the task. We would appreciate it if you could message us about your suggestion, recommendation, and more on the app.