How to Add and Make a Snapchat Filters and Use Them to Create Funny Videos
Snapchat offers its users a unique set of filters and effects that they can use to make their videos distinctive; It is a face modifier. With approximately 293 daily users worldwide and increasing, Snapchat users share more than 4 billion snaps per day; undoubtedly, this app became popular with mobile users, especially teenagers. And right at this moment, we will present the six best Snapchat animated filters you can use to make you look funny, great, and weird.

Part 1. What is Snapchat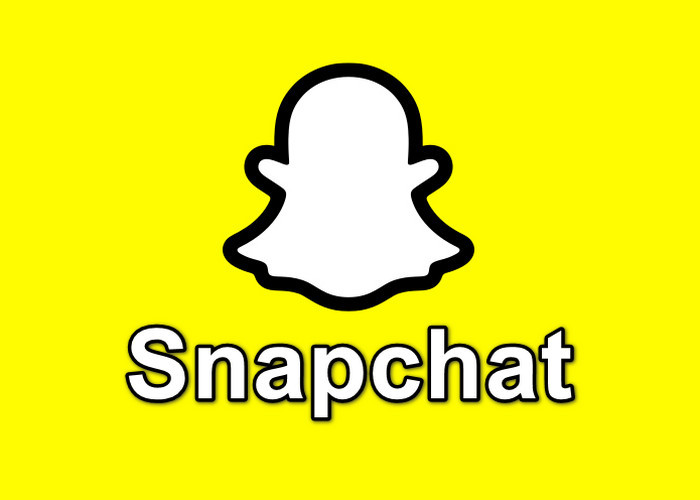 Before we proceed with the top six Snapchat animated filters, we will briefly introduce the Snapchat app. To begin with, Snapchat provides a wide variation of filters and effects you can use on your video, image, or even on the image library on your phone.
Initially, Snapchat didn't become famous for its filter; but for its mobile messaging app. This app is the first-ever that supports self-destruct messaging apps before Instagram and WeChat copied this feature. Because of that, the developers add new features, Chat and Stories, to add spice to their app. The features we can use today aren't in the app's first version.
After a year of its release, many app developers want to buy the app, mainly the CEO and Founder of Facebook. But the said mobile messaging app developers believed that it would become a popular one someday, and they were right. Isn't it amazing? Snapchat became the most downloadable mobile app in the entire world. It became even better than a messaging app with other features like its filters. But the question is, what are the best Snapchat animated filters you can use? To answer that question, proceed on reading part 2.
Part 2. Top 6 Best Choice Snapchat Filters of 2022
There are many free filters you can use that are available on Snapchat; all of them have different effects on each snap you take. Do you want to know what these filters are? Below, we list our top six favorite filters to make you snap even better if you do. Additionally, these filters in our list are the most picked on Snapchat, so what are you waiting for? Read the detailed information below.
Cartoon 3D Style Filter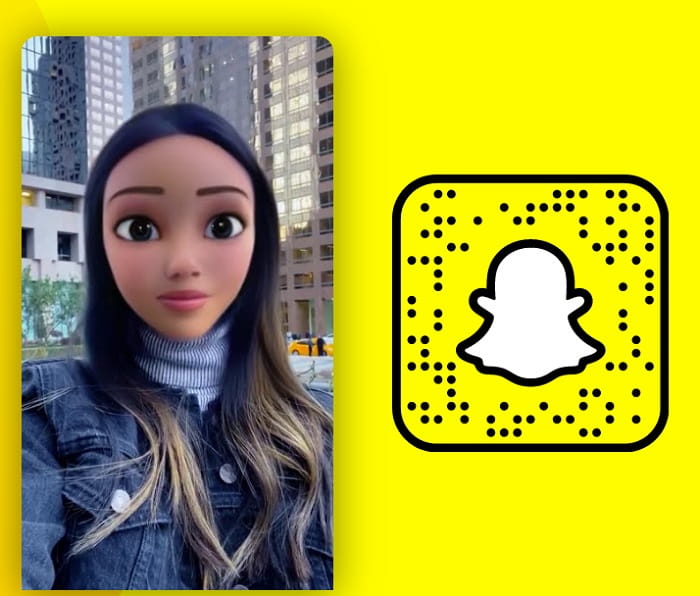 Everyone loves the Snapchat cartoon filter; because it can turn your face into a cartoon character. This filter is the most picked on Snapchat because of reasonable grounds. With this filter, you won't need to be a pro to look like a cartoon character. Because it will automatically lay the animation on your face to look like a Disney character that came out of the movie, try it now to see if you can be a perfect fit for the next Disney animated movie.
Dog Filter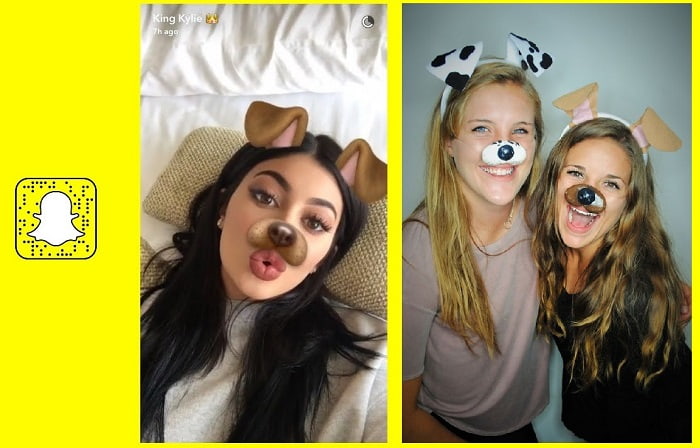 Who loves dogs? Most of us love dogs because they are known as a man's best friend. With the Snapchat dog filter, you can add a dog filter to your snaps. This filter won't transform your face into a real dog; well, that would be cool if it does; it is just a filter that will add ears, nose, and even the tongue like the dog has. Also, you can try to use this filter with your friend, see who is a much cuter dog between you two, and share it with your friends to let them judge it.
Remove Beard Filter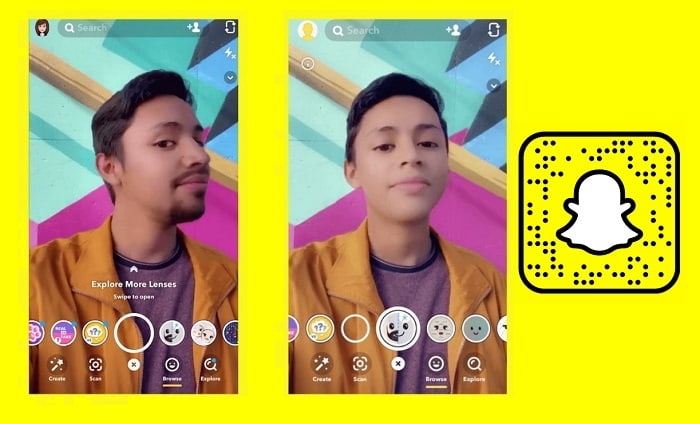 This filter has become popular nowadays because it can remove your partner's beard and see what they look like without it. No beard filter on Snapchat is one way to see yourself or your partner without a beard. It became popular because of the hilarious outcome of every user who tried using the filter. Many have tried using this filter, but most results are unexpectedly funny in their ways. So, if you are thinking of shaving your beard or requesting your partner to remove his beard, you must try this filter first to see the possible outcome. We promised this filter is a must to try if you have a beard.
Bald Filter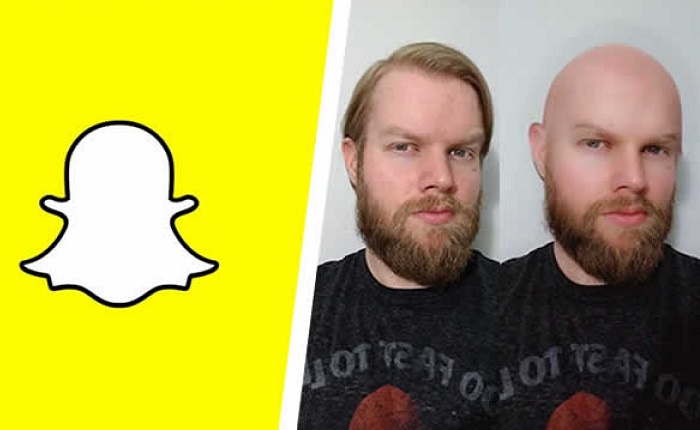 Are you thinking of cutting your hair into becoming bald? Want to see what it looks like to be bald? The bald filter on Snapchat is pretty funny. Because this filter is gender-neutral, which means you can use this filter for anyone you want to see bald. This filter makes the users look bald with additional effects like adding a beard, eyebrow, and more. As we said earlier, the app is a gender-neutral filter which means that by using this filter, you can see someone as a bald person and have a good laugh about it or test it out if it suits you if you're going bald. Try this filter on and see if going bald is a good choice for you.
Bride Veil Filter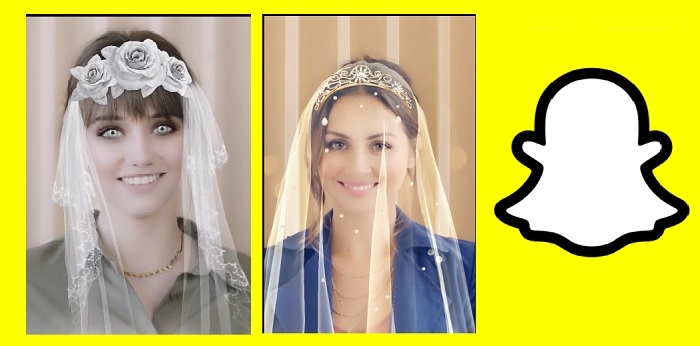 This wedding Snapchat filter can help you add effects like you're having a wedding. Technically, you won't have a veil and wedding dress like a typical wedding, but these two are into animated versions. Although it is not the perfect wedding you wish for, it is the funniest wedding filter you'll need. This filter isn't available on the sets because it changes very often, but you can search it on Explore Lenses and see the other sets of bride filters.
Birthday Cake Filter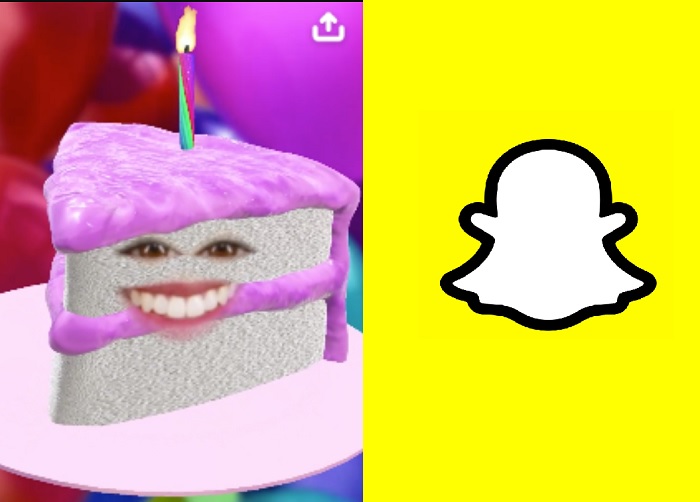 Want to surprise someone with a cake? Well, you can be a cake with this filter. You can use Snapchat birthday filters to greet someone or be related to a birthday, like cake. You can find different sets of birthday party filters on the Explore Lenses to make the celebrant feel delighted, or you can try to use this filter.
Now that we have mentioned all of our picks for the filter on Snapchat, do you ever wonder if you can create one? Surprisingly, you can make your filter. Doesn't have any idea how to do it? Read the next part and learn how to make a filter that you can use on Snapchat.
Part 3. Simplified Tutorial on How to Make a Snapchat Filters Online
Snapchat has an online version where you can create your filter, want to know how to make a Snapchat filter? If so, you can follow this guideline below to create one successfully. Additionally, these steps will not teach you an animated filter, but they will teach you how to add a logo, distinction, background, and more on the snaps that you've taken.
Step 1. Open your browser and look for create.snapchat.com. Click Get Started, then Submit Now.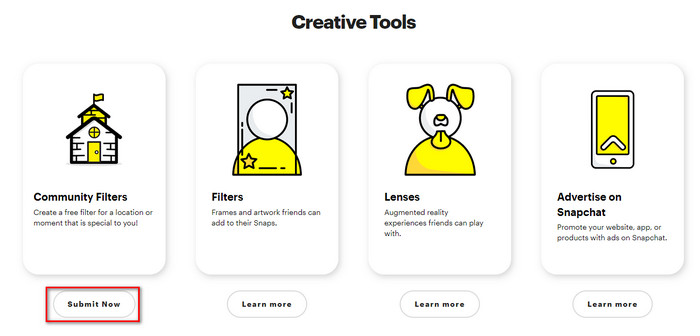 Before you proceed to the next step, remember to log in to your account on Snapchat. After that, follow the next step.
Step 2. Choose between GEOFilter and MomentFilter; choose either, but today we will select GEOFilter. Press upload to insert the filter you've made; please ensure that the filter is in .png. Then click continue, choose the fence on where your filter will be available.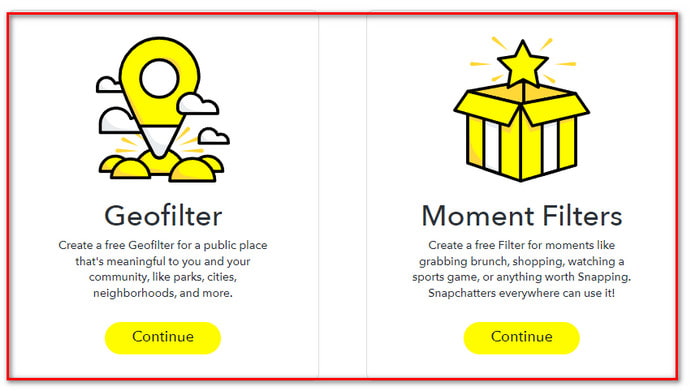 Step 3. Lastly, fill in the needed information and click Submit.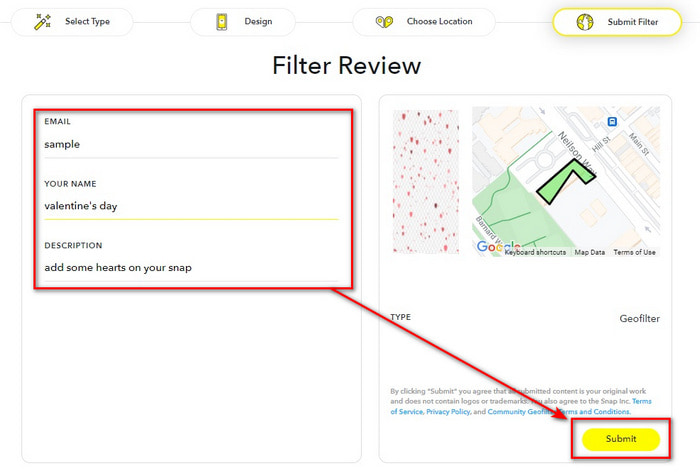 Part 4. How to Add Beautiful Filters to Videos with the Ultimate Software on Windows & macOS
With the expertise of the filters you can use on Snapchat, it seems that you can do everything, but did you know you can make it better? With the help of FVC Video Converter Ultimate, you can turn your snap videos into a much more appealing look. This video editor is available on any Windows and Mac software, and it is easier to use than the other video editors you can use on the said platform. Are you interested in making a much amazing video within a few clicks? Follow the steps we provide below to bring your Snapchat video into a much livelier one.
'Remember to transfer your video snap on your computer first before you follow the steps below.'
Step 1. Before using this video editor, you must download it first on your drive by clicking the presented download button below. Install it promptly, then open it to proceed to the next step.
Step 2. After you open the tool, click the + button to add the Snapchat video you want, press Open to upload it into the editors' waiting list of videos.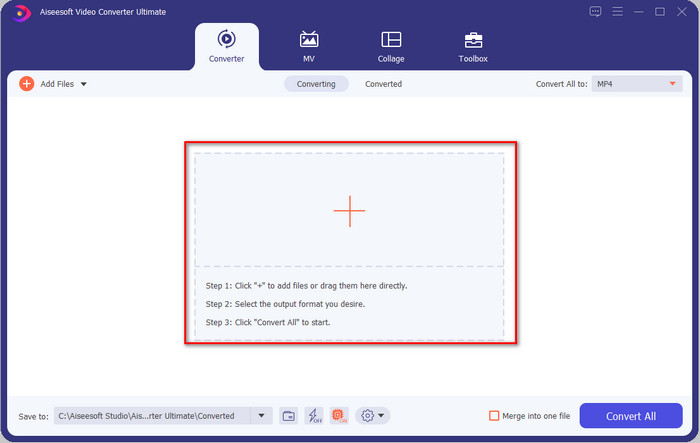 Step 3. Press the wand button to add the filter to your snap video to make them even better. You can locate the filters available in this tool by clicking Effects & Filters. Select the filter you want to apply to your video; you can try all of them. If you decide to use the filter you've chosen, click OK.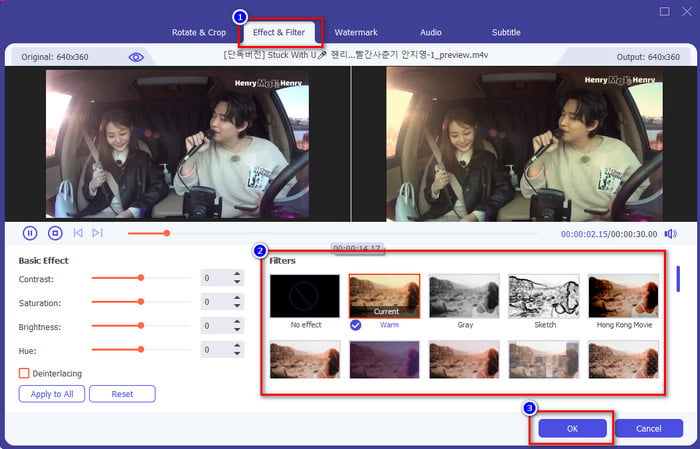 Step 4. Finally, by clicking the Convert All button, saving the filtered video snap will start immediately. With that, you can now share or post the video online and impress the other internet users with the result you've gotten on the ultimate tool.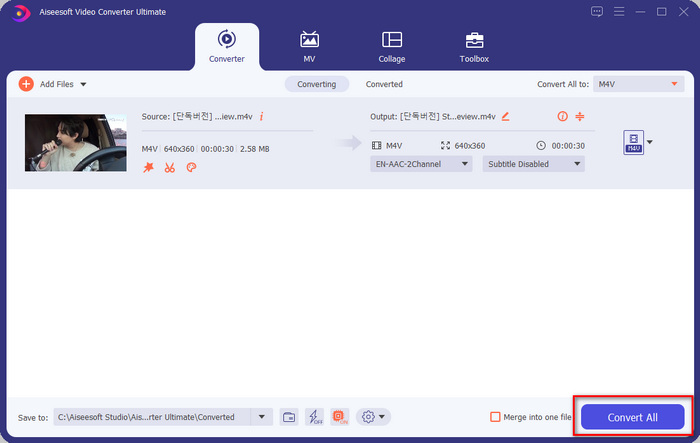 Part 5. FAQs about Snapchat Filters
Which app has more filters? Snapchat or Instagram?
Snapchat has more filters than Instagram. But did you know that Instagram has this unique filters you can use to make your video or photo even better? We researched the best filters on Instagram; you can click the link and read more about it.
Why can't I find the filter on Snapchat?
The filters on Snapchat are rotationally changed, which means they aren't permanent on the list. But you can find a specific filter by going to the Explore Lense, and by clicking the star icon, you can save it as a favorite.
Does exporting Snapchat have a watermark?
So far, Snapchat doesn't support watermarking your video or image if you save it on your phone. With that, you can enjoy the snap you take without the watermark.
Conclusion
With all the information we gathered, we think it is wise to say that Snapchat is the topmost filtering app you can download for free on your mobile device. Although the tool did reach its great potential, the developer will not stop on the features and filters and will strive even further in the future. Same as going with the FVC Video Converter Ultimate, this tool does have the ultimate filtering option you can have at a low cost. So, if you want to make your snap video even better, then let's add the magic of the ultimate tool to make it the best!