Get to know the Basics About the AMR Format Recorder Apps
AMR or also known as Adaptive Multi-Rate is a lossy format. This type of file contains voice recording, MMS messages and such. It was made specifically for 3G phones only but now you can open it with the other media player that supports this format. Moreover, users encounter trouble choosing what is the best AMR recorder that fits their demands. So, this article talks about the tools that are all based on your specification, steps, information and many more. Read this write-up to know what is the best for you as their future customer. Without any more delay let's now proceed.

Part 1. Best AMR Recorder for Windows and Mac
FVC Free Audio Recorder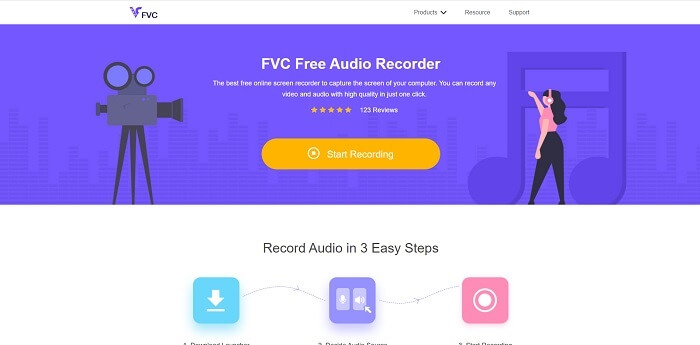 An online tool that allows you to record any calls, jamming sessions, voice over, and many more. FVC Free Audio Recorder is a tool developed by the FVC which allows the user to experience a better recording online. This tool does the task as an audio recorder. If you have a doubt about this tool, why don't you try it first. So, without any more explanation, let's explore this incredible tool and learn from it by following this simple step provided to you.
Step 1. Press the link to go to the main website. Don't worry, it is malware free.
Step 2. launch the tool by clicking Start Recording.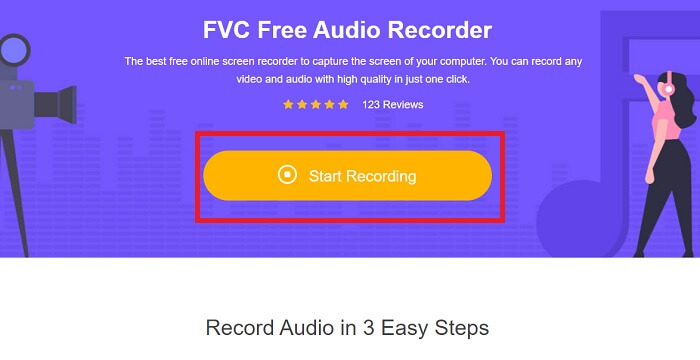 Step 3. A toolbar like this will show to your screen. It only means that the tool is already running.

Step 4. The tool bar has a Speaker to add the sound in the system and Mic for your voice. If you're ready click the round button to Start.

Step 5. If recording is already finished, click the cube shape button to stop the recording. It will be automatically saved in your storage. If you want to re-listen again the recording click the three-lined below and the recording list will show the first one that is the latest.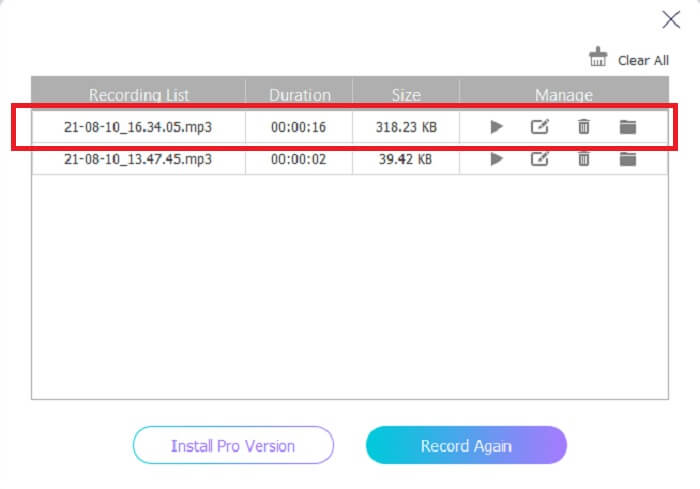 Part 2. 4 Best Alternatives Tools for AMR Recorder for Windows and Mac
1. FVC Screen Recorder
If you are looking for the best mp3, amr, wav, ac3 audio recorder then this is for you. No need to look for the other tools, instead focus on what this tool can provide. Because this tool is the one-and-only FVC Screen Recorder. This is the finest premium video-audio recorder that most people use as their first-choice recorder. Not only that, maybe you're wondering why you should use this tool as your personal recorder. Then it is an honor to introduce this tool and provide these easy steps for you. Without further ado let's proceed to the steps. Follow it thoroughly to become a pro in recording.
Step 1. Choose between the platform that you're currently using. Download it then install. Change the Preferences according to your wants and click the Finish to save.
Step 2. After launching the tool, A floating toolbar like this will show in your display. Then click the Audio Recorder to proceed.

Step 3. Find the gear icon to go to the settings. Change the Audio output to the format you want and adjust other options then click OK to save.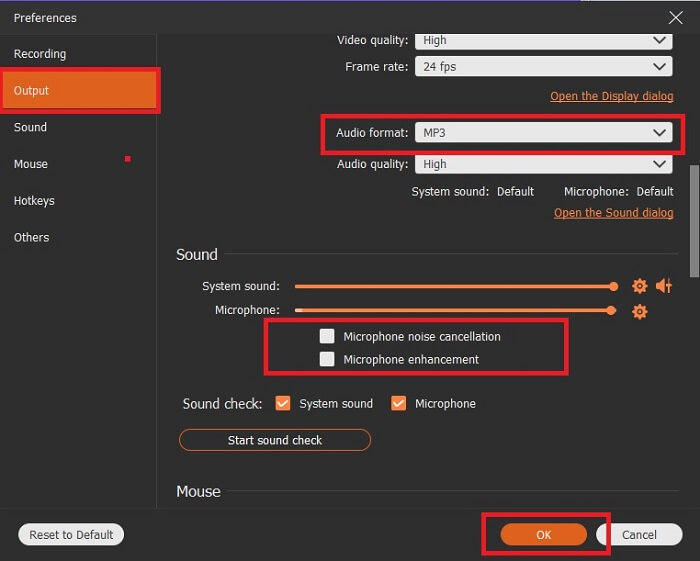 Step 4. In the toolbar, click the System Sound and Microphone to add the audio system and your voice. If everything is done, now you're ready to go. Click the round REC button to start recording.

Step 5. If everything is settled and done, click the box button to stop the recording. Click the Save and Next to save the final output. If you want to recap your recording then click the parallel line and a history of your recording will show.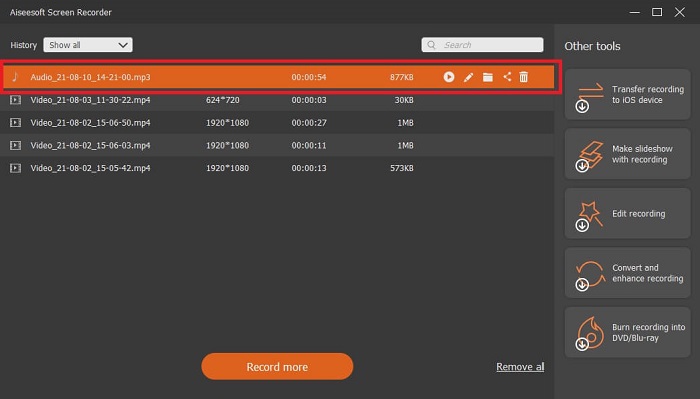 2. Audacity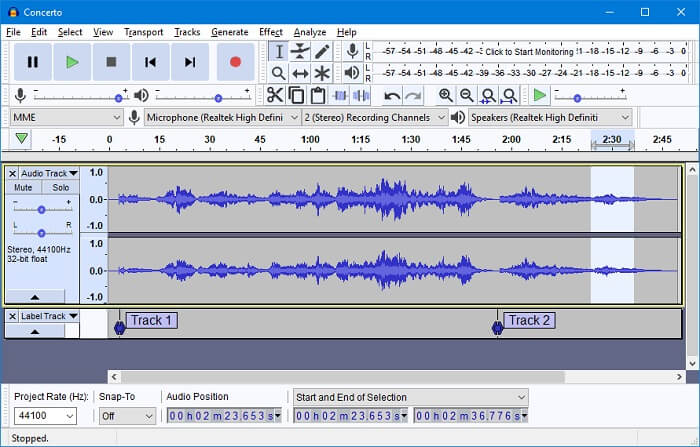 Another audio recording tool. Audacity is a bit complicated if you're new to the interface but in later days you'll get onto this. You may as well record and edit it, like merging audio tracks. But the program has a limited mixing ability and the files for installation of the tool are separated for the plug-ins and encoders.
3. Wavosaur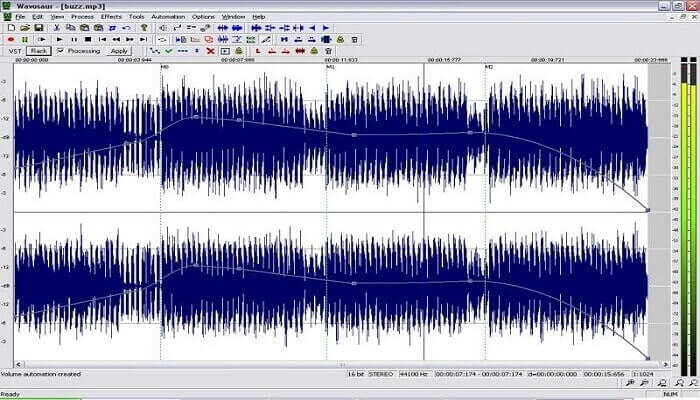 Wavosaur has tools to record and edit, such as copy, trimming, splitting etc. This tool can do the most complicated things like music arrangement, complex beat, and many more. If you've been troubled on how to use the tool because you're not familiar with it, it also provides a video tutorial for you to understand.
4. Adobe Audition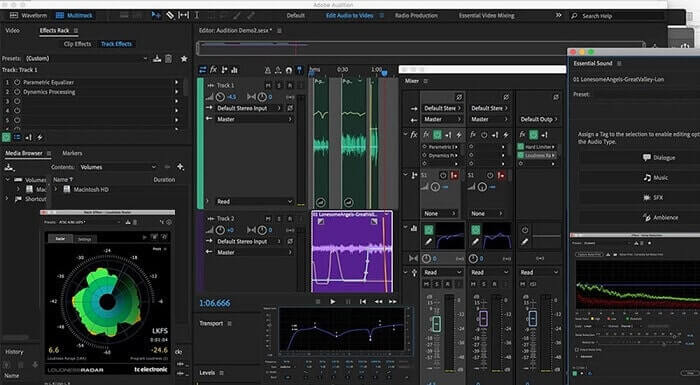 This tool is most commonly used in industrial recording. If money is no issue to you then Adobe Audition is a good tool for music producing. It provides precise editing of the music, cleaning it up, sound design and others. But the tool can't provide you a one-time payment and it has an overwhelming User Interface. So, you must be prepared if you want to try using the tool.
Part 3. Comparison Chart
Feature/s
FVC Free Audio Recorder
FVC Screen Recorder
Audacity
Wavosaur
Adobe Audition
Audio recording
Noise Cancelation
Editing tools
Microphone Enhancement
Specialty
Simple yet efficient recording
More options are provided to users rather than the free version with professional output. Yet it is easy to use with professional output.
Basic effects, editing and adding.
Editing tools to play, stop, record, rewind and more.
comprehensive toolset.
Available Format/s
MP3 and AMR
MP3, WMA, AAC, M4A, FLAC, OGG, AMR, Opus and many more.
WAV, AIFF, and MP3
WAV and MP3
AC-3, M4A, MAT, VOX, W64, WAV, and many more
Price Range
It is a free online tool
For 1 month: $25.00
For a year: $31.20
For Lifetime License: $55.20
Free downloadable software
Free downloadable software
$27.62/moment, for annual
$315.61/years, for annual
$41.43/monthly plan
Part 4. FAQs about AMR Recorder
What are the different types of AMR files?
Amr has two types of format standards the AMR-NB and the AMR-WB.
AMR-NB is a narrowband version or known as the basic version. It includes a low bitrate that you may have on MP3 that ranges from 300 to 3400 that are most commonly used for traditional telephones. Examples of its bitrate are:06.70 kbps, 07.40 kbps, 07.95 kbps, 10.20 kbps, 12.20 kbps.
While the AMR-WB occupies a much broader bandwidth. It stores more quality audio than the NB, the range of it is from 50 to 7000 Hz. Because of its wide range frequency GSM and UMTS use this to optimize. Here are some lists of the bitrates it used:15.85 kbps, 18.25 kbps, 19.85 kbps, 23.05 kbps, 23.85 kbps.
Why can't my AMR be open in my media player?
Like any other file formats, some of the media players don't support this type of format. So, if you want to play your AMR recordings, FVC Free Video Player might help you to play it.
Is AMR a compressed file format?
Yes, it is a compress audio codec format for speech coding.
Conclusion
To wind-up the write up, this said tools have their own different abilities and uniqueness. But not all of them are the best choice for beginners. So, if you want to know the best recorder that is chosen by the beginner and the expert also. FVC Screen Recorder is a multifunctional tool that allows you to do what you want to do. It doesn't limit the user to your border. But it helps you to go more and step out in your safe zone. So what are you waiting for, this special tool will not be a burden to you but will be your great help.