Top 5 WebM Recorders to Record WebM Video in High Quality
WEBM file extension is usually used by web browsers. Most of them are modern browsers like Google Chrome, Opera, Firefox, Safari, and Edge. Commonly these browsers are HTML5 Websites that support video live streaming. One good example is YouTube, Twitch, and other media platforms. This supports video resolution from 360p to the highest resolution. If we are going to compare this format, this is a compressed format similar to MKV, MOV, and MP4. The difference lies in the file content of the format. Both Windows and Mac can play this specific file provided that the player has the right codecs and plug-ins. Meanwhile, if you are looking for a better way to record or gain WebM files, check out the list of best WebM recorders below.

Part 1. Best WebM Recorder: FVC Screen Recorder
Get the easiest way to take snapshots, record your screen, and record the WebM video files in three easy steps with FVC Screen Recorder. This .webm screen recorder for Windows and Mac can record WebM sites like YouTube, Skype calls, and live streaming, and other sites support WebM format. Capture your Gameplay live streaming without compromising the video quality. Plus being able to record the video, audio, and microphone. Guaranteed no background noise because it records the system sounds. So, experience seamless recording and excellent editing features for your video tutorial with FVC Screen Recording. On the other hand, here is how you use the tool.
Step 1. Download FVC Screen Recorder using the download buttons below.
Step 2. Install and Launch the app after following the set-up wizard.
Step 3. Once the floating bar appears, click Video Recorder.

From there another window will appear. This time click the Custom or Full Screen. If you choose custom, adjust the frame size to your desired size.

Step 4. To begin recording, click the REC button and just do the usual things you are doing.
You can then annotate, add arrows and text the recording.

Step 5. Then, click the red square button to stop the recording. A new window will then show letting you choose between saving and re-record again. To check the recording, check the list at the bottom part of the floating bar.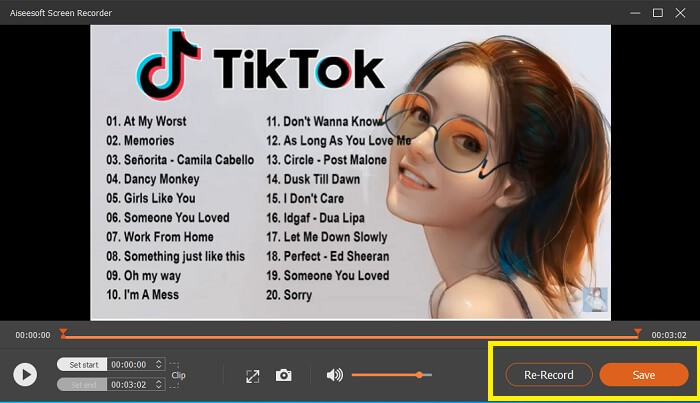 Part 2. Other Popular WEBM Recorders for Your Computer
1. FVC Free Screen Recorder
Distinctive Feature: Free from Malware. 100% safe
If the first tool did not satisfy you, you might be looking for a practical one. FVC Free Screen Recorder is your go-to tool if you want to maximize great features without spending a dime. Although free tools are known to produce lower quality compared to the premium ones, this toolset the bar a little higher. This can produce high-quality videos and satisfy crystal clear audio despite it being free. On top of that, it is easy to use. Follow through the steps below to learn more about it.
Step 1. Launch the app on your PC using the web Browser. It does not matter what browser you are using, this tool is flexible enough to be accessed anywhere. Click the link to land on the official webpage directly.

Step 2. Launch the tool by clicking the Start Recording button.

Step 3. After launching the tool, you will see the floating bar appear. Adjust the frame to resize the aspect ratio then start recording by clicking the REC button.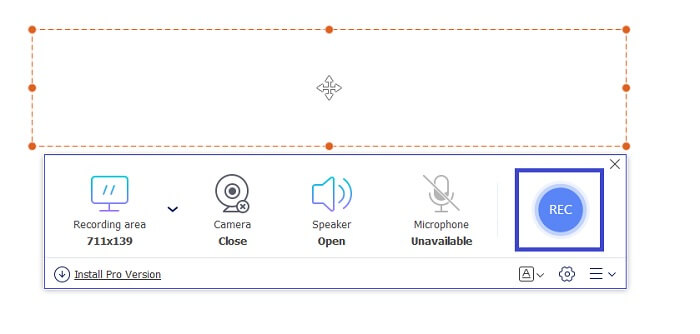 Step 4. Meanwhile, to stop recording click the square button shown in the picture below.

Step 5. To see the file that you recorded, check the list below the floating toolbar.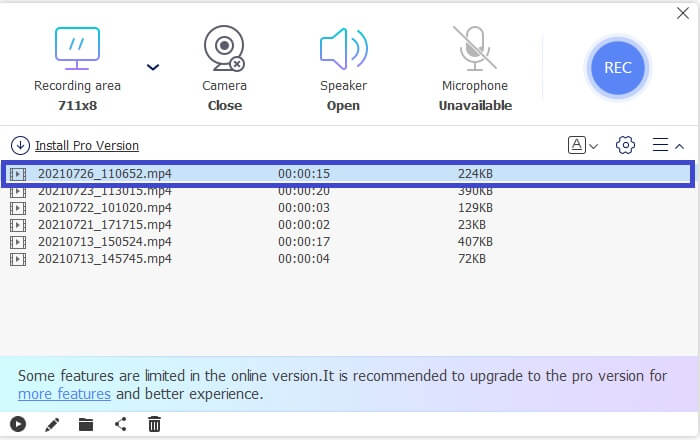 Pros
100% safe from Malware.
It is flexible in adjusting the aspect ratio, bitrate, and Frame rate.
Picture in Picture supported.
Cons
It does not support hardware acceleration.
2. Tiny Take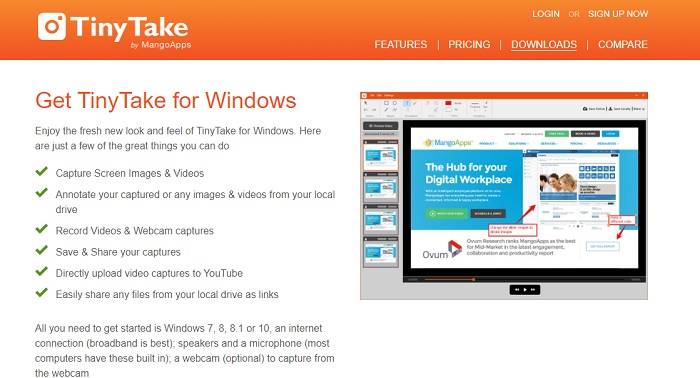 Distinctive Feature: Collaboration or remote work is supported.
TinyTake is a video recording and free screen capturing tool developed by Mango Apps. Tiny Take offers great solutions for simple screen capturing or recording professional or personal meetings. What made this tool popular is the collaboration feature where you can remotely work, do file bulk sharing, use annotation features and long-term storage, and Gallery (Online).
Pros
It can capture images and videos from your local drive.
Share it directly on YouTube.
Annotate while recording.
Cons
No lock-in window feature.
3. Screencast-O-Matic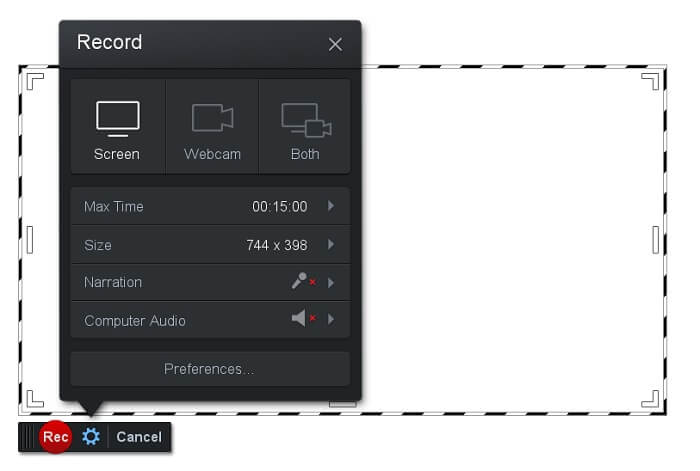 Distinctive Feature: The tool has an easy-to-use and navigate interface. Very Straightforward.
Screencast-O-Matic is one of the most commonly used software by many. What it can do is record the computer screen for free upon registration. It is recommended to create an account to use the free tool. Aside from that, the developer infused a feature where you can edit your video directly before exporting. You take refuge in the built-in stock library of the tool to gain inspiration and continue improving your videos. Also, take screenshots and share all contents with your social media account.
Pros
It has a Cloud Hosting feature.
Upload a video for editing.
Host Content.
4. Screencastify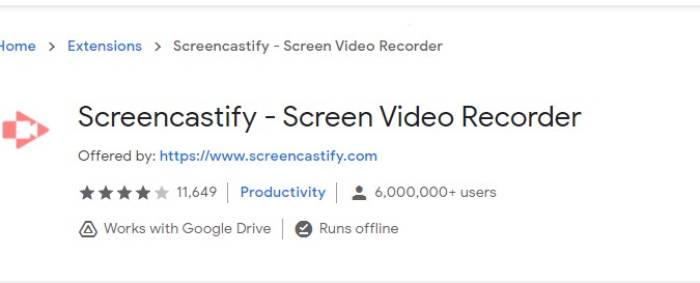 Distinctive Feature: Web browser Extension
Let's give a little diversity to the list. Screencastify is a web-dependent tool specifically an extension to Chrome Browser. This is mostly used by educators and students. Mainly because of the tool's simplicity and the annotation capability that keeps the educator and the student focus in the class. Most people who are studying via Udemy and such Learning sites use this screen recorder. If you are doing the same, you can consider using it. Meanwhile, here is more detailed information about the tool.
Pros
Compatible with all media platforms.
Host Content.
Upload a video for editing.
Cons
Although it is an easy access because it is browser dependent, it can also be disadvantageous.
It needs a lot of permissions to use it.
Part 3. FAQs about WebM Recorder
Why my WebM file won't open?
I understand the confusion, you might think that you are using a modern browser and still, it won't play. Have you tried checking if you are running the latest version of the browser? If not, please update. It is one of the most common reasons why a video won't play. But note, these are some of the supported versions by the WebM file. Chrome 6, Firefox 4, and Internet Explorer 9 and above. Or you can try using WebM players to help you open it.
Why I cannot play WebM video on my Mac?
I would highly recommend downloading VLC player or VLC for Mac OS X plugin. It must have a 64-bit Intel processor.
Part 4. Comparison Chart
| | | | | | |
| --- | --- | --- | --- | --- | --- |
| Feature | FVC Screen recorder(Premium) | FVC Screen Recorder Free | TinyTake | ScreenCast-O-matic | ScreenCastify |
| Audio and Video recording | | | | | |
| Video Editing Feature | | | | | |
| Lock-in Window Feature | | | | | |
| Annotating Feature | | | | | |
| WebM Supported | | | | | |
| Malware Safe | | | | | |
| Adjustable Bitrate and aspect ratio | | | | | |
Conclusion
All of the WebM recording tools reviewed in this article are reliable and efficient. You just have to see which tool will suit the requirements of your PC and your operating system. Most people will go on safe ground by using a web-based app. But it is still your call to decide.