Best OGG Voice Recorder Helps Record OGG in All Platforms
OGG is the best audio file format rather than the MP3. This open-source audio format is preserved by Xiph.org. This type of format is used by the gaming industry as their audio format. Because it sounds better and it compresses a file a lot smaller. However, users tend to find it hard because some of the recorders don't support this format because the standard audio format is the MP3. The list below are the best OGG recorders that support this format. To dig into more detailed steps & information. Read carefully to understand the features of the different tools that will suit your demand as a user and maybe in the future as their customer.

Part 1. Best OGG Recorder Software for PC and Mac Users
In the list below are the best OGG recorders that are available in all different functions with steps and information.
FVC Free Audio Recorder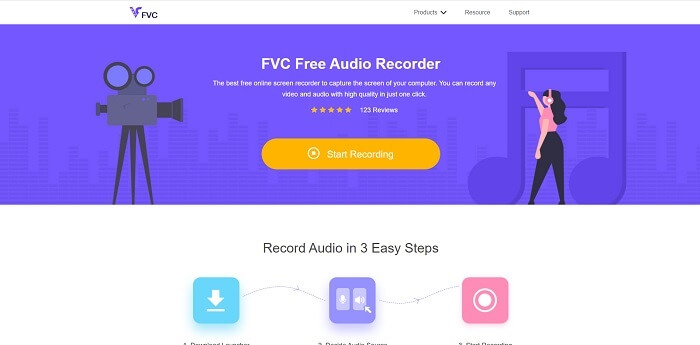 A tool that specialized in recording an audio format. FVC Free Audio Recorder is known as the best online tool you may search over the web. This open-source tool can help you to record audio recordings that you may need anywhere with an internet connection. Also, it is a good choice to be your OGG recorder. To provide more comprehensive details about this amazing tool, continue reading and follow the steps on how to do the audio recording.
Step 1. Click this link to proceed to the webpage of the tool. Click the Start Recording and launch the tool.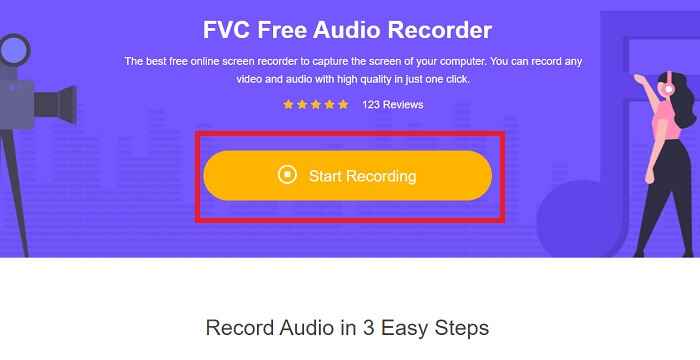 Step 2. A floating toolbar like this will appear on the display.

Step 3. Turn On the Speaker to add the system sound and Mic to add your voice. Click the Round button to start recording.

Step 4. After clicking the record button. You encounter this display which means it has already started.

Step 5. If recording is finished, click the Stop button and it automatically saves into your device.The history list of your recording in your screen. Enjoy the recording output at its finest.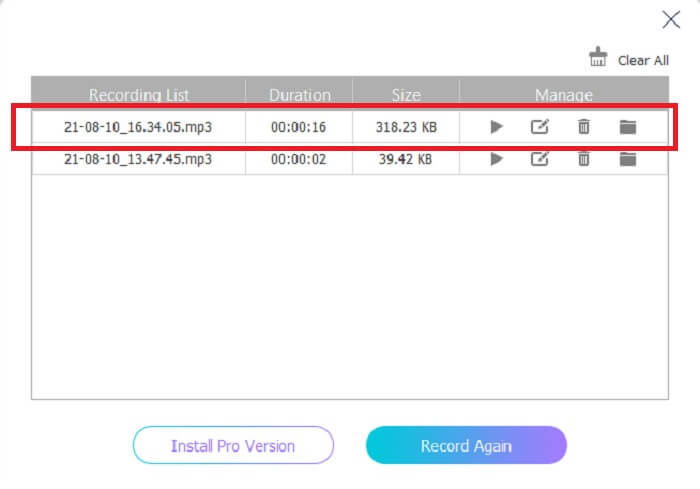 Pros
User-friendly because of its on-point instruction.
It produces a compressed audio format so it is also storage friendly.
Open-source so it is available to anyone who wants to use the tool.
Cons
It needs an internet connection before you can use it.
It doesn't have noise cancellation like the premium.
Part 2. Other Useful OGG Recorders forAll Operating Systems
1. FVC Screen Recorder
If you think that the tool above is a smart tool, To give you a more specific example, if Galileo Galilei is the father of modern science, then this tool is the father of the modern recording system. FVC Screen Recorder is the best recorder whether it is an audio or video format. It gives you the one-of-the-best output and yet you will never break a sweat to use the tool itself. Unlike the other tools, this tool is a program to give the user the best experience you can ever imagine. So now, if you are one of the users who finds it hard to record your audio. Then follow these simple steps provided below and follow the steps thoroughly.
Step 1. Download the tool according to your operating system specification. This will only take a few seconds to be downloaded then installed. Change the Preference based on your wants and click Finish to proceed.
Step 2. In the toolbar click the Audio Recorder.

Step 3. Find the Gear icon to adjust the other options. Proceed to the Output to change it to MP3, WMAformat or whatever format you want. By scrolling down the wheel mouse. Other options you may use while recording it include Noise cancelling and Microphone enhancement. Click the OK to proceed.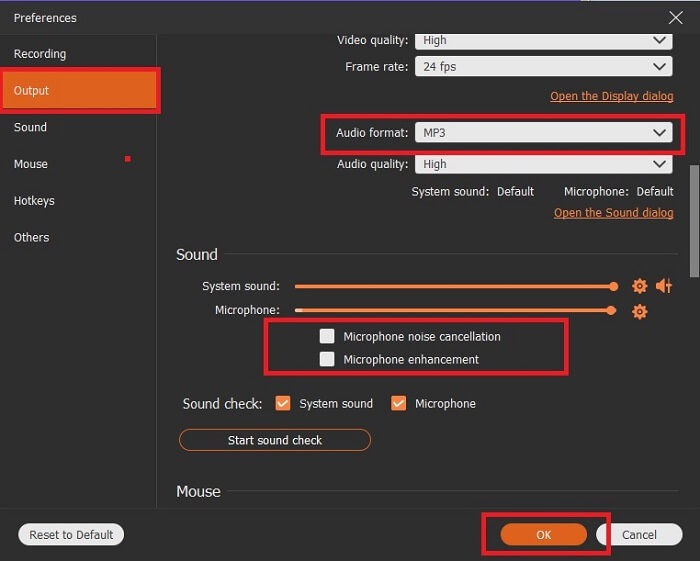 Step 4. After adjusting the settings. In the toolbar, open your Speaker and Microphone to add the audio output to your recording. After all, click the Round-shape button to start recording.

Step 5. If you want to end the recording, click the Square button to Stop. Click Save and Next to proceed. Then play your OGG voice recorder on any media platform.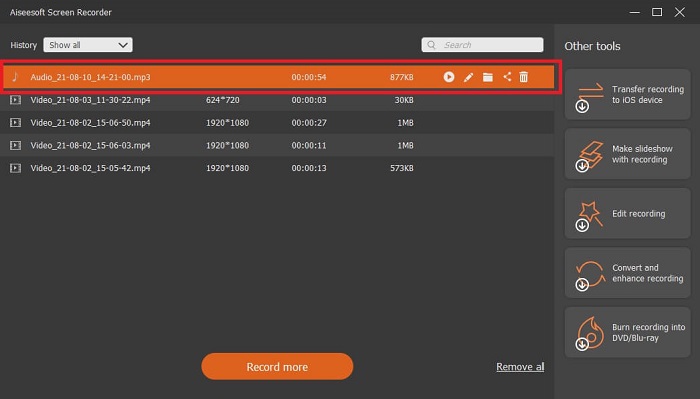 Pros
You can record any time anywhere with this tool with crystal clear audio.
It provides a great experience for the user who already uses this tool.
All-in-one recording.
Cons
Pay-to-use.
It needs 2.4mb of your storage.
2. Screencast-O-Matic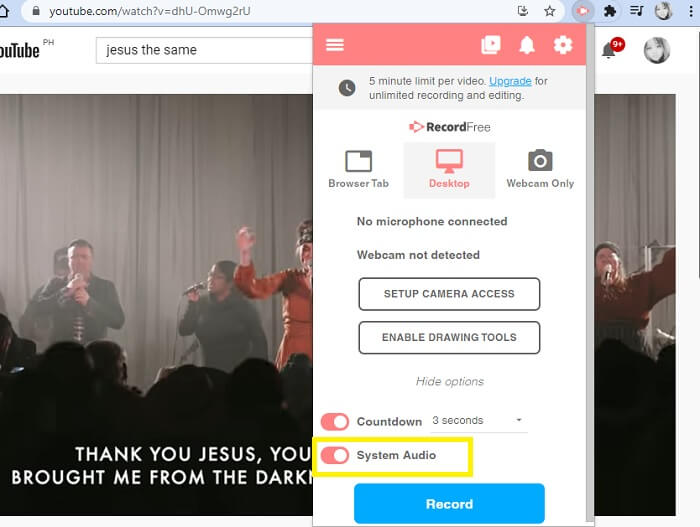 Another best screen recording tool that will do the work. Screencast-O-Matic is one of the best tools you'll find on the web. It makes your recording easy and efficient. It also has its online tool if you visit the online website but it will take a minute or two for the process to finish the online tool itself. So, if you're not a fan of waiting in line then this is not the best choice for you. But if you like to wait then it is worth it to the end.
Pros
It is easier to use than Camtasia.
Work as an organization instead of an individual with the safety password.
Very engaging and it is an okay recorder.
Cons
The tool interface is on-point but it is monochromatic so expect it is bland in color which makes it less interesting to use.
It only allows the user to record 15 minutes maximum in the free version.
3. ShareX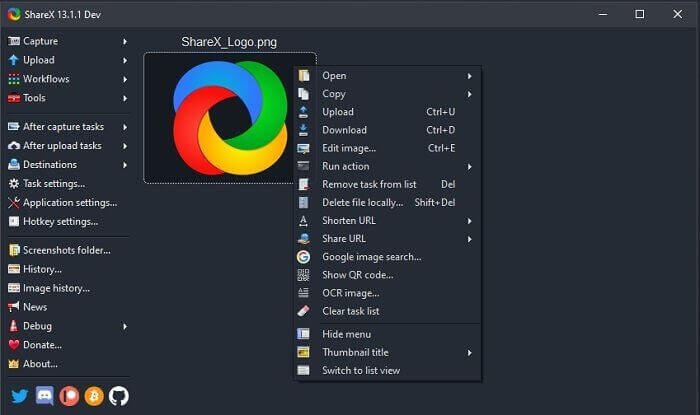 One of the tools you may encounter on the web if you're searching for a screen recorder. It is only available for Windows OS only. It only means that if you're a Mac user or Linux then this tool will not work on your OS because it doesn't support those programs. Share can easily be placed at the top 20 best screen recorders that are available over the web. Because it supports over 80 destinations you may transfer the final output.
Pros
Customizable tool.
Provides own editing tools if needed.
Change the shortcut-keys to make the recording as easy.
Cons
Overwhelming for someone new to this tool. It is a pain in the butt to learn to use this tool.
Not available for mac users.
Part 3. Comparison Chart
Feature/s
FVC Free Audio Recorder
FVC Screen Recorder
Screencast-O-Matic
ShareX
Audio recording
Noise Cancellation
Microphone Enhancement
Complexity of the Tool
On-point online recording instruction.
Easy to use as it is already indicated in the tool what the purpose and how it performs.
It is an easy to use tool with less details.
The complexity of the tool is hard for the new user.
Available Platforms
All Operating Systems.
All Operating Systems.
Windows PC, Mac and Chromebook.
Windows 7 SP1 or later.
Available audio Format
MP3 and OGG
MP3, WMA, AAC, M4A, FLAC, OGG, Opus and many more.
Cannot record audio separately.
MP3 and WAV
Price Range
Free online tool
For 1 month: $25.00
For a year: $31.20
For Lifetime License: $55.20
It has a free version.
For the premium solo.
Deluxe
$1.65/month
Premier
$4.00/month
For team plans. You may set team deluxe or team premier.
free and open-source program.
Part 4. FAQs about OGG Recorder
How to make an OGG file with a sound recorder?
Use an audio recorder like in the list above. For more detailed information read the article above for information and steps on how to record with the audio output format for OGG.
Which is the best audio format? MP3 or OGG?
OGG is the best audio file format. But users tend to use the MP3 because it is more standard than the OGG. Nevertheless, OGG contains metadata with less storage and best audio output, for example the name of the artist and track data.
Why does my OGG format cant be played in my media player?
Some of the media players don't support this type of format. So, you may use FVC Free Online Video Converter as your converter. This will allow the user to convert the OGG file into MP3 or another audio format you may like so that it can be played. Or you may use FVC Free Video Player or other OGG players to play this type of format, because this tool plays almost all the different types of audio-video format.
Conclusion
In the end of the discussion, you have now acquired a new knowledge just by reading it and selecting which tool fits your demand. Different choices are listed in this article with steps and some information about the tool. Just follow the steps and give time in reading it so that you will understand it. You must choose wisely.
But to set an example, FVC Screen Recorder fits the demand of the user. As a user you must prioritize your needs and wants in a recorder. For example, if the recorder is easy to use, best for recording audio, available to almost all the platforms, if it is pay-to-use it needs to be cheap yet the quality output is the best. All of the said examples are all here in FVC Screen Recorder. Don't settle for less because you deserve more.