5 Quick & Effortless Ways to Turn MKV to FLV for Free [Online & Offline]
Can't share your MKV files over the internet because the file size is too big? Why don't you convert instead of squeezing the file to avoid losing the quality? This issue is solved if you read the details below before sending it. No need to spend an hour reading this article, so without further ado, let's find out the six converters you can use to convert MKV to FLV.

Part 1. Top of the Line Best MKV to FLV Converter to Download
FVC Video Converter Ultimate can help you change MKV to FLV easily and effectively without breaking any sweat. This phenomenal converter is far different from the converter in this list or the other converters you already use or not. It is the top-notch coder and decoder you can download on your PC or Mac, and it works flawlessly offline even if you don't have a high-end desktop set-up.

FVC Video Converter Ultimate
4,987,355+ Downloads
Convert MKV to FLV, AVI, MP4, MOV, or into 200+ formats available on Windows & Mac.
Make your MKV format compatible with all of the desktops and devices.
It can perform batch conversion for your MKV formats or other formats.
Fool-proof converter to use by anyone.
Supports high definition output and even up to 4k video quality.
Steps on How to Convert MKV to FLV with FVC Video Converter Ultimate
Step 1. Download the application to your drive, then follow the installation process.
Step 2. After installation, open the application to add the MKV files; you can drag-drop the file to the interface or click the Add Files button.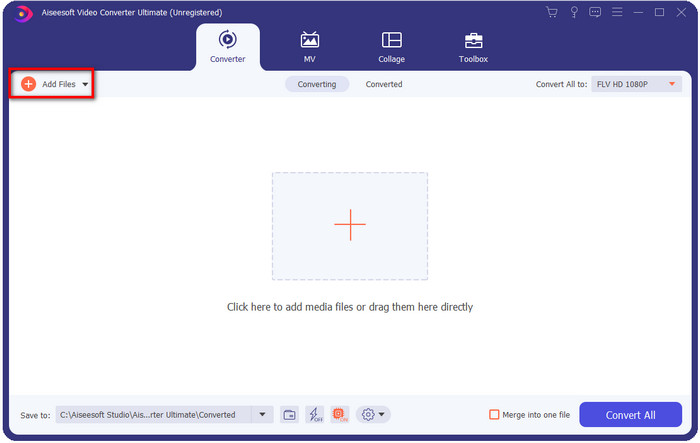 Suppose you want to edit your MKV files before converting them; you can click the wand button to add magic to your output, such as add Effects, Crop, add Subtitles, and more. To save the magic you've added to your video, click OK.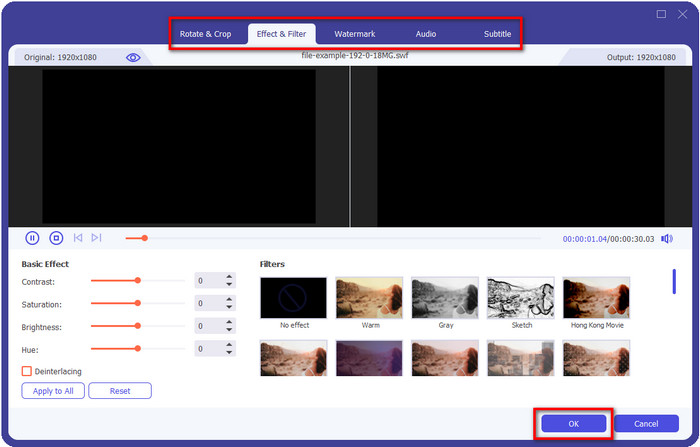 Step 3. Click the drop-down button and choose the FLV format on the setlist.
Step 4. Click the Convert All button to start changing MKV to FLV for free. A folder will show up after the process with the new FLV file.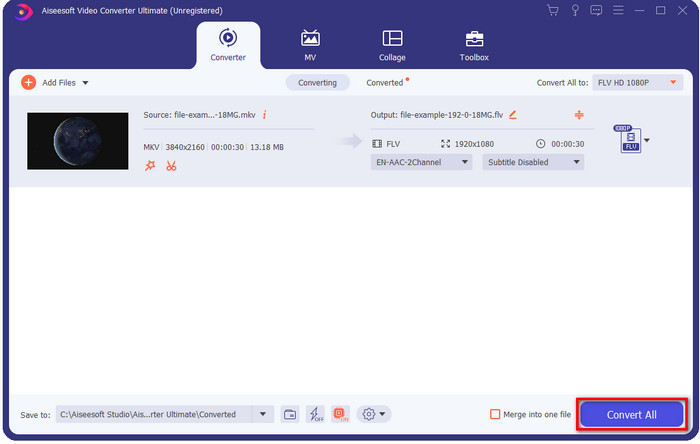 Part 2. 4 Best Web Based MKV to FLV Converter
1. FVC Free Video Converter Online
FVC Free Video Converter Online features the simple yet impressive MKV to FLV converter free online available in all browsers. It also supports a medium-scale format you can choose and upload into. Although the tool is internet-dependent, converting and uploading the file here is easier and faster. Want to know how to use it? Then follow the steps below.
Pros
It is available to be used by anyone with the internet.
User-friendly and easy-to-understand interface.
No limitation for file size.
Advance settings for video and audio.
Step 1. To open the online converter, click this link.
Step 2. Press the Add Files to Convert button to add the file on your computers' folder, then click Open.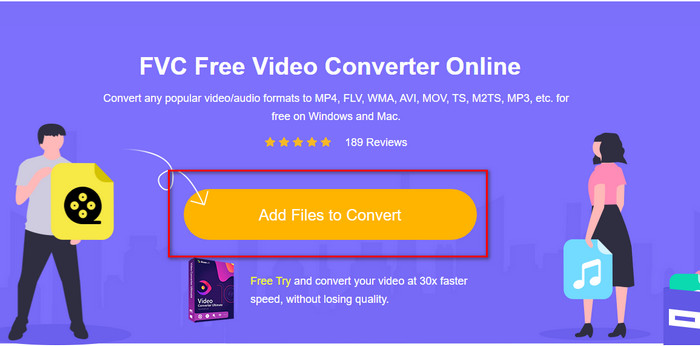 Although you can't edit videos here, you can change the video and audio settings by clicking the gear button.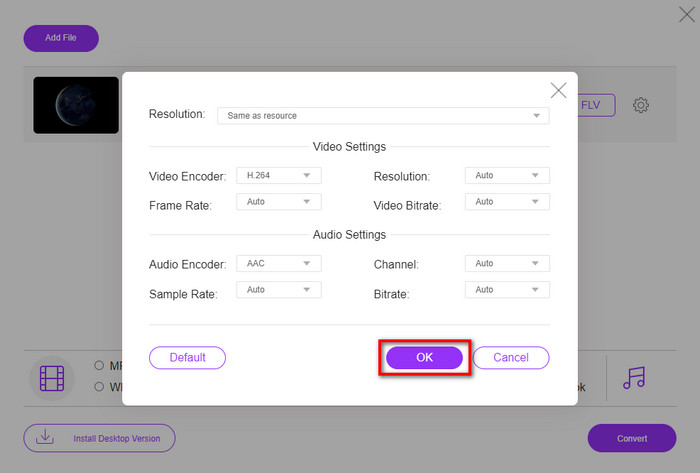 Step 3. Select the FLV format under the setlist.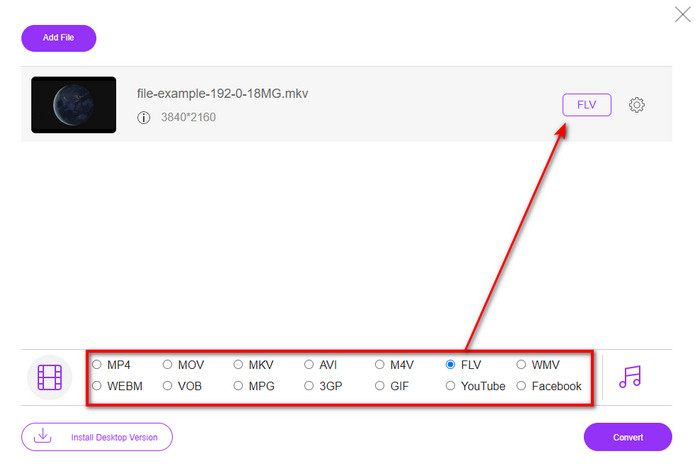 Step 4. Click Convert to start the process of conversion.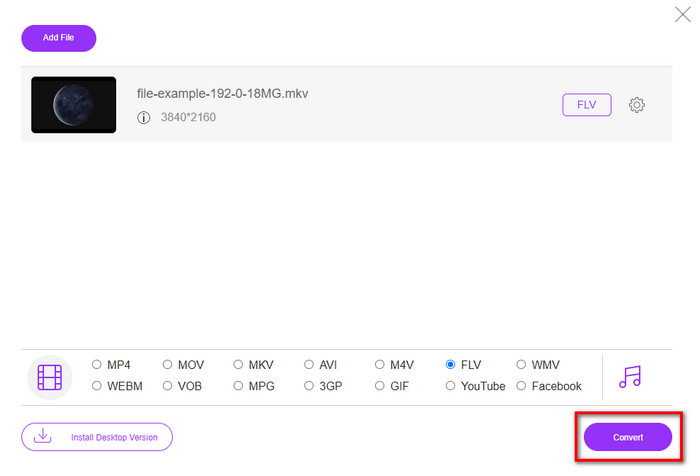 2. Mconverter
One of the safest MKV to FLV converters online you can use is the Mconverter. Besides converting video and audio formats, you can also convert your images, archive, documents, and many more media formats here. Even though this converter is free to use, there is a limit for every file you can insert.
Pros
Convert videos, audio, documents, and more online.
It supports multiple conversions.
Easy to use.
Cons
File size must not exceed 200MB.
Some ads while converting the file.
Step 1. Open the Mconverter on your browser, drag the .mkv file, and drop it into the box.
Step 2. Click the FLV format, and it will automatically begin the process.
Step 3. Once done, it will automatically download in your drive.
3. Freeconvert.com
Freeconvert.com will help you to convert MKV to FLV online for free. This web converter supports an easy-to-understand interface that anyone can use. However, this online converter supports small-scale formats you can choose from, and there are a lot of ads on the web interface.
Step 1. Search Freeconvert.com on your search engine.
Step 2. Click Choose File to upload the .mkv file to your computer's folder, press the drop-down button and choose the FLV format.
Step 3. Click Convert FLV to begin converting, and to download it, click Download FLV.
Pros
A free online converter you can use.
Secured and simple web converter.
It supports a 1GB file to convert.
Cons
It supports a small-scale format.
The process of converting and downloading will take a lot of your time.
4. Movavi Online Video Converter
Movavi Online Video Converter is one of the recommended converters you should convert MKV to FLV online. It is the free web version of Movavi Video Converter used by many users on the entire web because of the efficiency this tool provides and the professional look of it.
Step 1. Open your favorite browser and search for the website of Movavi.
Step 2. Hit +Add Your Media to add the file you want to convert. Click the drop-down button and press Video; find the FLV format and click it.
Step 3. Press Convert to start the converting process.
Pros
No ads web interface.
Straightforward converter anyone can use.
It supports a medium-scale format.
Cons
The process of converting format takes more time.
Internet-dependent like the other web converters.
Part 3. Comparison Chart
| | | | | | |
| --- | --- | --- | --- | --- | --- |
| Feature/s | FVC Video Converter Ultimate | FVC Free Video Converter Online | Mconverter | Freeconvert.com | Movavi Online Video Converter |
| Converting Format Capabilities | | | | | |
| Internet-dependent | | | | | |
| Batch Conversion | | | | | |
| Advanced Editing Features | | | | | |
| Available Platforms | Desktop-Based Tool | Web-Based Tool | Web-Based Tool | Web-Based Tool | Web-Based Tool |
Part 4. FAQS about MKV to FLV Conversion
Why are MKV files too large?
There are two primary reasons why MKV files are too big. The first reason is that this format holds unlimited contents and elements for video, audio, metadata into one file. The second reason is that if your video is lengthy, then expect that the size of this file will extend. However, you can compress the MKV file with the help of this MKV compressor you can use. But if you want an easier way, you must consider converting the MKV files into MP4, AVI, MOV, FLV, etc.
Is MKV better than AVI?
MKV and AVI are almost alike formats as they can contain high-definition video and large file sizes. However, these containers have different purposes and structures that make them unique. For example, the AVI format is an uncompressed format that can hold raw video content best for playback purposes. It is also the basis of the development of the MKV file. Although MKV files have a compressor, their content and elements are much more than the AVI can keep. So now, if you want to retain your videos' high-quality, then go with the MKV format. But if you want to have compatibility, then AVI it is. If you want to know how to convert MKV to AVI, click this link.
Does Handbrake handle converting MKV to FLV?
Handbrake can handle this job, but this converter doesn't support macOS and Windows programs that aren't 10 above.
Conclusion
To end things off, you now know how to convert MKV to FLV online and offline. These tools above aren't randomly selected, but we choose them according to users' preferences. As we searched and investigated, we found out that these six tools perform best in their job as a converter. But the FVC Video Converter Ultimate does what exceeds what we expected as a converter. Do you want to know the other aptitude of this phenomenal converter? Then what are you waiting for? You must download it now.