Understand the Converter Software You Can Use to Convert MPEG to FLV
MPEG is the standard format for transferring data over the internet or in DVD distributions. Well, it is because the format has been there since 1988. But did you know that this file is an asymmetrical system? Because it takes more time compressing a video than decompressing it. Also, while squeezing the file, some of the frames are getting rid-off. So the quality of this format is lesser than the other quality like FLV. Want to know how to convert your MPEG to FLV and compress the data without losing the quality frame of your video? Then read this article to have an idea of what MPEG converters you can use.
Part 1. Convert MPEG to MOV on Mac and Windows Using FVC Video Converter Ultimate
FVC Video Converter Ultimate is more capable of handling this converting problem. It is more than a MPEG to FLV converter because this tool can single-handle the 200+ formats conversion instantly. Isn't it amazing? Also, suppose you want to insert many files and convert them to different formats here. In that case, you can easily do it with very effective batch conversion. Do you want to know what's more in this tool? Well, read the key features below.

FVC Video Converter Ultimate
5,689,200+ Downloads
It supports all formats and encoders in the MP4, MOV, MPEG, FLV, AVI, and many more.
It is known as the fastest and the safest convertor you can download on your desktop.
Batch conversion with Hardware Acceleration and Fast Conversion.
This converter supports major extensive features, such as video enhancer, video compressor, etc..
Supports both OS with the same functionality on Windows & Mac.
So now that you have an idea about the tool's function, it is time to learn how to convert MPEG to FLV with detailed steps below.
Step 1. To have access to the tool, you must download it first on your PC or Mac. Install it next and do the quick set-up; the tool will automatically launch after all of it.
Step 2. Let's insert your .mpeg file here by clicking + sign in the middle interface. After clicking it, a folder on your desktop will show, select the file and click Open.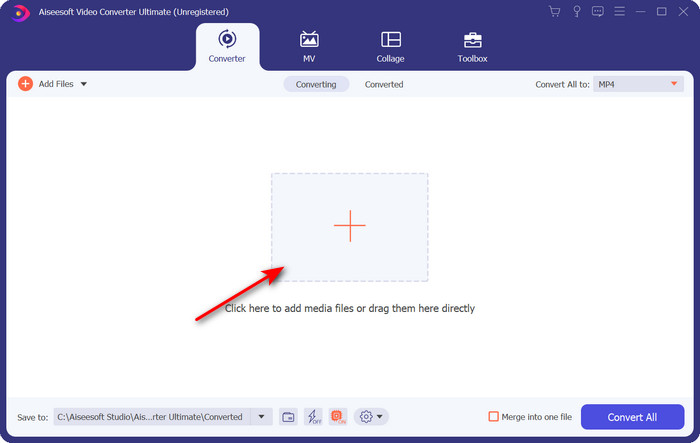 Step 3. Change the format to FLV by clicking and unfolding the Convert All to menu at the upper right side of the converter's interface.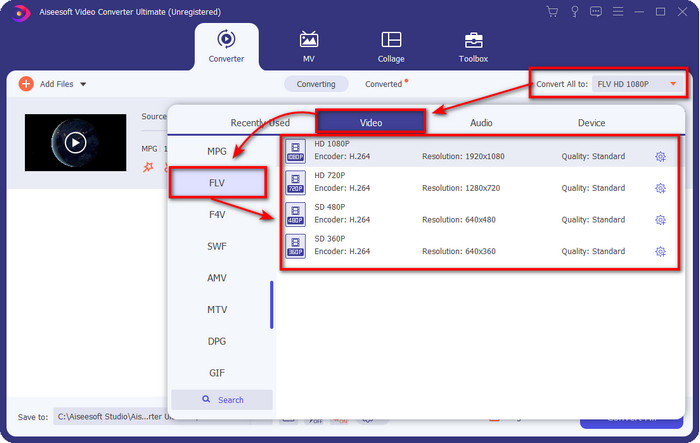 Step 4. Before we convert your file, you can edit the video here first by clicking the wand button. Under its editing, you can rotate & crop video, add effects & filters, apply the watermark, adjust audio, and add subtitles. Once you edit and are ready to save, click OK.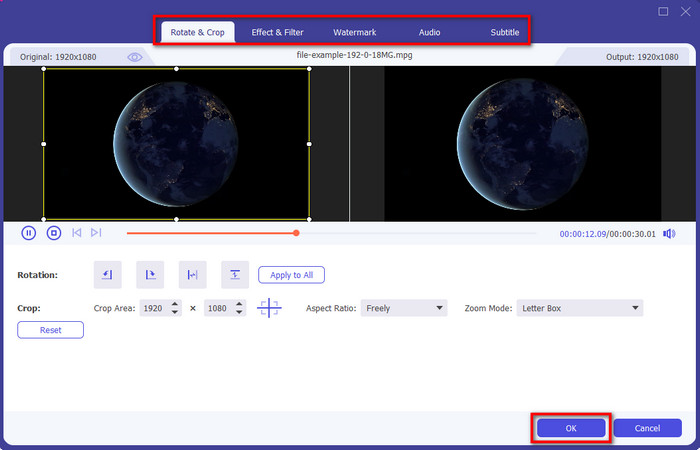 Step 5. Press Convert All to start to convert MPEG to FLV. This process will take less than a minute because of the Hardware Acceleration, and Fast Conversion activated. After the conversion folder will show on your screen.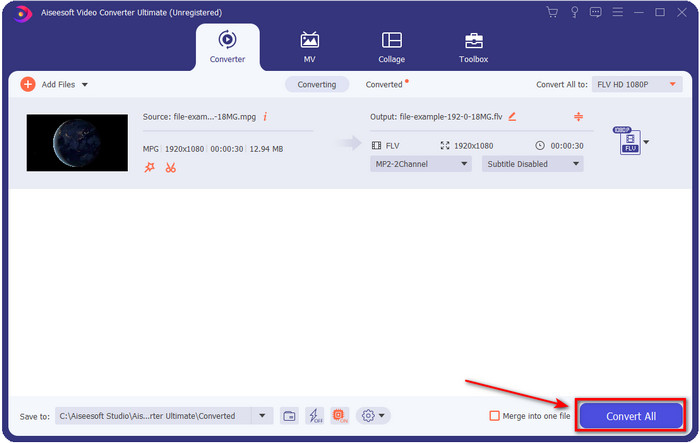 Part 2. Convert MPG to MOV using FFmpeg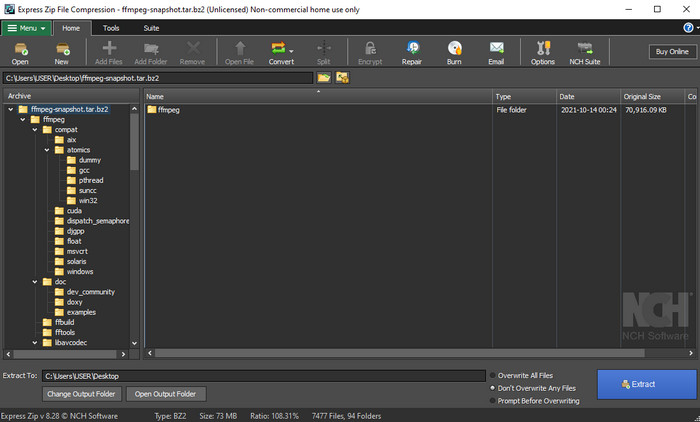 One of the famous editors that you have already encountered is FFmpeg. If this converter sounds new to you, then let's have a brief introduction to the software. This converter is known as one of the most complicated converters you can use. Because before you perform converting here, you will need to communicate via text on the CMD. Although the tool is complex, the performance is outstanding, especially in converting. Instead of searching over the internet how to use FFmpeg MPEG to FLV, the steps below will help you to use this tool.
Step 1. Download the FFmpeg on your desktop.
Step 2. Open the CMD on your desktop to open the command prompt.
Step 3. Search the location of your .mpeg file by using the CMD. Then insert this on the command prompt ffmpeg -i input.mpeg -vn -ar 44100 -ac 2 -b:a 192k output.flv, press Enter key on your keyboard to start the process.
Pros
It is free to download.
Performs well in converting the format into a new version.
Available in Windows and Mac.
Cons
It is not user-friendly.
Not your typical converter.
Part 3. Convert MPG to MOV Using Free Online MPEG to MOV Converter
If you want to convert MPEG to FLV for free, use the FVC Free Video Converter Online. This online tool is available in all search engines to help you with your converting problem. Although the online converter is free, the functions and features here are not as broad as the FVC Video Converter Ultimate. But you can perform converting .mpeg or .mpg files here easier and better than the FFmpeg. Another good thing about this web tool is that you wouldn't need to download it on your desktop. You save some space on your storage if you use this tool. Want to know how to use this tool? If so, let's proceed with the steps.
Step 1. To open the MPEG to FLV converter online, you must click this link.
Step 2. Once the website is open, click Add Files to Convert to open the web tool. A folder will show on your screen; under it, you can find the .mpeg file you want to convert, then press Open.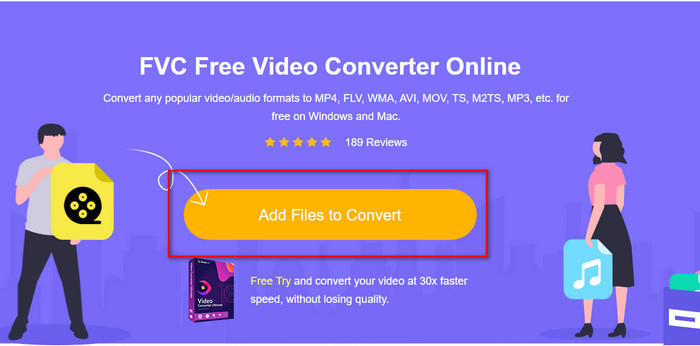 Step 3. A new interface will show; choose the FLV format below.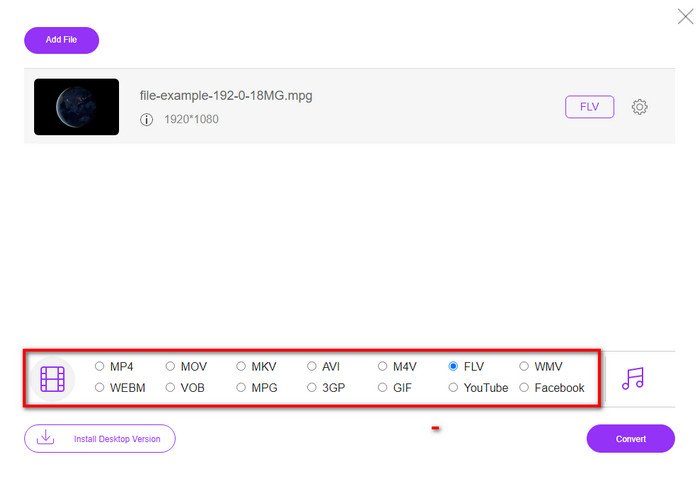 Step 4. If you've done selecting the format, click Convert to start the process.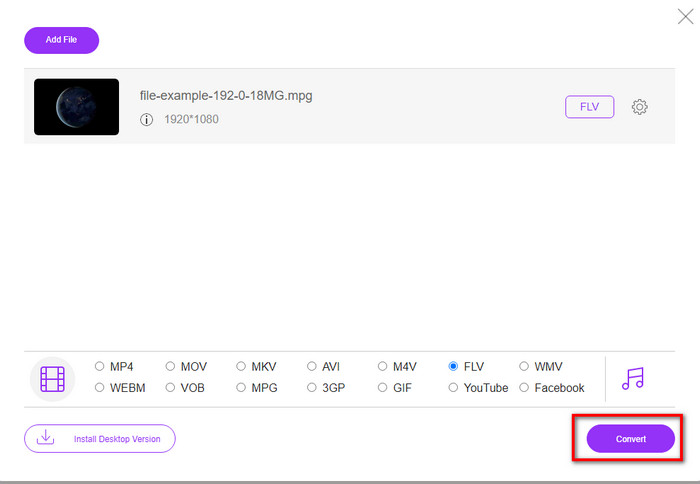 Step 5. The file folder will show after the conversion.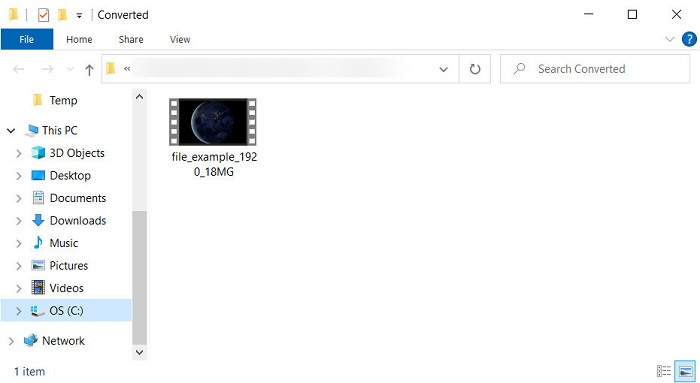 Part 4. Extended Knowledge of MPEG and MOV
Moving Pictures Experts Group or MPEG is one of the standard formats to emerge in late 1988. This format significantly compresses the file into MPEG-1 or MPEG-2 then distributes them on the internet or DVDs. Although the MPEG uses a particular compression, the extension of this format could still be .mpg or the original .mpeg, but the files and quality stored won't be affected. Even though the quality won't be affected, it still can't store high-definition videos and metadata.
Aforementioned, Flash Video or FLV is like MPEG but from a different perspective. These two formats are the best for transferring the video file over the internet. However, FLV files are much compressed, and it has much better quality compared to the MPEG. It is now the standard video format in HTML 5 content on the World Wide Web for streaming.
Since MPEG format has a lower quality and lower compression, you must reconsider converting the file into FLV format if you want better quality and compression. So, choosing the right MPEG to FLV online or offline converter is a must to achieve a better FLV version.
Part 5. FAQs about MPEG to FLV Conversion
How to merge multiple MPEG files into one?
Combining or merging two or more files into one is easy if you use the right tool. Doesn't have any idea what to use on merging the video files into one? Or on how to connect the files? If so, read this article to know what and how to combine MPEG files into one.
Where can I play MPEG files?
Although MPEG format is the most known format for movies and the support this format gain is enormous. But some of the media players don't play the video smoothly with the file extension of .mpeg. If you are looking for an effective media player, hit this link immediately and read the detailed information about the MPEG players.
Conclusion
In the end, we have a firm knowledge of how to convert MPEG to FLV with the helpful tools above. If you want to convert your MPEG for free, then use the FVC Free Video Converter Online. But if you have and want to use FFmpeg, then read the details above. Either of the two, the performance of the phenomenal converter is the best, FVC Video Converter Ultimate. So now, choose the best tool you think suits your needs for converting the file and have effective conversion.