Compress MPEG-4 | How to Make MPEG-4 Files Smaller without Losing Quality
Have you ever tried sending a large MPEG-4 file to others? You might have needed a file compressor to reduce the size of the files. If you have no experience in file compression, you could want to know which video compression tool suits your needs best. Read on to learn more about how to compress MPEG-4 files without losing quality.

Part 1. Best Way to Compress MPEG-4 Files Online for Free
It is essential to know there are limits to the sizes of MPEG-4 files. If your files are too large, it is hard to send large them via email without compression. Reducing such file size to a minimal size, without necessarily destroying its quality, becomes increasingly important in our daily life. Fortunately, there are a bunch of online tools available for compressing different video file formats.
Here we'd like to recommend Free Video Compressor to help you downsize large MPEG-4 files without destroying quality. It has got to be the easiest and quickest solution to MPEG-4 file compression today. The online tool works perfectly with every MPEG-4 file. Users are also allowed to save the compressed files in any format, including MOV, AVI, VOB and more. Here are the 4 simple steps involved in enjoying this super fast video compressor.
Step 1. Go to the online video compressor website
The link below will get you to the right place:
Head to the online video compressor website
Step 2. Upload your files
Click Add Files to Compress button. If you use this tool for the first time, you need to install its launcher first. After that, find your MPEG-4 video file and hit Open in the window that appears.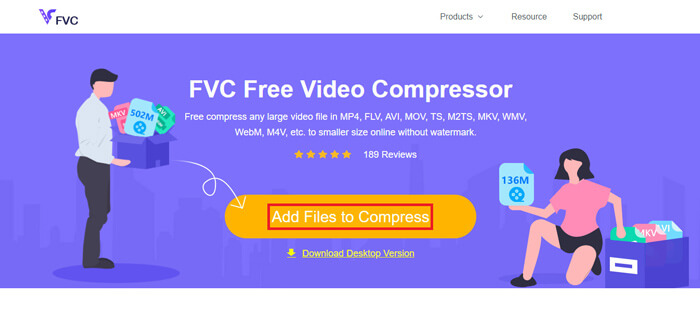 Step 3. Define the compression properties
Now, you need to configure the compression settings, such as size, format, resolution, and bitrate. For example, you can lower the resolution of your MPEG-4 files to make the file smaller.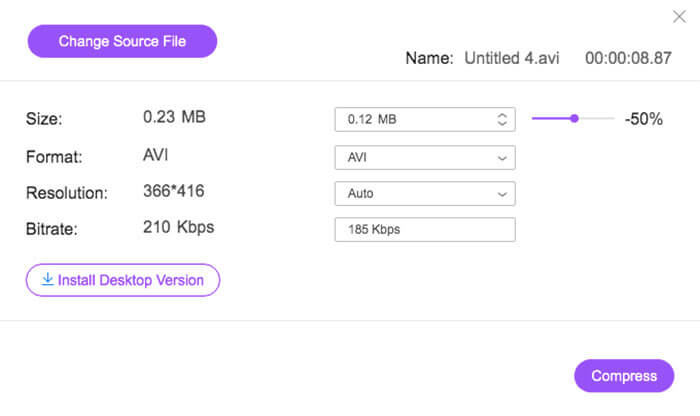 Step 4. Finally, hit Compress to start the compression process. After it's complete, the reduced file will be downloaded to your computer automatically with no watermark.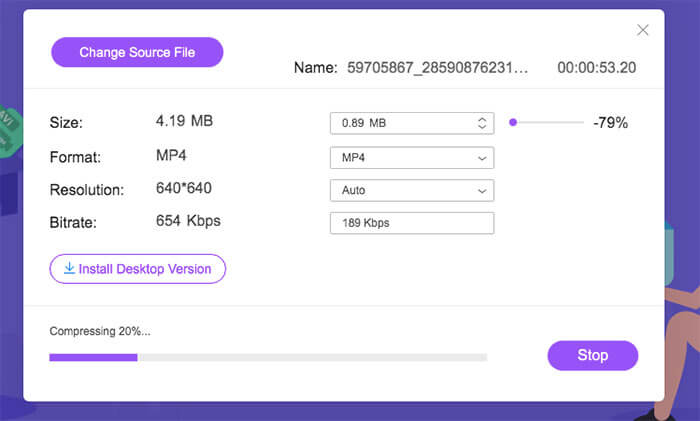 Apart from compressing MPEG-4 files, the tool also allows you to compress MXF, make WebM smaller, and downsize other common video files easily.
Part 2. How to Downsize MPEG-4 Files with MP4Compress
You can also check out MP4Compress - a simple and effective tool for compressing MPEG-4 Files. MP4Compress is a free online tool that allows you compress your MPEG-4 files directly from your web browser.
Step 1. Visit its official website by entering https://www.mp4compress.com.
Click on the Select File... button to select the MPEG-4 file and then click Upload Video File to start uploading the file.
Step 2. Once the file is uploaded successfully, this tool will compress the file. As for the compression speed, it depends on your Internet bandwidth.
Step 3. Once the compression is complete, you will see a Download File link and then you can save the reduced file to your computer.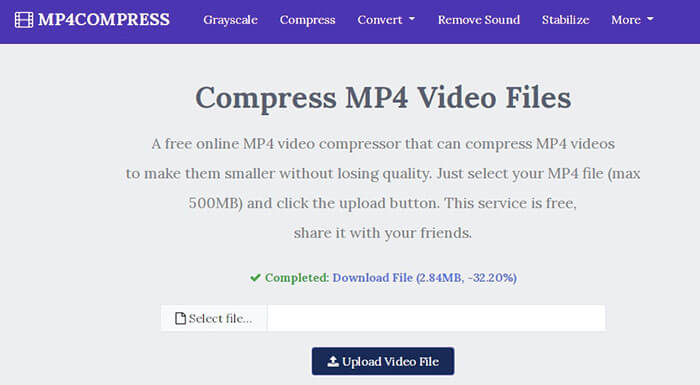 Part 3. FAQs of MPEG-4 File Compression
What is an MPEG-4 file?
MPEG-4 is a digital media container format defined by the Moving Picture Experts Group (MPEG). It supports several different types of video and audio codecs and may also contain 3D objects, sprites, text, and other types of media. With the development of MPEG-4, it is divided into several parts (each part covers a certain aspect of the whole specification) including MPEG-4 part 2 (e.g. XviD video codec), MPEG-4 part 3 (e.g. AAC audio codec), MPEG-4 part 10 (H.264 video codec), MPEG-4 part 14 (MP4 media container) and others.
What is a video compressor?
A video compressor is a tool that helps you to shrink the size of your video files. The compression rate depends on the video codec and bitrate. Since different video formats might use different codecs, you can choose to change the file format to lower the file size.
How to compress a MPEG-4 file on Mac?
The online services described above work on any operating system, so you can use one of them to reduce the MPEG-4 file size on your Mac.
Conclusion
This article covered two main efficient online tools to help you get the MPEG-4 compression done. Now you know how to compress an MPEG-4 file to a smaller size online for free. Go and test tools to find the one that fits your needs best.