100% Free Ways to Compress M4V File Size from GB to MB
M4V file format, similar to MP4, is a great video container produced by Apple. You can play M4V files on almost all popular players, like iTunes, QuickTime, VLC Media Player, RealPlayer, and more. But sometimes, you may find your M4V video is too large to store or share. In this situation, you need to reduce the size of the file.
If you don't know how to compress M4V, you can try the options below.

Part 1. How to Compress M4V Online for Free
As we mentioned, it may be a little hard to edit and share a large video file on YouTube, Facebook, Instagram or other streaming sites. Because these sites usually have a strict size limitation on the video you upload. Besides, large files can take up much space on your computer, disk drive, phone, flash drive, memory card, etc.
Therefore, when you have a large M4V file, you'd better shrink the size with a professional video compressor. If you are looking for a free program, why not try FVC Free Video Compressor? It is completely free to use. What's more, it is an online compressing tool, which means you can compress any video to the desired size without installing huge software on your computer.
You can use it on any mainstream browser such as Google Chrome, Mozilla Firefox, and Microsoft Edge. And there will be no watermark added to the compressed video. You are even able to enjoy the video with high image quality.
Here are the steps on how to compress large M4V files online.
Step 1. Go to the website of FVC Free Video Compressor on your browser. You will see an Add Files to Compress button in the banner. Click it and follow the instruction to download and install the FVC launcher on your computer.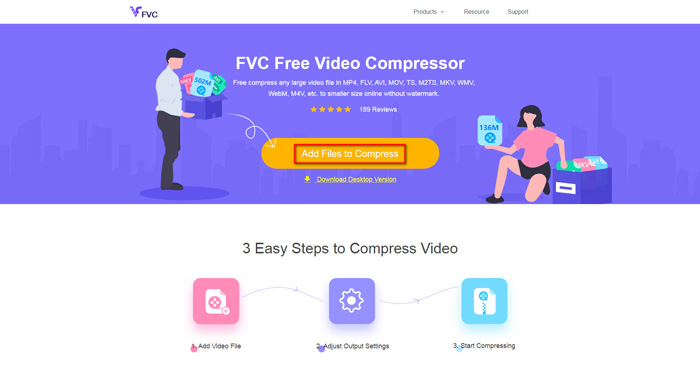 Step 2. After that, you need to select the M4V file you want to compress. Then you can move the slider behind the Size box to adjust and find the exact file size you want effortlessly. You can also change the resolution and bitrate separately according to your needs.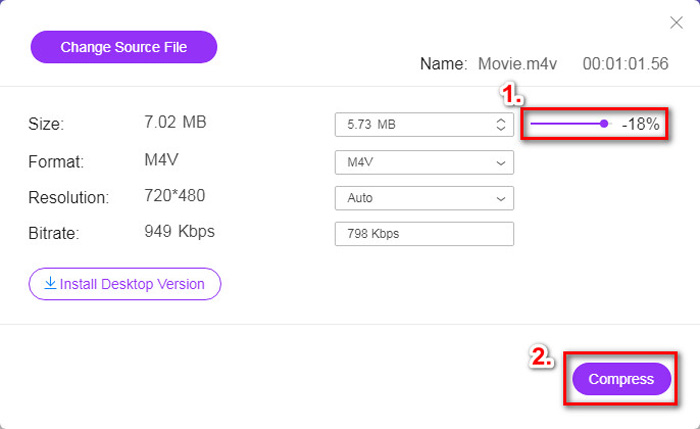 Step 3. If you want to compress M4V to MP4, then you should choose MP4 as the output format here. If not, you can click Compress in the right corner directly. Select a folder to save the compressed video and wait for a few seconds to get the wanted video.
Part 2. How to Reduce M4V File Size on Mac/Windows
As M4V is a format developed by Apple, you can also use Apple's default player, QuickTime Player, to compress M4V files on Mac. Also, QuickTime Player offers a Windows version for PC users. But you should notice that the latest version for Windows is QuickTime 7.7.9 which is released in 2016. So, if what you want is a newly released program, you can try FVC Free Video Compressor that can even handle 4K videos.
Anyway, please follow the steps below to reduce the M4V file size in QuickTime.
Step 1. Open the M4V file waiting to be compressed with QuickTime.
Step 2. Locate the File menu in the upper left corner. Click it and find the Export As option from the list. Then pick a resolution that is lower than the original video to compress the video. After all, we don't want to increase the size here.
Step 3. If you don't want to change the saving path, you can straight click Save. Please wait patiently to export the video.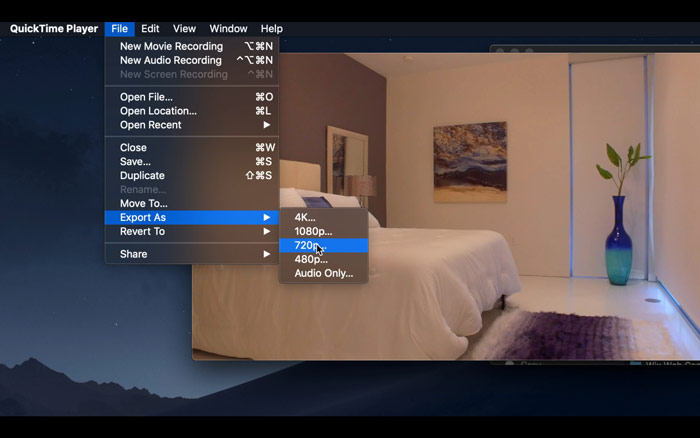 Part 3. FAQs of Compressing M4V
1. Can I just rename M4V to MP4?
No, if what you mean is to convert M4V to MP4 by renaming the suffix to .mp4. Because their encoding is not the same. You should rely on a more professional tool to convert M4V to MP4.
2. Does YouTube accept the M4V format?
Sadly, YouTube only supports a limited number of file formats that do not include M4V. So, if you want to upload your M4V video to YouTube, you should convert it to a YouTube supported format like MP4.
3. How to merge multiple M4V videos into one?
If you have several M4V video files that need to be combined into one, you can try FVC Free Online Video Merger to merge various video files.
Conclusion
Now you have 2 simple and free ways to compress M4V file. If you are a Mac user, you can use QuickTime Player to reduce the video size. But if you are not satisfied with fixed resolutions QuickTime provides or you are using a Windows PC, you can give FVC Free Video Compressor a shot.