Tips & Tricks on How to Convert WebM Files into FLV for Windows/Mac/Online
Are you having trouble playing videos under the file extension of WebM? Maybe you are currently looking for the best solution via converting the file into a playable format on your device. If that is the case, you are lucky because this article will discuss two of the best WebM converters you can use online or offline. Let's jump into the WebM to FLV converter for free you can use on your desktop and learn how to convert WebM hands-on.

Part 1. Top-Notch WebM to FLV Converter on Windows & Mac
First on the list is the phenomenal WebM to FLV converter you can download on your desktop to aid your problem. FVC Video Converter Ultimate is the best converter choice to achieve a 100% success rate on your conversion. It is used explicitly on converting your video and audio format into a compatible one with the 200+ format of your choice. It is even more refined, as it offers a simple conversion with the super high-speed converting process without altering its quality. This converter takes the conversion to the next level, want to experience it? In that case, let's learn how to use this tool by following the detailed steps below.
Steps on How to Convert WebM Files to FLV format with the FVC Video Converter Ultimate:
Step 1. Click the download button presented below and follow the installation prompts.
Step 2. To add your WebM files, click the Add Files at the top-left corner of the interface. Then choose the .webm file on your folder and click Open.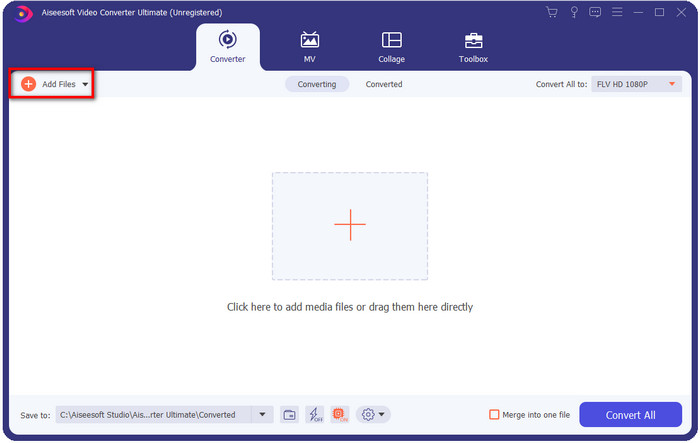 You can drag-and-drop the files on the interface if you want to add multiple WebM files or any other files to do the batch conversion.
Step 3. Click the Convert All to option at the top-right corner of the interface and choose the FLV format.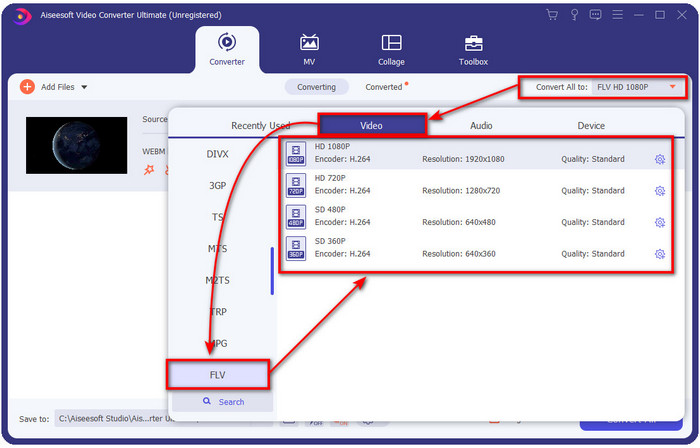 Step 4. Click Convert All to start and convert WebM to FLV. After the process, a folder will show on your screen with the newly converted FLV file.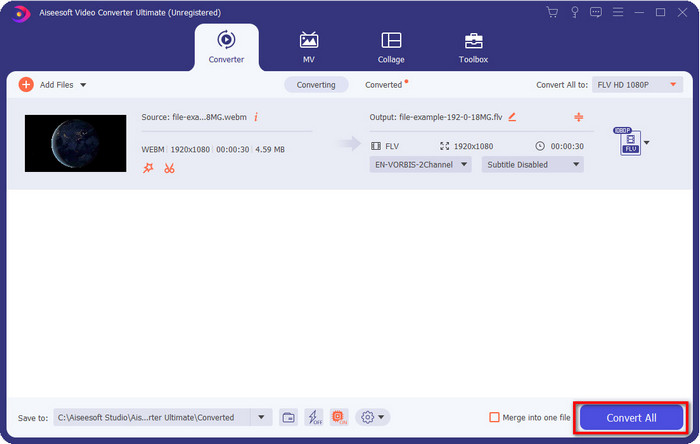 Pros
It supports countless format profiles you can choose from.
Supports Hardware Acceleration & Fast Conversion for faster-converting procedures.
It offers multiple advanced editing features such as cutting, merging, cropping, adding effects, and many more.
Convert your WebM files in a batch.
Available in all operating systems like Windows & Mac.
Cons
Download it on your desktop.
Paid converter.
Part 2. Convert WebM to FLV for Free Online
FVC Free Video Converter Online offers you a powerful WebM to FLV converter online. This converter is available in all of the search engines of your choice. Instead of downloading a converter on your desktop, why don't you use this web tool as an alternative? Aside from being free, it is also ads and malware-free. However, many functions aren't in here that the FVC Video Converter Ultimate has significantly the scope of format supported. Want to know how to use this web converter? Then follow the steps provided below.
Steps on How to Convert WebM files to FLV Format Online with the FVC Free Video Converter Online:
Step 1. Click this FVC Free Video Converter Online to open the converters website.
Step 2. On the converters website, click Add Files to Convert to install the launcher of the web tool. Tap it again, and a folder will open, search the .webm file and click Open.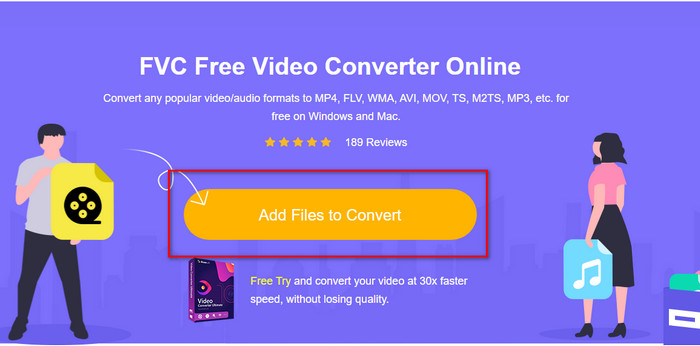 Step 3. Set the format to FLV by choosing it under the setlist.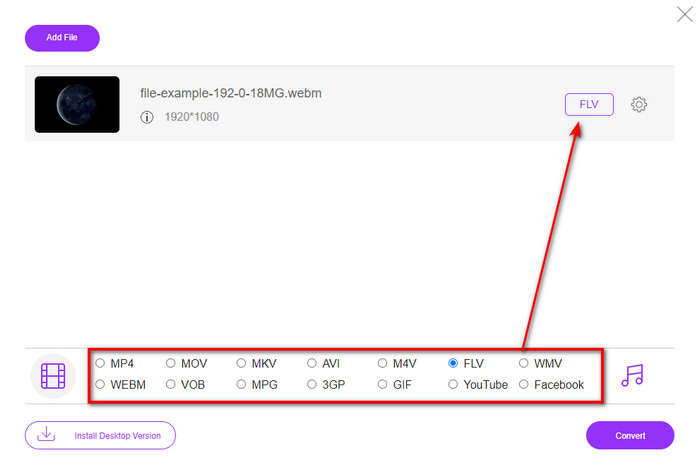 Step 4. To convert the file, click Convert.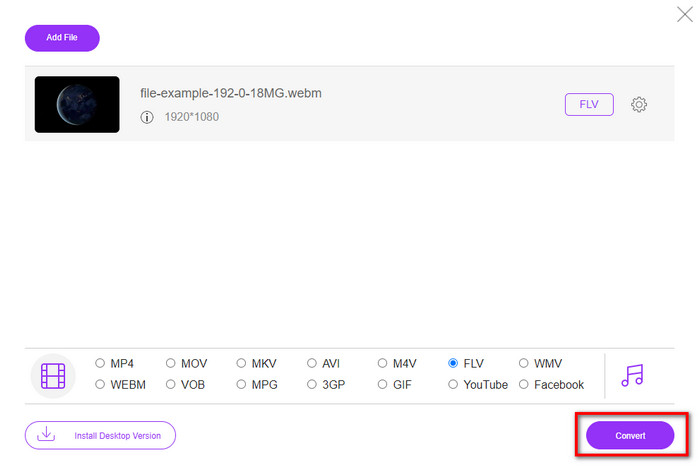 Step 5. Once the conversion is complete, a folder will show on your screen.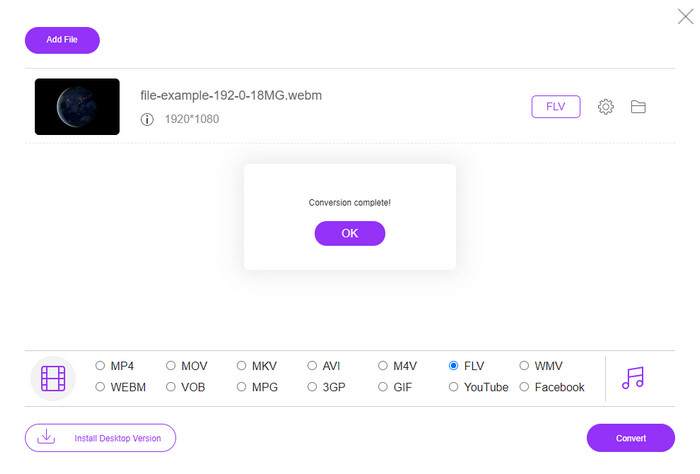 Pros
Available and free to access in all of the web browsers.
No nettlesome ads, and it is malware-free.
It supports a medium-range format.
Cons
Internet connection is needed.
Special features aren't available in this converter.
Part 3. WebM vs. FLV
WebM is playable in most of the browsers that are under HTML5. This format's purpose is to be royalty-free and available in all web browsers to play videos and audio. Moreover, it can adapt to any bandwidth situations that users have. It mainly plays videos and audio without affecting the quality, even though the users have terrible internet connectivity. Another fantastic feature of this format is using a separate codec on video and audio streams. Although this format can contain high-quality video, some smartphones and media players can't play this type of format videos. There are many reasons you can't play the file, and one of them is that your OS version is outdated.
Unlike WebM, FLV's purpose is to deliver video content over the internet using Adobe Flash Player or Adobe Air. Also, this format can contain not only video content but also elements such as metadata, short header, audio, and video streams. Although the format has plug-ins, you wouldn't need it to play the file on your media player or store it on your phone. Same as with the WebM, this format also uses separate video and audio compression codecs.
To make your WebM file compatible, you will need to turn your WebM to FLV. Even though you can store WebM files on your device, it is still a waste of storage if you can't use it. Furthermore, turning your WebM file into a playable format will give you the chance to view the file on multiple devices.
Part 4. FAQs about WebM to FLV Conversion
Does VLC support WebM format?
VLC is one of the multi-purpose media players that you can download on your Windows, Mac, and even your smartphones. It can support various video and audio playback, including .webm files. But if you want to watch your WebM files into a better media player, read this article to know more about the five best software to play WebM files.
How to convert WebM to GIF?
Converting your WebM files into an animated GIF can be done within a minute. Want to know how to convert WebM to GIF? If so, click this link to learn more.
Can I compress my WebM file?
Absolutely Yes, you can make your WebM file more diminutive in size to send it through e-mail or save some space to your drive. If you don't have software of your choice, you are lucky as we sift out the 2 free WebM compressors you can use.
Conclusion
Now that we know how to convert our WebM files into an FLV format, it is time to select the converter you should use. Although these two WebM converters presented here can guarantee your success, they still have different capabilities. For example, suppose you want to convert your WebM thru online without limitation and ads at all. In that case, you must go with the FVC Free Video Converter Online. But if you want to do more than convert files, your pick must be the FVC Video Converter Ultimate. Are you still doubting the ultimate converter abilities? If so, you must download it right now on your desktop to experience the full functionality of the converter.