Learn the Techniques on How to Convert WebM to AVI with 3 Converters Available
If you are looking for a format compatible with any HTML 5, then WebM must be the choice. This format is considered one of the best formats to use on your websites. Generally speaking, WebM formats are created for use on a website as it provides better quality and uses an EBML structure. EBML used binary codes that humans like us can't read but have a specific use. In that case, once you download a WebM on your drive, there will be a time that the format will be unplayable. However, there is a way to make it work to convert it into a new format like AVI. So now, let's talk about why you need to convert WebM files to AVI format and the tools available that you can use.

Part 1. Why Do We Need to Convert WebM into AVI?
As we mentioned earlier, these two formats can contain both video and audio in one file. Although they do have similarities, they do still have many differences. Like the structure, codec, specialty, performance, supported platforms, and more. So, to have an idea about it, then let's determine it.
WebM is available on updated web browsers like Mozilla Firefox or Google Chrome; however, some browsers don't support this format. It is specialized to be used on web browsers to contain a perfect quality with loading the file faster and better. Also, it has the same form as the MKV with the same codec as well. Unlike WebM format, AVI format is known in all media player, web, and video sharing platforms as it gains popularity and support. As AVI stores a first-rate video and audio quality that you would be going to love. It is better than WebM in almost all aspects; still, the file size is the major drawback of the format. So now, if you want to edit, save and play, use the WebM, then it is a must to convert WebM format to AVI to do that with the three tools available in the list.
Part 2. How to Convert WebM to AVI with the Desktop Based Tool Available
1. FVC Video Converter Ultimate
Doesn't have any idea to convert WebM to AVI because you didn't have any experience in converting? And still, want to achieve an impressive final output? Then FVC Video Converter Ultimate is the phenomenal converter you would love as this converter supports more than 200+ formats for audio and video. Besides that, it also provides advanced features that you would love to use even if you aren't pro or pro. Moreover, the conversion process can be done in an instant as it supports hardware acceleration and fast conversion. But you can only use this software if you buy it and no need to worry because it is not expensive. So now, if you want to experience the magic of conversion this tool provides, then follow the steps indicated below.
Step 1. If you don't have the software, then download it first on your desktop drive. So now, if the downloading process finishes, install it next, and do the quick set-up to proceed.
Step 2. Next, it is to hit the + button in the middle of the interface. Then search the video on the folder that will show on your screen, click Open to insert it.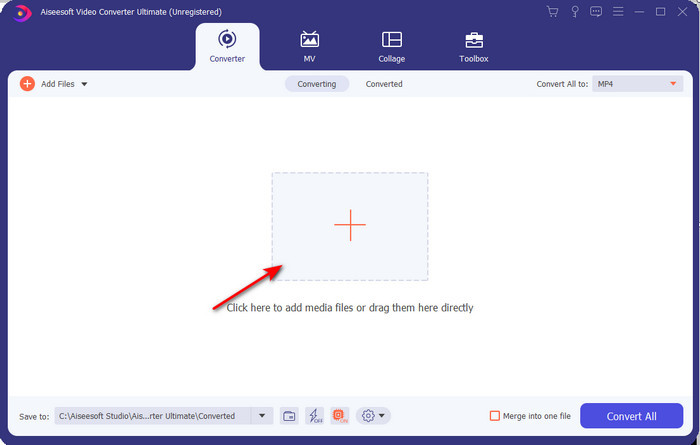 Step 3. Press Convert All to: change the WebM video to AVI format and choose the resolution on the options available.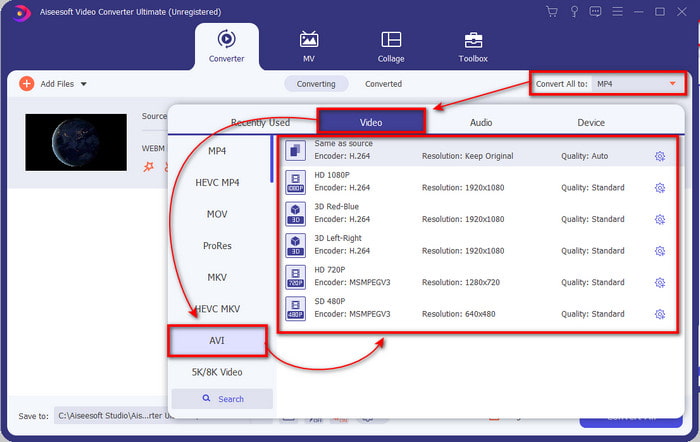 Step 4. And now that you've already chosen your format, it is now the right time to convert it by clicking Convert All.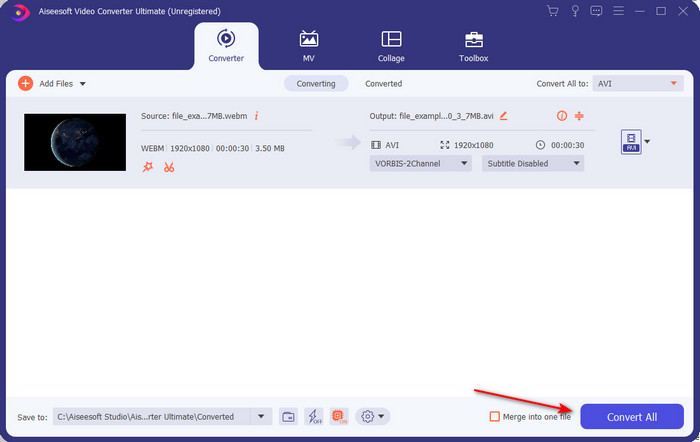 Step 5. The process of converting here is much faster, so no need to wait for too long. A folder will show on to your display with the file you converted into AVI format. To watch the converted file click it and enjoy watching your newly converted WebM.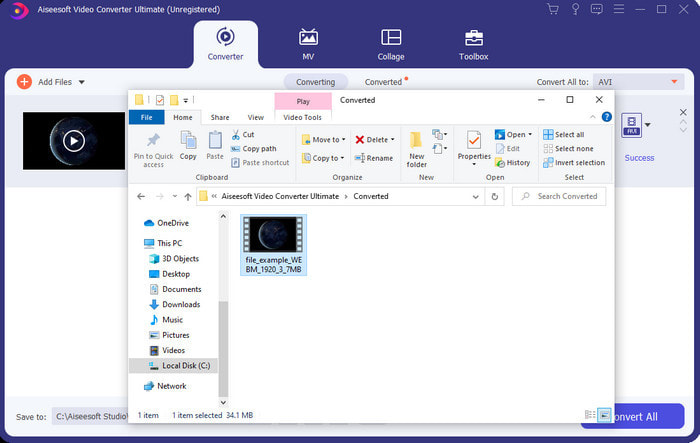 2. FFmpeg
Changing the WebM format by using FFmpeg can be quickly done if you know how to use it. So, if you want to adjust much detailed information about your file, you must use this. However, this software is not the best choice for beginners as it uses codes to do the conversion correctly. Also, this software works CLI-interface. As said earlier, to command this, you will need to communicate into it. And now, if you want to use FFmpeg to convert WebM to AVI, follow the steps provided below.
Step 1. Download the FFmpeg on your desktop; this software you download needs to unzip. Then create a new folder to unpack it in the folder. Then copy the address of the folder because you will use it later.
Step 2. Hit the Windows on your desktop and type CMD to communicate with the software.
Step 3. Locate the WebM file by using the command prompt, then copy this code ffmpeg -i input.webm -vn -ar 44100 -ac 2 -b:a 192k output.avi and press the Enter key on your keyboard.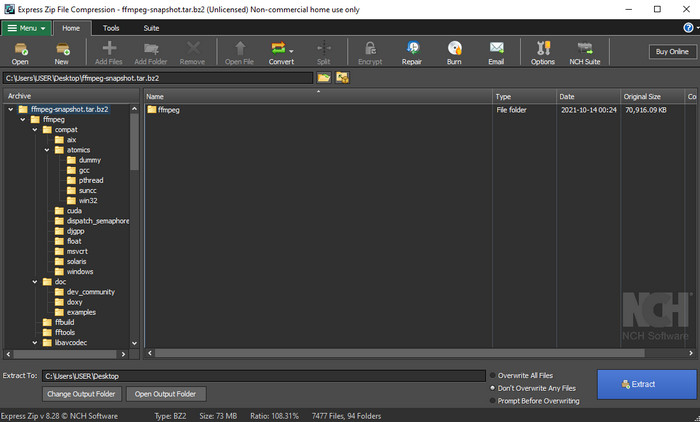 Part 3. How to Convert WebM to AVI by Using the Best Web Tool Available
FVC Free Video Converter Online

If you don't want to download software on your drive, search this WebM file to AVI online converter available. This FVC Free Video Converter Online is ready to be used by you anytime and anywhere but remember to have an internet connection because this tool is internet-dependent. Although the web tool is free to access, it still doesn't support different formats like the FVC Video Converter Ultimate. And so, you want to do the conversion without spending money, then follow the provided steps below to experience how to convert online.
Step 1. To open the website of the FVC Free Video Converter Online, you must click this link.
Step 2. And to launch the tool, click Add Files to Convert then a folder will show up on your screen display. Locate the file on the folder, then click Open.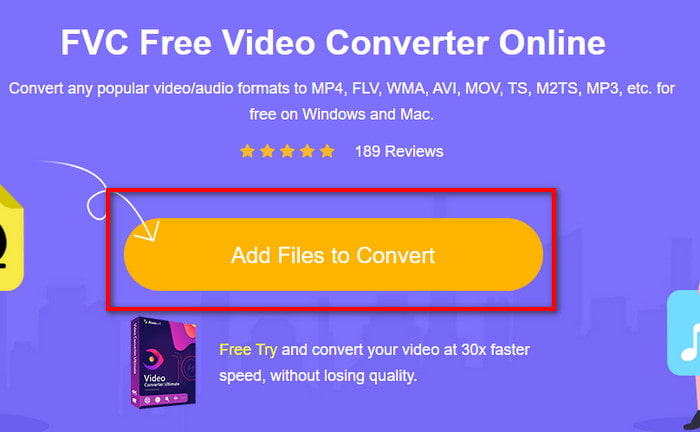 Step 3. Once the file is on the interface, choose the AVI format or the other format you want to turn into the lower part.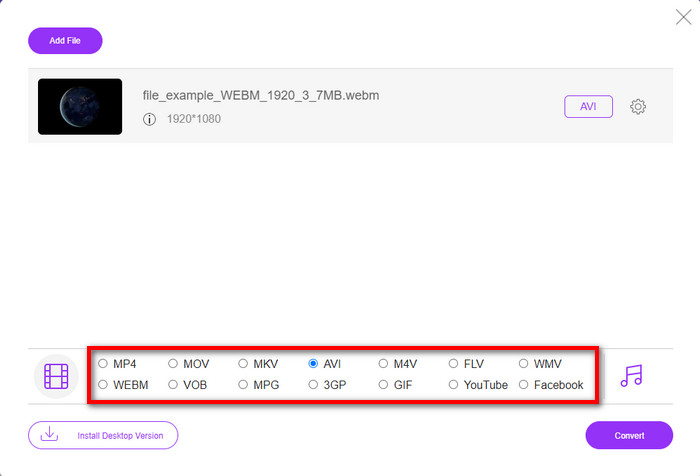 Step 4. So now, let's start the process of converting by clicking Convert. Also, you can convert a lot of files with this free WebM to an AVI converter; however, you can't do batch conversion.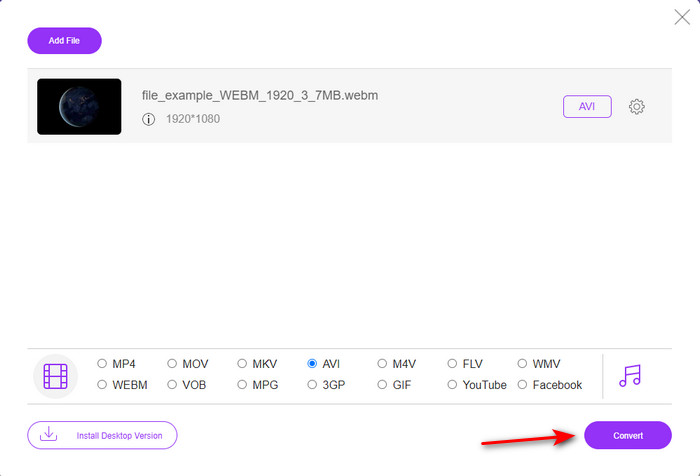 Step 5. Finally, once converting is done, you can check out the file in the folder.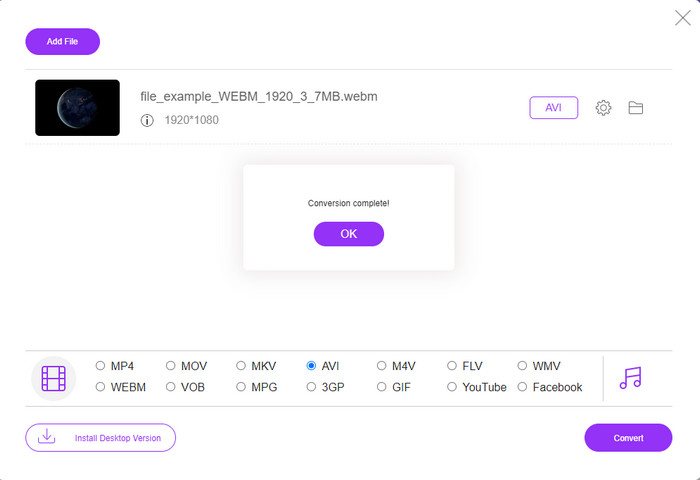 Part 4. FAQs about WebM and AVI
Why is WebM format supported in modern browsers?
Videos in WebM format can play on your HTML 5 without any plug-in play. However, videos in the format of WebM are not playable in an older version of the browser. So, make sure that your browser is updated to play the WebM video. Here you can learn the best WebM players available to play your WebM files smoothly.
What codec does WebM use?
WebM uses two different video codec, and that is VP8 and VP9. But VP9 is the most commonly used video codec for WebM because it can compress the file well on Google and other browsers. Also, VP9 is the successor of the VP8 and used to compete with the MPEG codecs.
Does converting WebM lose its quality?
So, if you convert WebM into a new format, expect nothing to change on its quality. Because you only change the format, but if you change the WebM into GIF, then expect to lose some quality. Since GIFs support a small range of color palettes compared to the other formats.
Conclusion
To end this write-up, we come to find that all of the solutions above really do work. However, they are all different in the process of converting, fast conversion, and more. So if you are looking for a phenomenal converter that supports all of the formats, then FVC Video Converter Ultimate is the perfect tool for that job. So now, to experience the magic this ultimate tool provides, it is a must to download it.