How to Convert ICO to PNG Instantly [Full Methods]
ICO is an image file for computer icons, especially on Microsoft Windows. It is used to contain an icon file. However, ICO is not popular on other programs and devices. So, if you want to view your images with other programs, you need to convert them to another format. If you prefer an image file with a smaller file size, PNG is one of the best picks for you. The PNG format has a smaller file size, and you can view images in almost all programs. In that case, the article has the best solution for you. Using image converters, you will learn the best methods for converting ICO to PNG.

Part 1. ICO vs. PNG
File Format
ICO
PNG
Filename Extension
.ico
.png
Full Name
Icon
Portable Network Graphic
Developed By
Microsoft
PNG Development Group
Description

ICO

is a type of picture file that may store image icons. Microsoft Windows operating systems use the ICO file extension to store icon files. It includes bitmap pictures. Additionally, websites use ICO files as their favicons. Images with 24-bit colors are supported. Additionally, Windows only saves icons for executable files in the ICO format. Images in Windows ICO files range in size from 16×16 to 256×256 pixels. Older ICO files can only store 48×48-pixel pictures.
A raster picture file type is a portable network graphic or

PNG

. The GIF format has evolved into this one. Oliver Fromme developed the PNG format in 1995 to do tasks that GIFs cannot. Unlike GIF, the PNG format is patent-free and provides a broader range of colors. PNG is one of the most widely used image formats right now. You can open PNG in any image editing program without a license because a patent does not protect the file. This format also makes use of lossless compression.
Part 2. Convert ICO to PNG Free Online
FVC Free Image Converter is one of the best online tools for converting ICO to PNG. This web-based image converter can convert any picture file format to JPG. The input types that this app can handle include JPG, PNG, JPEG, TIFF, BMP, WEBCO, ICO, and more. It also offers a straightforward layout and clear options. This way, experts and amateurs can convert photographs using this program. Additionally, it is easier to use because it only requires easy steps to convert images. All browsers support FVC Free Image Converter. It includes Safari, Microsoft Edge, Internet Explorer, Google Chrome, and Mozilla Firefox. Also, FVC Free Image Converter offers completely free photo conversion. This tool is web-based, so you don't need to download any software or plug-ins. Images can be easily converted for use in browsers.
Step 1: Navigate to the FVC Free Image Converter website. Then, go to the Convert to option and select the PNG file format.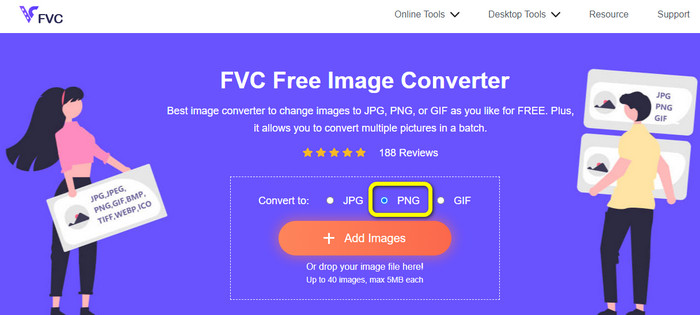 Step 2: Next is to click the Add Images button. Your computer file will show up on the screen. Choose the ICO format you want to convert, and click Open. Click the Add Images button again to add more files and do a batch conversion process.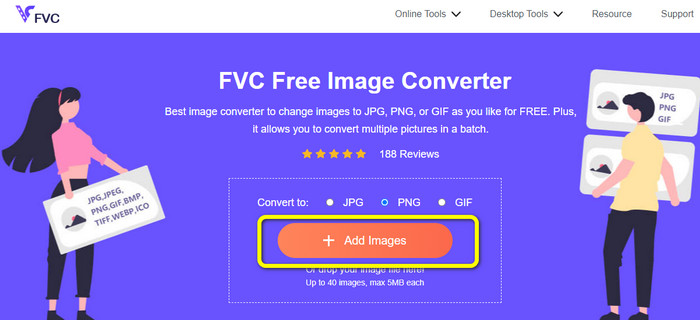 Step 3: Your image will convert to PNG automatically. After the conversion process, click the Download All button to save the images. Then, after the process, you can already open your converted image.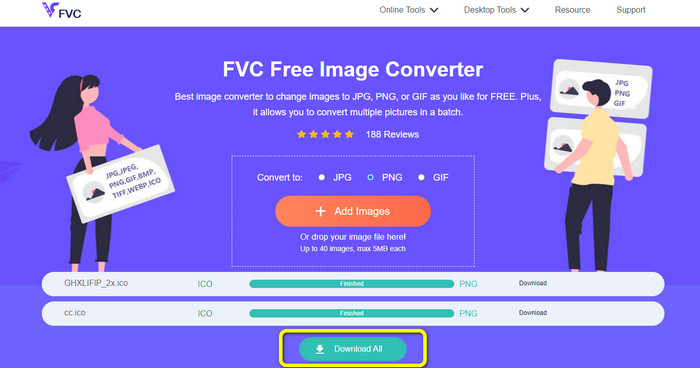 Part 3. How to Convert ICO to PNG on Mac Easily
Preview is a pre-built program from Mac. Aside from viewing images, you are also allowed to convert image files. This way, you can convert the ICO file to PNG format instantly. Also, the conversion process is fast. You can convert images in just a few seconds, making it convenient for all users. Additionally, it offers a batch conversion process. So, you can convert multiple image files in one go. Moreover, besides converting, there are more features you can enjoy. The program is capable of resizing and cropping photos. However, the conversion process is challenging, especially for non-professional users. The options are confusing to follow. If you desire to convert ICO to PNG format using this program, it is necessary to ask for help from professionals. Follow the steps below to convert ICO to PNG using Mac.
Step 1: Go to your folder and click the ICO image file. Right-click the image and navigate to Open with > Preview (default).
Step 2: In Preview, go to the File option on the upper interface and select Export.
Step 3: Then, from the format option, select your desired output format, which is PNG. After that, click the Save button. This way, your image will be converted from ICO to PNG format.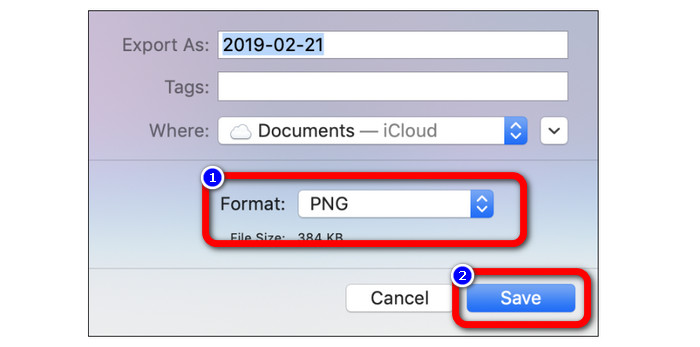 Part 4. How to Convert ICO to PNG on Windows
One of the best offline image converters is Video Converter Ultimate. You may quickly convert from ICO to PNG using this excellent converter. Also, you may convert many files because of its quick conversion speed. It also offers a batch converting method to convert many files simultaneously. Video Converter Ultimate also supports various image formats. Additionally, it has PNG, BMP, WEBP, and TIF. This offline image converter provides a user-friendly interface and straightforward conversion procedures. Users of all skill levels can easily transform photographs using this method. The conversion process on this converter is also quick. In just a short period of time, you can convert plenty of photographs. Additionally, this converter is accessible from both Mac and Windows PC.
Step 1: Install Video Converter Ultimate on your Windows. Then, after the installation process, launch the program. To quickly access the converter, click the Download button below.
Step 2: After launching the program, go to the upper interface and select the Toolbox panel. After that, click the Image Converter function. Another interface will pop up on your screen.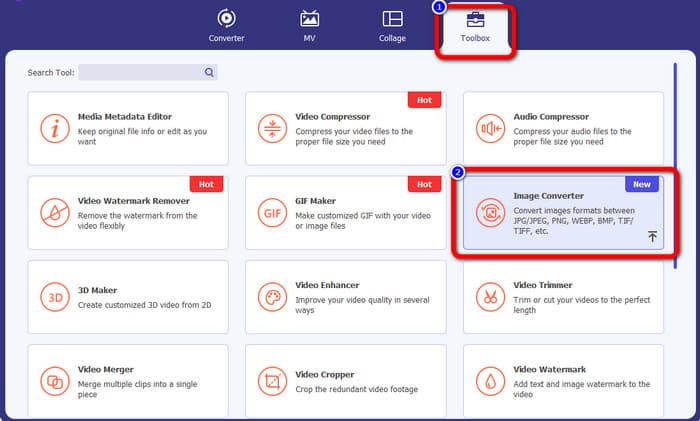 Step 3: When the new interface shows up, click the Plus icon. When the folder file appears, click the ICO image you want to convert and click Open.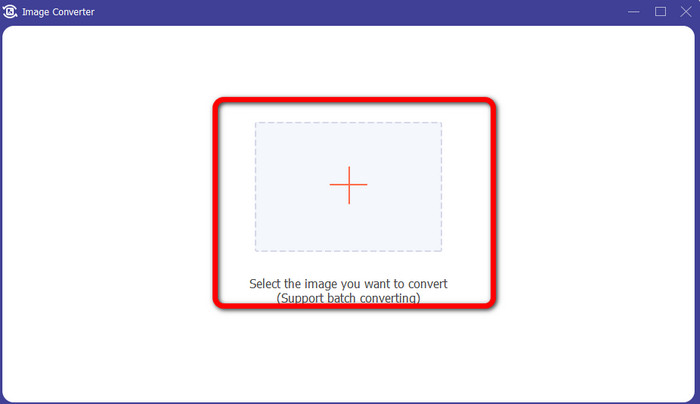 Step 4: If you want to add more files to do a batch conversion process, click Add Source File. Go to the upper-right corner of the interface and click the Convert All to option. Select the PNG format as your desired output format.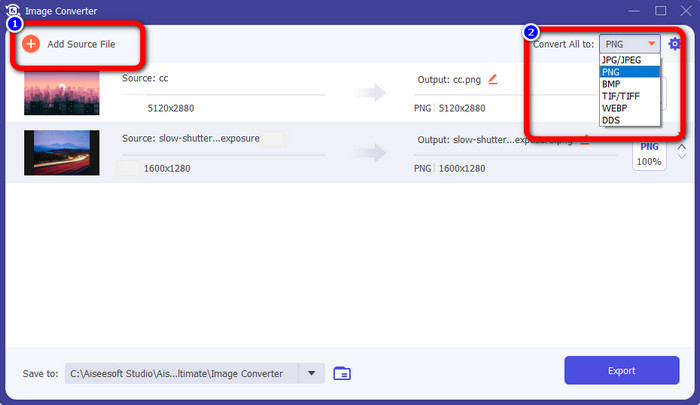 Step 5: Lastly, proceed to the conversion process by clicking the Export button. After that, your files will be saved to your assigned file location from this image converter.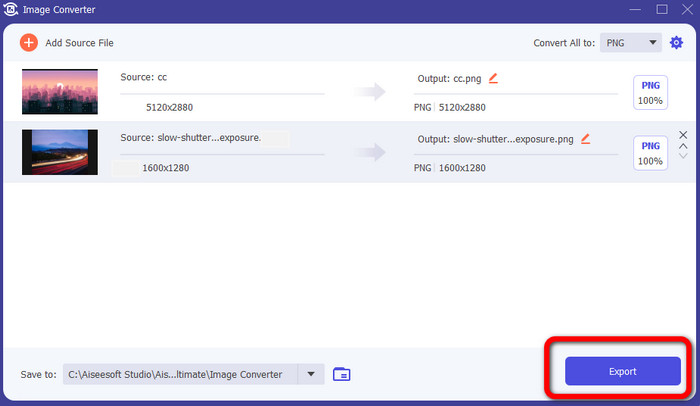 Part 5. FAQs about Converting ICO to PNG
1. How can I save an ICO to PNG in Photoshop?
Unfortunately, you cannot save ICO to PNG on Photoshop. It is because Photoshop does not support the ICO image file format. If you want to save ICO to PNG format, you can use an image converter like FVC Free Image Converter. This online converter allows you to convert ICO to PNG easily.
2. Is it possible to use PNG as an ICO?
Yes, it is. For additional information, the ICO files can be PNG files. ICO can contain a PNG file and bitmap + alpha at the same time.
3. What is the best ICO to PNG converter I can use?
The best ICO to PNG converter is FVC Free Image Converter. This converter can convert your file instantly. Also, you can use this converter for free.
Conclusion
Now you have learned the most straightforward ways to convert ICO to PNG quickly. But, if you are looking for an image converter that is free and simple, use FVC Free Image Converter.