Everything You can Learn about What is A PNG File
Nowadays, PNG file format is one of the standard image formats. You can see it on the internet, on computers, on mobile phones, etc. However, some users don't have an idea about this format. Luckily, this post will give you enough information you need. You will discover what is a PNG file format. In addition, this post will offer excellent methods to convert images to PNG file format.

Part 1. Detailed Information about PNG File
The raster family's Portable Network Graphics (PNG) extension performs lossless picture compression. It is not patented and was created as a replacement for GIF, the Graphics Interchange Format. Additionally to the standard grayscale images that provide transparency, they can be based on a palette. PNG does not support additional color types like CMYK. It is because one of its main purposes is to send images over the Internet. Also, it did not take any professional printing chores into account. The image in the file is divided into chunks with information. It includes pixels or textual comments encoded, and integrity verification is done under RFC 2083. Many users come across the PNG format. It's because it is one of the popular formats nowadays. It may be an email attachment or a picture you obtained from a website. Sometimes, screenshots have this resolution as well. It is more helpful to professionals who can use it.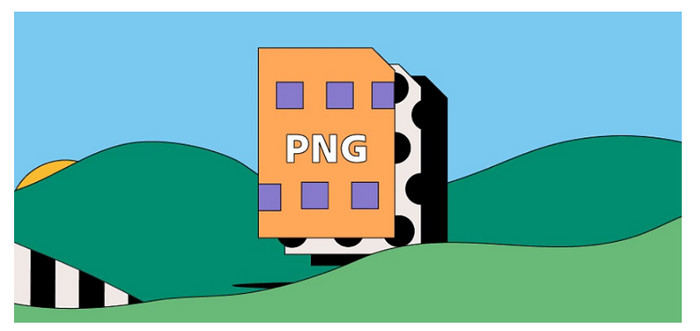 Historically, the PNG image format started in 1995. Oliver Fromme, an IT expert, came up with the format PING. But later on, it became PNG. This file format is the next evolution of GIF format. The GIF format is eight years older than the PNG. GIF has many disadvantages. It needs a patent license and a limited range of 256 colors. This limitation may affect the image when opening it on the computer screen. As a result, making a PNG file is the best choice. It is patent-free and has a larger color palette.
Part 2. How to Open A PNG File
Since you already know what a .png file is, this part will tell you how to open this format on your devices and different browsers. You can open your PNG photos in any popular web browser. It includes Firefox, Chrome, Explorer, and more. The method is trouble-free.
If you are using your browser, you can open the PNG image by pressing the ctrl + O on your keyboard. Choose the PNG image you want to open. Then, click the Open button from your file folder.

There are also ways to open PNG images on Photoshop, Drive, or other apps. You can navigate to File > Open > Select the photo. After that, click Enter. This way, you can view your PNG image on the application.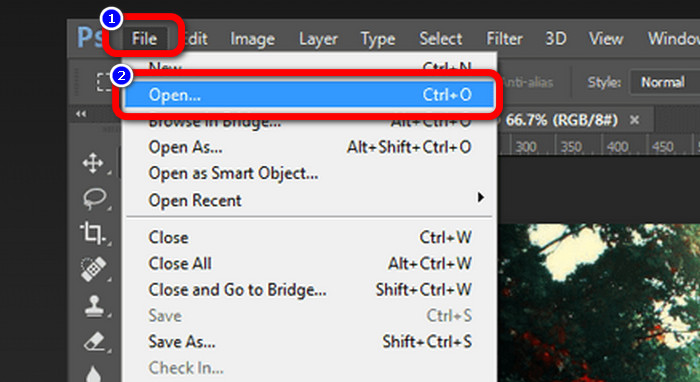 On your windows computer, it is easy to open a PNG file. Click the File folder from your taskbar to open it. Go to your Quick access tab to see the PNG image. When you see the image, right-click it and select the Open option. This way, you can view the image in full-screen mode.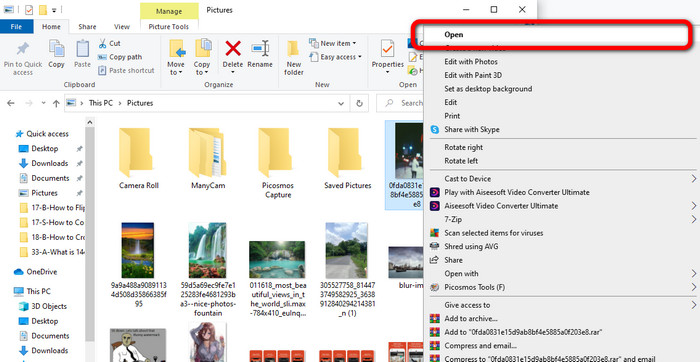 Part 3. Effective Way to Convert Images to PNG Format
Convert Images to PNG using FVC Free Image Converter
You can use various online converters to convert images to PNG format. However, some of them are not safe. Also, other converters are costly. If you want a safe and free image converter, use FVC Free Image Converter. This tool is one of the top-notching applications to convert images online. You can use it for free, making it accessible to all users. Also, you can upload images with different formats like TIFF, JPG, PNG, GIF, and more. In addition, converting images is simple. It only offers three steps to convert your images to PNG format. You can also convert many multiple images at once. This converter offers a batch conversion process. This way, you can save more time. Moreover, it guarantees privacy by deleting your data after the conversion process. Furthermore, you don't need to register or create an account in this app. You can use it after opening the website.
Step 1: First, visit the FVC Free Image Converter website. When you are on the main webpage, navigate to the format option and select the PNG file as the desired output format.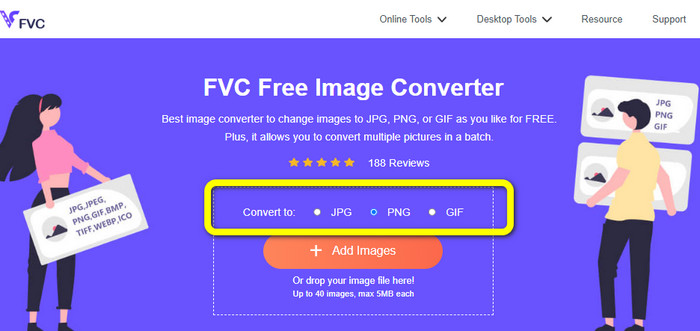 Step 2: Click the Add Images button on the center interface to upload the photo. Open the photo you want to convert from your file folder..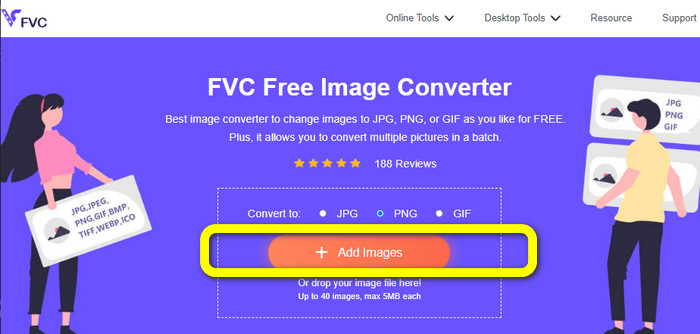 Step 3: After the conversion process, click the Download button to save your final image. After that, you can open your PNG image on your computer.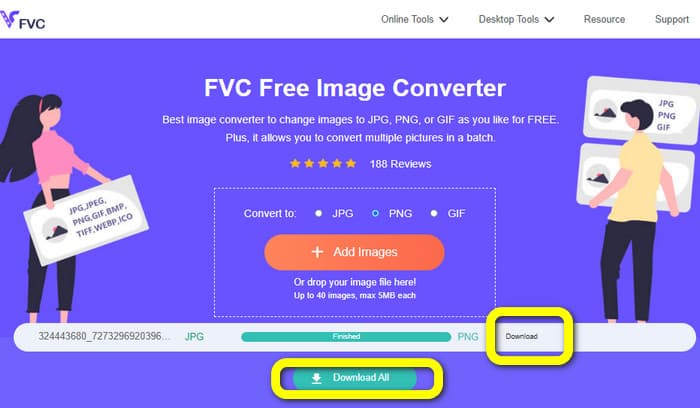 Convert Images to PNG using Coolutils
You can use the image file converter Coolutils online without downloading anything. There is no need to wait for an email link because this online converter immediately performs the conversion for you. This online tool allows you to convert images to PNG format quickly. One aspect of this service we like is the ability to rotate and resize an image before converting. However, it doesn't show a preview of how the rotated image will look after conversion. Because it works through a web browser, you can use this method with any operating system, including Windows, Linux, and Mac. This program supports many input formats, including JPEG, PNG, GIF, BMP, and TIFF.
Step 1: Open your browser and search Coolutils. Then, click the Upload File to Convert button to add the image you want to convert.
Step 2: Select the PNG format from the format options.
Step 3: Click the Download converted file button to save your image on your desktop. You also can use this tool to convert images to JPG.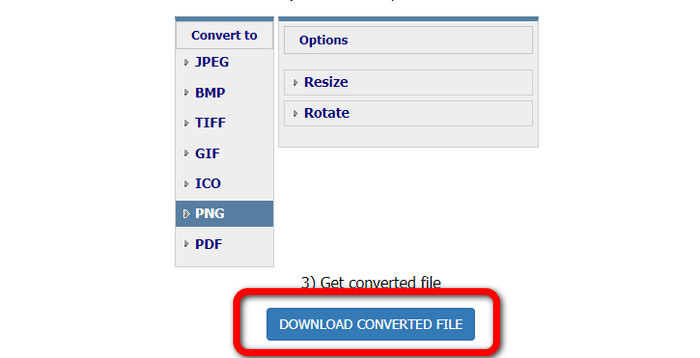 Part 4. FAQ about PNG File
1. What is the difference between PNG and JPG?
The main difference between PNG and JPG file formats is their compression algorithm. The PNG file format uses a lossless algorithm. It means that it can keep all the information from the image. The JPG format uses a lossy compression algorithm. It discards some of the image information to lessen the file size.
2. How effectively does the PNG format display written text?
It is effective. The lossless compression of this file can display text-heavy photos. It includes page layouts and screenshots. Scans of printed text like handwritten documents and newspaper pages are included.
3. What is better, JPG or PNG?
It depends on your purpose. JPG file lowers the image quality. It also works better for reducing the file size of an image. PNG compressed the file while preserving the image quality. It is excellent for storing items, such as text, iconic graphics, and line drawings.
Conclusion
All the information above tells you about the PNG file format. It even gives you enough data about what a PNG file is used for. Moreover, this article shows you practical instructions on converting images to PNG format using FVC Free Image Converter. So, if you want to convert image files, use this trustworthy image converter online.