How to Convert SVG to JPG Quickly [Super Easy Ways]
You might want to convert an SVG image to a JPG one for several reasons. One possibility is to make editing simpler. A vector-based image editor is required for SVGs. However, raster-based image editors are more commonplace among users. Microsoft Paint and Adobe Lightroom are part of it. Using Lightroom to edit an SVG might be possible if you first convert it to a JPG. Online sharing is another reason to convert SVG to JPG. JPGs are almost always accepted by websites and apps that allow image uploads. However, it is unlikely that it would take an SVG. For instance, while Instagram accepts JPGs, it does not accept SVGs. The article will give you practical methods to change SVG to JPG. Also, you will discover the best image converters you can use online and offline.

Part 1. Compare SVG and JPG
File Format
SVG
JPG
Filename Extension
.svg
.jng
Developed By
World Wide Web Consortium
The JPEG Committee
Developed By

SVG

is a vector image file format for 2D graphics based on XML. Animation and interactivity are supported. In XML text files, SVG pictures and their behavior are defined. Since SVG files are just XML files, they may be edited with any text editor.

JPG

is are used for websites and email because they have reduced file sizes. However, since JPG is lossy, it will affect the image quality after compression. The resulting "lossy" file signifies that the quality is lost. The memory cards for digital cameras use the JPG format.
Technical Details
SVG is a format used to define XML-based vector-based graphics for the Web. This file won't lose image quality even when zoomed in or resized. The SVG file's elements and attributes can all be animated.
JPG is an image file format for editing still photos. It provides a symmetrical compression technique that is processor intensive. It is also time-consuming in both compression and decompression. JPEG is a common standard of the International Telecommunications Union. It also includes the International Organization for Standardization.
Associated Programs
Adobe Photoshop
Adobe Preview
Corel Paint Shop Pro
Corel SVG Viewer
Microsoft Windows Photo Gallery Viewer
Adobe Photoshop
Adobe Preview
Corel Paint Shop Pro
Part 2. Best Way to Convert SVG to JPG Online
The best tool you can use is FVC Free Image Converter. It can convert SVG to JPG with ease. Additionally, it is possible to convert several SVG files to JPG at the same time. It provides an easy-to-follow UI and instructions, which is ideal for users. This image converter has the capability of batch conversion. Additionally, you can download numerous converted files with a single click. This tool's lack of annoying advertisements is one of its positive aspects. You can concentrate on converting files without encountering any ads. In addition, it accepts input files in various formats, such as PNG, BMP, TIFF, GIF, etc. Additionally, installing this converter is not necessary. It is controllable through your browser. Moreover, after conversion, the image quality will be the same as the original. This way, you can ensure that your image will still have an excellent appearance. Also, your information is safe on this website. After converting and saving images, it will eliminate all your data automatically.
Step 1: Go to the main website of FVC Free Image Converter. Before adding the SVG image file, choose your desired output format. Click the JPG format from the format option.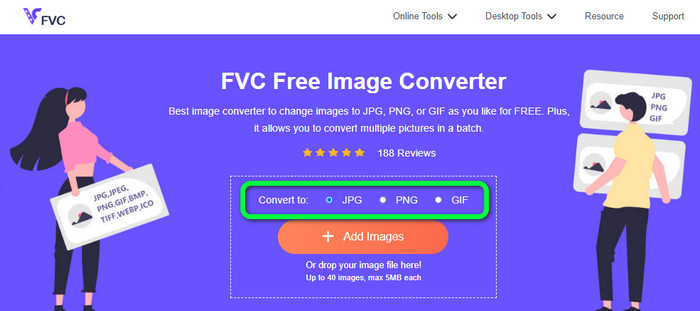 Step 2: Click the Add Images button on the center interface. After that, your file folder will appear on your screen. Choose the SVG image you want to convert and open it. You can also drop the SVG file directly into the box. Click the Add Images button again to do a batch conversion process.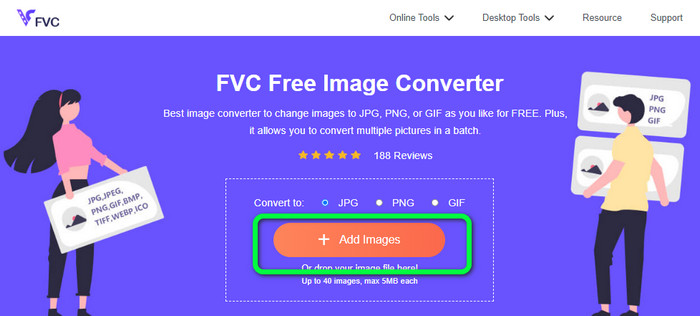 Step 3: While uploading the file, it will convert the image automatically. For the last step, click the Download button on the right interface. After the saving process, open the converted image on your computer.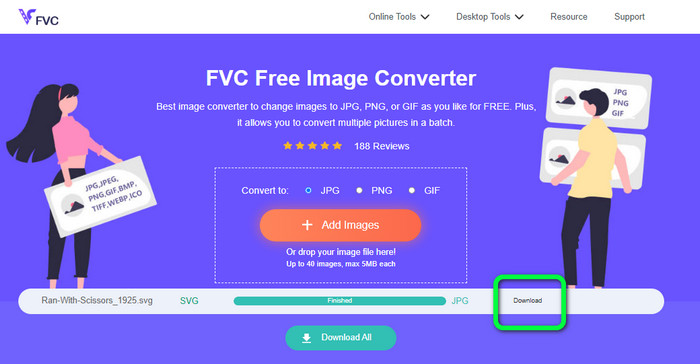 Part 3. Easy Method to Convert SVG to JPG on Windows
You will discover the finest method for converting SVG to JPG offline on Windows computers in this section. The use of HitPaw Video Converter is one of the efficient methods. The Image Convert feature of HitPaw Video Converter makes batch image conversion simple. You can import photos and graphics in various formats and convert them to the format you want. For bulk or individual image format adjustments, this is a great choice. It also supports all widely used photo formats. These formats are PNG, JPG, HEIC, RAW, BMP, and more. So you also can use this tool to convert BMP to JPG or PNG. Additionally, this downloadable program offers other options in addition to converting. You can download music and video files using this software. Your videos can also be edited by rotating, cropping, and using filters. However, HitPaw Video Converter is difficult to use, especially for beginners. It has a confusing interface, making it hard to understand. Also, the installation process takes a lot of time.
Step 1: Install the HitPaw Video Converter on your Windows. Then, after the installation, run the application.
Step 2: Navigate to the Toolbox panel and select the Image Converter tool. Select the SVG image file you want to convert from your computer folder.
Step 3: Click the Convert All to option on the lower-left corner of the interface. Then, select the JPG format as your output format.
Step 4: Finally, click the Convert All button on the lower-right corner of the interface. Wait for the converting process. Then, you can already open your image in PNG file format.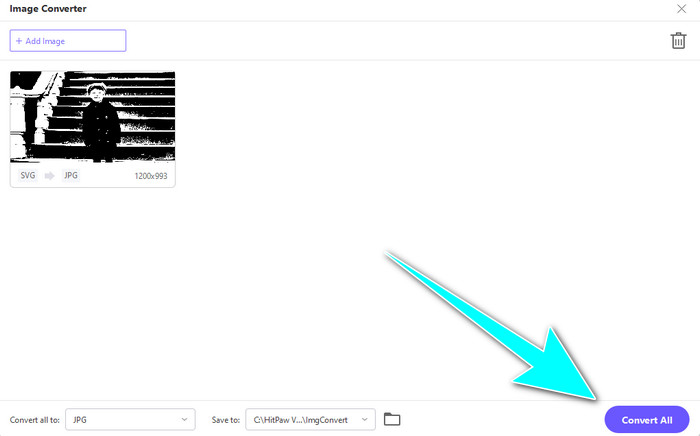 Part 4. How to Convert SVG to JPG on Mac
If you desire to convert SVG to JPG using Mac, use BatchPhoto Pro. It supports various image formats. It includes JPG, PNG, ICO, SVG, EPS, and 170+ more. You can even save images as PDFs. It also offers a batch conversion process. This way, you can convert multiple files simultaneously. Additionally, aside from converting images, it has another feature to offer. You can edit your photo by resizing, rotating, and adjusting the color settings. However, you must purchase the program if you want to use it continuously. It can only offer a few days' trial version. The conversion process is also hard to understand. Non-professional users will find it complicated to convert images.
Step 1: Download and install BatchPhoto Pro. You can grab the free trial version. After installing the application, launch it.
Step 2: On the upper part of the interface, select the Add Photos option. After clicking, add the SVG images you want to convert to JPG format. You can add multiple files at once.
Step 3: Go to the Set Up option on the upper part of the interface. Navigate to the Output Format options and select the JPG format.
Step 4: Click the Process option to start the conversion process. Once done, go to your output folder and check your converted image.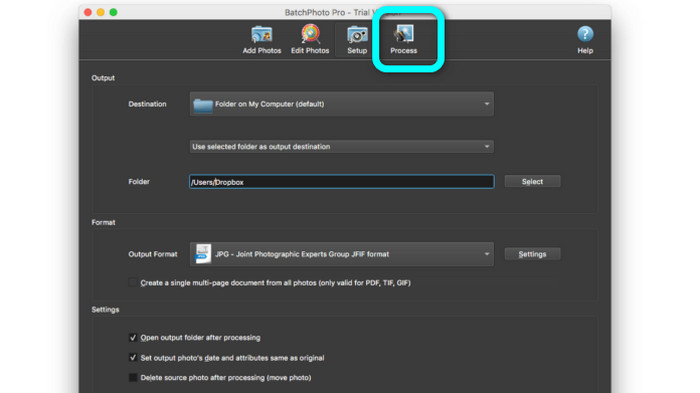 Part 5. FAQs about Converting SVG to JPG
1. Why should you convert SVG to JPG?
Compared to SVG, JPG is more suitable for social media and other devices. It is one of the popular image formats you can use nowadays. In SVG, you can only open this file on web browsers. So, converting SVG to JPG is necessary for more compatibility use.
2. What are the advantages and disadvantages of SVG files?
You can expand or shrink an SVG file to any size without losing quality. SVGs don't care about the display type or image size. The way they seem is constant. SVGs also give designers and developers a great deal of control over how they look. It is better than editing them in a text editor. Even other visual elements like shadows and color gradations are adjustable. However, there are better formats than SVG for a detailed, high-quality photo. Users construct vector graphics using points and pathways rather than pixels. Code is also necessary.
3. How do I open an SVG file?
The best way to open an SVG file is to go to your browser. Press the ctrl+o on your keyboard. Then, choose the SVG file you want to view and click Open.
Conclusion
Well, that's it! The information above are ways to convert SVG to JPG on Windows, Mac, and online. However, downloading an image converter is a hassle. So, if you want a simpler way to convert images, use FVC Free Image Converter. This image converter online lets you convert images directly on browsers.