Unbiased Review about the Image Resolution Enhancer [Offline & Online]
Image resolution enhancer became a perfect solution for those who want to achieve superb image quality without the help of premium devices or lenses. Everybody hates having a poor-quality image because of the disadvantage it brings to the picture you snap. But not everyone is accessible to have a high-end camera because of their prices. This common problem we encounter daily has a solution. Do you want to know what these are? Get ready as we sort out the best solution to fix your poor image quality using the apps you can download or use on the web.

Part 1. 3 Best Image Resolution Enhancers You Can Freely Use [Web Service]
FVC Free Image Upscaler - Best AI-Powered Image Enhancer You Must Use on the Web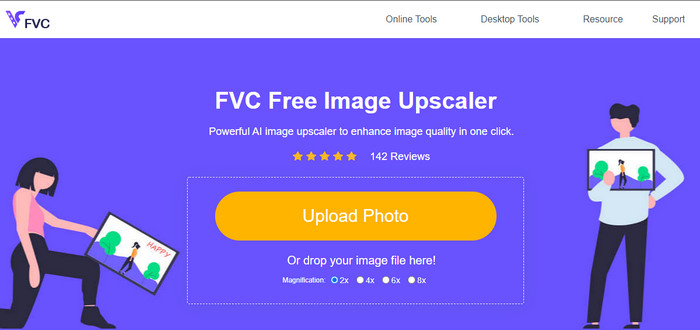 Price: No-cost
With a web-based resolution enhancer, you can solve the problem of your blurry images instantly. FVC Free Image Upscaler allows every pro and non-pro editor to fix their shared problem without compromising its overall appearance. Though the app is accessible online, it is still a competitive tool that you would love to use to automatically enhance your pictures with an AI. Yes, you read that right! This online tool is powered by an AI that detects the problem on your image, whether it is blurry, red-eye, pixelation, or light issues. You wouldn't need to tweak settings anymore; once you upload the image, everything will become perfect. In addition, you can select options you want to apply to your image by adjusting it into 2x, 4x, 6x, and 8x to enlarge the image without affecting the quality.
Do you doubt what we say? You better click the name of it to access and try it for yourself. Enhance your image limitless with the help of the best solution we found on the web.
Advantages of Using the FVC Free Image Upscaler:
◆ It is a perfect one-click free photo pixel enhancer to fix the issues on your images.
◆ All-inclusive AI image editor that does the work for free.
◆ It has the most potent auto-enhancement feature to turn images into picture-perfect.
◆ You can upload your images here by dragging and dropping them on the website.
◆ You wouldn't see any ads popping out of nowhere on the main website.
◆ There is no need to log into your account here or sign up.
◆ Downloading an installer isn't needed, so you can skip that step when you use this.
VanceAI Image Enhancer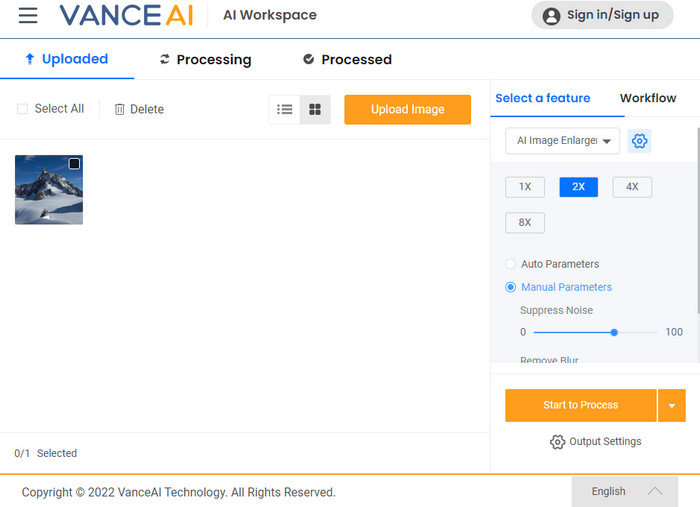 Price: $ 5.94 for the starting price, and it can go up to $ 89.99
To those who need another AI-powered picture resolution enhancer on the web, you can try and use the VanceAI Image Enhancer. It is known for having features that are best to turn your images into the best output you've ever seen. Even though you aren't an experienced editor, you can still manage to do the editing you will need to your pictures as quickly as possible with this app. Besides enhancing the image resolution, you can also do multiple things that the other enhancer can't offer. Such as cutting, cropping, resizing, editing, and more.
But before you start using this app, you will need to know that you are limited to 8 times weekly. So, if you want to enhance more images, you must purchase a credit here.
Advantages of Using the VanceAI Image Enhancer:
◆ You wouldn't need to download this full-featured software on your desktop.
◆ It offers additional editing features such as resizing, cropping, enhancing, and more.
◆ You can suppress noise and remove blur manually or auto-adjust the parameter.
◆ Enhance multiple images simultaneously.
Deep Image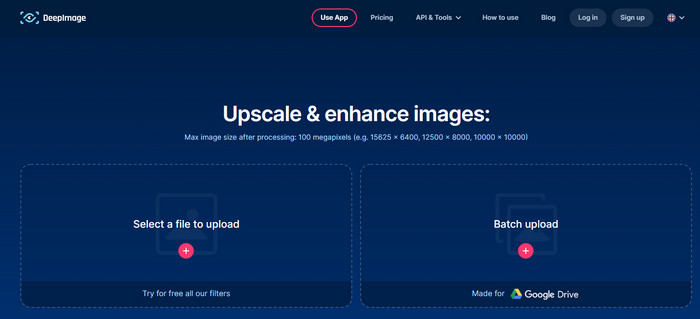 Price: $ 7.50 for the starting price, which can go up to $ 32.50
Deep Image might be your need as a clear resolution enhancer. With it, you can adjust your images by tweaking the editing parameters that could make your image HD. Whether you have the idea of doing it or not, you can still achieve the best for post-processing your photos. Also, you can batch upload the image here and enhance it even if it is saved on Google Drive. You can say goodbye to your blurry images once you improve them here.
Developers add restrictions to the advanced features, and you will need a subscription to acquire them. In addition to that, you will need to sign in here before you can start the process, and it adds a watermark on images for most images.
Advantages of Using Deep Image:
◆ It supports additional image editing features that you can't have on other tools.
◆ You can upload multiple images here and enhance them simultaneously.
◆ It has an intuitive user interface to let all users experience an easy task.
◆ It is the best choice for expert editors and beginners.
Part 2. Top 2 Image Resolution Enhancers to Download on Desktop [Offline]
PhotoPad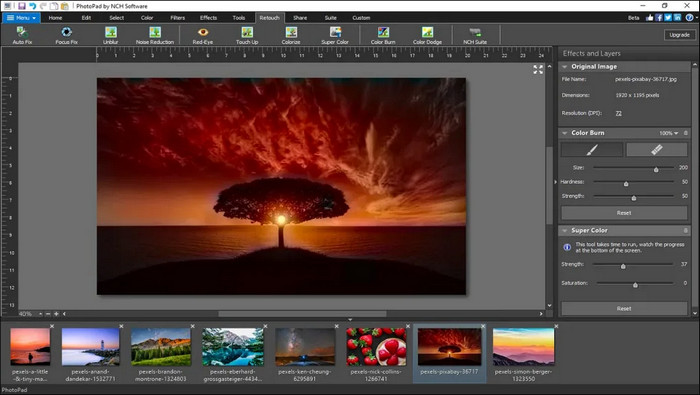 Price: Free
PhotoPad allows Windows-user to edit images quickly, but it is also a dependable resolution booster. It is a stable app, so you won't experience or have fewer crashes, and it is also a comprehensive editor. Besides, you wouldn't need to have high-end desktop specs because it can run even if you use low-end specs. Though the GUI of it looks outdated, it is still a one-for-all software that serves the best, and it has other parameters you can adjust to bring contrast and brightness to your photos. Ensure to download the software on its official website because it is free.
Though the software is an excellent addition to your editor, it still doesn't support another version such as Mac. So far, the app is available on Windows OS only. Also, the app needs to update its GUI because it looks too old and is not a professional solution to solve the image problem.
Advantages of Using the PhotoPad:
◆ Free to download even if you are using a low-specification of Windows OS.
◆ Multifunctional image editing features are available, but most are basics.
◆ It supports a wide range of image formats you can upload into.
◆ You can tweak the images to your desired contrast and brightness quickly.
Image Enhance Pro 4+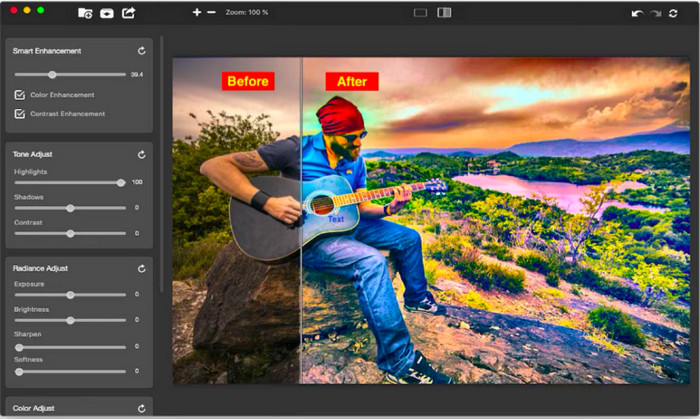 Price: Free
Image Enhance Pro 4+ is a low-resolution photo enhancer you can safely download on your Mac for free. You can produce high definition image with extreme details once you've edited it here. This software uses its HDR algorithm to make the low-resolution images into one the high-definition images you can have, and you can use smart enhancement. Other than image upscaling it adds, you can also apply other things such as filters.
Even though the enhancer is accessible on Mac, you might likely use this because of the extensive features you can have here. There are some features that this tool doesn't support, like advanced editing. Most pro doesn't like this to be their first choice. Also, the developer doesn't support a Windows version of this software. Nevertheless, this software is free and user-friendly for those who want to enhance and turn their image into something incredible they have never seen before.
Advantages of Using the Image Enhance Pro 4+:
◆ You can download and have the software for free on your Mac devices.
◆ It has an almost complete editing feature that you would like to use to make your image better in look.
◆ You wouldn't have trouble using it because of its simple interface, even if you are a beginner.
◆ It supports a top-of-the-line color and contrast enhancement.
Part 3. FAQs about Image Resolution Enhancer
Do I need to enhance the resolution of the image?
Yes, you will need and enhance the image resolution based on your needs since most websites look into the images' resolutions before you can post them. For instance, if you didn't check it, the website will automatically compress the image based on its standard.
What happens if I use a low-quality image on the web?
Images with low resolution will load faster than those in HD photos, which is perfect for creating traffic on your website because of its fast loading.
Why did my image turn blurry after changing the resolution?
Resolutions are affecting the visual appearance of the image. If you change the dimension of the image to a certain resolution, you are trying to reach the standard of a particular resolution size. The tool can change the resolution, but not all can add PPI to your image. It is better to check the enhancer you want to use.
Conclusion
Now that you have the list of image resolution enhancers, you can easily figure out which to use based on our review of each one. All the tools we add here are the best enhancer you may or may not encounter on the market. If you don't like to tweak much and let the AI do the job, then you must use the first web tool we add in part 1. Kindly rate us 5-stars after reading this article.