3 Easy Ways to Play Music on Xbox One While Gaming
Want to play music in the background while gaming on Xbox One? Even though lots of video games have great soundtracks accompanying the gameplay, many players still prefer listening to their own music. Are you one of them?
If you have many great songs collected in Apple Music app, you may like to sync them to Xbox One with the same account and play them in the background while playing Xbox One. Is there an Apple Music app for Xbox One, just like Spotify and Pandora? How to Play Apple Music on Xbox One?

It's easily to find out that, there is no specific Apple Music app of Xbox One. But some other music apps offered there allow you to play background music on this Microsoft game console. This post shares 3 ways to play music on Xbox one.
Part 1. How to Play Music on Xbox One
As it mentioned above, Xbox One Store provides users with many music apps to enjoy music in the background while gaming, such as Spotify, Pandora, SoundCloud, iHeartRadio, MyTube, Groove Music, and more. Here in this part, we take the popular Spotify as an example to show you how to play music on Xbox One.
Step 1. First, you should go to the Microsoft Store, Xbox One Store. When you highlight the store icon, press A on your Xbox One controller to open it.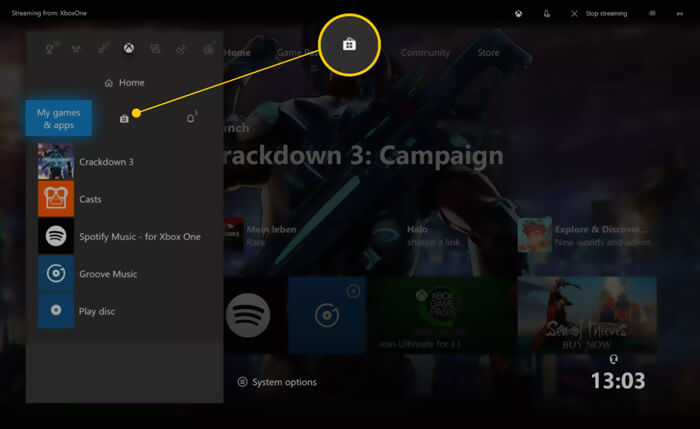 Step 2. Move to the Search bar and type the music app name with the onscreen keyboard. Here you can type Spotify to locate it. Choose it from the searching results below and press A. Click the Get button to install the Spotify app on your Xbox One.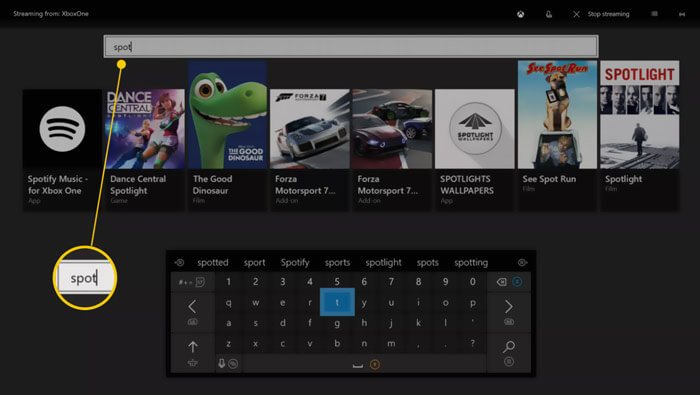 Step 3. Back to My Games & Apps and choose See All. Scroll down to Apps on the left pane and then locate the Spotify app you just installed.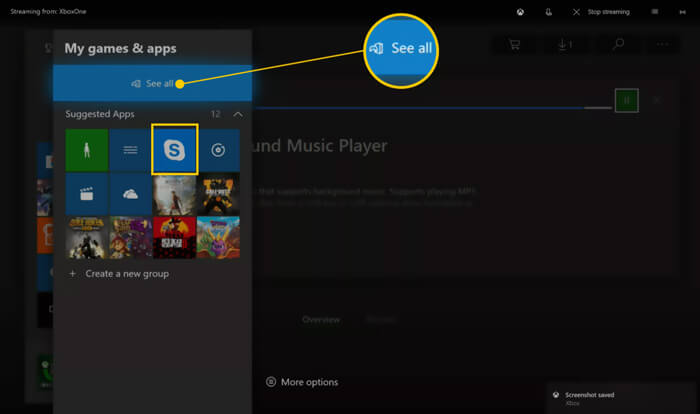 Step 4. Open this music app for Xbox One and search for the songs or playlist you want to play when you play video game. Click the Play button to play it.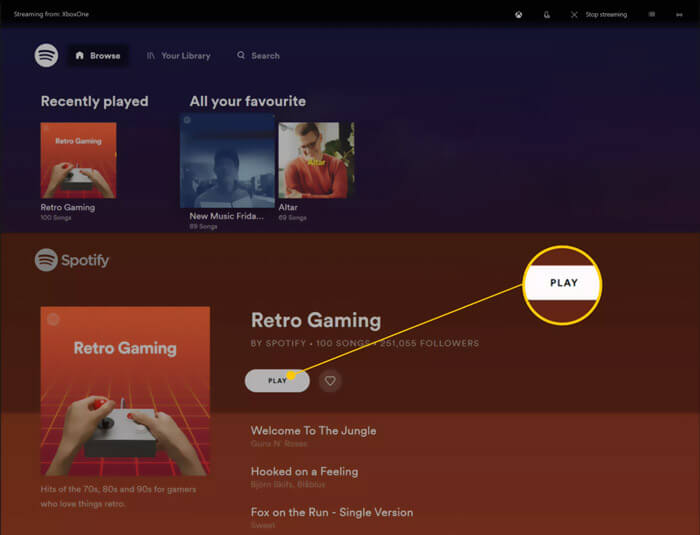 Now you can enjoy music while gaming on Xbox One. Note that, not all music apps are allowed to play when the video game playing. Spotify and Pandora can work normally.
Part 2. How to Play Music on Xbox One from Phone
It's a big demand that many gamers like to play music on Xbox One from phone. If you want to play songs from Apple Music, you can rely on the AirServer. It allows you to stream music on Xbox One from your phone. This app can be directly downloaded from Xbox One Store at $20.
Step 1. Go to Xbox One Store and search for the AirServer Xbox Edition. You can use the similar way to install it. AirServer offers a free trial. You can try some basic features before buying it.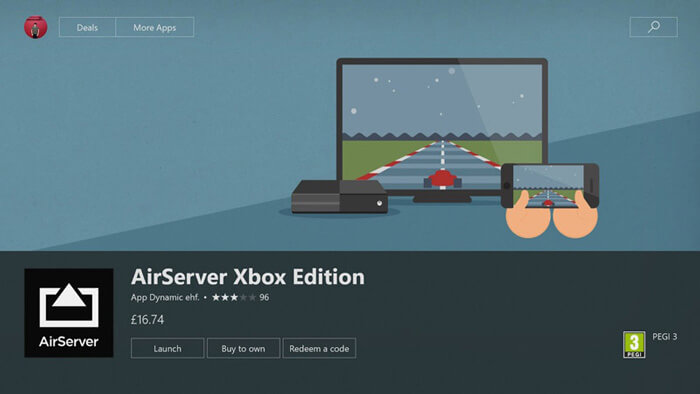 Step 2. Go to App Store and install the AirServer Connect app on your iPhone. Then open AirServer on Xbox One and press A to display an on-screen QR code.
Step 3. You need to use the Scan QR Code feature to it. You are required to allow the camera access.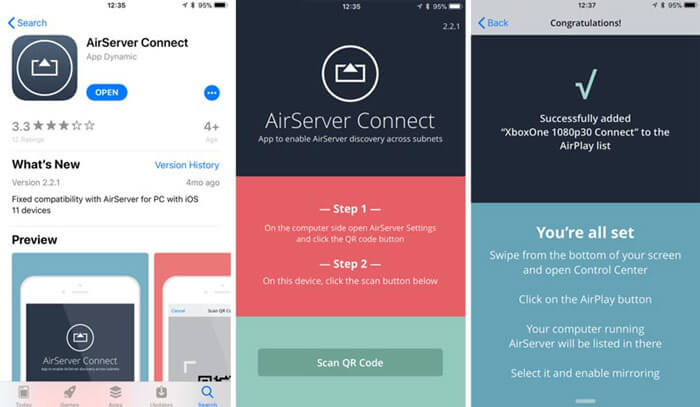 Step 4. After all these operations, you can open Apple Music app and then play the song you like. Arise the Control Center on your iPhone and tap the AirPlay icon. Choose Xbox One from the device list. Now the Apple Music can be played in the background on Xbox One. With this method, you are also allowed to play other music on Xbox One from phone.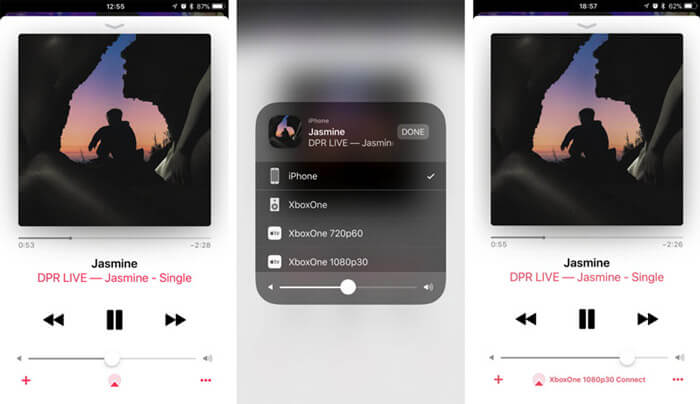 Part 3. How to Play Music on Xbox One Through USB Drive
Xbox One supports the media files playback from a USB 1.0, 2.0, or 3.0 removable drive. Many popular audio formats like MP3, AAC, WAV, WMA, 3GP audio, ADTS, and more can be supported by Xbox. You can download songs and then play them on Xbox One through USB drive.
Because songs from Apple Music are protected by DRM. So, you need to convert music to MP3 for Xbox One. Here we recommend a free audio converting tool, Free Online Audio Converter to help you convert music to Xbox One. It has the capability to convert audio file without quality loss.

Go to this free music to Xbox One converter on your browser. It is compatible with any frequently-used web browser including Chrome, IE, Firefox and Safari. Click the Add File to Convert button to install a small launcher file for the music converting. Then you can add your songs to it and make the conversion with ease.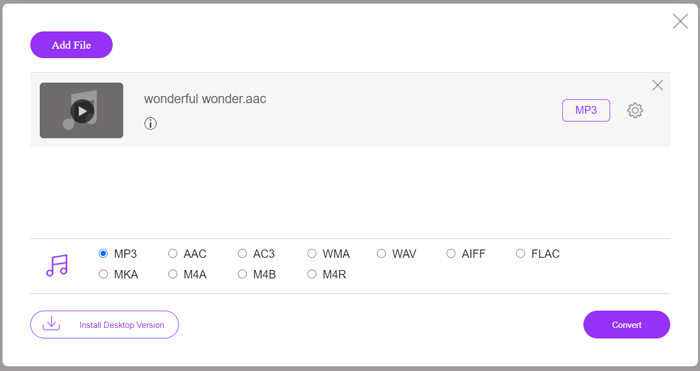 After the audio converting, you can connect these songs to Xbox One with a USB drive. Open Music Player on Xbox One, find and then play music in the background while gaming.
Part 4. FAQs of How to Play Music on Xbox One
Question 1. Can you use AirPods on Xbox One?
No. You can't pair your Apple AirPods to an Xbox One console. What's more, it's also impossible to connect AirPods to Xbox controller headphone jack.
Question 2. Does Xbox One have Bluetooth?
No. Microsoft's Xbox One lacks the Bluetooth support. It doesn't offer a built-in way to pair any Bluetooth device to the game console.
Question 3. How to start Xbox One party?
You can easily start one Xbox One party by inviting your friends from Friends hub. Choose the friend you want to invite, select Send, and then select Party invite. Also, you can select your friend on his or her gamer card, scroll down to Join and then choose Party.
Conclusion
How to play music while gaming on Xbox One? After reading this post, you can find 3 useful methods to play any music including Apple Music songs in the background on your Xbox One game console.