Top 5 VOB Players for Windows 10/8/7 PC and Mac
VOB (Video Object) is not a popular video format like MP4, AVI, old RMVB, or even the YouTube FLV. It is a container format in DVD-Video media. A VOB file can store videos, audio tracks, subtitles, DVD menus and navigation contents. Actually, you don't care about some format like VOB until you get the unsupported issue.
VOB format can't be opened by many media players, iOS/Android devices, and video editing tools. Windows Media Player won't play VOB files on Windows 10 PC. Meanwhile, you are not allowed to directly view a VOB file on Mac with QuickTime Player. Then how to play VOB files?

Considering your need, we like to introduce you with 5 great VOB players for Windows 10/8/7 PC and Mac. You can learn the key features of each VOB file player and then choose your preferred one.
Part 1. Free VOB Player for Windows 10/8/7 PC and Mac
FVC Free Video Player is a very popular online video and audio playing tool which can help you play any VOB files on both Windows 10/8/7/XP/Vista PC and Mac. This free VOB file player can give you a high quality VOB playback. Besides VOB, it also supports other video and audio formats including MP4, AVI, MOV, MKV, FLV, WMV, 3GP, MXF, MPEG, RMVB, MP3, AAC, M4A, WMA, FLAC, and more.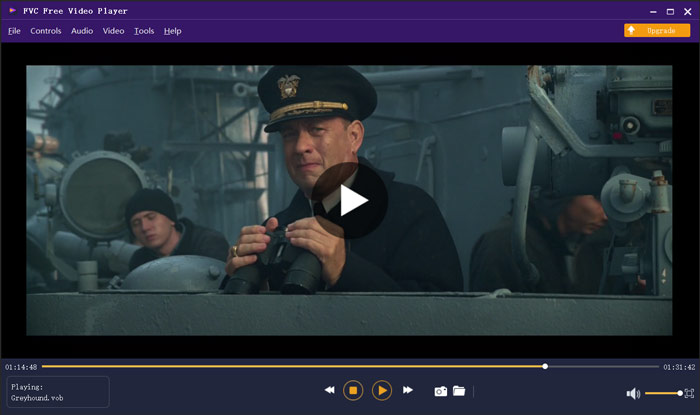 This VOB player does not require any other codec or plug-ins to play your VOB videos. Just navigate to its official site and install a small launcher file at the first time, you can freely play all your media files with ease. This VOB file player is adopted with the advanced DTS-HD and Dolby TrueHD audio encoding technology. You can get a great sound experience while the VOB playing.
Part 2. Open Source VOB Player for Windows 10 and Mac - VLC Media Player
VLC media player is an open source and all-featured player which enables you to watch VOB files on either a Windows 10/8/7 PC or a Mac. In fact, it can also work as a VOB player app for Android and iOS devices. VLC media player is totally free to use. Apart from VOB, VLC is also able to play media files in MP4, MOV, FLV, MKV, MOV, AAC, AC3, MP3, and more. When you insert a DVD disc into your computer, VLC can act as a standard DVD VOB player to play the VOB file for you.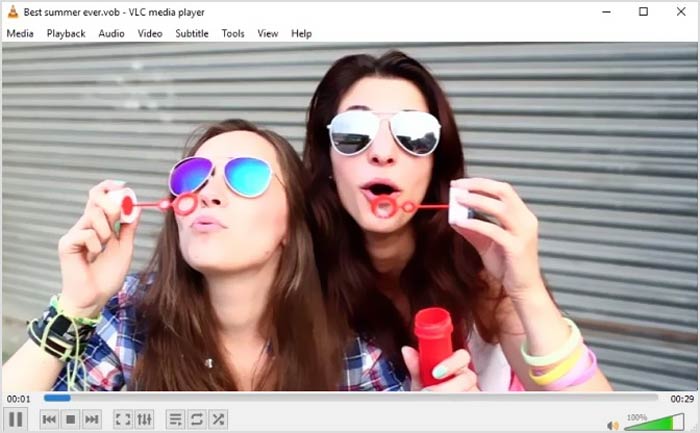 As a VOB file player, VLC enables you to access all DVD menu, chapters, and other contents. To play a VOB file with VLC, you should install and open it on your computer, and then import your VOB video to start the playing. Besides the basic playback feature, VLC media player is also designed with converting, editing, recording and other useful functions.
Part 3. VOB File Player for Android/iOS/Windows/Mac - KMPlayer
KMPlayer is another popular video playing software which can help you play VOB files. It has a wide range of video format support. KMPlayer has the capability to play videos in VOB, MPEG, MP4, WMV, MOV, AVI, OGG and more. It can work as a great VOB player for Windows PC and Mac. Moreover, KMPlayer offers apps for you to view VOB on both Android phone, iPhone and iPad.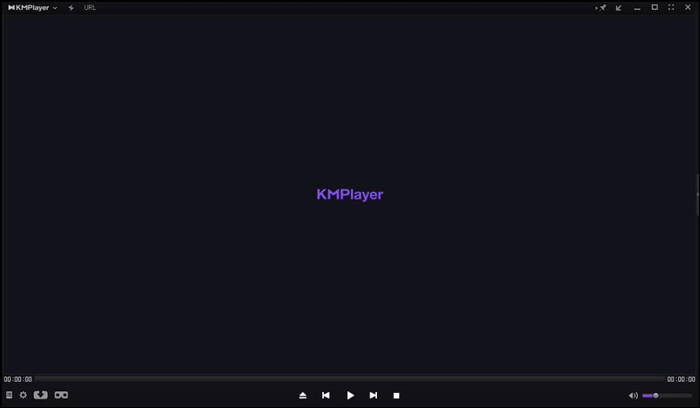 This VOB video player allows you to create and manage your own playlist, adjust various subtitle settings, custom audio effects with equalizer, and more. KMPlayer also carries the search, could, network play, timer, and other features. It claims that it can offer you a high resolution video playing even up to 4K.
Part 4. VOB File Player for Windows 10 - Final Media Player
Final Media Player is a video playing tool for Windows users. It highly supports over 80 types of audio and video files. You don't need to install other obscure codecs for the VOB playing. It enables you to play VOB files on Windows 10 PC with high quality. Besides VOB, it also supports 3GP, ASF, AVI, DIVX, FLV, M4V, MKV, MOV, MP4, MPEG, MPG, MV, MXF, RMVB, SWF, WMV, XMV, XVID and more.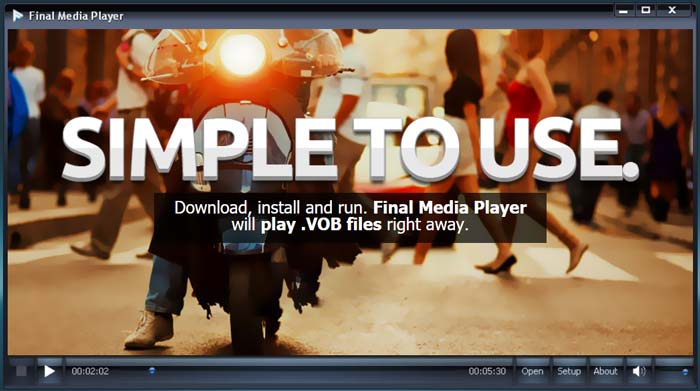 Part 5. VOB Player for Mac and Windows 10/8/7 PC - 5KPlayer
5KPlayer is a powerful video and music player which enables you to play VOB files on both Windows 10 PC and Mac. It is a mixture of video player, music player, AirPlay and DLNA enabled media streamer and video downloader. As a hardware-accelerated VOB file player, it guarantees that you can view VOB files with great visual and sound experience.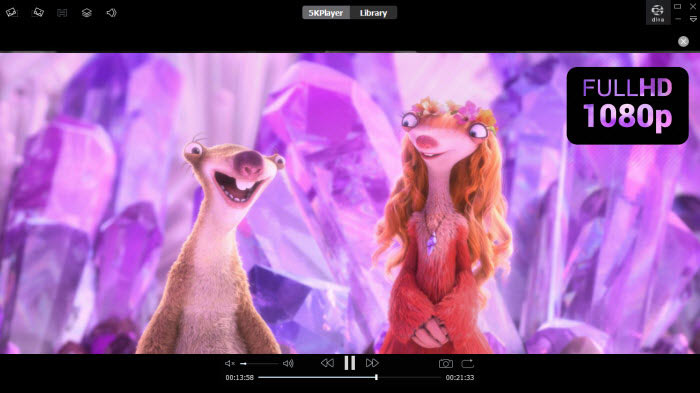 This VOB player provides you with a free trail for various functions. But you should know that, 5KPlayer is not a totally free playing tool.
Part 6. FAQs of VOB File Player
How to play VOB files in Windows Media Player?
As it mentioned above, you can't directly open VOB files on Windows 10 with Windows Media Player. You need to install the VOB codec or convert VOB to MP4 for the playback.
Can you edit VOB files with iMovie?
No. VOB format can't be supported by Mac, QuickTime Player and iMovie. You are not allowed to open or edit a VOB file in iMovie.
How do free convert VOB to MP4?
You can rely on the popular free VOB to MP4 converter to make the video conversion with ease. It is also able to convert VOB to MOV for the video playing on Mac.
Conclusion
We have mainly talked about VOB player in this post. We make a list of 5 best VOB file players for you to choose from. Whether you are looking for a VOB player for Windows 10, Mac or Android/iOS device, you can easily find a suitable one.