Top 3 AC3 Recorders that Works Perfectly with Windows and Mac Computers
A new file format with low frequency and doesn't require much amount of storage on your mobile device or PC, is now widely being used nowadays. AC-3 is a digital audio coding technique that contains small amounts of data but produces high-quality audio. This is also known as Dolby Digital. Reducing or eliminating background noise is its specialty. This type of audio is a must-have for your music library on your mobile device or PC. Also, this can be useful for those who host parties needing background music. Will it be possible to acquire such a file? The answer is yes. In fact, you only need recorders that support it. Speaking of which, you are on the right page. Check out our list of AC3 audio recorders below.

Part 1. Top 3 AC3 Recorder for Windows and Mac
FVC Screen Recorder
In three easy steps you can get the same exact quality of AC3 with FVC Screen Recorder. This desktop tool is compatible with Windows and Mac. The default output of the tool is producing the highest audio quality just like AC3. You can now have the freedom to record your favorite music, Podcast, video chatting conversations and narrations. More than recording the audio, you can use this to screen record your computer screen for any video tutorial you might want to do.
Significantly, you can adjust the bitrate of the audio to come up with the best sound quality that you are desiring to. Since it records the system sound, you are sure that there is no background noise in the recording. It is like you have recorded the file similar to the original.
So it is safe to say it is a good option for you. Below is a list of more features of the tool.
● With a clean interface and straightforward buttons.
● Security guaranteed by keeping your files privately.
● Real-time playback.
● Record microphone and audio simultaneously.
● With screen recording and audio recording separately or together.
Meanwhile if you want to use and try the app to test the water. A simple guide was written below so you can easily follow.
Step 1. Click the buttons below to get the app.After following through with the installation process launch the app.Then choose Audio Recorder.
Step 2. Once the tool is launched, toggle the System Audio if it is not enabled, but by default, it is enabled. Then click the REC button to begin recording.
Step 3. Once you are done with the recording, click the red Square button.

Step 4. The next window that will show is where you can re-record or save the file. Click on Save then choose the file location where you want to save it and finally, you will see the shortcut list of the files recorded. The list is arranged from the latest to the oldest recording.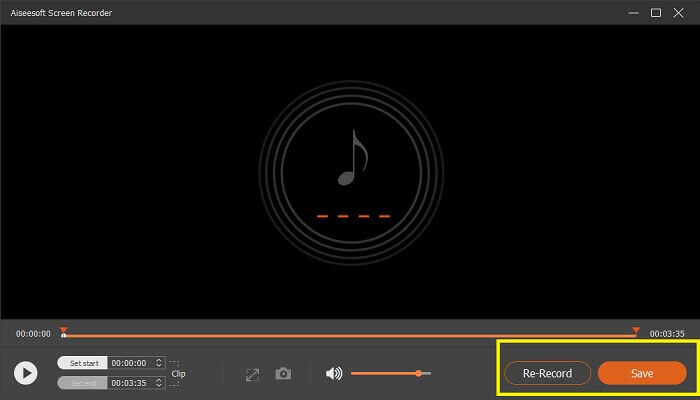 Audacity
Next is an open-source audio recorder called Audacity. Audacity has been around for several years now. Still continuing to provide freedom in recording live audio from streams. In fact, one of the reasons why it is popular is because it can record audio not only on computers but sounds from third-party connections like mixers, and other digitized media. Packed with more features and effects this deserves a place on our list. To enumerate more features Audacity here is a list.
● Audio editing is supported.
● Can merge and do bulk conversion of output.
● It supports Spectrogram view mode.
Ocenaudio
Your assistant development for your recording needs can also be Ocenaudio. Just like Audacity, this tool has the Spectrogram waveform view of your recorded file. This way you can analyze your audio signal, audio clarity, and quality. Not only can videos add filters, but this audio recorder can also add filters and adjust the configuration of the tool. This powerful tool can also be a good alternative. More of Ocenaudio below.
● Cross-platform support.
● Real-time preview or playback supported.
● Editing tool is efficient.
Part 2.Comparison chart
To get a clear vision of what and which is better, refer to this table.
Features
FVC Screen Recorder
Audacity
Ocenaudio
Crystal Clear Recording
Platform Supported

Supported OS: Windows 10, Windows 8, Windows 7, Windows Vista, Windows XP (SP2 or later), macOS 10.7 or above.

Processor: 1GHz Intel/AMD CPU or above RAM: 1G RAM or more

Windows 10, Windows 8, Windows 7, Windows Vista, macOS 10.7 or above.

RAM: 1G RAM or more

Windows 10, Windows 8, Windows 7, Windows Vista, macOS 10.7 or above.

RAM: 1G RAM or more

Adjustable Bitrate
Audio Editing Feature
Spectrogram Supported
AC3 Quality Supported
Part 3.FAQs about AC3 Recorder
Which is better, MP3 or AC3?
Talking about the technicality of the both file formats, MP3 has an advantage and it is safe to say that it's better than Ac3. Although AC3 displayed better output to Dolby supported speakers, the flexibility and reliability goes to MP3. Also, comparing them, MP3's block switch mechanism is way better than AC3.
Can I play an AC3 file on non-Dolby supported devices?
Since this file format is mostly associated with DVD and DVD players, you may experience problems on some media players. If in any case you received an error message that means it's not supported. What you can do is convert or change your player that supports it. Here are some AC3 players you can use, such as FVC Free Video Player, VLC Media Player, and KM Player. And here are audio converters you can use, such as FVC Free Online Converter, Vidmore Converter, Acethinker Video Master, etc.
Is AAC better than AC3?
AAC is better. AAC is advanced in terms of frequency, bitrate and storage being consumed. To be exact, AAC stores a large amount of files but takes less space and still maintains good sound quality. The frequency produced by AAC is between 8-96 kilohertz. Meanwhile, AC3 only has a maximum of 48 kilohertz. To add, you need a surround system amplified that supports Dolby Digital to maximize the quality.
Is EAC3 similar to AC3?
Honestly speaking, only a few people know about his file extension. Most people would be curious if this is similar to AC3. Well to be exact, E in EAC3 is enhanced. This means EAC3 is the improved version of AC3. In which aspect? Bitrate. The original bitrate of AC3 is 32 kbit/s to 640 kbit/s meanwhile E-AC-3 is 32 kbit/s to 6144 kbit/s. In conclusion, they are one. Just that the E-AC-3 is an improved version and it is immersive sound because it has better audio quality.
Conclusion
All three tools reviewed in this article are helpful and will be good to know information in case you need to record audio in AC3 formats. You can consider them when you need to. If you are having difficulty in choosing which tool suits you best, rely on the table created. Meanwhile, also check the FAQs if you want to learn more about MP3.