4 of the Best AIFF Recorder that Supports Lossless Audio Quality
Most people think that iPhone devices carry perfection from phone's security, video and audio quality and consistent performance. That we can say it is true. So as with screen quality. As much as possible, Apple is developing features that are compatible on iOS devices. Similarly with the formats, codecs and video configuration. Just like when they developed the AIFF format. To deliver high-quality and uncompressed audio format. When you say uncompressed, it is more likely to produce good quality because it is not limiting it. That said, you might also see the need to use a free aiff sound recorder to produce this kind of format. Producing this kind of file is not a problem. There are apps and free access tools that you can use over the web. Moving forward, this article is just right for you. See our list of the best AIFF recorders below to know more.

Part 1.Top 2 Online AIFF Recorders
FVC Free Audio Recorder
With the use of FVC Free Audio Recorder, you can now achieve flawless audio quality just like AIFF. Although this tool cannot produce the same file format, the quality it produces is as good as it is. This tool is accessible via browser and can be used anytime of the day as long as you have an internet connection at home or everywhere you are. So if you are on the go and you need to record for your vlog, this is a good option. Even when you are outside, you can record without worrying about background noise of your surroundings. Plus you can hear seamless recording on your iPhone device. That being said, get started with it now and try the tool and follow the guide below.
What's in it for you?
● It is a free to access website.
● You can record music files even from YouTube to create Playlists on your music gallery.
● Record audio with no time limit and no duration limit.
● Access anytime and anywhere.
Step 1. Access and activate the tool by visiting FVC Free Audio Recorder and click the Start Recording button.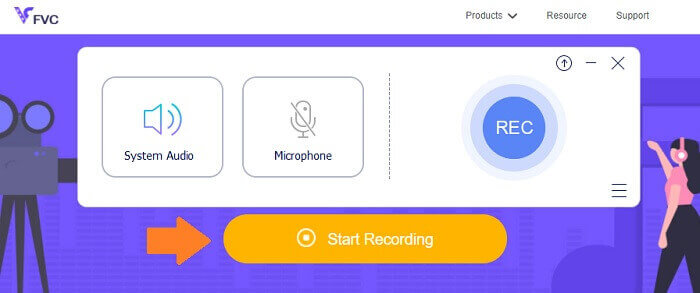 Step 2. Then enable the audio just in case it is not. But by default, it should be enabled. Now to start recording, click the REC button.

Step 3. When you are done, click the blue Square button and the file will be automatically saved on your PC.

Step 4. Now to preview the file, click the list below the floating bar.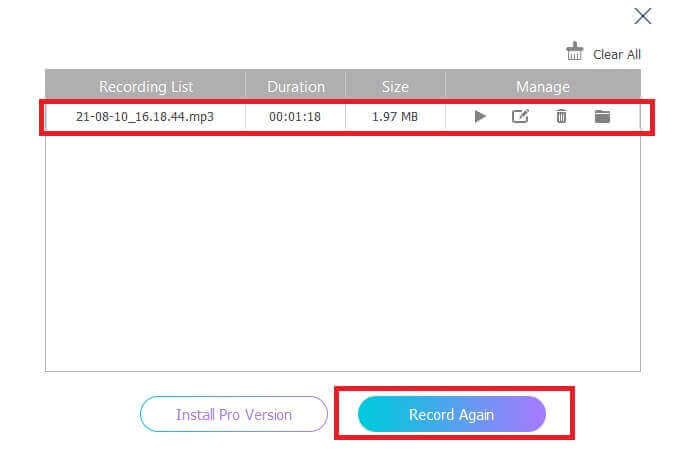 Screencapture.com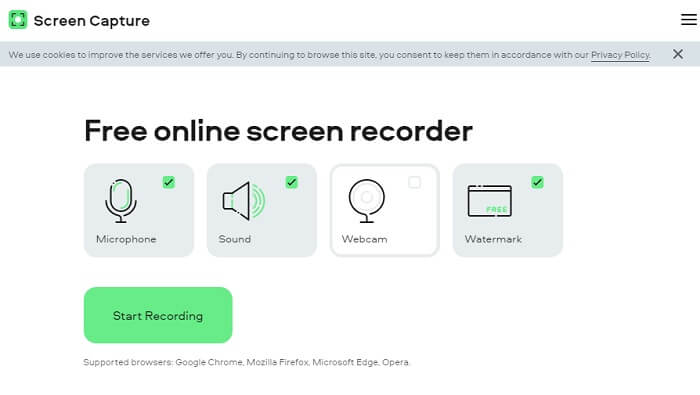 Another tool that you can consider to record audio online is Screencapture.com. Similarly, it is a free access site that directly allows you to record audio and screen without registering for an account. As you click the start recording button, the tool will automatically record the screen and the system sound of the computer. As soon as you land on the main page there will be four tabs that you need to tick according to your need. Since we are recording audio, uncheck everything and leave the audio enabled. From there click the Start Recording button and download it afterwards.
What's in it for you?
● Free access.
● Accessible and reliable site.
● Secured.
● Can record, audio, video and both at the same time.
Part 2.Top 2 AIFF Recorder Software for Windows and Mac
FVC Screen Recorder
When talking about prime tools, FVC Screen Recorder is your go-to software for screen recording and audio recording. It is developed specially to cover this kind of need. In just three simple steps you will be able to produce an audio quality similar to AIFF and the format itself. With FVC Screen Recorder, you can record without being limited and have the freedom to adjust the bitrate to achieve the highest quality you desire. More of that is that, there is no limit on how many times you use it per day. Unlimited use as long as you are registered for it.
What's in it for you?
● Good customer service.
● With good technical support that can resolve your problems.
● Continues update of the tool.
● With the Window lock feature that allows you to record a specific window without disturbing what you are doing.
Step 1. Download and install the app by using the buttons below.
Step 2. Launch the app and enable the system sound. Now click the REC button to begin recording.

Step 3. Once done recording, click the stop button to stop it. The icon is the red square button.

Step 4. Then the tool will give you an option to save or re-record.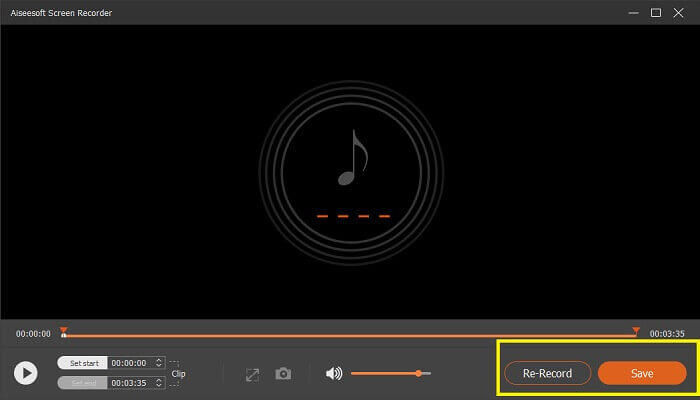 Audacity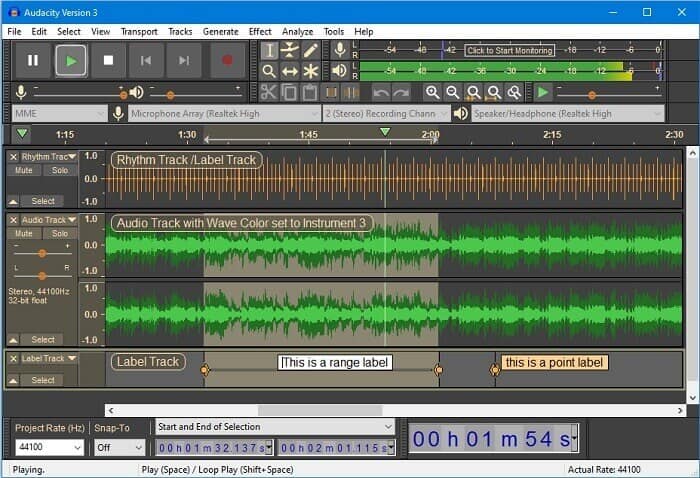 Finally we have Audacity. It is considered to be one of the most in demand audio recorders for quite some time now. This is because of the tool's flexibility. Most professionals use this recording because of its reliability in recording audio even with third-party connections like sounds from mixers, computers, from cassette tapes and a lot more.
What's in it for you?
● It is an open source software.
● It is a recorder and editor.
● Supported by most operating systems.
Part 3. Comparison chart
| | | | | |
| --- | --- | --- | --- | --- |
| Features | FVC Free Audio Recorder | FVC Screen Recorder | Screen Capture.com | Audacity |
| Platform | Web-based | Desktop app | Web-based | Desktop app |
| Price | Free | Paid | Free | Paid |
| Supports High audio quality | | | | |
| Adjustable bitrate | | | | |
| Recommended | | | | |
| Unlimited use | | | | |
| No Duration Limit | | Yes upon subscription | | Yes upon subscription |
Part 4. FAQs about AIFF Recorder
What is the difference between AIFF and WAV?
As mentioned, AIFF is mostly used by Apple users. However, it does not mean it is a limitation. Because this file format is also supported by other media players. Meanwhile, WAV is developed specifically for PCs. It is limited to desktop PCs only. When talking about technicality and type of encoding, they both have relatively large file sizes. So they are the exact opposite of MP3 and MP4.
AIFF, is it lossless?
The answer is it is lossless but uncompressed.This file format is uncompressed. It does not lose quality and purely how it is developed to bring good audio results instead of compromising the quality.
Can Windows Media Player play AIFF files?
To answer your question, Yes! You can also play it using VLC player and other music players.
AIF and AIFF, is there a difference?
Whichever is used, it does not matter, and they are just the same. Whether you add a suffix or affix.
Conclusion
To conclude, AIFF is a good format for Mac computers since it is specifically made for Mac. Although this file is good, we cannot deny the fact that it eats a lot of memory on your computer. The apps reviewed above may support and not support it but some have great alternatives for this file type. Meanwhile, if you really want to have this kind of file, you can also consider using a free converter.
FVC also has this Free Audio Online Converter. You can just simply add the files and wait for the conversion process to be done and boom you have your audio converted. You can get to know more about it if you visit the official page of it. To give you a sneak peek, here are some of the formats supported: MP3, WMA, AAC, WAV, AC3, AIFF, and FLAC.