Get to Know More About the Best M4A Voice Recorder with Tutorials
M4A is a filename extension for audio-only to save a specific format also known as MPEG-4 Audio. This is a great choice for the user online who loves to download a lot of music over the internet and such. Instead of spending a lot of internet data downloading and wasting your time waiting, you may enjoy the downloaded audio format with the same audio output that the mp3 can give you. Although many questions bother you right now. By reading this write-up below will help you to clear your mind and to know what are the best M4A voice recorders for audio recording that supports M4A format with provided steps.

Part 1. Best Online M4A Recorder for Windows and Mac
FVC Free Audio Recorder
A no-payment tool available over the internet is the FVC Free Audio Recorder. This best online audio recorder tool helps the user to record anywhere with an internet connection. It allows you to record without any cut-back or limitation on different operating systems. You may as well record the audio sound system, microphone to input your voice, or as well both of them at the same time. To explore more about the tools, here are provided steps on how to use the tool.
Step 1. Open this link to proceed to the main website of the tool.
Step 2. launch the tool by clicking Start Recording.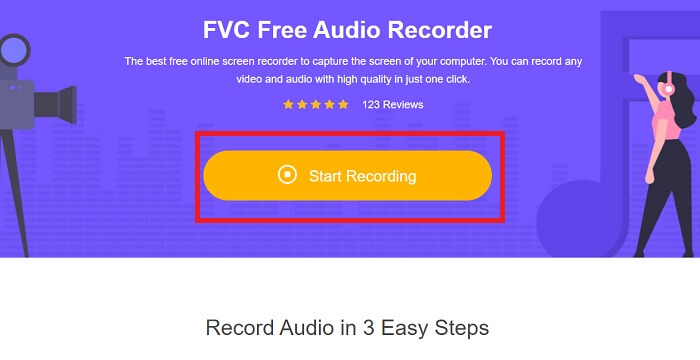 Step 3. And a toolbar like this will show into your screen display.

Step 4. Open the Speaker and Microphone to add the audio input. Click the round button to start the recording.

Step 5. If the recording is done, click the Square button to stop. The recording will be automatically saved to your pc.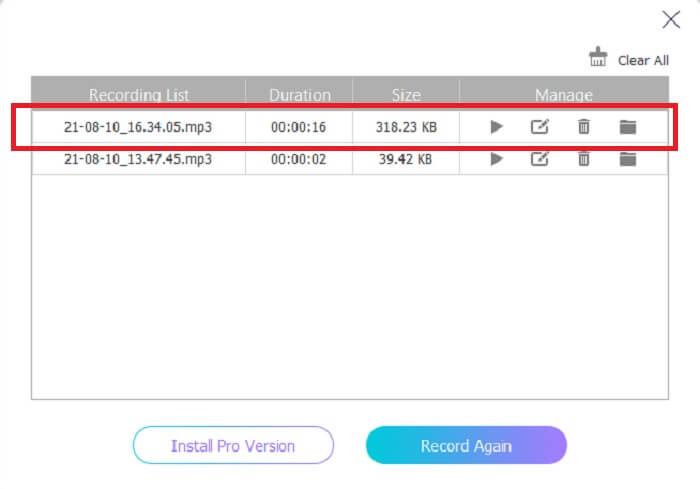 Part 2. The Other 7 Alternatives M4A Recorder for Windows and Mac
1. FVC Screen Recorder
If you want to do more while recording then this tool is for you. FVC Screen Recorder, a multi-functional tool that allows the user to capture audio, video, gameplay, and many more at its finest. If we're going to talk about a much better version that supports M4A then this is for you. This pay-to-use tool is not only for screen recording, it also uses an audio recorder that can produce an M4A file format. Not only that, it supports different platforms you may think about. So, no worries if you change your platform, you can still use this. It is chosen by multiple users over the web as their ideal screen recorder. To know more about how to use this tool then we should now proceed to the steps to guide you on your audio recording journey.
Step 1. Choose what platform you are currently using to download the tool. After downloading it, look at the bottom left side of your web to install it. Adjust the Preference according to your demand and click Finish to start the tool.
Step 2. A toolbar like this will show on your screen. Click the Audio Recorder to proceed.

Step 3. In the toolbar you will see a Cog icon in there, then click it. Adjust the Output and Sound Settings of the recording. Click OK to proceed to the next step.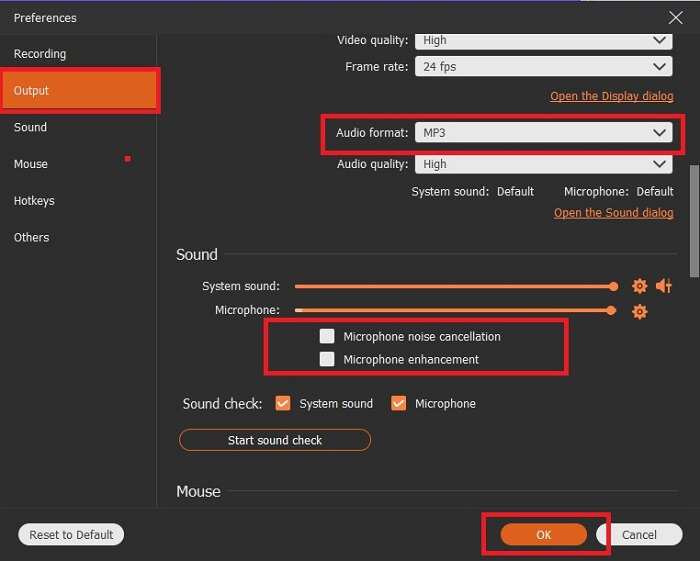 Step 4. Turn On the Speaker to add the audio sound and click the Microphone to add your voice. If this step is finished, click the disk-shaped button to start.Step 4. Turn On the Speaker to add the audio sound and click the Microphone to add your voice. If this step is finished, click the disk-shaped button to start.

Step 5. If the recording is finished, click the square button to stop, click the Save button, and Next to producing the recordings. Then a list of your recordings will show in the display from the latest and the oldest, click the first recording and enjoy the output format you produce.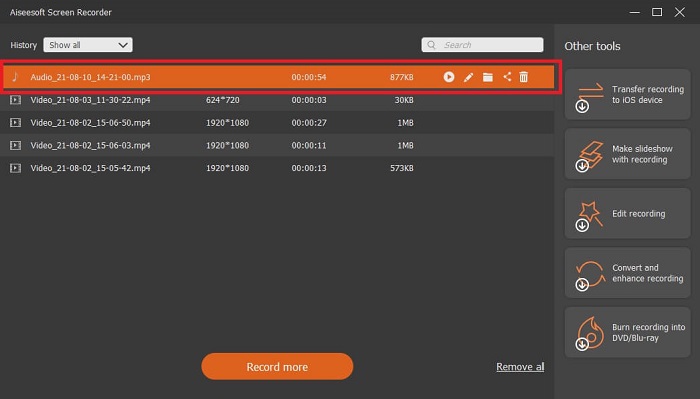 2. Audacity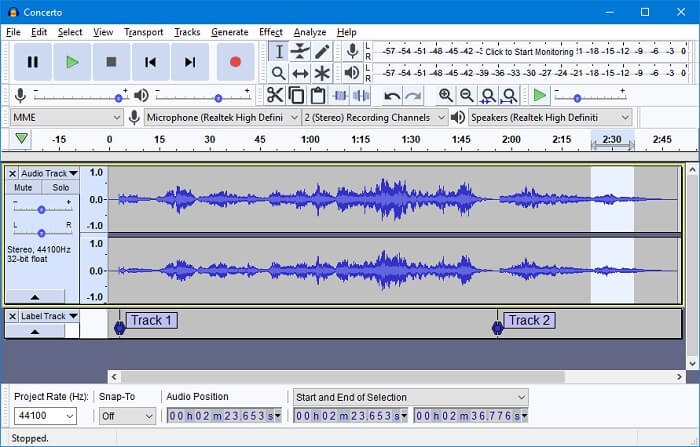 One of the audio recorders you may use is the Audacity. A free open-source downloadable tool that allows the user to do audio recording. Some users choose this as their audio recorder because of its availability and job. But this can be easily placed in the top 10 best audio recorders. The program has a limited choice for mixing capabilities.
Pros
Free and open source.
Doesn't need a large amount of RAM to make it work.
Provides basic editing.
Cons
Provides basic editing.
The UI is not eye catchy for the users.
3. Wavosaur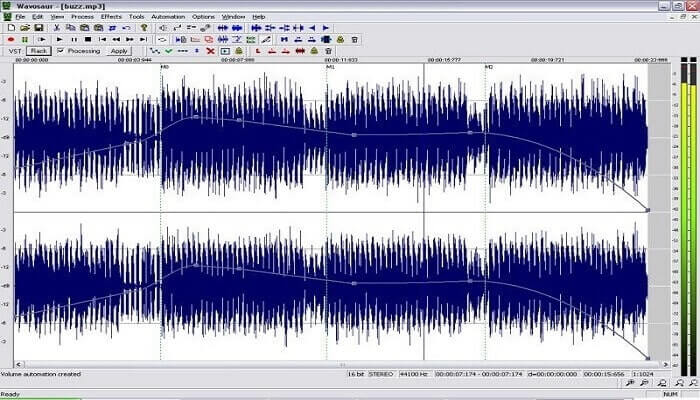 If Audacity is not your go-to choice as your M4A audio recorder you may as well use the Wavosaur. It can edit, mix, and many more. Also, it can be used for making complicated music arrangements. The user interface is a bit old but it is still efficient as an audio recorder.
Pros
Has now a redo feature.
Free sound editor.
Non-destructive audio editing.
Cons
It has a .exe that can harm your computer.
Not available on all platforms other than windows.
4. Audio Boo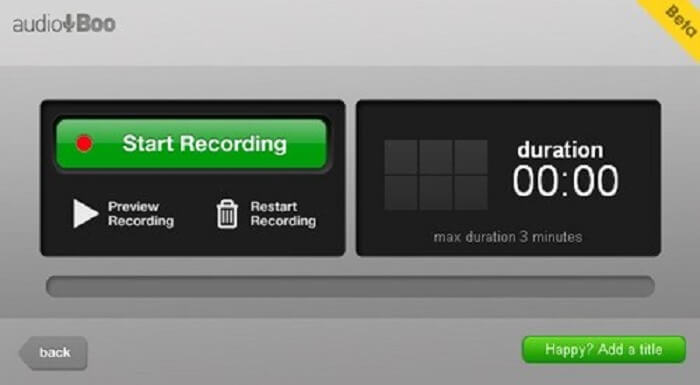 A mobile and web-based platform that allows the user to record for approximately 3 minutes. If you're trying to record a short sound clip then it is a must to use the tool. The new name of Audio Boo is Audio Boo 2, so if you want to download the tool you must uninstall the old version of the to install the newer version of it.
Pros
No ads in the tool.
It can produce main audio formats.
The quality of the audio is okay.
Cons
Limited recording.
The tool is nowhere to be found because it changes its name to Audiobook 2.
5. Wavepad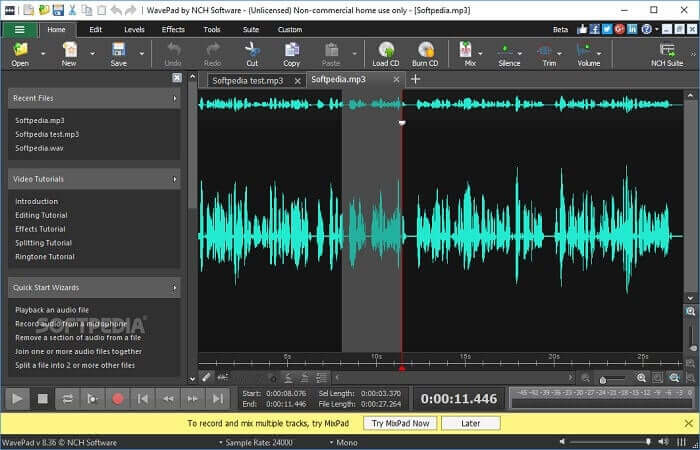 A tool that allows the user to add special effects to your recording. Wavepad became popular because of panning up and down as well as changing the tempo of the recording. Audio editing features are available there but if you can't understand the functions and how to use it also provides videos on how to use the editing tools.
Pros
Easy to use tool for the new users.
Able to trim the audio recorded and change into another audio file by inserting it.
You can also do a voice-over for several media platforms.
Cons
Can't use it as a commercial advertisement. Basically, it is not free but it has a free version.
Works only as a single audio recording track.
6. Adobe Audition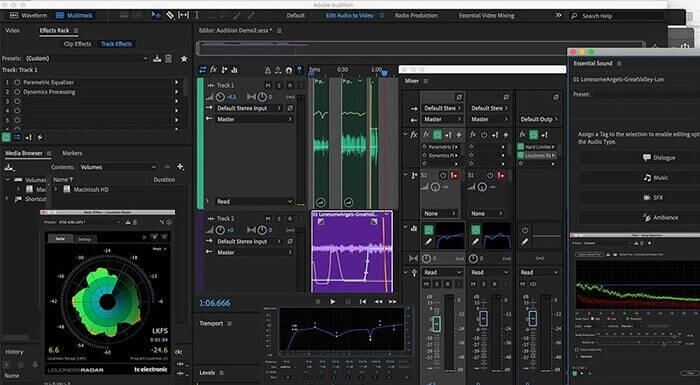 The main audio recording that Adobe can offer to users is the Adobe Audition. It has a destructive and non-destructive audio editing tool that is popular in podcasting. If you're looking for professional content that meets the standard then this is for you. Also, because of the dedicated support that Adobe provides to the tools.
Pros
Mix the audio very well.
Noise-canceling feature.
Different editing sections.
Cons
No music producing tools.
It's too expensive as the other adobe software.
7. Mixcraft 9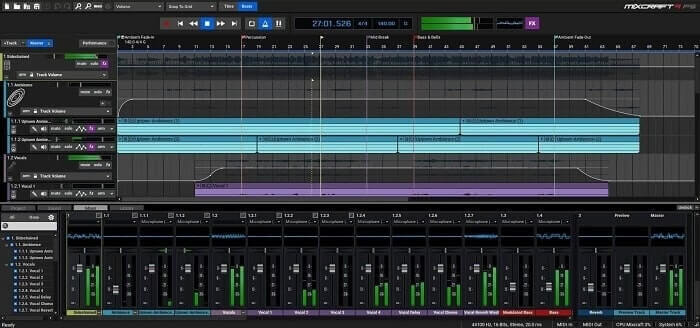 A proprietary tool developed by Acoustica is the Mixcraft 9. One of the best audio recorders for music productions available on the web. This tool provides you with a different variety of features, instruments, and effects. It also has a piano roll editor and other options. If you're looking for audio recording for producing music this is another choice.
Pros
Best music production.
It includes almost all of the instruments and plug-ins.
Lightweight Interface.
Cons
Dark Interface. So, some of the tools are unreadable.
Not the best choice for a newbie because of the overwhelming options.
Part 3. Comparison Chart
| | | | | | | | | |
| --- | --- | --- | --- | --- | --- | --- | --- | --- |
| Tool Features | FVC Free Audio Recorder | FVC Screen Recorder | Audacity | Wavosaur | Audio Boo | Wavepad | Adobe Audition | Mixcraft 9 |
| Audio Recording | | | | | | | | |
| Editing tool | | | | | | | | |
| Noise cancellation | | | | | | | | |
| Available format | MP3 and M4A | MP3, WMA, AAC, M4A, FLAC, OGG, Opus and many more. | WAV, AIFF, and MP3 | WAV and MP3 | MP3 | AAC, M4A, MP4, DCT | AC-3,M4A,MAT, VOX, W64, WAV, and many more | WMV and AVI |
Part 4. FAQs about M4A Recorder
Why is an android recorder using M4A files?
Every android recorder uses .m4a files because it is compressed better than mp3. Android mobile devices like LG, Huawei, and many more. But not all the androids use this type of file format.
Can I convert M4A to another audio format? How should I convert it?
To convert an M4A audio file, you may use this M4A Converter and choose what audio format you like. Open the link and click the launcher of the tool, then choose the desired audio format, like MP3.
Why can't I play my M4A file in my android music library?
The main reason why you can't play the M4A audio file. First, it is not supported by your original music player but you may as well use other M4A players.
Conclusion
To sum up the details above, every M4A voice recorder has its unique features as an audio recorder. Some of them produce an M4A format and some do not. But at the end of the day, we must choose what is the best recorder we must use. Because if you chose a complicated tool that offers you a lot of options that you might not need as the user then it will begin to be a pain in the butt for you. But if you chose the easy way to record that produces the same audio format then you might reconsider it.
FVC Screen Recorder is a multipurpose recorder that you may use now and in the near future. This tool might not be complicated but the audio it will produce is the same as the other can do. Instead of making your life so hard, why don't you use this tool? To make it simple, this is the cheat code for the other tools. So, choose what's the best for you and that best is the FVC Screen Recorder.