Best ASF Stream Recorder Available in All Platforms to Record ASF Video
Microsoft manipulates the content of ASF, also known as Advanced System Format. In addition, mac users can use this type of format also. Likewise, it is a sort of repository with multiple independent or dependent audio-video content for Windows media. You may utilize ASF format to stream video and audio files. And some users find it tricky to choose the qualified ASF streaming recorder that will meet the standard of the user's interest. As we go more into details below, you will notice different tools that support your platform. In the list below are the finest ASF recorders that support ASF file format. Also, read carefully about the details and let us walk through the software and its unique capability.
Part 1. Best ASF Recorder for Windows and Mac (Limited & Free)
FVC Free Screen Recorder
A completely free from charge tool used as a recorder for live broadcast is the FVC Free Screen Recorder. It's okay to be inexpensive if you have the internet and want to record streams, news, and any live broadcast happening for the later to watch at no cost. You may as well use a webcam, mic, and other hardware to use it for your recording. This tool allows the users to record any live screening in the format of MP4 or WMV. Another outstanding feature of this tool is that there is no download needed. Just open your browser, launch it, and let the tool do the work. As we continue with a more detailed explanation, here are some steps to record a live ASF Streamer Recorder.
Step 1. Open your browser and visit the official site of FVC Free Screen Recorder. You can click the link then launch the app. Floating bar and red dotted line will appear on your screen.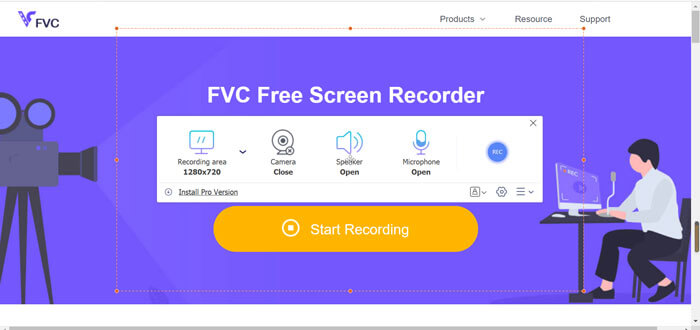 Step 2. Click the Settings icon below the REC. You may adjust the Hotkeys that will fit your needs. Click the OK below to save the changes.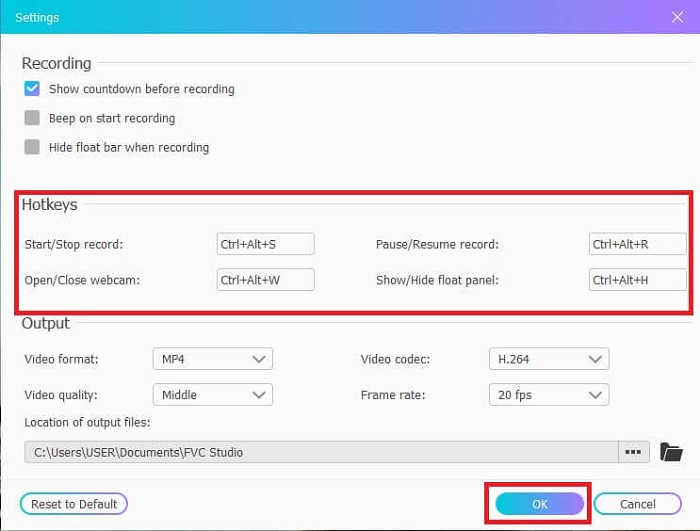 Step 3. Adjust the Frame size to change the aspect ratio if needed. Open the Speaker for the sound, Mic to add your voice, and Webcam to record yourself. Click the round REC button to start the ASF video recording.

Step 4. Wait for 3 seconds to start the record. Also, lists of the controls and hotkeys you set for your recording.
Step 5. Click the Square button to stop recording. Play the top video file for the latest record. After playing the video you may as well trim, draw or put it on a slow-mo by clicking the Pencil icon to edit. Save it and enjoy the recorded video.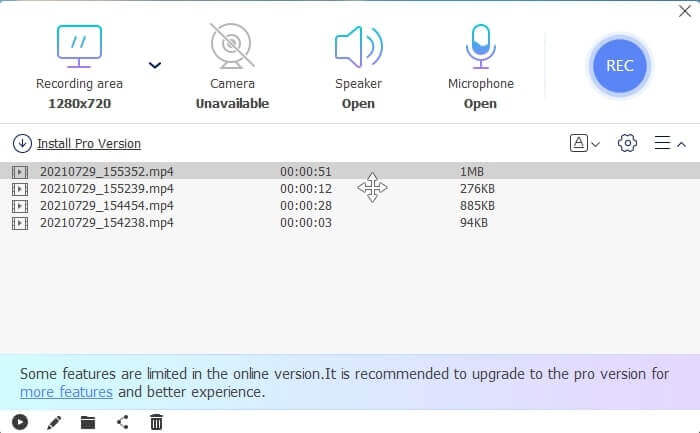 Pros
Online free screen recorder. No download needed, just launch the app.
User-friendly interface which allows the user to manipulate the tool itself in such an easy way.
Storage friendly because of its compressed data. No need to worry about your storage at all.
Cons
If you don't have the internet, it is not the best choice to screen records. Because this tool is internet dependent.
Part 2. Other Popular ASF Recorders to Record ASF Videos ( Expert & Limitless)
1. FVC Screen Recorder
This screencast recorder is popular because it fits the demand of the user. FVC Screen Recorder is chosen by many users because of its user-friendly interface. It is a downloadable pay-to-use tool that captures every action on your screen, even online or offline. It supports all the platforms the users use. Choosing this tool is the best choice for the asf stream recorder because it features the top-of-the-line that you need to see in a screencast. Moreover, if you are looking for a low-budget screencast plus the expert video output. To provide you details about the tool follow this step and say it is easy-peasy to screen record with this tool.
Step 1. Click the Free Download button based on whether your operating system is Windows or Mac and then install. Adjust the preference that will suit your needs. Start the tool and this floating toolbar will pop up.
Step 2. Click the Video Recorder to record what is on your screen.

Step 3. Proceed by clicking the Record setting button then this will show up. On its interface click the Hotkeys. Set your preferred Hotkeys before starting. Don't forget to click OK to save the adjustment.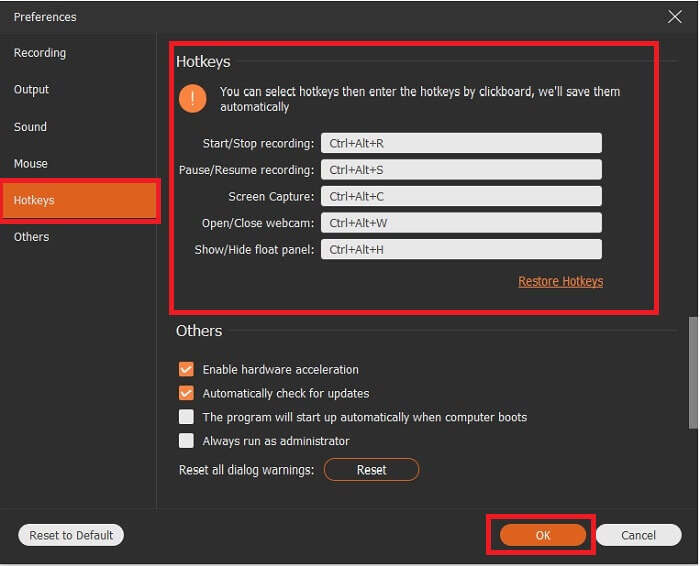 Step 4. Click the Custom under Display to record a certain region of your screen. Also, you may as well like to record the sound by turning on the Speaker. Take note this other tool will function if hardware is used. For recording your voice, open the Microphone or to record yourself on the screen you may also like to open the Webcam. After you are done, click the disk-shaped Rec button to start recording. After 3-seconds the video will start.

Step 5. If recording is finished, click the Red Square button to stop, click Save and Next to proceed. Click the Play button to watch the live stream you recorded.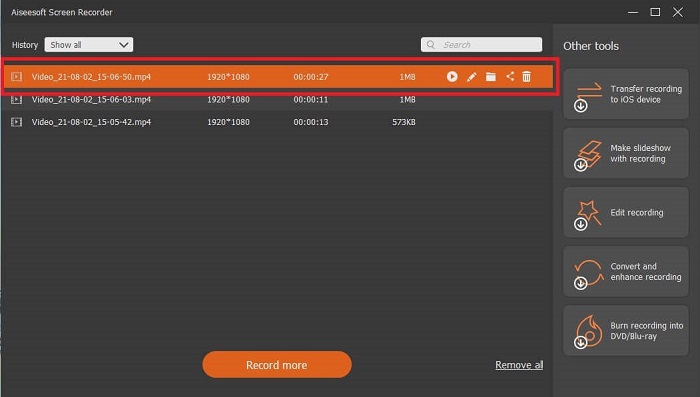 Pros
The unique feature about this tool is it has a Lock-In Screen Feature so that it will not bother the users.
Affordable and flexible. It is available on all different platforms so no need to worry if you change your platform.
The video output itself is more outstanding than other screen recorders.
Cons
It costs you money but is not pricey.
Need to eat 2.4mb of your storage to be downloaded.
2. OBS Studio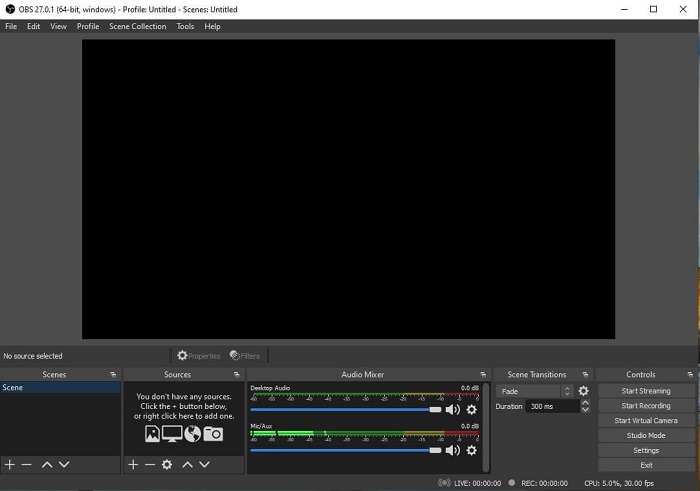 OBS Studio is a downloadable free file that makes your recording and streaming the best. Also, you may switch set up to an unlimited number of scenes via custom transition. But the file storage of the tool itself is kind of huge for an ASF recorder that functions the same as the other recorders. Too much display in the interface itself. Some details are kind of annoying because of the old setup. Not the best choice for a beginner because of the details.
Pros
It is free to download.
Intuitive audio mixer with the VST support.
Monitor up to 8 different scenes and easily transition just by clicking it twice.
Set hotkeys for nearly every action.
Cons
It takes a huge file to be downloaded.
Too many details on its interface.
3. Fraps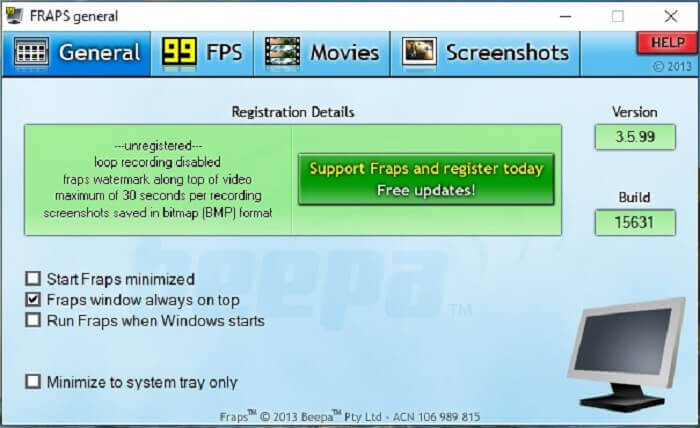 Share your most awesome montage and other videos with the help of Fraps. It provides high-quality output to its users. Also, because of the 120 fps, it became one of the best choices in ASF streaming. Regardless of that, the free version is only available to record 30 seconds.Next, fraps windows always on top will ensure that the program is still in progress. Lastly, run fraps when Windows starts to run the tool after you open your desktop.
Pros
High-quality video because of the 120 fps.
Benchmarking software gives you detailed info about the fps in the corner of your screen.
It doesn't face any problem from starting to finishing the video.
Cons
The free version is only available for 30 second recordings with watermark. Screenshots will be only available in BMP format.
Massive storage for a video because of its uncompressed file format. Not best choice for small storage desktops.
4. ShareX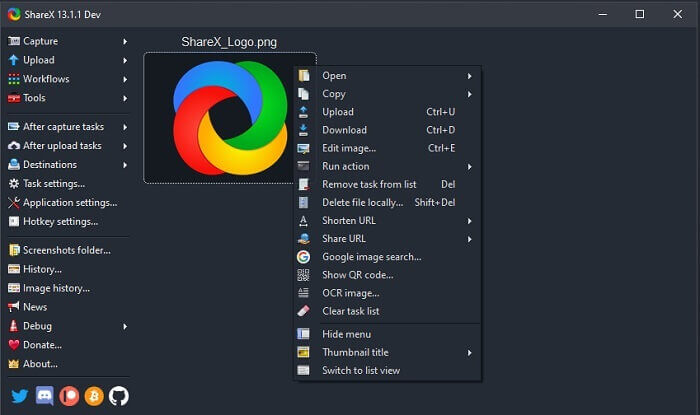 Another type of recorder is the ShareX. It performs very well in screen capturing, annotating, and uploading. The tool itself is hard to manage, it will take ample of your time to know the tool. You can choose from uploading images, text and other types of files to more than 80 supported destinations. Yet it is an unfriendly user. Instead of recording and streaming a video easily it will take your time to be able to use it.
Pros
It is open-source and free.
Lets you customize the keyboard shortcut for a better ASF stream recorder.
You may as well do screen capturing, annotate them, and upload with ease.
Cons
It is too overwhelming to the new users and even if you're pro this tool is a lot to take in.
Malware issues.
Part 3. Comparison Chart
If you're not a fan of reading an article then this chart will help you to decide.
Features
FVC Free Screen Recorder
FVC Screen Recorder
OBS Studio
Fraps
ShareX
Video/Audio Screen Recording
Hotkeys Availability
Lock-In Screen Feature
Editing Tools while recording
Malware Safe
It has an Executable File. In some cases, it can damage your computer. But it is safe to download.
Available Operating System
In All Platforms
In All Platforms
In All Platforms
Windows XP, 2003, Vista, and Windows 7
Windows
File size
Few kb for the launcher no download online
2.1mb
85.8mb
2.4mb
7.84 MB the newest.
Complexity of the tool
Easy to use and a very straight forward setup.
Easy to use and very straight forward setup.
Complicated but not so hard to learn.
Simple on point tool but there is a lot of going on.
Easy to Operate but not very on-point.
Available output format
ASF and MP4
WMV, MP4, MOV, F4V, TS, AVI, WMA, MP3, M4A, AAC, PNG, JPG/JPEG, BMP, GIF, TIFF
FLV and MKV
AVI Format
MP4, WebM, MKV, AVI
Price Range
A Free Open-source online
For 1 month: $25.00
For a year: $31.20
For Lifetime License: $55.20
A Free Downloadable tool
It is free And you may also register for $37
PERPETUAL PLAN $59.99
ANNUAL PLAN $39.99/Year
MONTHLY PLAN $7.99/Month
Part 4. FAQs about ASF Recorder
What is in an ASF file?
This is divided into 3 sections of an ASF file: Header, Data, and Simple Index.
What are the other extension data stored in an ASF file?
Files extensions like .WMA is an audio lossy file format. In which it produces more quality sounds than .mp3 audio format. The other is the .WMV, commonly used for storing a large volume of video outputs in windows. It also gives you high-quality videos and saves you a small disc space for your data if you're using a Windows Tablets, Lumia, or Windows PC so better use this type of format.
Does VLC support this type of format?
Yes, the VLC media player supports this type of format. Because it can encode and decode. Other media players are GOM Player, Media PlayerLite, and PotPlayer, for windows. Also, QuickTime for Mac.
Conclusion
In the final analysis, choose the best ASF recorder in the list above that will fit your needs. Although some are free and some will cost you money. But they will provide you the best audio-video output you ever wish to see on a screencast recorder.
If you're not sure about what to choose as your asf screencast recorder. Then, this piece of advice is for you, the tool that matches the work for a recorder will be the FVC Screen Recorder. Here are some reasons why you need to choose the FVC Screen Recorder over any other tools available in the list. Because it is user-friendly, has more features to offer, and is budget-friendly. No need to think twice, because FVC is the best among the rest.