Camtasia Screen Recorder Review – Is TechSmith Camtasia Worth to Buy
Techsmith Camtasia Screen Recorder has a 15+ history and a large group of users. You can record video tutorials, screencasts, online calls, and other computer activities losslessly with Camtasia Screen Recorder. Moreover, there is a built-in video editor. You can record, edit, and share screen video and audio within Camtasia Screen Recorder and editor in one stop.
Though Camtasia Screen Recorder is powerful in screen recording, it is not suggested everyone use Camtasia. The Camtasia one-time fee and maintenance cost are expensive. Moreover, there are also some Camtasia Screen Recorder negative reviews. If you are looking for an unbiased Camtasia Screen Recorder review, you can continue reading and get more details.

Part 1: Camtasia Screen Recorder Review (Pros & Cons)
The latest Camtasia 2020 adds many new features. You can get pre-built video templates, magnetic tracks, packages, improved recording settings, and more. Different from Camtasia 2019, you can get more collaborative tools from Camtasia Screen Recorder 2020. Can Camtasia be your best screen recording software? You can find the answer here.
Camtasia Screen Recorder Pros
1. Record screen video with multiple audio and webcam inputs.
2. Screen capture video with full screen, a specific window, or a selection of the region.
3. Add multiple annotations, video effects, audio effects, text effects, animations, cursor effects, scene transitions, and more.
4. Get pre-made and custom canvas dimensions, including 4K UHD, 1080p HD, 720p HD, Instagram, Facebook, etc.
5. Save the recorded file as MP4, WMV, AVI, GIF, and M4A formats.
6. There is a free Camtasia for iOS and Android version called TechSmith Capture.
Camtasia Screen Recorder Cons
1. Camtasia is buggy and crashes constantly with overload filters.
2. The future updates are not included in the Camtasia Screen Recorder standard license.
3. It takes much time to record with the Camtasia Smart Focus feature.
4. Most Camtasia recording and editing filters are fixed. Advanced users don't have many custom tools.
5. Lack of the keyframe tracking ability.
6. The exported Camtasia MOV and MP4 videos may encounter incompatible issues with Adobe Premiere Pro. (Convert MP4 to AVI here)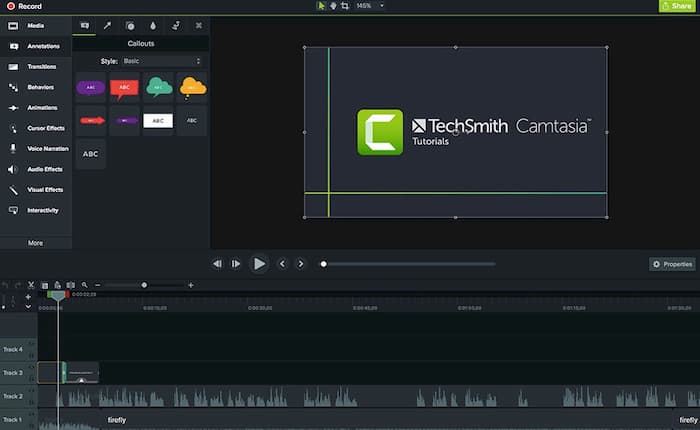 Is Camtasia Screen Recorder Worth to Buy
The Camtasia Screen Recorder full version charges $249.99. If you buy Camtasia for business, education, government, or non-profit, you can get different Camtasia discounts. Be aware that the Camtasia update is not free. You need to pay an extra $49.75 to get Camtasia 2021 for Camtasia one-year maintenance.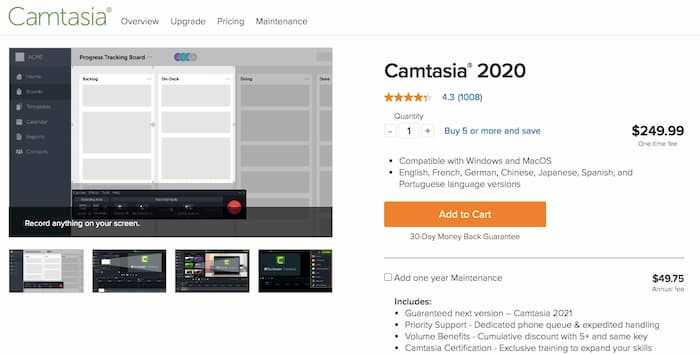 Part 2: Best Camtasia Screen Recorder Free Alternative for Beginners
For most basic users, Camtasia Screen Recorder is too expensive to afford. Those gorgeous premade templates and filters are useless for video recording. If you don't want to pay for unwanted Camtasia features, you can use FVC Free Screen Recorder as a free Camtasia alternative. It is 100% free and safe to use. You can record Windows and Mac screen video with audio without a watermark. There is no time limit. So you can record TV shows, movies, playlists, and other videos for free all the time.
1. Record any video and audio on your computer without losing quality.
2. Adjust video recording settings, hotkeys, mouse effects, and other recording preferences.
3. Review all your recordings in the recording history list.
4. No watermark or maximum time limit. No hidden fees.
5. Save the recorded video to MP4 or WMV format.
Step 1: Open the FVC Free Screen Recorder on any browser. Click Start Recording and Download. Follow the on-screen wizard to install the FVC launcher quickly.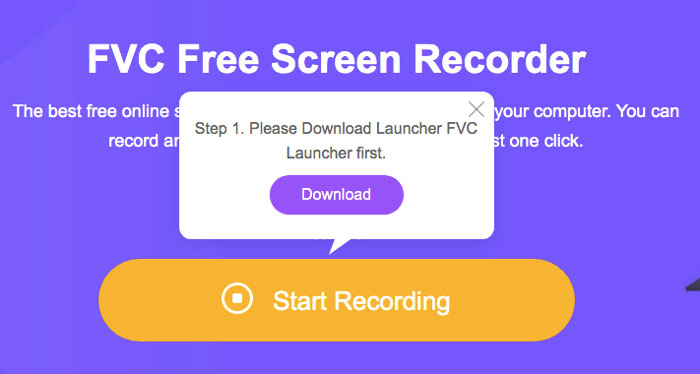 Step 2: Drag with your left-click mouse to set the screen capture area. You can enable Audio to record video with computer audio simultaneously.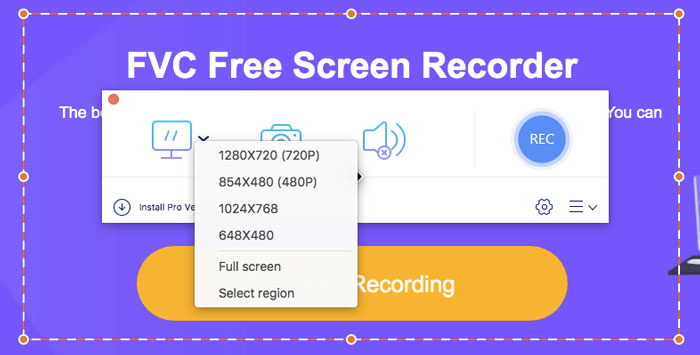 Step 3: if you want to change the output video format, you can click the Settings icon in the lower right corner. Here you can change the video format, video quality, video codec, and more. Click OK to save changes.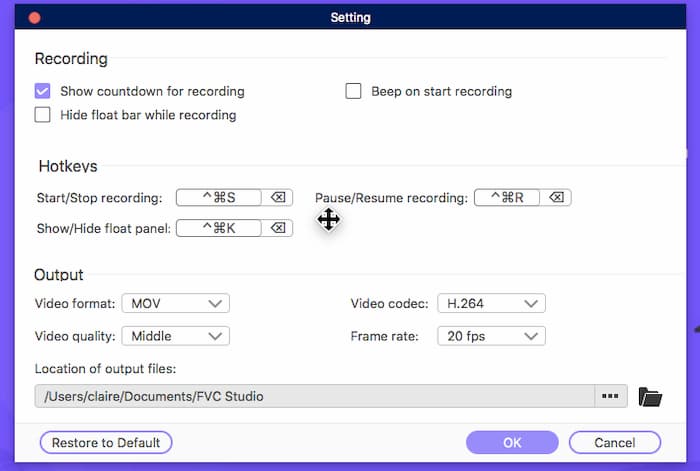 Step 4: Click REC to start screen recording. You can pause and resume recording without a time limit. Click Stop to end up screen video recording whenever you want.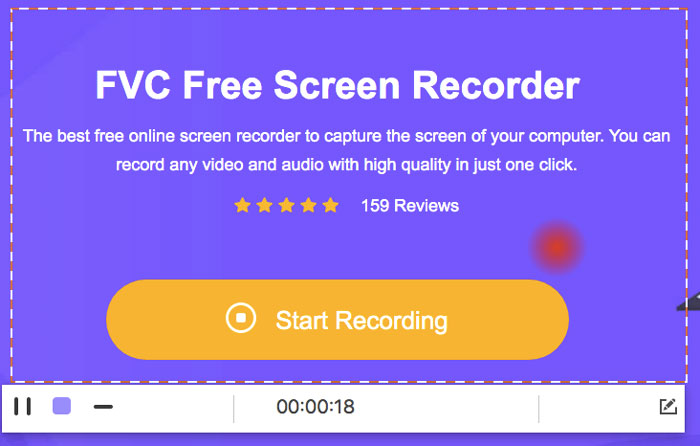 Step 5: The recorded video will be saved into your default output folder automatically. Now you can rename, share, preview, and make more changes.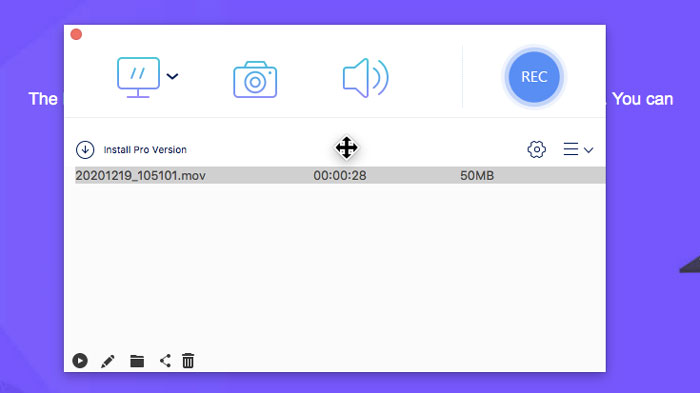 Part 3: FAQs of Camtasia Screen Recorder
Is Camtasia Screen Recorder safe to use?
Yes. The official TechSmith Camtasia download link is safe and clean to download. You can always get the latest Camtasia software from its websites. Just don't go to other unauthorized Camtasia download sites.
How do I get Camtasia for free?
You can try Camtasia Screen Recorder free trial to have a try. The Camtasia free trial lasts for 30 days.
Does Camtasia free trial have a watermark?
Yes. There will be a TechSmith watermark added to the video during the Camtasia trial. If you want to record a screen video without a watermark, you need to upgrade to get the Camtasia activation key.
That's all about the latest Camtasia Screen Recorder review. You can know whether it is worth to buy Camtasia Screen Recorder for your daily screen recording activities. If you don't need those video and audio recording effects, Camtasia is too much for you. You can use FVC Free Screen Recorder to record video with audio for free. There is no watermark or time limit. Both Windows and Mac users can use FVC Free Screen Recorder. You can record video and on-screen activities for free permanently.