Exhaustive Review for Audio Recording Software to Record Audio Effectively
If you are an expert or amateur, you must have audio recording software to maneuver and polish the audio for a particular use. On top of that, choosing a suitable audio recorder on your device must be challenging because many choices are available in the market. Instead of testing out multiple audio recording programs, we will bring the four recorders we found suitable for your needs to avoid downloading or accessing malicious software. The list of audio recorders below sifts thoroughly to offer you only the best and not the poor performing audio recorder.

Part 1. 4 Best Audio Recording Software on Windows & macOS
1. FVC Screen Recorder

Do you need to record audio from the computer but don't know what to use? If that is the case, we present the best and by far the most picked recorder in the market, the FVC Screen Recorder. It has a brilliant user interface that allows users to interact with the software without doing complicated things. In addition to that, users tend to have a problem with the background noises, so with the help of its new additional noise cancellation, you can record without having trouble with the small background noises. Moreover, it has multiple features that will help you effectively record. Want to know what are these? In that case, let's have a walkthrough of the key features of the FVC Screen Recorder.

Screen Recorder
4,988,518+ Downloads
It records sounds with ultra-high audio quality.
Record audio 24/7 as long as you have enough storage on your computer drive..
You can record system sound with a mic at the same time.
Microphone enhancement is available for a much better experience of recording your voice.
You can check the mic audio if you need to.
Pros
The program lets the users experience a high thrilling to record audio on Mac or Windows.
Basic editing features are available, like cutting or trimming the audio.
It has a built-in recording history to find the recorded audio easily.
Cons
It doesn't support adding effects on audio while recording.
Purchase before you use.
2. Audacity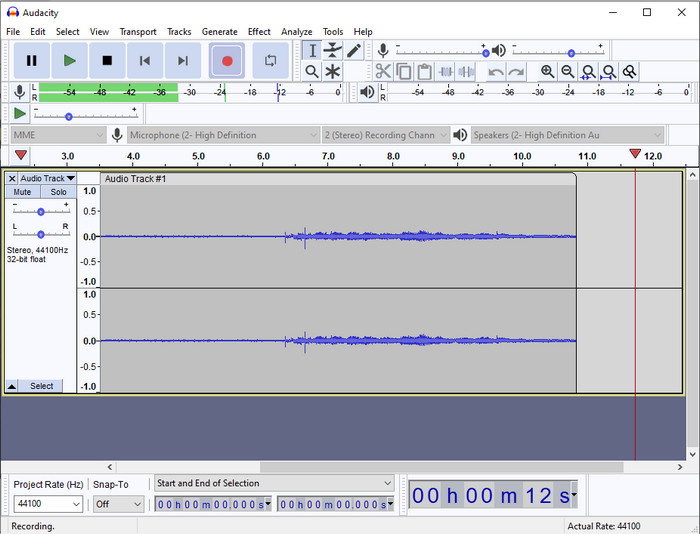 If you need a pro tool to handle your audio recording, then Audacity is a help. This pro-audio recorder has already helped millions of podcasters in their journey of recording audio. If you need to have an advanced recorder for free, this audio recorder is one of them. Although it has some pro recording, it is still hard to familiarize with the tool because of its poor GUI. Even though it responds to professional recording, some of its features still need to be upgraded, like noise cancellation. Nevertheless, Audacity records computer audio in a professional way that not all of the recorders can provide.
Pros
Free to download on all desktop platforms.
It offers expert editing features for the pro.
It has some advanced features you will need to create a podcast.
Cons
GUI of the software is outdated.
An upgrade needs to some of its features.
Not the best choice for amateurs and those who don't know how to record.
3. QuickTime Player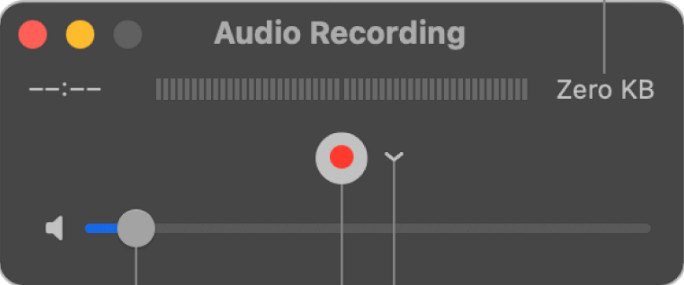 The QuickTime Player can also be used as an audio recorder on Mac if you need it. Although the player is not that sufficient and effective recording, you will experience delays and less quality for the audio output. However, if you need a quick audio recording on your Mac, this is a choice because you won't need to download and it is undoubtedly safe to use. But if you are a pro looking for the best audio recording software, this is not the perfect tool.
Pros
It is already available on every macOS.
Free, safe, and easy to use.
Cons
It is not as effective as the other audio recorder in this list.
The final output quality of the audio is low.
Not the best choice for pro recording and editing.
Related:
How to Record Screen with Audio on Mac Using QuickTime
How to Convert QuickTime to MP4
4. Ocenaudio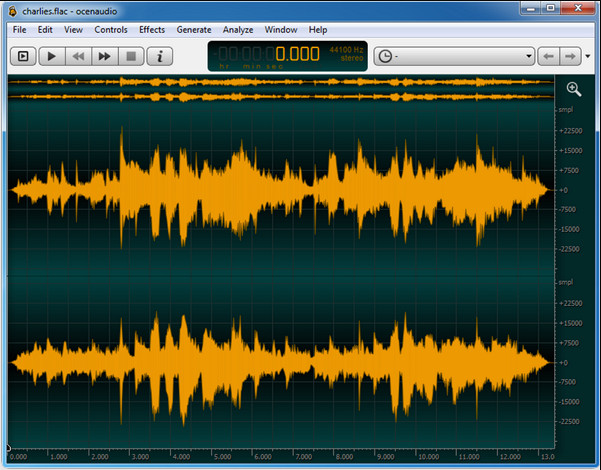 If you need a multiplex recorder to record audio on Windows 10 or higher, then Oceanaudio will help you. This tool has an almost similar interface with Audacity, but it is easier to understand the GUI of this tool. Further explanation, this recorder provides complexity and some features that you will need on audio recording. Although it is a bit hard to use and you will need to watch a tutorial on using it, it is still worth it at the end of the day. So, if you need an editor with a better interface than Audacity, this must be your pick.
Pros
It uses advanced technology for recording.
It is an expert choice to do audio recording.
You can listen to your voice while recording.
Cons
It is not user-friendly.
Beginners might get confused while using this tool.
Part 2. Comparison Chart about Audio Recorder Software
| | | | | |
| --- | --- | --- | --- | --- |
| Feature/s | FVC Screen Recorder | Audacity | QuickTime Player | Ocenaudio |
| Record System Sound and Mic | | | | |
| Edit the recording | | | | |
| Hardware Acceleration | | | | |
| Real-time pre-listen | | | | |
| Save the Original Quality | | | | |
| Best User Interface | | | | |
Part 3. FAQs about Audio Recorder Software
Is Cinch Audio Recorder the best audio recorder?
Well, we have a recent review about the Cinch Audio Recorder. So, if you want to know more about the audio recorder, you must click this link and learn more detailed information about the recorder.
What are the qualities of a good audio recorder?
You will need to know basic standards before choosing a good audio recorder. First, it should be able to capture the audio on your microphone at ease. Second, it is safe and malware-free. Third, if you'll need to purchase the tool, the tool itself should provide excellence to the users. Fourth, efficacy rate means the tool must be very effective in a recording. Fifth, basic or advanced features must be available to help the users record. Before choosing an audio recorder to help you, you can depend on these standards.
How to record audio on Windows 10?
Before recording on Windows 10, you must choose the best recorder like the FVC Video Recorder by downloading it on your desktop, promptly installing the tool, and launching it. Next, choose the option the Audio Recorder and click it. You can now easily add the system sound on your recording or the mic by turning them on on the floating toolbar. Once you are ready to record, click the round red button to start. If you need to end the recording, click the square button to stop; after that, a new interface will show you the list of audio recordings you've made.
Conclusion
Today, we know the audio recording software available on your desktop. All of these tools presented here will help with your recording. However, if you are looking for a recorder that outperforms the other recorder, FVC Screen Recorder must be for you. Still, doubting the audio recorder? In that case, downloading it is the only way to test it out and know if it works, as we say in this article.