Top 5 Video Stream Recorders to Record Live Stream Supported by all Devices Platforms
Did you miss your favorite Live Stream because of your busy schedule? Do you want to record the live stream of your Favorite Stars? These streaming videos are mostly on M4V formats. That is why it's easy to record them using different screen recorders. You can now playback live streaming videos even if you are offline. All you just need is the right tool that can match your device's platform. Worry no more. We got your back. If you do not know where to start and what to use, continue reading the article and be informed.

Part 1. Online Steam M4V Recorder: FVC Free Screen Recorder
FVC Free Screen Recorder is a video stream recorder M4V and a free online tool that allows you to record live streaming. Capturing the live stream in HD quality in three easy steps. You also do not need to download the app to use it. You just have to launch it online. You just need to secure a working internet and a browser supported by the tool. More than that you can adjust the bitrate and frame size before recording. Which is a really rare set of features seen on online tools. You can consider this if you are looking for a practical tool without payment. A detailed guide is written below to show how easy it can be.
Step 1. Visit the official website by going to this link https://www.free-videoconverter.net/free-screen-recorder/.
Step 2. Click Start Recording to launch the tool. Please follow the launching process and allow necessary permissions until the floating bar appears.

Step 3. Once the tool is launched, start recording by clicking the REC button.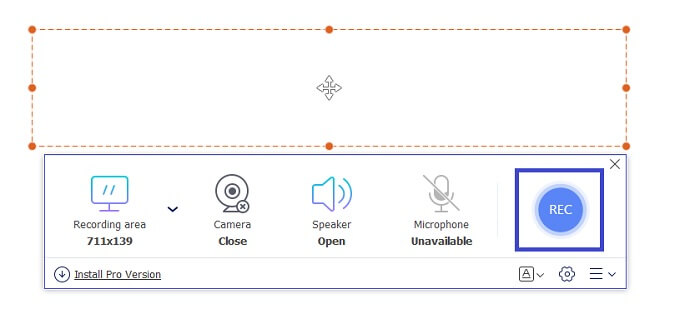 Step 4. If you are done with the recording, click the Blue Square button to end the recording. Find the recorded files from the interface as well. It is located at the bottom part of the floating bar.

Part 2. Top 5 Stream M4V Recorder for Windows and Mac
FVC Screen Recorder
Now, if you are looking for a tool that is compatible with either Windows and Mac computers, FVC Screen Recorder is the one you are looking for. This tool is lit! Considering the features of the app, it's worth trying. Do you know that this tool has what they call a Task scheduler, where you can set the time and the date of the live stream and leave your PC? If you are busy enough to stay in front of your computer, this is the one for you. Schedule and leave the rest to FVC Screen Recorder. You can watch every bit of the recording without being limited. It is very easy to use, follow the guide below to know more.
Step 1. Download and install the tool on your Windows or Mac computers.
Step 2. Then follow the set-up wizard until the app is launched. Then click on Video Recorder.

Step 3. Now click the REC button to begin recording.

Note: You can also annotate the while you are recording. Just click the Pencil icon and you will see options will appear. From there you can add shapes, fonts, change colors and add arrows.
Step 4. Finally, click the stop button. It is the RED Square button located at the left side of the floating bar.

Step 5. Check the video file after by checking the picture below.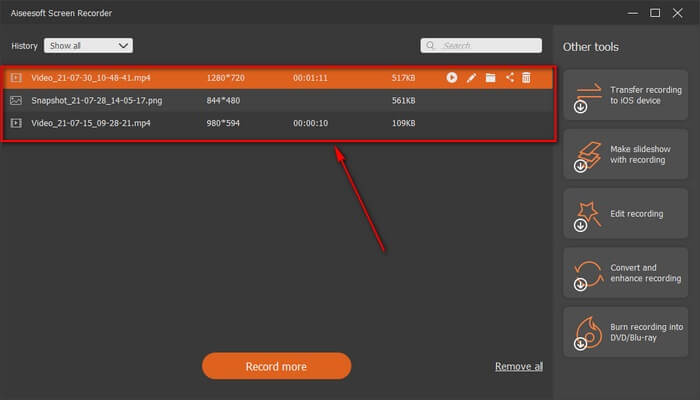 Windows 10 Game Bar
The next tool on the list for Desktop tools is Windows 10 Game Bar. If you are a Windows OS user, you might have seen this or came across this feature. Windows 10 Game Bar is a built-in feature on Windows 10 OS. What is it? It is a screen recorder, screen capture, and video/audio recorder. Some may not know this, but it can be accessed by typing Xbox Windows 10 game Bar.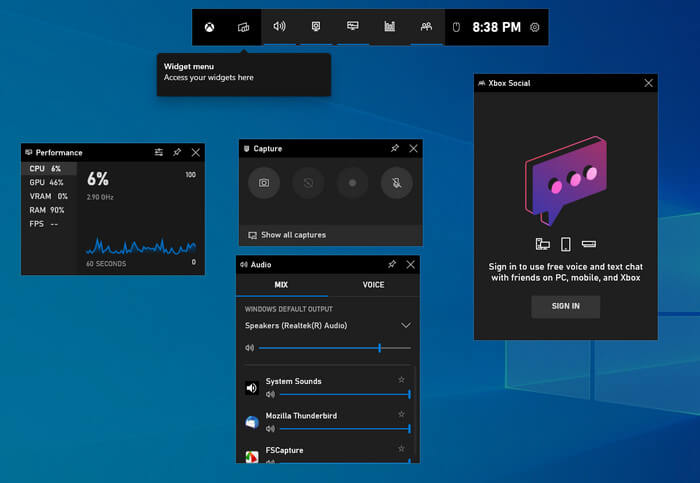 Part 3. Top 2 M4V Recorder for iPhone and Android
AZ Screen Recorder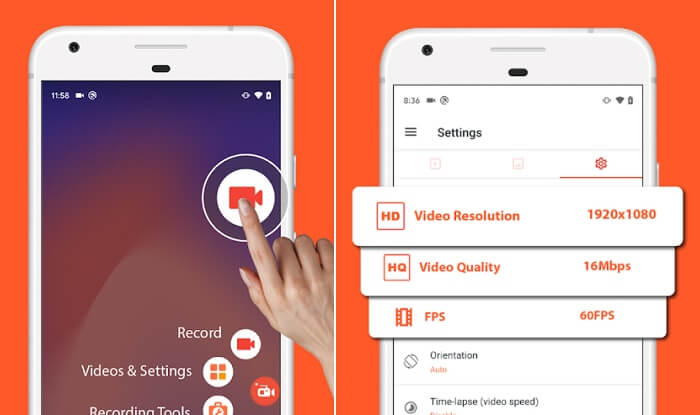 The first two options given above are tools that work with Mac and Windows PC, this time we will learn about a screen recorder that works with mobile devices. Specifically for Android Devices. AZ Screen recorder is one of the apps that provides more stable performance when recording Live streaming. You can download this tool easily and it is for free. There is no time limit in usage and you do not have to root your device to make it work. Just like any other screen recorder, this gives you the best video quality and crystal clear screen videos. With tons of more features to discover with this app, you just have to explore and try it.
Record it!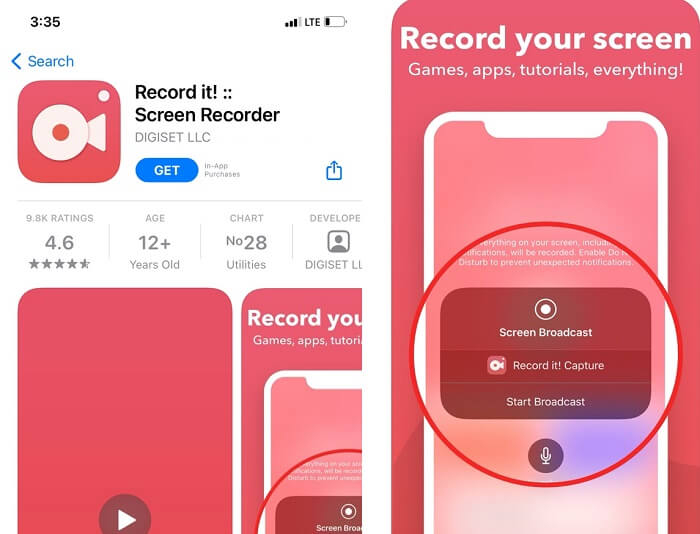 If Android has one, Apple does too. Your one-tap recording app is compatible with iPhone and iPad running iOS 12 and above. Since iPhone devices are known for having good quality, then this means you can still enjoy and have an enhanced experience recording videos using Record it! Also, this can record Interactions on Facetime and camera roll.
Part 4. Comparison Chart
| | | | | | |
| --- | --- | --- | --- | --- | --- |
| FEATURES | FVC SCREEN RECORDER PREMIUM | FVC SCREEN RECORDER FREE | Windows 10 Game Bar | AZ Screen Recorder | Record it! |
| Video Format Supported | WMV, MP4, MOV, F4V, TS, AVI, WMA, MP3, M4A, AAC, PNG, JPG/JPEG, BMP, GIF, TIFF, MXF W4V, | BMP, GIF, TIFF, MXF, MP4 W4V, | MP4 M4A, AAC, PNG, JPG/JPEG, WMV, MP4, MOV W4V, | NG, JPG/JPEG, BMP, GIF, TIFF,W4V, | W4V, MP4, MOV, F4V, PNG, JPG/JPEG, BMP, GIF, TIFF, MXF |
| System requirements | OS: Windows 10, Windows 8, Windows 7, Windows Vista, Windows XP (SP2 or later) macOS 10.7 or above Processor: 1GHz Intel/AMD CPU or above RAM: 1G RAM | Web-Dependent | OS: Windows 10, Windows 8, | macOS 10.7 or above | macOS 10.7 or above |
| Audio and Video recording | | | | | |
| Video Editing Feature | | | | | |
| Lock-in Window Feature | | | | | |
| Annotating Feature | | | | | |
| M4V Supported | | | | | |
| Malware Safe | | | | | |
| Adjustable Bit Rate and aspect ratio | | | | | |
Part 5. FAQs about M4V Recorder
Why can't I open an M4V file?
The first thing that you have to do then is to check the file extension. Why? If the M4V file contains a different file extension it means it is a completely different format. So check the file extension first. Or you can turn to a decent M4V player to enjoy your M4V videos.
Is MV4 better than MP4?
Generally speaking they are similar in some sense. They are both compressed formats, many iOS users find M4V suitable for them because of the FairPlay DRM protection. We all know how strict Apple is when it comes to the security of their software.
Which contains a smaller file size, MP4 or M4V?
Not much difference honestly. The difference is subtle and it might be about the codec used. Since M4V uses H.264 video codec and Mp4 uses HEVC codec on the other hand. Basically, Mp4 has lower file size consumption. Want to convert MP4 to M4V, click here to read more.
Conclusion
All tools reviewed in this article are tried and tested. You can definitely rely on each step-by-step procedure written. Which do you think among the tools listed you are going to use? Do you have a tool in mind? Or still confused? Well, here is a little tip. Consider your device and your needs. Consider which among these great apps can give you the most benefit and try it yourself.