Simplified Way to Record Blu-ray on OBS Studio and Other Possible Tools
Blu-ray disk stores the highest quality a disk can be stored. It can save a video up to 1080 pixels. Same as in audio, it produces a crystal-clear sound rather than CDs. And also, no need to worry about storing high-volume storage on Blu-ray because it has a lot of space. As we proceed, OBS Studio is a free downloadable open-source program. It supports platforms like Windows, macOS, and Linux. In addition, it is perfect for recording audio video on your screen computer. Some users find it troublesome to record Blu-ray in a studio. So, stay still and read the article to know how to record Blu-ray movies with OBS and what expert recorder you should use for taking high-quality video output.

Part 1. How to Record Blu-ray Movies with OBS Studio
Known for being a powerful streaming-free tool, OBS Studio receives regular updates because of their influential sponsors Youtube, Twitch, Facebook, API.video, own3d.pro, and many other platforms. No need to worry about streaming because of these major platforms. On the other hand, it builds its name as the most complex tool for recording and less guidance. But if you want simple streaming no need to dive into complicated settings. Moreover, turn difficult into manageable by reading this article for the steps and details about OBS Studio.
Here are some steps on how to use the OBS Studio:
Step 1. Go to your browser. Then choose what OS you are currently using, then download, set it up, install it, and then click Finish to launch the tool.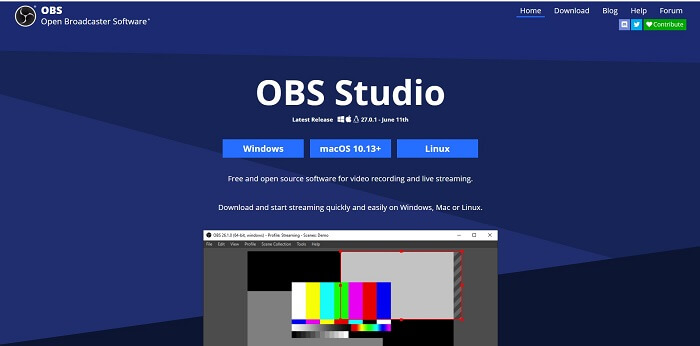 Step 2. Go to the Scenes panel, click the Add icon to add a scene then name it Click OK to proceed.
Step 3. Proceed to the source panel. Click the Plus icon then different options will show. Here are some basic options that are enlisted here. The Audio Input Capture to record your voice in the microphone. Next, Audio Output capture to record the sound coming out to your system. And the Display capture to record the entire screen. Lastly, Game Capture to record your montages. Click OK to save. Once all done gathering all the sources needed, adjust the volume in the Audio Mixer tab.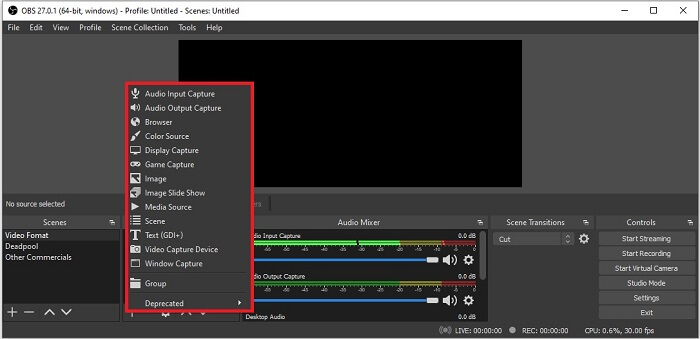 Step 4. Click the Settings button under the Control Panel on the lower right side of the interface. Go to the Output tab, set the format, and adjust the options based on your needs. Set the other options and click OK to save.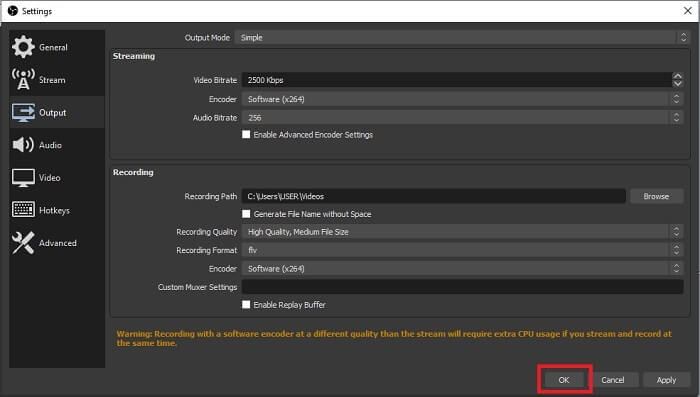 Step 5. Click the Start Recording button and start recording. Same as if recording is already finished click the bottom right side where you click the start to record. You may check the recorder in the file explorer.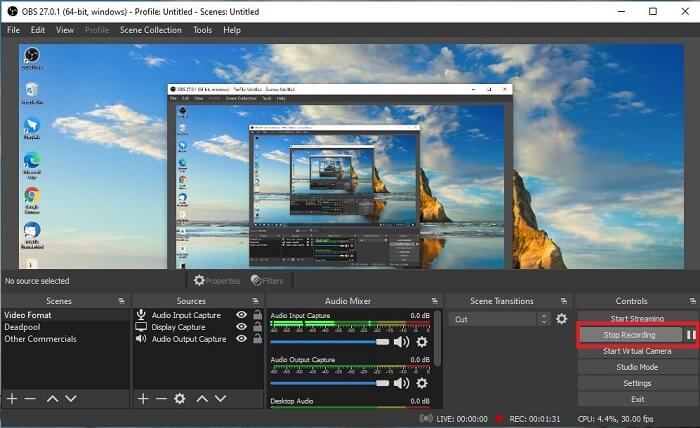 Pros
Its suit for recording any videos and live streaming.
It doesn't offer you a free trial. Because it is free.
Provides a lot of options to choose.
Cons
Not the best choice for a beginner because there is a lot to set up.
It doesn't support video editing so you'll need to install another tool to edit. And the tool itself is 85.6MB which is the biggest storage that a screen recorder has.
Part 2. Online Method to Capture Blu-rays with OBS Alternative
OBS studio is indeed a good choice for recording and streaming. But the tool has a lot in its interface, so it is a hassle for the new user to record. Here is an alternative online tool you may use.
FVC Free Screen Recorder (Online Tool)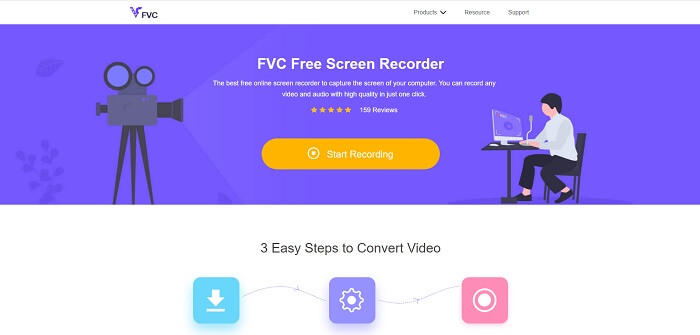 An open-free tool that is less hassle for the user to manage is the FVC Free Screen Recorder. It functions the same as record Blu-ray on OBS studio, easier to use because of its manageable floating toolbar. This on-point detailed tool helps you to record any set of video audio platforms that is available. And with clear sounds and high-definition video output that you may save in the Blu-ray. Instead, to download a large file then use it one time, why don't you try this online tool? Now let's take a tour of how this tool operates. Here are some steps on how to use this online tool.
Step 1. Open your browser and visit https://www.free-videoconverter.net/free-screen-recorder/. Then, click the Start Recording button to launch the online tool. A floating bar will pop up on your screen after launching the tool.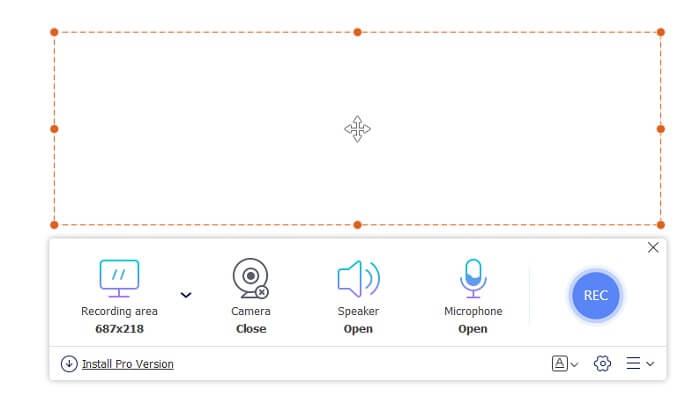 Step 2. In the floating toolbar, there are 4 different panels you may choose. You may adjust the frame size or click the full screen. Next, click the Speaker icon on the system volume. Also, you may add your voice and face if you click to open the Microphone and Webcam. But if you didn't intend to add it you may click it to close. Then click the round REC button to start recording.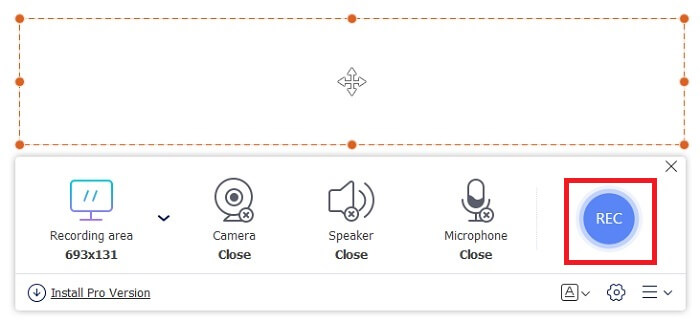 Step 3. When recording is done, Click the square button to stop recording. All the recordings you capture are listed in the history dropdown. Click the first recorded video because that is the latest.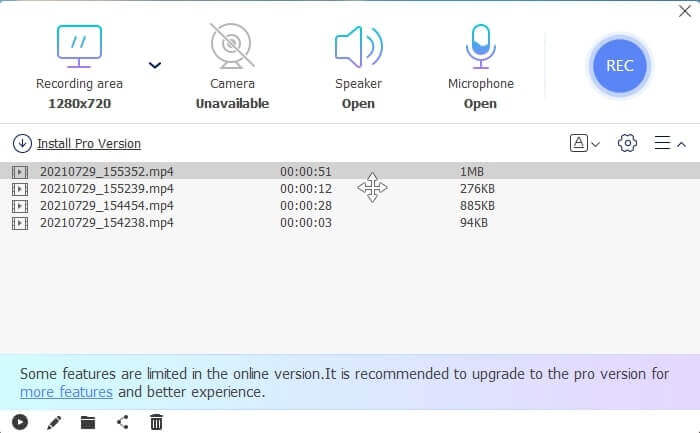 Pros
Open free source online. No download, so no hassle.
Best screen recorder for online services that supports all platforms.
Easy to use because of its on-point instruction of the tool.
Cons
It needs an internet connection for the tool to function.
Features in premium are not supported for free.
Part 3. Best OBS Replacement to Record Blu-ray Movies
Another best Blu-ray record on OBS Studio is this FVC Screen Recorder. If you want to record online and offline and available to all platforms then this is for you.
FVC Screen Recorder
Unlike OBS Studio this tool is user-friendly with a manageable toolbar. FVC Screen Recorder is one of the best alternatives for recording. It includes features like OBS has that are more on point and easy to understand. For example, record screen, webcam, audio, and system sound, and many more. This tool also has its Lock-in feature that the obs has not. Except that this tool is pay-to-use. Also, if you avail of this screen recorder then you make the right choice.
Follow the steps below on how to use this tool to its full extent.
Step 1. Click the download button to install the software then set up your desired preference click finish to proceed. Then the tool will launch.
Step 2. Click the Video Recorder. Then 4 different panels will show. In the first panel, you may adjust the frame size to change the aspect ratio or click the Full to record the whole display. The second-panel Webcam is intended to record your face while screen recording. The next panel is System Sound to records the audio of the system. Lastly, a microphone for inputting your sounds to the video. Click the disk shape button to start recording.

Step 3. If the video recording is finished click the square button to stop. Click the Play button to play the recorded video.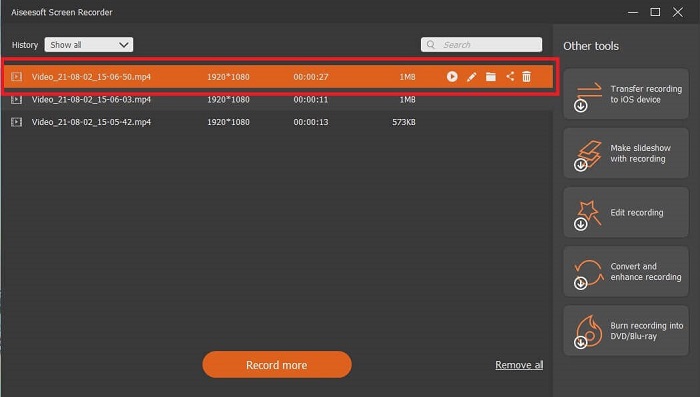 Pros
It has this unique feature of what we call Lock-in screen to avoid disturbance while recording.
It can record for 24 hours without any audio-video dysfunction.
Storage and user friendly because of its compress data format and easy to execute information.
Cons
To acquire it needs to be paid whether a month, a year, or for a lifetime.
Need to be downloaded from the website to use it.
Further Reading
1. Record Screen Video with VLC Media Player
2. Record Screen with Audio on Mac Using QuickTime
Part 4. FAQs of Recording Blu-ray on OBS Studio
What is the difference between Blu-ray, DVDs, and CDs?
The main difference between each optical disk format is the output and the storage it can store up on its own. It states that a CD can store up to 700 MB of a file, a DVD can store up to 4.7GB of data, while Blu-ray can store up to 25GB. In some cases, A Dual-layer Blu-ray can uphold 50GB of data. It also has a triple disk layer and quadruple layer.
Is OBS a free tool? Is it safe to download?
Yes, OBS Studio is a no-cost tool with no hidden charges. Also, you may download it on all different platforms. Another Yes, it is safe from malware, virus, worms, browser hijackers, and more.
What video codecs support Blu-ray?
For video: MPEG-2, MPEG-4 AVC, and SMPTE VC-1.
For audio: Linear PCM (LPCM), Dolby Digital® (DD), Dolby Digital® Plus (DD+), Dolby® TrueHD, DTS Digital Surround®, and DTS-HD®.
Conclusion
After all, at the end of the day screen recorders are useful because of their capability. OBS is a good choice for recording but because of various options, it makes the user guess and ask if they're doing it right. But because of the list online and offline that supports all various platforms. Now you have the power of choice. To choose what is the best for you.
Like the FVC Screen Recorder. It is a user-friendly and on-point tool that helps the user to record anytime and anywhere. Even though it is a pay-to-use tool. Still, it is worth every penny spent. Remember to don't stress yourself with the hard to use if the easy to use can do better.