Simplified Guide How to Convert DV to WMV on Windows & PC
DV files are standard raw broadcasting formats commonly used on camcorders. After it debuted as a standard camcorder format, Sony and Panasonic introduced a more professional format different from the DV format. Although this DV file is excellent for editing, playing it on Windows, you will need to use a software program to view the video. So now, we present below two converters you can use to convert DV to WMV and watch it without any hassle.

Part 1. Use the Most Incredible Converter to Convert DV to WMV
FVC Video Converter Ultimate can aid your problem in converting the format into a new version. This tool supports different varieties of functions other than converting. So, if you attain this converter, you must expect that you can do more and not only stay on converting. Moreover, suppose you will need an immediate conversion process; this is the best converter choice to convert DV to WMV, AVI, MOV, MP4, MKV, and 200+ media format. Want an experience with new expertise of converter that provides professional output without any hassle? If so, this demonstration will help you distinguish how to convert the file into a new WMV format.
Steps on How to Convert DV to WMV with FVC Video Converter Ultimate:
Step 1. Download the FVC Video Converter Ultimate on your desktop drive, click the download button, follow the installation steps, and run the tool next.
Step 2. After setting it all up, insert the file on the converter by clicking Add Files, search the DV file save on your desktop to the folder that will show, and hit Open.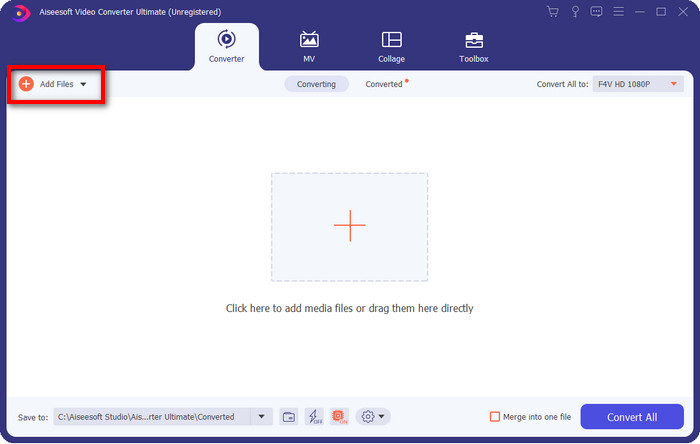 Step 3. Change the format by clicking the drop-down button at the upper right part of the user interface. Then choose the WMV format on the list that will show, and now you can select the quality of the video output.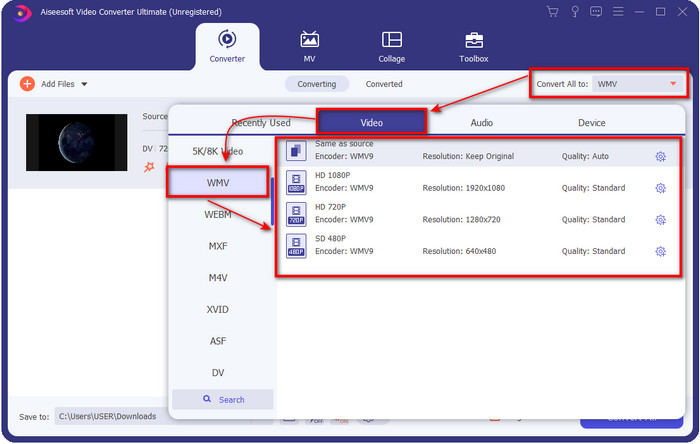 Want to split your videos into different segments? If so, press the scissors button, click Fast Split to set the number of segments you want and how long per segment, and press Split to continue. To save the splitting output you've made, click Save.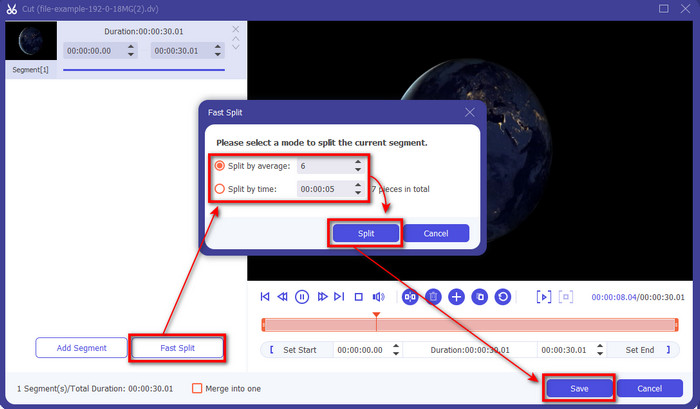 Step 4. Click Convert All for the process of converting the DV file to begin. After the procedure, a new folder will show on your display with the new WMV file.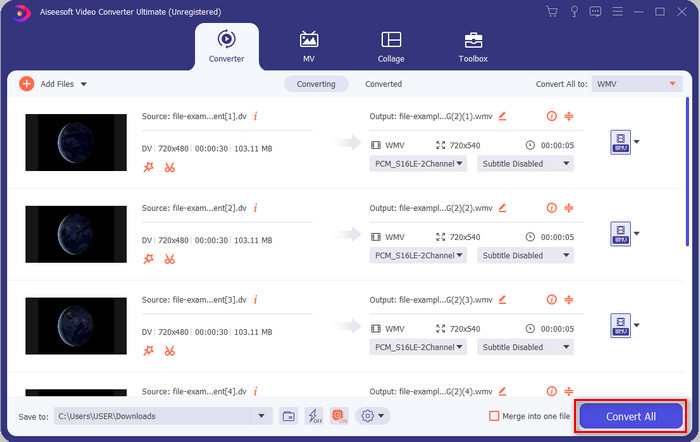 Part 2. Use the Online Converter to Convert DV to WMV Online
Are you looking for an online solution to convert DV to WMV, and is it hassle-free? Then FVC got you covered with the FVC Free Video Converter Online. This web converter will help in converting, but you will need to access this tool on the browser instead of downloading it. Moreover, it is easy, free, and safe to make your conversion better. Want to know how to use this web tool? Then follow these steps below to know how to do the converting online.
Step 1. You can click this link to open the web converter, and a tab will open.
Step 2. Click Add Files to Convert on the website; a folder will directly show on your screen, select the DV file, and press Open.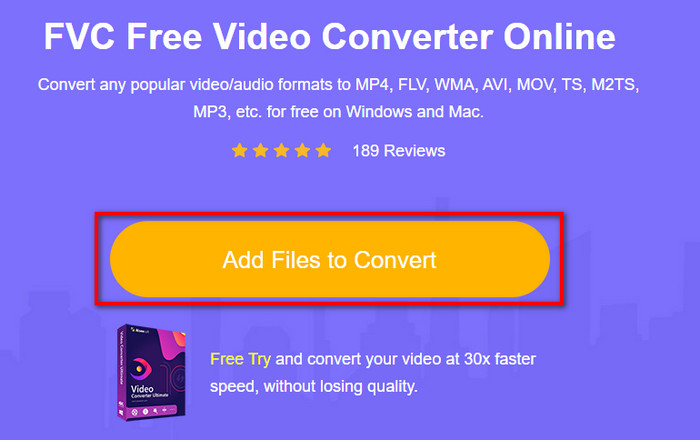 Step 3. Once the file is uploaded, please choose the format on the catalog presented below or click WMV to save it as WMV format.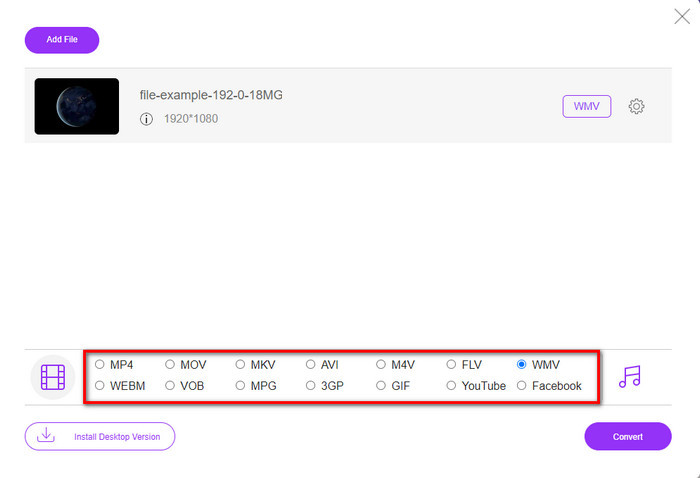 Step 4. By clicking Convert, the process of converting will begin. After the process, the file will be downloaded automatically on your desktop drive.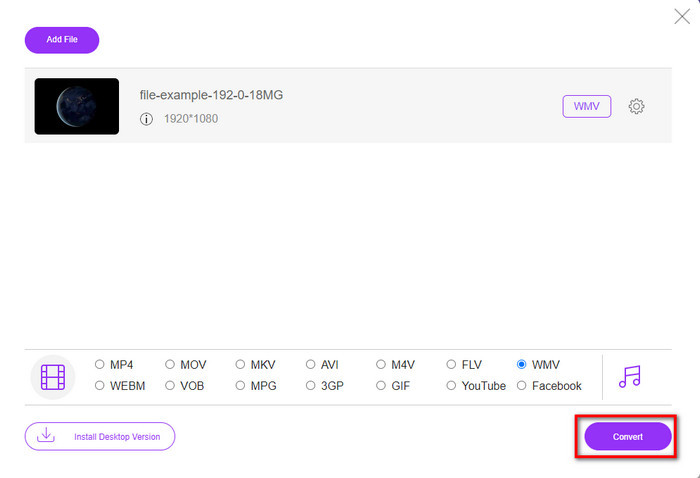 Part 3. What Is the Difference Between DV and WMV
The difference between DV and WMV is easy to understand in many manners. So if you want to know what these are, you must read the information on the list below.
Recording video on a camcorder, DV is the best choice because it can store this type of content. Also, this format can contain essential details such as metadata, subcode, time, and date encode. Furthermore, this format uses an intraframe compression within each frame, and because of that, it is ideal for detailed editing. Although the format is excellent and stored on DV tapes, the compatibility this format gets is poor, and its file size is enormous compared to WMV. On the other hand, WMV is the best format to use as video playback on Windows. And now it adapts version 9 format for HD DVD and Blu-ray Disc, it is known now as VC-1.
Part 4. FAQs about DV to WMV Conversion
Why can't I use DV on Mac software?
DV format is unsupported in Mac, especially on iMovie and QuickTime Player. But you can convert your DV file into a MOV format to make it work on your macOS. If you don't know how to convert DV to MOV, you must spend 5 minutes or less of your time reading this article to know-how.
Are DV files still the best format for editing?
DV formats are known for being one of the top-notch containers on editing. Because DV stores high-quality video and stores each frame for more accessible editing purposes. But today, the ability of this format has already been adopted by most formats. So, if you are asking if it is still the ideal, then the answer is no because of the poor compatibility of this format.
How to make my DV files smaller?
If you already knew, DV files are enormous because this format is a unique compressor. So, it is very typical to look for a compressor to make the file less in size to save space on your drive. Have trouble choosing and doing how to compress DV files? If so, click this link.
Conclusion
All of the converters presented above will help you in your journey of converting DV into WMV format. So now, let's end our journey because this is the last stop as we have already gained enough knowledge on how to convert your DV files. Right now, you will need to choose which converter best suits you. The choice is in your hand; whatever converter you use, these FVC tools will surely guarantee your success. FVC Free Video Converter Online or FVC Video Converter Ultimate two converters will make your converting process hassle-free.