2 Converters Used to Convert DV to MOV Without Deteriorating Quality
DV files are the most common file type on every camcorder because it stores the best video to edit and watch. Maybe you're wondering if you can use this format on an iMovie to edit it or watch it on Quicktime. But you can't use this raw file because it is an unsupported and old version. Yet, no need to worry since you can convert your DV files into a supported format on Mac like MOV. As we continue reading this article, we will develop a deep understanding of why you need to convert DV to MOV on your Mac.
Part 1. Convert DV Files to MOV on Mac with the Powerful Offline Converter
FVC Video Converter Ultimate is the phenomenal tool you'll use to convert DV to MOV on Mac and PC as well. Without any doubt, this converter can help you transform your files into a new format without breaking a sweat. Moreover, some users demand a fast way of converting a file into a new format; luckily, this will help you swiftly outdo it. In addition to its conversion, you can also edit here like cropping, merging, cutting, and many more. So, if you want to experience the converting capability of this ultimate tool then follow this demonstration on how to do it.
How to Convert DV Files to MOV with the Helpful FVC Video Converter Ultimate:
Step 1. Download the DV converter on your Mac or PC, follow the installation process and click Start Now to open the software.
Step 2. After launching, upload the file you want to convert by clicking the + button; the folder will show, locate the file, then click Open.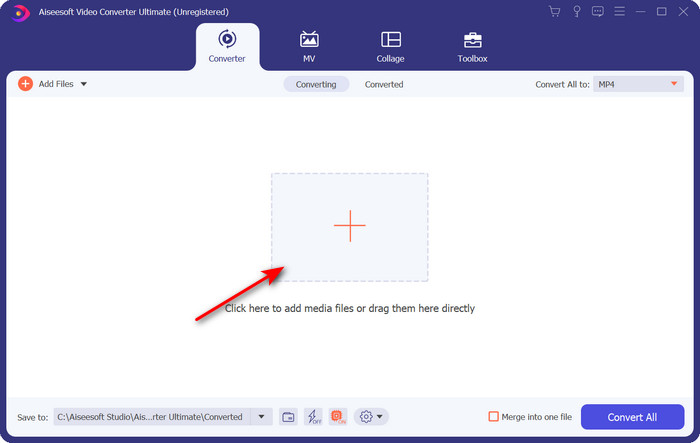 Step 3. To select the format, click the drop-down button, choose the MOV format and the resolution you want it to be. The quality of your output can be set high, but the size will be much bigger compared to the original.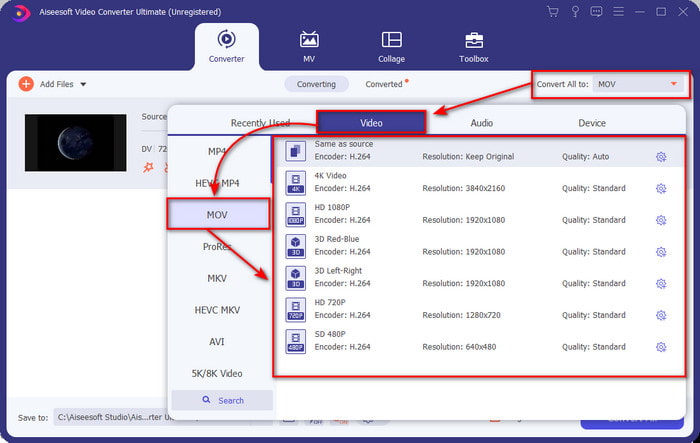 Step 4. Click Convert All to begin the process of converting the DV to MOV and download it at once.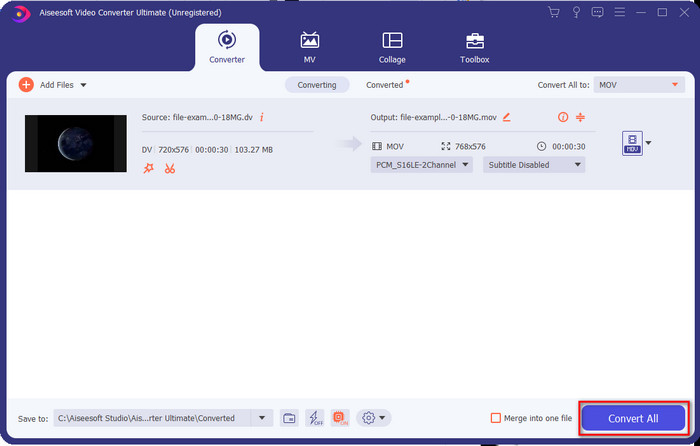 Step 5. The converted file's location will show; you can now watch or edit the file on your Mac without worrying about not opening the file.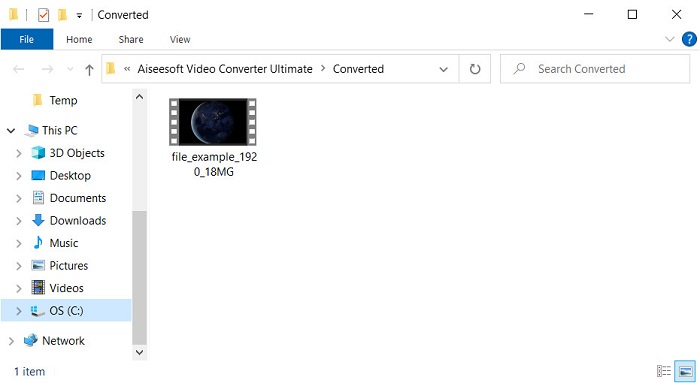 Part 2. Convert DV to MOV for Free with the Online Converter
Want to convert video on your browser? Therefore, you must use FVC Free Video Converter Online to convert DV to MOV for free. You can also change the resolution, bitrate, and frame rate other than its converting capability, like the FVC Video Converter Ultimate. Even though you can use this free online, the powers of this online tool are far different from the offline converter above. But if you want to do a simple conversion for free, this must be your go-to online converter. To make it short, let's now proceed to the steps on how to use it.
How to Convert DV Files to MOV with the Helpful FVC Free Video Converter Online;
" /]
Step 1. To open the online tool, click this link then a new browser will open.
Step 2. Hit the Add Files to Convert to run the online converter, then select the .dv file you want to convert on the folder.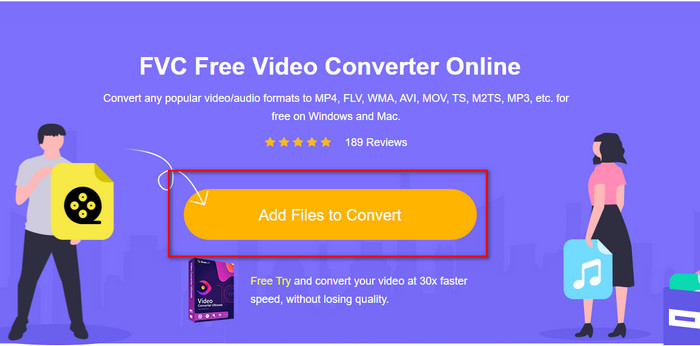 Step 3. Pick out the MOV format or the other format you want on the list below.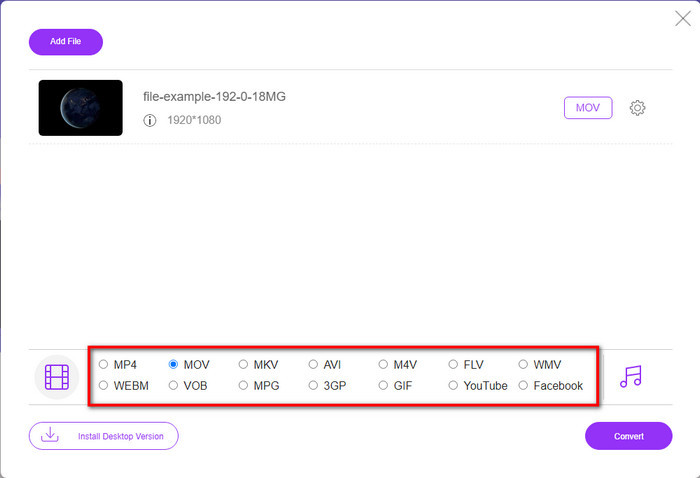 Step 4. To start the conversion, click Convert and wait for the process.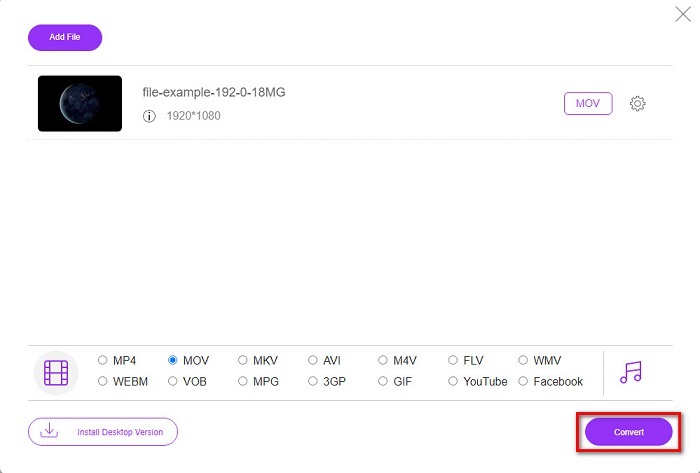 Step 5. Once done, a new folder will show with the converted file on your screen.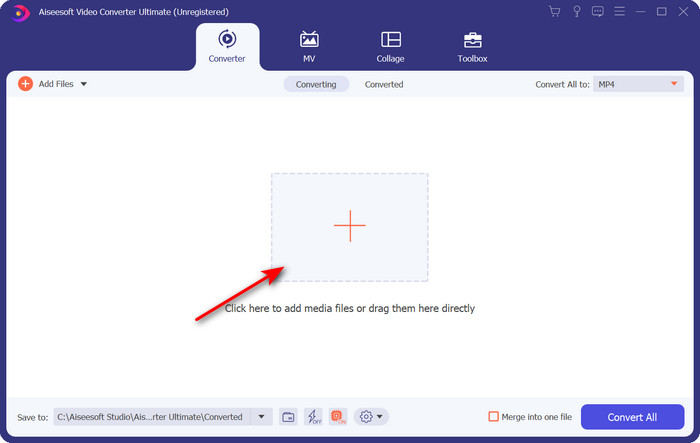 Part 3. DV vs. MOV
DV format is ideal for saving the video and audio because it uses the same algorithm as MPEG. But this is far different from MPEG since it doesn't rely on compressing the prior frame rate. So instead of relying upon intra-rate compression, it uses independent compression to edit the playback quicker. As a result, DV files were introduced in late 1995 as a standard video format on all camcorders. But today, we will see fewer tape-based camcorders because we now use a hard drive, SSD's, and memory cards to store recordings.
On the other side, the MOV format was developed by Apple for storing a high-quality media file that can be used in all editors or plays with the media player. This format gains a lot of respect since it can contain collective media elements and each one can collect data for video, audio, and text. Same as with the DV, the compression this format provides is based on the algorithm.
To top it all up, you can't upload DV files directly on the Mac application because this format is outdated. There are now better formats than .dv. But if your videos are in this format, you can use a DV to MOV converter and convert the file to play it on Quicktime or edit it on iMovie.
Part 4. FAQs about DV to MOV Conversion
Why can't I play DV files on Mac?
Many reasons could vary in this case, especially DV files, which are less compatible with almost all operating systems. But we list two possible reasons you can't, and the first one is that the media player you are using doesn't support this format. It is the most common problem in most formats because of compatibility reasons and its solution to convert. The other one is that your .dv files could be broken or corrupted. Since it is damaged or corrupted, the file will not play.
Is the DV file still an ideal format?
Before, it was ideal for recording and editing media files, but today the format is not the best. The main reason is that there are better formats than .dv, and the other is the compatibility reasons.
How to compress DV files?
Although DV files are still compressed, their MB will be bigger if the video length is too much. So compressing the file is a must to transfer it easier and save some space. To know how to compress your DV files or other media files, read this article to learn how to compress videos without losing quality.
Conclusion
Briefly recap, DV files were best in recording audio and video before, but today there are other successors. Also, this format doesn't get much compatibility compared to MOV, especially if you want to edit or watch the videos on Mac. Since the format is outdated, you must consider converting it online or offline with the help of the mentioned tool above. Overall, the FVC Free Video Converter Online is the best we found on the web. Besides being free, this online tool's performance is far different from the web tool available. But we must give way to the phenomenal converter, the FVC Video Converter Ultimate. This tool needs no introduction and will help you without a doubt in any converting problem you will encounter. It is now in your hand to choose which is better for you.